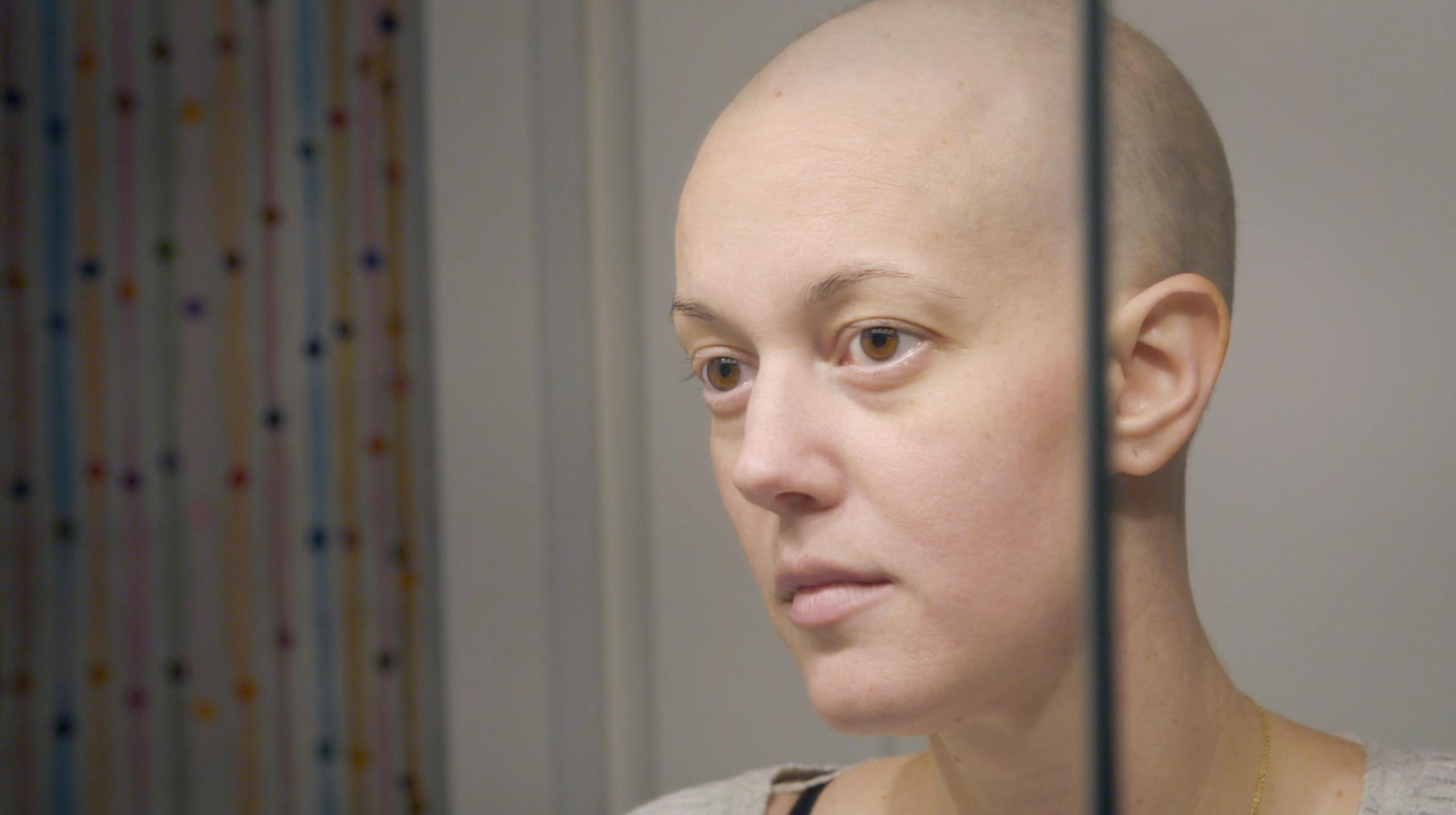 Grace Lombardo (Couresty of "Grace")
Grace Lombardo never thought she'd get a tattoo. "I've never been a tattoo person," she said. "I never thought about it much."
Breast cancer changed that.
Lombardo, a 38-year-old Northbrook mother of three who works as a doula, was diagnosed with breast cancer roughly two years ago. The diagnosis was "unfathomable," said Lombardo, who didn't have a family history of breast cancer or any other risk factors. "I was in tippity-top shape when I was diagnosed. ... I felt strong and healthy and vibrant."
In May of 2016, Lombardo had a bilateral mastectomy – a surgery to remove both of her breasts. That, along with a follow-up procedure to remove cancerous lymph nodes, left her cancer-free but physically scarred. Through community groups, Lombardo learned about mastectomy tattoos that breast cancer survivors have gotten to conceal their scars.
She knew then she wanted one. "I was making the choice to take that area of my body back and that's what's so powerful because I didn't choose to have these surgeries," Lombardo said. "I get to choose what to do with my body and that felt really empowering."
Lombardo's journey to reclaim her body with an elaborate mastectomy tattoo is revealed in the recently released documentary, "Grace."
The film is inspired by the director and producer's own experience with breast cancer. Rachel Pikelny, director of productions at Siskel/Jacobs Productions, was diagnosed with breast cancer in 2015 while she was pregnant with her second child.
After undergoing treatment, which included surgery and chemotherapy, Pikelny said she was adjusting to the "new normal" as her hair grew back. "I realized the huge impact the experience had on me and my identity, my general constitution and my sense of stability," she said.
As Pikelny was coming to terms with her new normal, she read a Chicago Tribune article about Ravenswood tattoo artist David Allen, who specializes in mastectomy tattoos. "I was immediately fascinated by his work, not only as an artist but what he was doing for women to help them heal emotionally, especially after a traumatic experience that resonated with me personally," she said.
Pikelny wanted to create a documentary to capture a woman's journey after treatment ends – when the "battle is just beginning" – through the tattooing process. "Most survivors say it's never really over, even when the immediate treatment is over," Pikelny said.
Allen, who has been a tattoo artist for 12 years, agreed to participate in the documentary and help Pikelny find a subject for her film. "I knew she could tell a story through what I do," Allen said. "I'm kind of a tool, in a sense. I'm a vessel to a larger story."
Of the hundreds of emails he receives from women seeking mastectomy tattoos, Allen said Lombardo's email "stood out" for its honesty and openness. Lombardo said she wanted to get the tattoo on the one-year anniversary of her surgery.
"It was a sad day because, obviously a year ago I had my breasts essentially amputated – of course that's nothing I want to relive – but it was like the rebirth of that area," she said.
Lombardo, who blogged throughout her cancer treatment, said she felt the documentary was a way for her to give back. "There are a lot of things I'm not good at but one of the things I know I'm good at is speaking openly about things that are maybe taboo for others or hard to talk about," she said. "I feel comfortable about what I've been through, what my body has been through. ... And I felt like this was an opportunity for me to start giving back to this new community that I was a part of."  
Pikelny and her all-female crew began filming after Lombardo's last chemotherapy treatment through her tattoo session with Allen. "Some days were really hard, but over time (Grace) got used to being a survivor and what the new normal looked like for her," said Pikelny. "The tattoo was a huge step in that process."
Lombardo and Allen designed the tattoo together, using Allen's preferred floral motif for mastectomy tattoos which allows him to easily alter the tattoo if future surgeries are requried. "The sad truth is there is recurrence in some of these women," he said. "With floral and botanical imagery, I can add a petal, a leaf, a stem – it's pretty easy to fix. ... And they're also beautiful. I mean their shape and form."

"I get to choose what to do with my body and that felt really empowering."
–Grace Lombardo
---
In May 2017, Lombardo said she felt like a "warrior" getting her tattoo. "Going in, I was totally ready," she said. The five-hour process was both physically and emotionally taxing. "It was wild at first because as it began I couldn't feel anything," she said. "Once you have a mastectomy, you have no active nerve endings in the breast tissue. I even had to say, 'Are you tattooing?'"
As Allen began tattooing outside of her breast tissue in her armpit and on her ribs, "things got really dicey," Lombardo said. "It really hurt. That was its own little journey."
The tattooing process also takes a toll on Allen. "It's heavy. When I realized I get more time with these people than most of their doctors do, it kind of shook me up," he said. But he says he's emotionally equipped for the work and appreciates being part of these women's journeys with their families. "You see their love and bickering – you see life," he said. "I love being there for that."
Lombardo waited to look at the tattoo until it was complete. "I was utterly speechless," she said. "It wasn't even like I was looking at my own body. It felt like I was looking at a piece art in an art gallery. That's how beautiful it is. ...
"I hated looking in the mirror before the tattoo," she added. "Now I have this incredible piece of art that is intrinsically mine for life."
Lombardo, Pikelny and Allen recognize that a tattoo may not be for everyone but they hope women who've had breast cancer see themselves in Lombardo's story.
"This film is my version of a tattoo," Pikelny said. "I think every person has to find what's right for them as a way to reclaim that sense of control and way to see themselves as beautiful and strong again."
Screenings of "Grace" will be held throughout the month, with some featuring appearances by Lombardo, Allen and Pikelny.
Contact Kristen Thometz: @kristenthometz | [email protected] | (773) 509-5452
---
Related stories:
'Left Boob Gone Rogue' an Insightful, Humorous Blog About Breast Cancer
Report: Despite Progress, Illinois Can Improve Cancer-Fighting Policies
Chicago Leads Nation in Reducing Racial Disparity in Breast Cancer Deaths
State Lawmakers Introduce Bill on Dense Breast Notifications
Cancer Survivor Pushing for State Law on Dense Breast Notifications
---