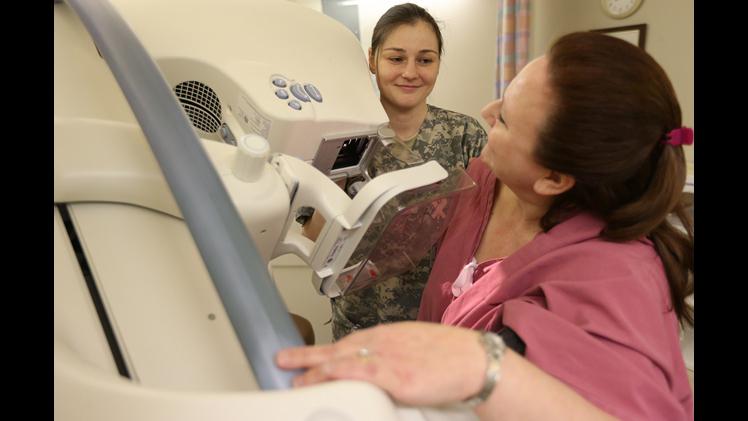 (Army Medicine / Flickr)
A bill that would require mammogram providers to notify women whose test results show they have dense breast tissue unanimously passed the Illinois Senate on Wednesday.
Introduced in January by Rep. Michael McAuliffe, the bill (HB4392) unanimously passed the Illinois House in April. An identical bill introduced by Sen. John Mulroe, SB2442, was unanimously approved by the Senate in April and is currently under review in the House.
"Over the years of working on legislation to address breast cancer, I have heard the heart-wrenching tales of how this disease has ravaged women and their families," Mulroe said in a press release. "If this legislation can save just one life, or start just one conversation between a patient and their doctor, it will be well worth the effort."
The legislation was spearheaded by Glenview resident and breast cancer survivor Patti Beyer. Beyer doesn't have a family history of breast cancer, but she does have dense breast tissue – a risk factor for the disease. According to the American Cancer Society, women who have dense breast tissue have a "slightly" higher risk of developing breast cancer than those who do not.
Breast density is only seen on mammograms and isn't detected based on how a woman's breasts feel, according to the ACS. Radiologists classify breast density using four categories that range from almost all fatty tissue to extremely dense with very little fat and higher percentages of fibroglandular tissue. Up to 40 percent of women worldwide have dense breast tissue, according to Are You Dense, Inc., an advocacy group founded by Nancy Cappello, Ph.D., after she was diagnosed with stage 3 breast cancer despite 11 years of normal mammogram results. 
Despite there being no statewide law, some Illinois facilities do notify patients, including the University of Chicago Medicine and NorthShore University HealthSystem.
Across the country, more than 30 states have mandatory breast density notification laws. For more information on breast density, visit Dense Breast Info.
Contact Kristen Thometz: @kristenthometz | [email protected] | (773) 509-5452
---
Related stories:
'Grace' Captures Breast Cancer Survivor's Journey, Mastectomy Tattoo
Cancer Survivor Pushing for State Law on Dense Breast Notifications
'Left Boob Gone Rogue' an Insightful, Humorous Blog About Breast Cancer
Report: Despite Progress, Illinois Can Improve Cancer-Fighting Policies
---