The newly introduced Chicago Police Department consent decree proposed Friday by Mayor Rahm Emanuel and Illinois Attorney General Lisa Madigan is facing stiff critiques from both the local Fraternal Order of Police and a leading challenger to Emanuel in the 2019 mayoral race. Candidate Lori Lightfoot on Monday accused the mayor of trying to rush a deal with vague and ambiguous goals so he would be able to claim quick and easy victories.
"There have been instances and instances on a range of issues … where there's a decided interest in declaring victory when there's so much hard work to be done," Lightfoot said of Emanuel. "We need this process to be successful because literally lives depend on it."
Lightfoot, who stepped down in May from her Emanuel-appointed post as president of the Chicago Police Board, said the proposal too often merely copies and pastes current police department policies, and while having their implementation subject to a special monitor and federal judge will be key to their enforcement, more needs to be done.
But Madigan's chief of staff, Ann Spillane, disputed nearly every other of Lightfoot's judgements, saying the timing of the deal was driven only by the need to thoroughly negotiate a deal so that monitoring could begin as soon as possible.
Madigan sued in August to require federal oversight of the CPD after what she described as the city's "decades-long" practices and policies in which officers have used excessive force disproportionally against minorities.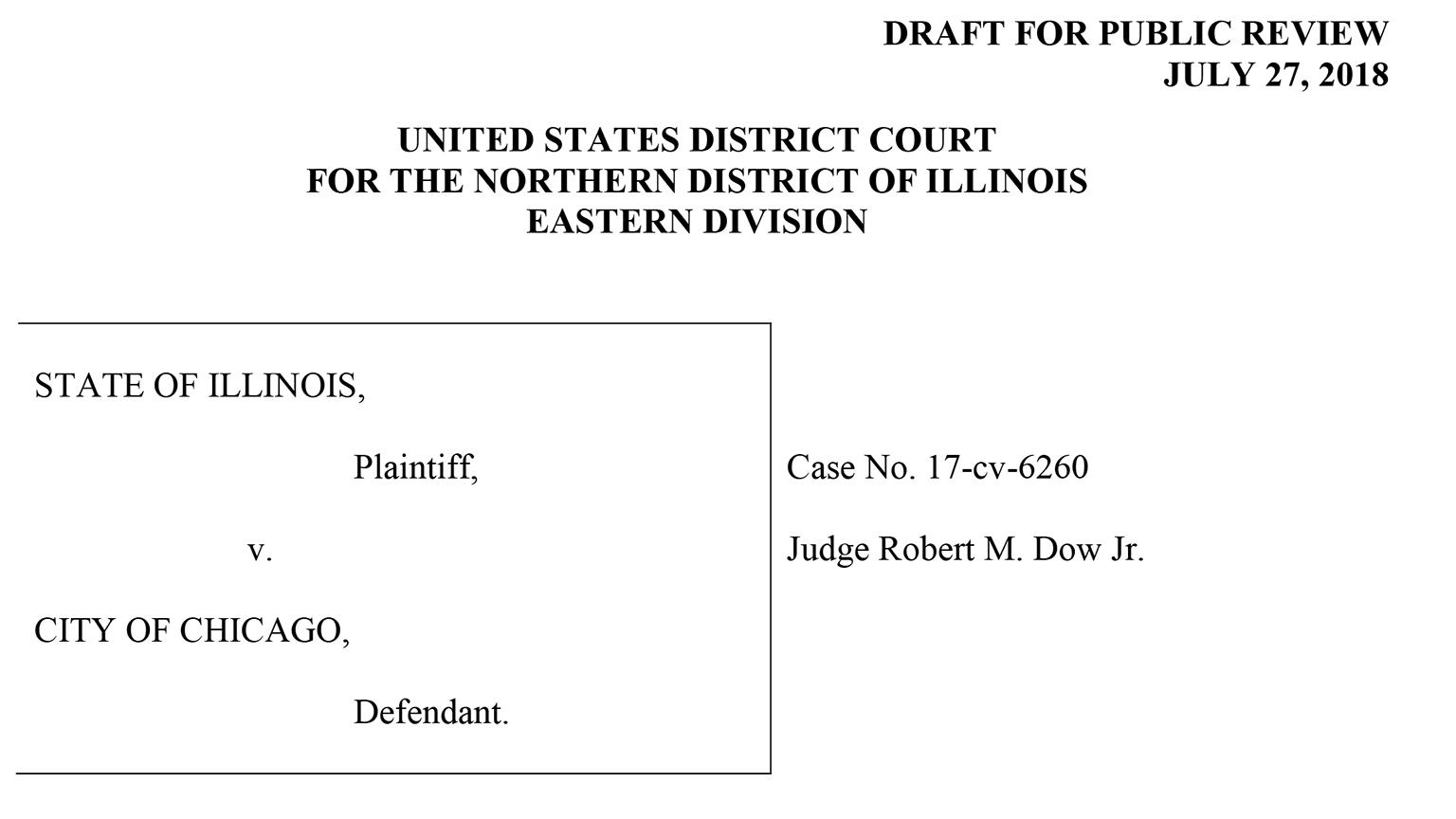 Document: Read the draft consent decree
Given the gravity of what's at stake – and the fact that the draft consent decree is 232 pages of legalese long – Lightfoot wants to extend the period that public will be able to provide feedback on it, extending the comment period from 21 to 45 days.
That the public will even have such an opportunity at this early stage is unusual, said Walter Katz, Emanuel's deputy chief of staff for public safety, who noted no other city in a similar situation ever offered stakeholders and residents that chance.
It likely won't be the last time for public comment; Spillane expects Judge Robert Dow Jr. will hold an open hearing before finalizing the decree, and Katz said that the city plans to make public the applications of finalists for the federal oversight monitor position, which are due Sept. 4, and have another public comment period before someone is hired.
Katz said the administration and Madigan revealed their proposal on Friday – despite being at odds over whether the police should be required to document every time they point a gun at someone – because "we thought it was more important to get that agreement out there for public comment so that the process could continue."
Katz said they had worked extensively on a deal since Madigan sued in August.
"As we got down to the wire, we had over 230 pages on an agreement, we had over 770 paragraphs, we've agreed on hundreds of items. We realized that this one particular issue would not be able to resolved very quickly, very easily," Katz said.
Lightfoot called tracking when a gun is pointed at someone a "no-brainer" and called on Emanuel to drop his opposition to making that a requirement.
"If you feel like as an officer you need to draw your weapon and point it as someone, it's a serious incident, it should be documented … you pull a gun on somebody – that's a big deal, and we ought to know when that's happening, with the level of frequency, why, under what circumstances," she said.
Spillane said the attorney general is prepared to bring that issue before a judge early next month should ongoing negotiations fail to reach a compromise.
Meanwhile, the leader of the FOP's Chicago lodge said it was "a shock" to see the terms unveiled in the proposal on Friday, considering that the union and city were in talks over what body cameras rules should be included in the next collective bargaining agreement, only for that to be covered in the consent decree.
"It appears they had already cut a deal with the attorney general," FOP President Kevin Graham said. "It was disheartening that the police department, I don't believe, was bargaining in good faith."
Graham has otherwise blasted the consent decree proposal, indicating that it would be a waste of taxpayer dollars when changes could be done internally.
Whatever the final agreement, it's sure to be costly, with Lightfoot pegging it at roughly $10 million annually for at least 10 years.
"I can't see how we can do this, less than frankly $10 million a year and frankly that's probably cheap," Lightfoot said. "There's no jurisdiction I know that's gone through a robust consent decree and got out of it on the other side, better for the process, that's done if for less than a decade. LA. Detroit. New Orleans has been in twice. Cleveland's now been in twice. This is not a quick or easy fix."
Gov. Bruce Rauner said his team is still evaluating the proposal so he had no specific comment beyond repeating that police are "heroes, they put their lives on the line. They deserve our fullest support and respect."
The governor likewise refused to weigh in on whether a consent decree is even necessary.
"It's … deal with the facts as they are," Rauner said.
Follow Amanda Vinicky on Twitter: @AmandaVinicky
---
Related stories:
Deal Struck for Federal Oversight of Chicago Police Department
Consent Decree, Gang Database Front and Center at City Council
Parties Near Agreement on Chicago Police Consent Decree
---