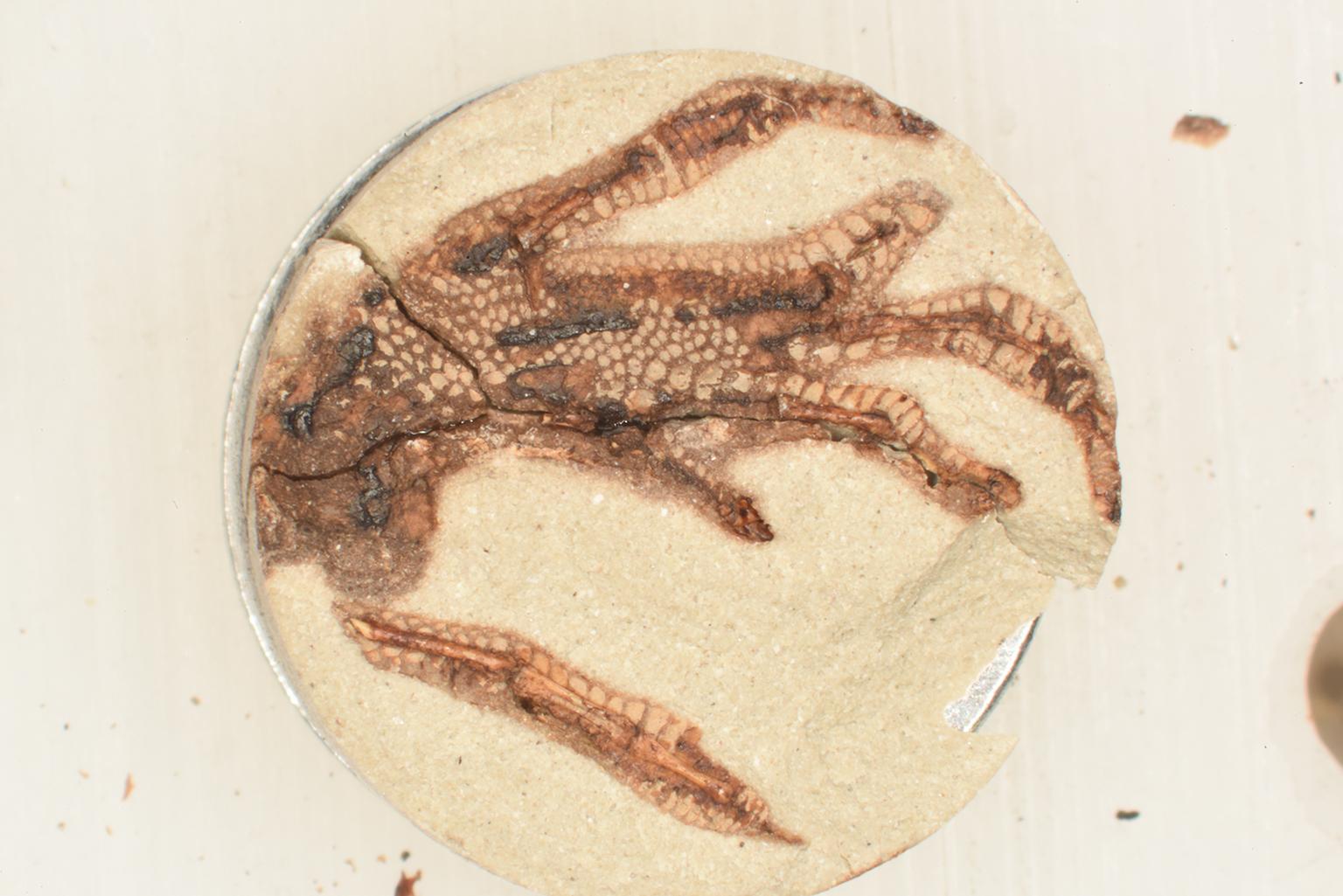 A synthetically fossilized lizard foot created by Field Museum scientists who recently developed a way to simulate key parts of the fossilization process. (Evan Saitta / Field Museum)
Fossils do not form overnight, or at least they didn't use to.
Before fossilized dinosaur bones showed up in museums, they spent tens of millions of years buried deep underground, transformed over time by heat, pressure and chemical reactions. Given fossils' long and slow development, no single person has been able to observe exactly how they form.
But scientists, including the Field Museum's Evan Saitta, have discovered a new way to simulate key parts of the fossilization process in a lab – in just 24 hours.
The development could be a game-changer for paleontologists, who study fossils to learn about the evolution and biology of extinct animals. The discovery is expected to help them better understand not only how fossilization works but also which kinds of materials – from feathers and skin to smaller molecules, like proteins – can become fossils, and which ones can't.
"For us to answer our questions, we need to understand how fossils form," said Saitta, a postdoctoral researcher at the Field, in a statement. "The approach we use to simulate fossilization saves us from having to run a 70-million-year-long experiment."
How did Saitta and his research partners develop these "easy-bake fossils," as the Field is calling them?
Instead of analyzing naturally occurring fossils using chemicals – the way fossils are typically studied – Saitta's team worked backward, looking for ways to improve existing simulations of the fossilization process that never quite got it right.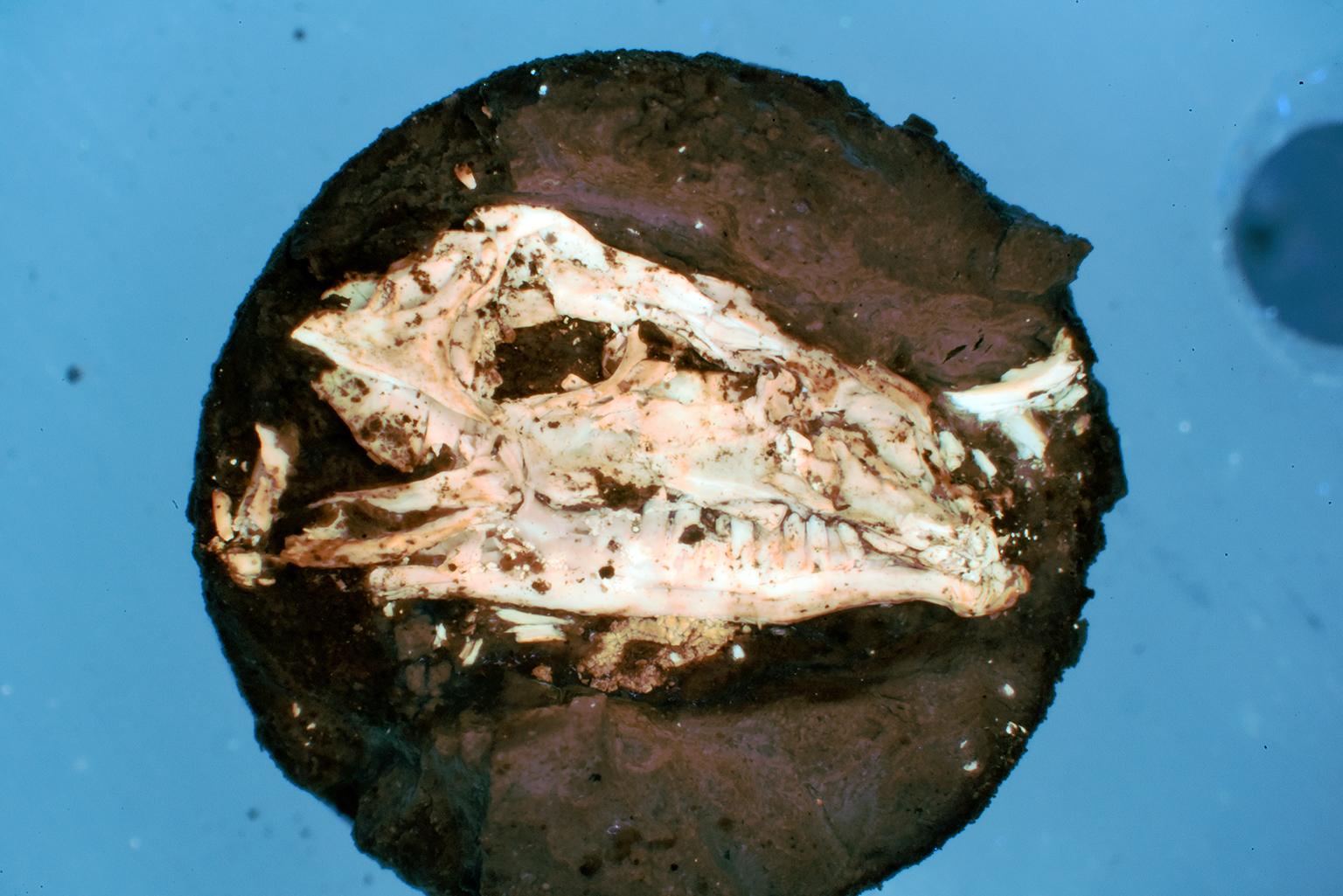 A synthetically fossilized lizard head created by Field Museum researcher Evan Saitta. (Evan Saitta / Field Museum)
The researchers took samples of bird feathers, lizard limbs and leaves and used a hydraulic press to pack them into clay tablets with diameters about the size of a dime. They then heated the tablets at more than 410 degrees Fahrenheit for about a day.
When they removed the tablets, they observed that the resulting specimens resembled real fossils made the old-fashioned way.
"We were absolutely thrilled," Saitta said in a statement. "We kept arguing over who would get to split open the tablets to reveal the specimens."
Saitta noted that he and his team were not the first to mimic the fossilization process in a lab, "but I think we're the first ones to get it pretty darn close," he said. 
The scientists' discovery, detailed recently in the journal Paleontology, has them excited about what's still to come.
"With the ideas we have now, we could do 10 years' worth of research," Saitta said.
Saitta partnered on the project with scientists from the Foundation for Scientific Advancement and England's University of Bristol.
Contact Alex Ruppenthal: @arupp | [email protected] | (773) 509-5623
---
Related stories:
'Jurassic Park' Generation Gives Rise to Golden Age of Paleontology
3.3 Million-Year-Old Fossil Shows Toddlers Could Climb Trees
130-Million-Year-Old Fossil Provides New Insight on Pangea Division
Fossil Hunt Leads University of Chicago Professor to Antarctica