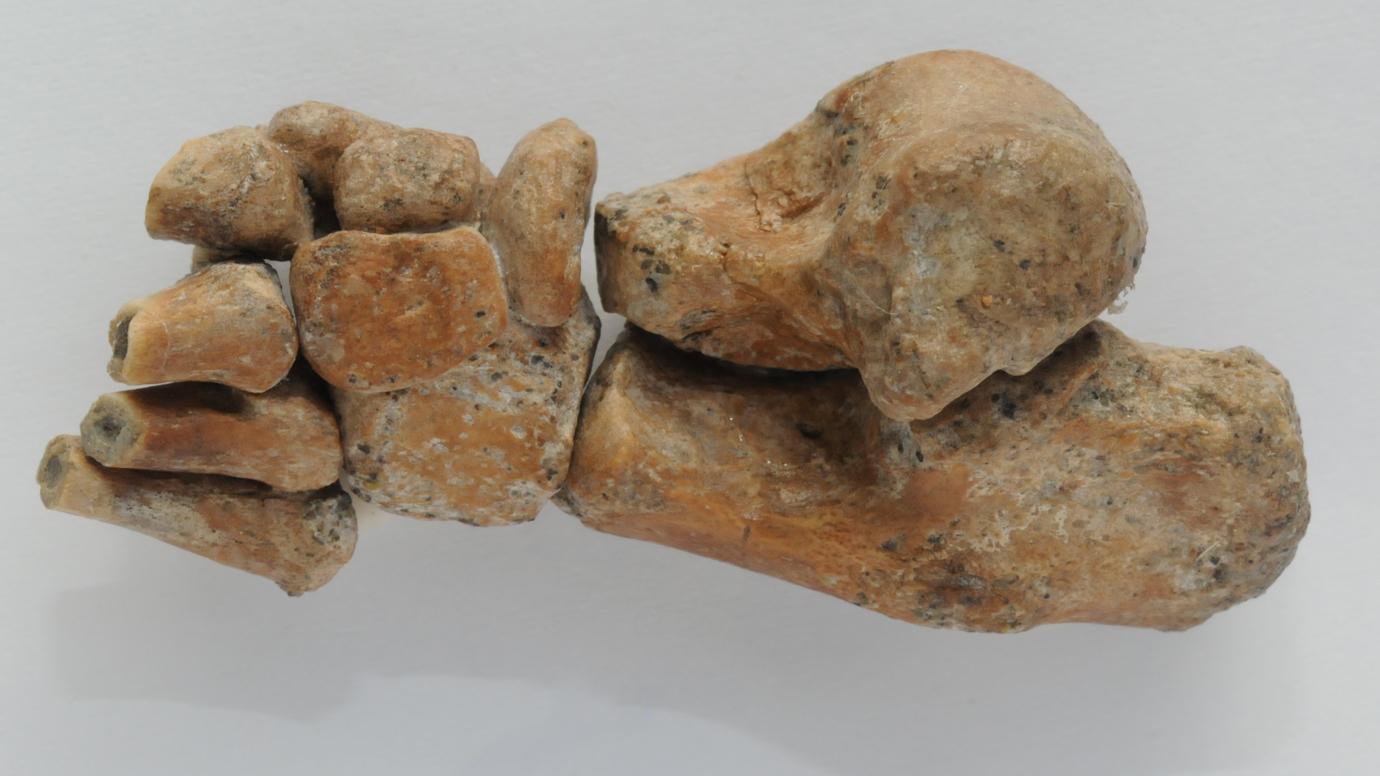 The foot from a 3.3 million-year-old child skeleton discovered in 2002 in Ethiopia by University of Chicago professor Zeresenay Alemseged. (Zeresenay Alemseged / University of Chicago)
Imagine trying to keep track of a toddler who could not only crawl and walk but also climb up into a tree.
New analysis of a child's foot from an ancient fossil shows that human ancestors had adaptations that allowed them to climb trees, similar to their apelike cousins.
The foot, about the size of a human thumb, is just one piece of a nearly complete 3.3 million-year-old fossil skeleton of a young female, officially called Australopithecus afarensis. The fossil, known as "Selam," was discovered by University of Chicago paleoanthropologist Zeresenay Alemseged in 2002 in the Dikika region of Ethiopia.
In studying the foot, Alemseged and other researchers examined how it would have been used by a toddler, and what it says about human evolution.
At 2.5 years old, the researchers knew that Selam, which means "peace" in many Ethiopian languages, was already walking on two legs. But they observed hints in her fossil indicating that she was still spending time in trees and hanging onto her mother while foraging for food.
A key clue was Selam's big toe, which was more movable compared to adult fossils and allowed her to grasp branches and climb. Based on the skeletal structure of Selam's foot, researchers think kids probably spent more time in trees than adults.
The ability to climb provided the younger, more vulnerable individuals with an alternative to walking, according to the researchers, whose findings were published recently in the journal Science Advances.
The finding, which Alemseged said provides deeper insight into the evolutions of human ancestors, is just the latest to come from Selam. Last year, Alemseged used the same fossil to reveal how the human spine evolved.
"The skeleton continues to provide new, really amazing insight in terms of the many adaptations that our early human ancestors had," Alemseged said in a statement. "Now to identify features that are slightly apelike in an otherwise very humanlike creature is a bit of a surprise."
Contact Alex Ruppenthal: @arupp | [email protected] | (773) 509-5623
---
Related stories:
130-Million-Year-Old Fossil Provides New Insight on Pangea Division