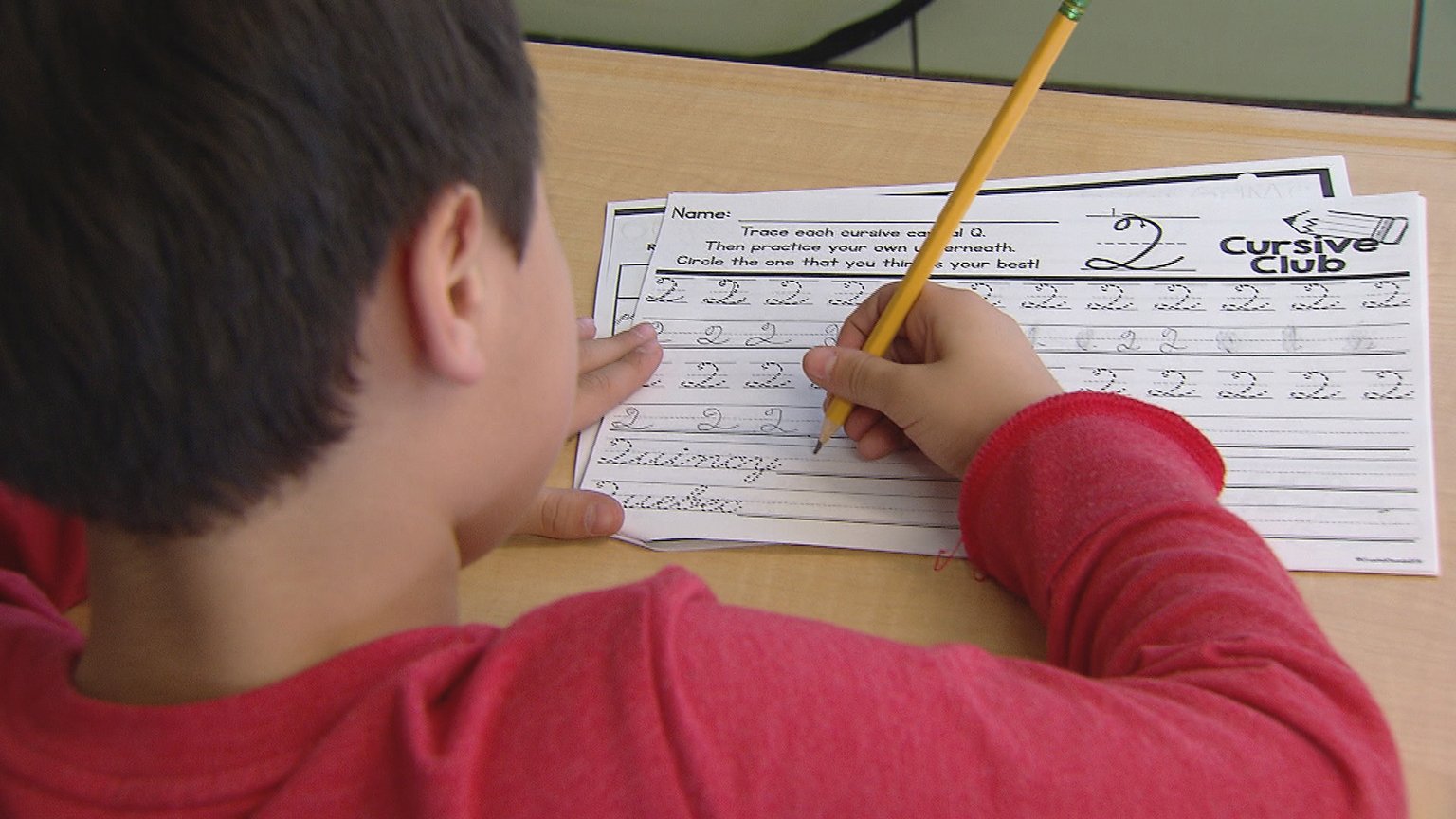 Cursive writing is coming back to Chicago Public Schools.
The Chicago Board of Education on Wednesday will vote to approve a new district policy requiring cursive writing lessons within CPS elementary schools to coincide with a state mandate added late last year.
"The cursive writing instruction shall promote a student's fluency in both reading and writing cursive," the board agenda for Wednesday's meeting states.
An Illinois law passed last fall requires public elementary schools statewide to begin offering at least "one unit of instruction" in cursive to students beginning this fall.
Lawmakers had initially sought to include these lessons at all public high schools and elementary schools, but that was later pared down to just elementary schools, which now must offer cursive to students before fifth grade.
For CPS students, that "unit of instruction" will come in the form of a five-week program that'll likely be integrated into existing courses. The district says schools will have some autonomy in designing their own lesson plans, but CPS itself is also creating its own model that schools can use.
The district will initially offer cursive writing to both fourth and fifth graders during the 2018-19 school year, before shifting to only fourth graders the following year.
Despite its innocuous language, the bill became rather contentious in Springfield. After breezing through the state House and Senate, Gov. Bruce Rauner vetoed the measure last September, calling it "yet another unfunded mandate for school districts." He urged legislators to instead add cursive instruction to the Illinois State Learning Standards so it could be properly funded.
But lawmakers overrode that veto in November. Bill sponsor and state Rep. Emanuel "Chris" Welch, D-Hillside, said at that time cursive lessons will improve students' communication and creativity, while making them "stronger readers, writers and critical thinkers."
Marie Donovan, an associate professor of early childhood teacher education at DePaul University's College of Education, said studies have shown that while that may be true for certain kids, research hasn't found cursive to be a required skill necessary for success across broad student populations.
"I keep up on a lot of research, and in terms of the handwriting research, particularly cursive, the way I read the literature still, there isn't any compelling research that says if you don't teach kids cursive handwriting they'll be doomed, they'll never succeed," she said. "There's nothing that points to that."
CPS previously taught cursive to its students, Donovan said, but like many other school districts, it was eventually phased out in favor of other teaching requirements. Still, a desire remained among some students to learn the handwriting form. Even before the law was passed last year, cursive clubs had already begun popping up inside a handful of CPS schools, allowing students to pick up the writing skill during an elective 10-week after-school program.
Cursive writing isn't required under Common Core standards and had seemingly fallen out of favor across much of Illinois and around the country by the early 2010s. But more than a dozen states, including Texas, Florida and California, have since added cursive mandates, predating the one passed in Illinois. In Louisiana, public school students must take cursive lessons from third grade all the way through their high school graduation.
Instead of state legislators handing out mandates, Donovan believes the decision to teach cursive should remain with local community and school leaders.
"As children are practicing, that takes time and suddenly you're now carving out 20 minutes at least three days a week," she said. "The instructional day is so compressed as it is, you start asking yourself as a teacher 'OK so if I do this for this number of weeks, what else am I not going to be able to do?'
"This should have been a local decision. Let it be a local decision, let the professionals do what they do best which is know the research and reflect that research in their classrooms and engage parents and families in the decision making."
Contact Matt Masterson: @ByMattMasterson | [email protected] | (773) 509-5431
---
Related stories:
For These Chicago Kids, Time is 'Write' for Cursive Clubs
CPS, ISBE Partnering on New Competency-Based Learning Pilot
Illinois Education Superintendent on School Funding, Standards