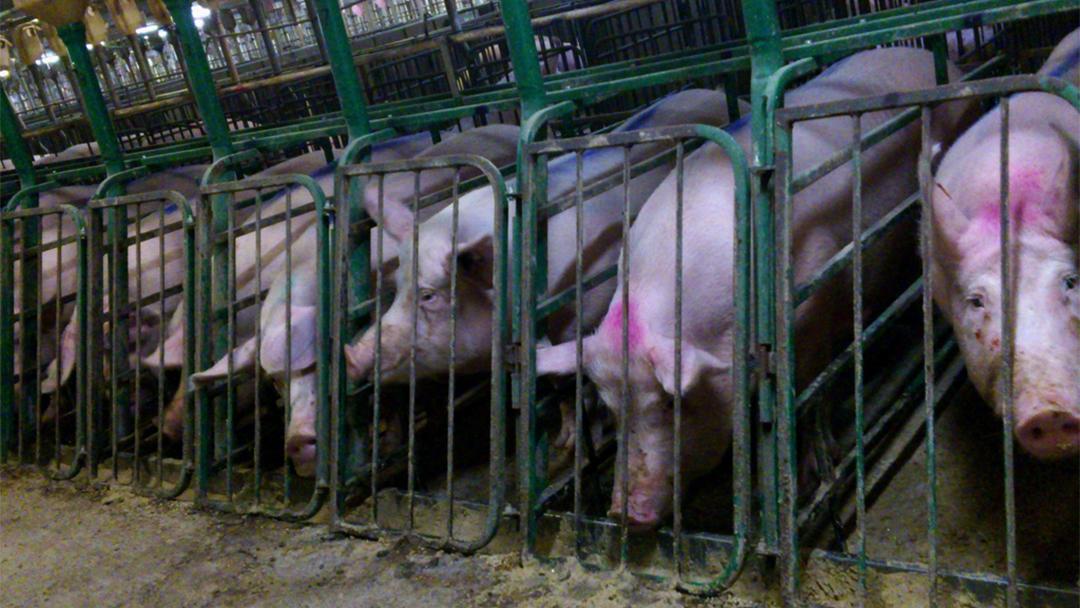 Hog confinement facilities, like this one in the Canadian province of Manitoba, often use gestation crates that prevent pigs from being able to turn around. (Mercy For Animals Canada / Flickr)
Trader Joe's has responded to public concerns over its pork suppliers, specifically, those who keep pigs in tight metal crates, a practice animal welfare groups have condemned as inhumane.
In an announcement posted on its website last week, Trader Joe's said it sells "many products" from vendors that are phasing out the use of gestation crates, 2-by-7-foot cages that keep pigs in one position for the majority of their lives. 
The grocery store chain also acknowledged customers' concerns over use of the crates by its pork suppliers.
"We are currently looking at our supply chain to see where additional change is needed," states the announcement dated Jan. 24. "We are also evaluating our labeling options, so we can better clarify this attribute on our pork products."
A day before the company's announcement, Chicago Tonight published a story about an Illinois group's campaign to get Trader Joe's to stop purchasing pork from suppliers that use the crates, which are banned in 10 states but still authorized in Illinois, the country's fourth-largest pork producer.
The German-owned company has nearly 500 stores in the U.S. and more than 20 in the Chicago area. Most of Trader Joe's conventional pork suppliers use gestation crates, according to an October 2017 email from the company that was reviewed by Chicago Tonight.
Studies show that sows kept in the crates have lower bone strength and muscle weight and are more likely to exhibit abnormal behaviors, such as repetitive bar-biting.
A Jan. 24 post on Trader Joe's website addresses the use of crates in the company's pork products. (Trader Joe's)
A spokesperson for Trader Joe's did not respond to requests for comment about its pork suppliers.
"As far as I know, Trader Joe's hasn't acknowledged their use of gestation crates before [the Jan. 24 announcement]," said Jessica Chipkin, founder of the nonprofit Crate Free Illinois, which launched an online petition last fall targeting the company's practice of purchasing pork from suppliers that use the cages. "This is a step in the right direction. But our ultimate ask is that they announce their commitment and a timeline to transition away from any supplier that uses gestation crates."
Major grocery chains such as Kroger, Safeway, Whole Foods and Costco have announced plans to eliminate gestation crates from their supply chains, according to the Humane Society of the United States. Many of the country's largest food companies have made similar commitments, including Chicago-based Kraft and McDonald's, along with Hormel, Hillshire, Smithfield, Burger King, Wendy's, Subway and Chipotle.
As of Wednesday, Chipkin's petition had more than 365,000 signatures, ranking it among the top 10 percent of Change.org petitions created last year, according to the company. 
Chipkin said she is working with other advocates to organize an event at Trader Joe's U.S. headquarters outside of Los Angeles to deliver signatures and raise awareness about the use of gestation crates, which animal welfare groups consider inhumane.
"This is a great example of how powerful consumers can be," she said.
Contact Alex Ruppenthal: @arupp | [email protected] | (773) 509-5623
---
Related stories: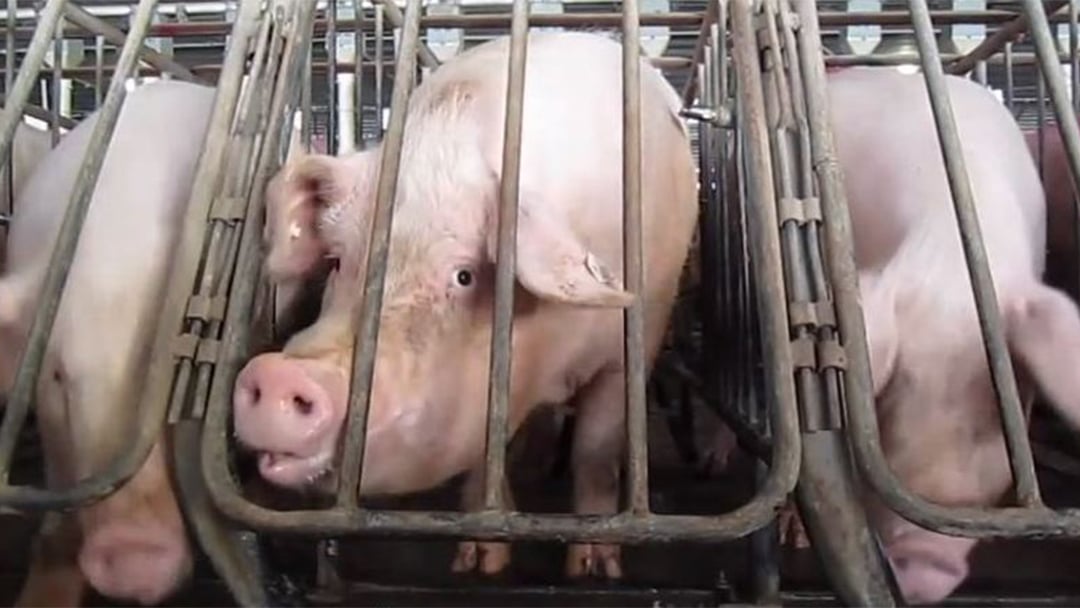 Petition Targeting Trader Joe's 'Inhumane' Pork Suppliers Gains Traction
Jan. 23: The group Crate Free Illinois is calling on Trader Joe's to stop purchasing pork from suppliers that use gestation crates, tight metal stalls that keep pigs in one position for the majority of their lives.
---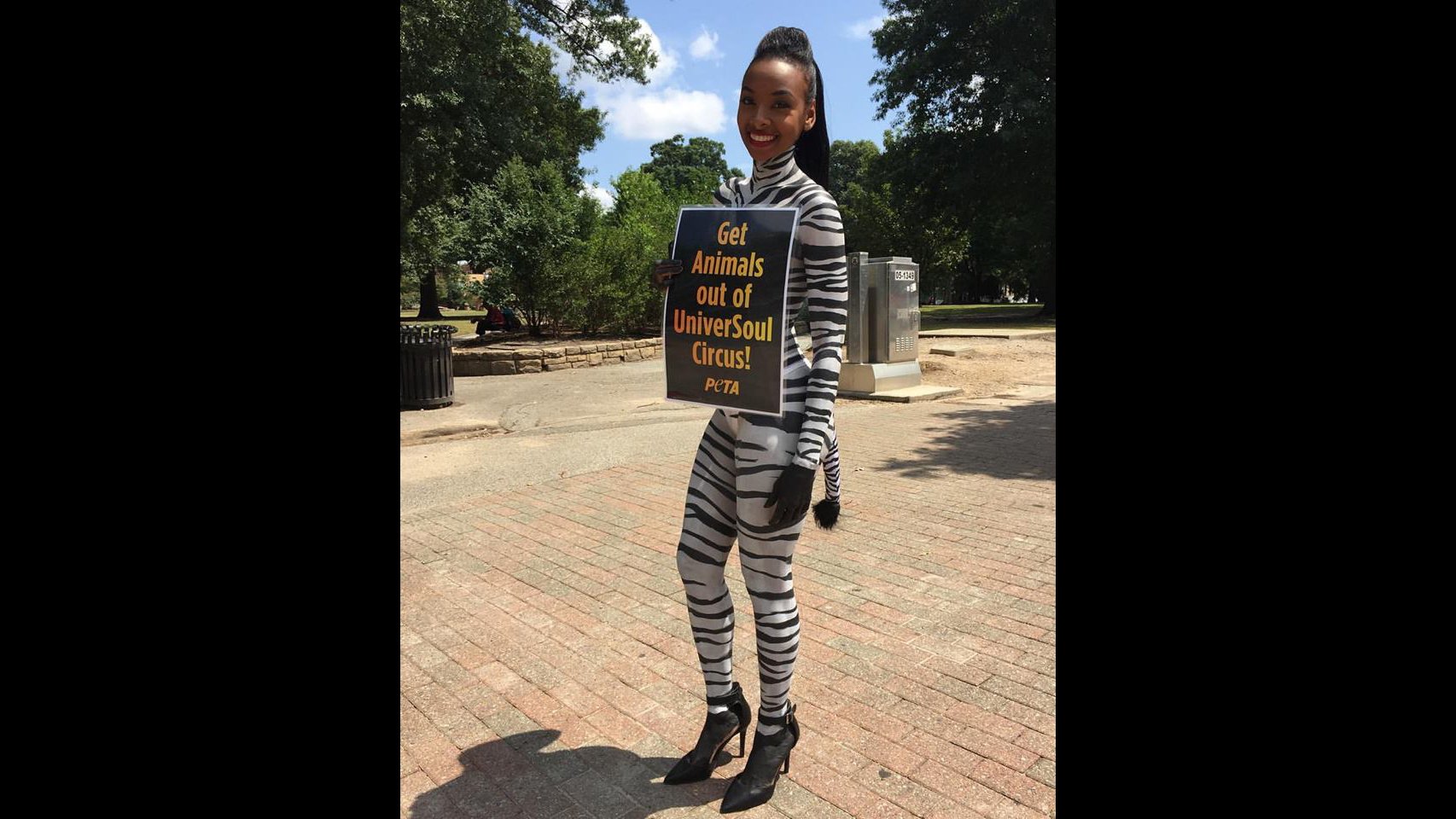 Half-Naked 'Zebra' to Protest Circus Opening This Week in Chicago
Oct. 3: Dressed in little more than black-and-white body paint, a PETA supporter on Wednesday will urge passersby to skip performances this month by a circus company with a track record of mistreating animals.
---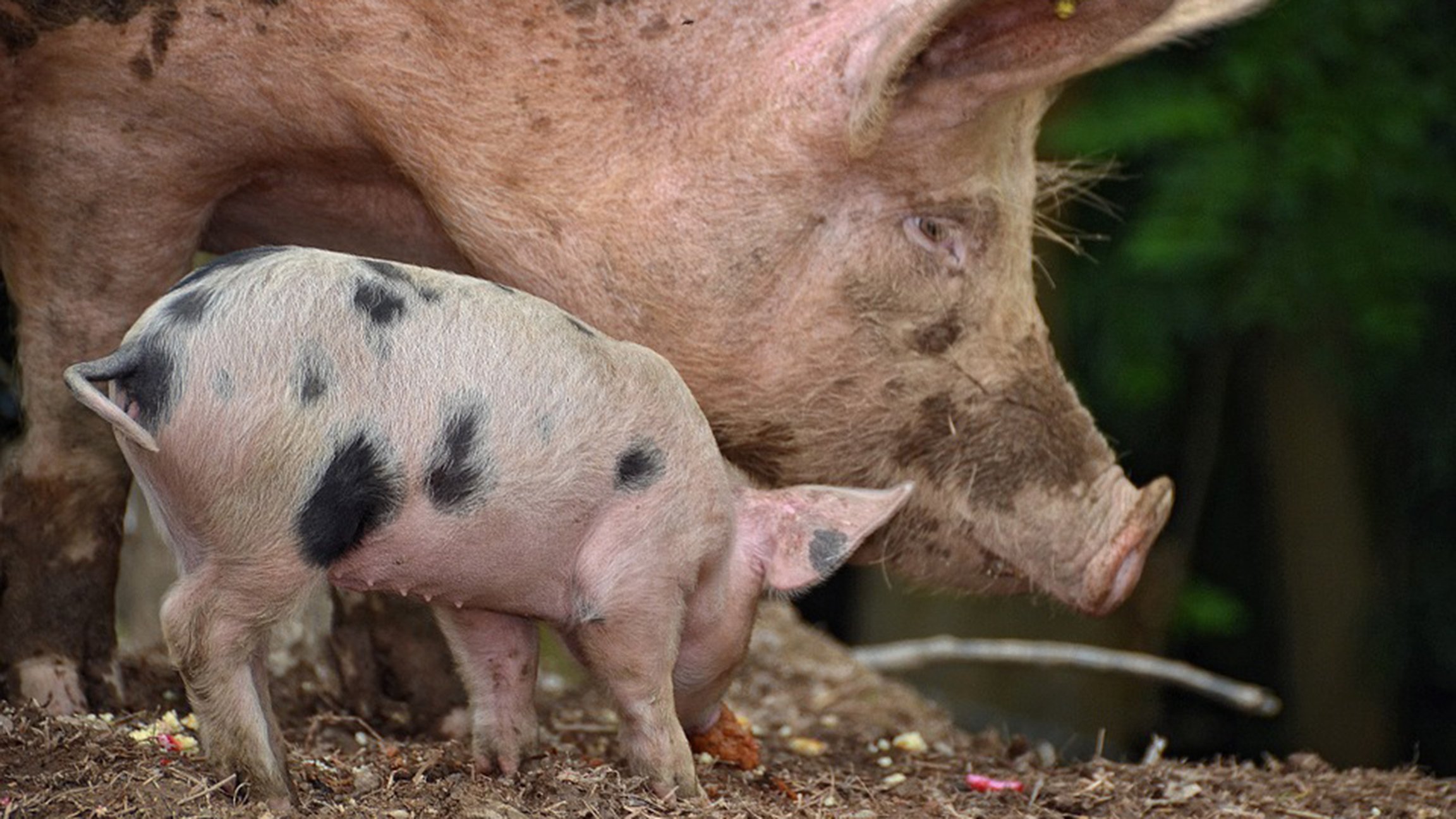 Investigation into 'Price of Pork' Paints Often Disturbing Picture
Aug. 8, 2016: A Chicago Tribune investigation called "The Price of Pork" paints an often disturbing picture of pork production in the state. The lead reporter on the series joins us to discuss his findings.
---