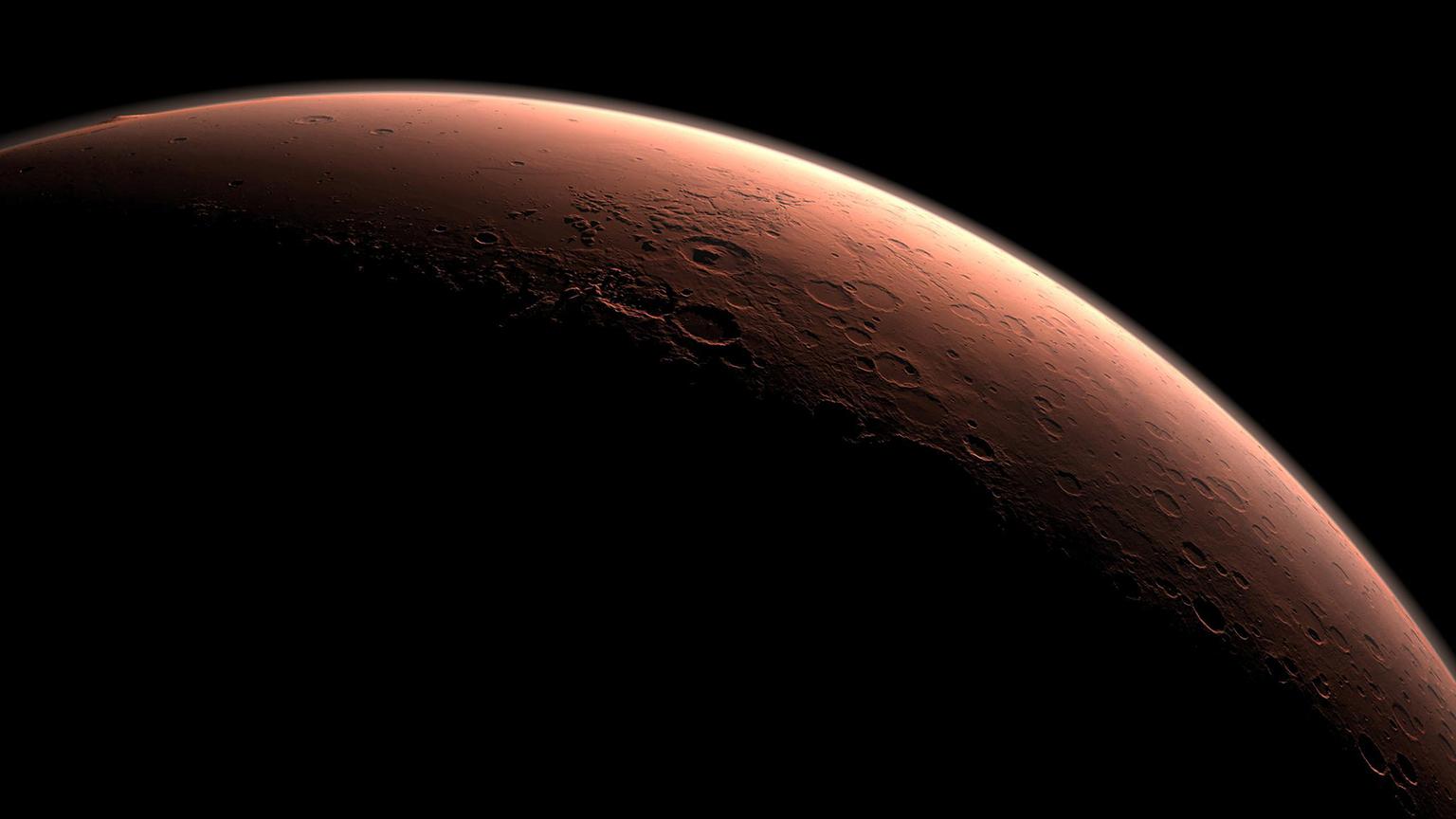 This computer-generated image depicts part of Mars at the boundary between darkness and daylight. (Credit: NASA/JPL-Caltech)
It's no total solar eclipse, but this summer offers a unique astronomical event of its own and it involves Earth's closest neighbor: Mars.
Later this month, the red planet will be just 35.8 million miles away – the brightest and closest it's been to Earth since 2003.
Mars will appear brightest July 27-30, and Chicago's Adler Planetarium is hosting an outdoor viewing event from 9 to 11 p.m. on Monday, July 30. Guests will be able to view the planet's orange-colored disc and, depending on the strength of the museum's various telescopes, possibly even some of its surface features.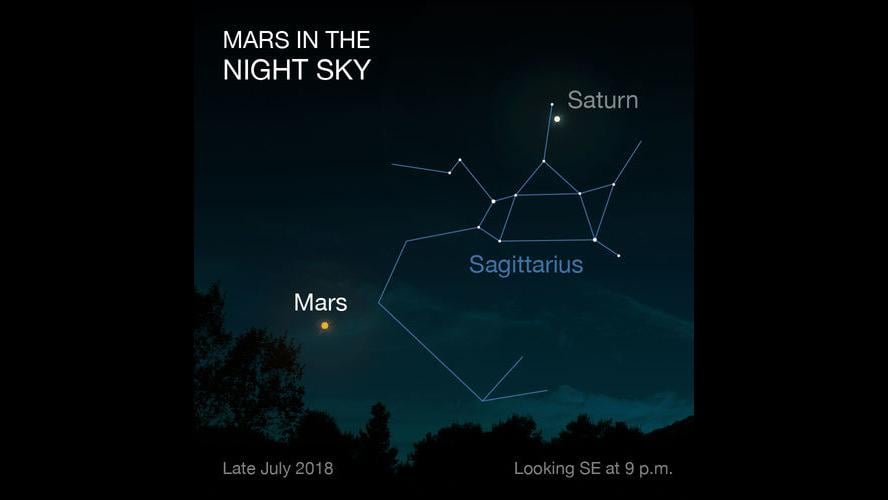 Starting at about 9 p.m. July 30, Mars will appear about a third of the way up from the horizon. (NASA)
According to Adler, Mars will be one of the brightest objects in the sky for several months, with its brightest phase starting July 27. To the naked eye, Mars will appear as a very bright orange dot. Through a 3- or 4-inch telescope with a magnification level of at least 80x, the planet will appear as a small orange disk. 
In Chicago, starting at about 9 p.m. July 30, Mars will appear at its brightest, vieweable in the southeast sky, though elements of your viewing location (trees, buildings, houses, etc.) could affect the time you begin to see the planet.
Mars will be low in the southeast, south and southwest skies throughout the night July 30, according to Adler. At its highest point, it will be 35 degrees above the southern horizon, or about a third of the way up from the horizon.
By mid-August, Mars will become fainter as Mars and Earth travel farther away from each other in their orbits around the sun, according to NASA.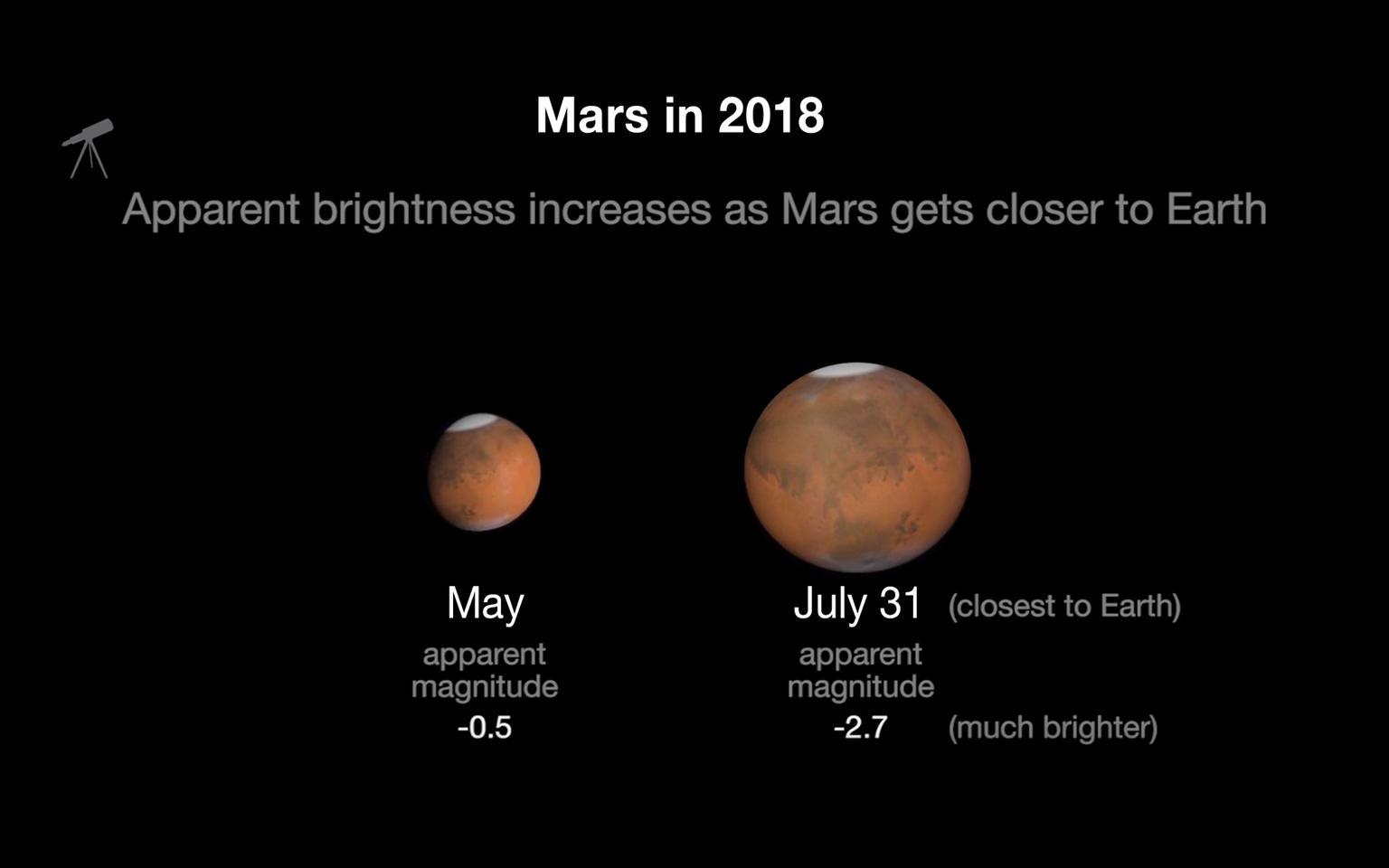 (NASA)
The next time Mars will be this close to Earth is in 2035.
Adler's July 30 event is outdoors only and weather permitting. The museum will not be open to guests, but restrooms will be available.
For more information, visit the planetarium's website. 
Contact Alex Ruppenthal: @arupp | [email protected] | (773) 509-5623
---
Related stories: