Video: Alds. Raymond Lopez and Nicholas Sposato weigh in on the long-beleaguered city facility.

The ouster last weekend of Chicago Animal Care and Control's executive director, whose short tenure resulted in the fewest instances of euthanasia at the agency since that data has been recorded, has got folks howling across the city.
According to CACC volunteers and former head Susan Russell, the office of Mayor Rahm Emanuel placed a de facto gag order on all staff at the shelter earlier this year after Russell said the city would have to consider euthanizing dogs because the space was overcrowded. Russell's warning led to a flurry of adoptions in January, with nearly 60 dogs finding new homes over a five-day period. (The shelter averages fewer than two dog adoptions per day, according to data for 2017 posted on the agency's website.)
Russell's supporters say Emanuel's office took issue with her public acknowledgement that the city would euthanize dogs if it continued to shelter more than 300 of the animals – a figure much higher than the shelter's target population of 200 dogs.
"Press coverage … was simply not permitted after CACC's successful push in January to get the healthy and treatable animals out alive," Russell wrote Monday in a Facebook post.
According to an active volunteer at the shelter who asked not to be named because they are not authorized to speak publicly about the shelter, the message from Emanuel's office was: "You are never to tell the public that we euthanize dogs."
The practice of euthanasia is common at so-called open admission shelters that do not turn away any animals based on their age, breed, health, behavior or other factors. Since Emanuel named Russell to the executive director post in April 2016, the number of animals euthanized at the city's shelter has decreased steadily, from 4,896 the year before Russell took over to 3,766 in 2016 and 2,481 last year, according to data available on CACC's website.
Russell said she was asked Friday to resign during a meeting with Emanuel's chief of staff, Joe Deal. She declined, and was then fired.
On Saturday, the city issued a press release announcing Kelley Gandurski as CACC's acting executive director. Gandurski previously served as CACC's deputy director and general counsel and has also worked in the city's Law Department. She has volunteered with animal rescue groups and fostered dogs, according to the release.
Russell told Chicago Tonight that after being quieted by the mayor's office at the start of the year, shelter staff and volunteers continued to communicate the need for adopters via social media and other channels. But city data shows that in 2018, there has not been a month with more dog adoptions than January, when press coverage of the shelter's overcrowding issues prompted action.
"Good practices in sheltering mean that you communicate frequently with your public about your population," Russell said. "But you have to be transparent. If you are going to euthanize, then people should know. 
"It was really important to continue that kind of communication," she continued, "and it did become more difficult to get that message out there."
By restricting CACC's ability to promote adoptions, the city's clampdown has made it more likely that animals will be euthanized because of space issues at the shelter, said the shelter volunteer. 
"They're killing dogs," the volunteer said.

"Good practices in sheltering mean that you communicate frequently with your public about your population."
–Former CACC Executive Director Susan Russell
---
Word of Russell's dismissal over the weekend set off an outcry from animal rescue groups, more than 20 of which have scheduled a protest for Tuesday night at the city's animal shelter at 2741 S. Western Ave. The groups plan to "demand that the mayor's office release information" about Russell's firing.
"Susan has had tremendous success in her role and leaves the shelter with the lowest euthanasia rates ever," the groups said in a statement. "Susan achieved these improvements despite the continued under-funding of CACC operations, with a budget a fraction of what other municipalities of similar size have to care for and save the city's homeless animals."
During Russell's tenure, CACC also saw an increase in the percentage of animals that were either reunited with their owners, adopted or transferred to other shelters. The city had a placement rate of about 70 percent in 2015, the year prior to Russell's hire. The rate was 74 percent in 2016 and jumped to 83 percent last year.
"I'm very proud of what our team did," Russell said. "I'm sorry to see all this kind of miserableness following our attempts at getting the shelter to a better place. But it is what it is right now."
Russell disputed claims from City Hall sources that she was fired for "warehousing" dogs in inhumane conditions.
"Warehousing animals – what is that?" she said. "We have never put more than one animal to a kennel, unless of course they were a bonded pair, mothers and children."
In response to questions about Russell's firing, Emanuel spokesperson Adam Collins issued the following statement:
"We all care deeply about the treatment of animals and have a common goal of promoting adoption and rescues. But serious concerns arose about operations at the shelter, particularly when it came to dogs, posing a health and safety risk for agency staff, volunteers and residents looking for a new family pet. Our office raised these concerns a number of times with Susan for months, and when they were not fully addressed we made a change. Providing quality, humane care to animals and ensuring the safety of staff and residents must be paramount at Animal Care and Control, and the mayor is confident Kelley will ensure both of those critical missions are fulfilled while overseeing a seamless transition."
Russell also voiced frustrations about CACC's budget, noting that the shelter does not have adequate staff to walk dogs or facilitate play groups. She said she often worked 12- to 13-hour days, and that CACC relies on volunteers with full-time jobs who put in dozens of hours each week at the shelter.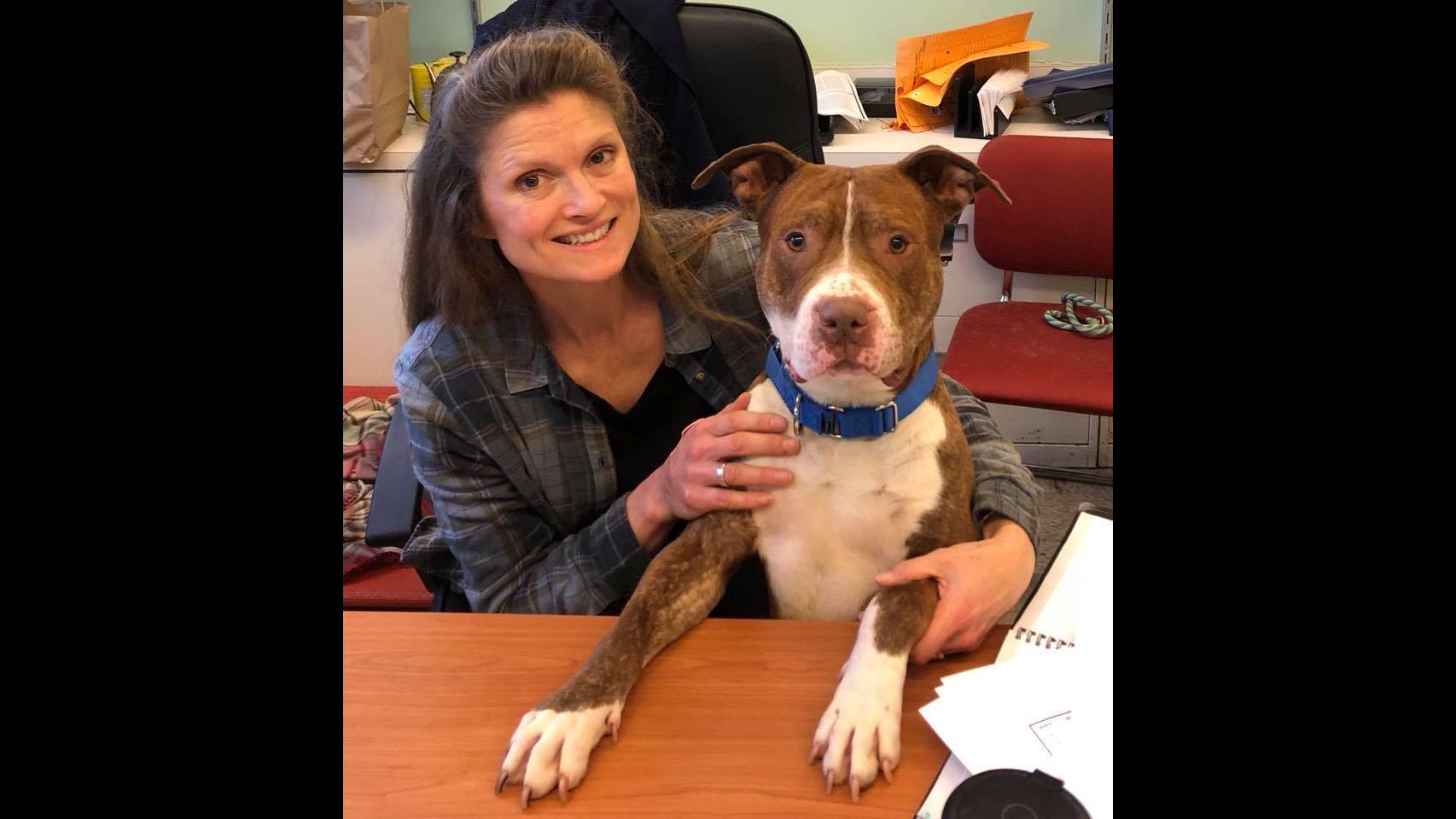 Susan Russell (Chicago Animal Care and Control / Facebook)
During her tenure, CACC renovated its building, grew its network of volunteers and rid the shelter of a canine influenza virus, she said. 
Russell said that before she was fired, she was working to implement a foster program for animals that require special care.
"I was honored to be part of the transformation of the City 'pound' into the place that hopefully will continue to be known as a shelter committed to saving all healthy and treatable animals," she wrote Saturday on Facebook. "I look forward to continuing to be part of the solution in some other capacity – and to fighting ignorance at every turn, especially the ignorance that daily is directed at our beautiful Chicago dogs stuck en masse in crowded shelters."
Contact Alex Ruppenthal: @arupp | [email protected] | (773) 509-5623
---
Related stories:
Aldermen: Chicago Animal Shelters Should Be 'No-Kill' Environment