The Shedd Aquarium recently announced a new arrival at the Chicago institution and it's definitely not the creature you'd expect it to be. We went to the Shedd to investigate its latest rescue.
TRANSCRIPT
Phil Ponce: When you think about the Shedd Aquarium's rescue animals, perhaps this five-week-old orphaned southern California sea otter pup comes to mind. 
But you may be surprised to find that along with the sea lions, and the baby beluga whale in the Oceanarium, the Shedd Aquarium has gone to the dogs.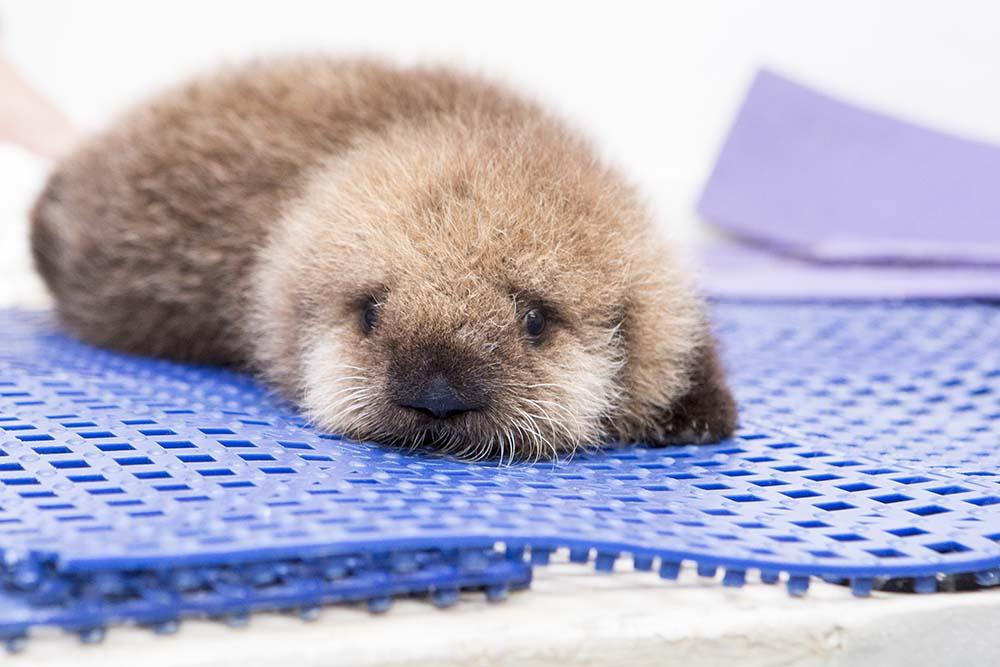 When she arrived at the Shedd on Oct. 28 Luna, formerly known as Pup 681, was just 5 weeks old and weighed less than 6 pounds. (Brenna Hernandez / Shedd Aquarium)
Lana Vanagasem, Shedd Aquarium: The big reason why we have dogs at Shedd is to help tell that rescue and rehab story. A lot of people are used to hearing about the Shedd Aquarium animals. We rescue sea otters. We rescue sea lions. But people at home, they can't do that. They can't rescue those types of animals but what they can do is rescue dogs from local shelters.
PP: The dogs live in a kennel at the Shedd. The Marine Mammal Department trains and cares for the dogs, along with dolphins, whales, penguins, sea otters, sea lions, and birds of prey. Yes: Birds of prey – predators of most of the creatures in the Shedd Aquarium.
LV: We try to tell a conservation story, how if you chop down all the forests, it's also going to impact these other species. So it helps to tie in to all of our goals of the aquarium to help conserve our natural world around us.
PP: The first time Shedd adopted dogs was when the Oceanarium underwent renovations. 
LV: There weren't going to be any animals in the Oceanarium that people can come and see, so they actually had the idea to have a dog show that ran a few times a week. So you'd be able to see how we train the Shedd way.
PP: The Shedd's newest dog is Peach.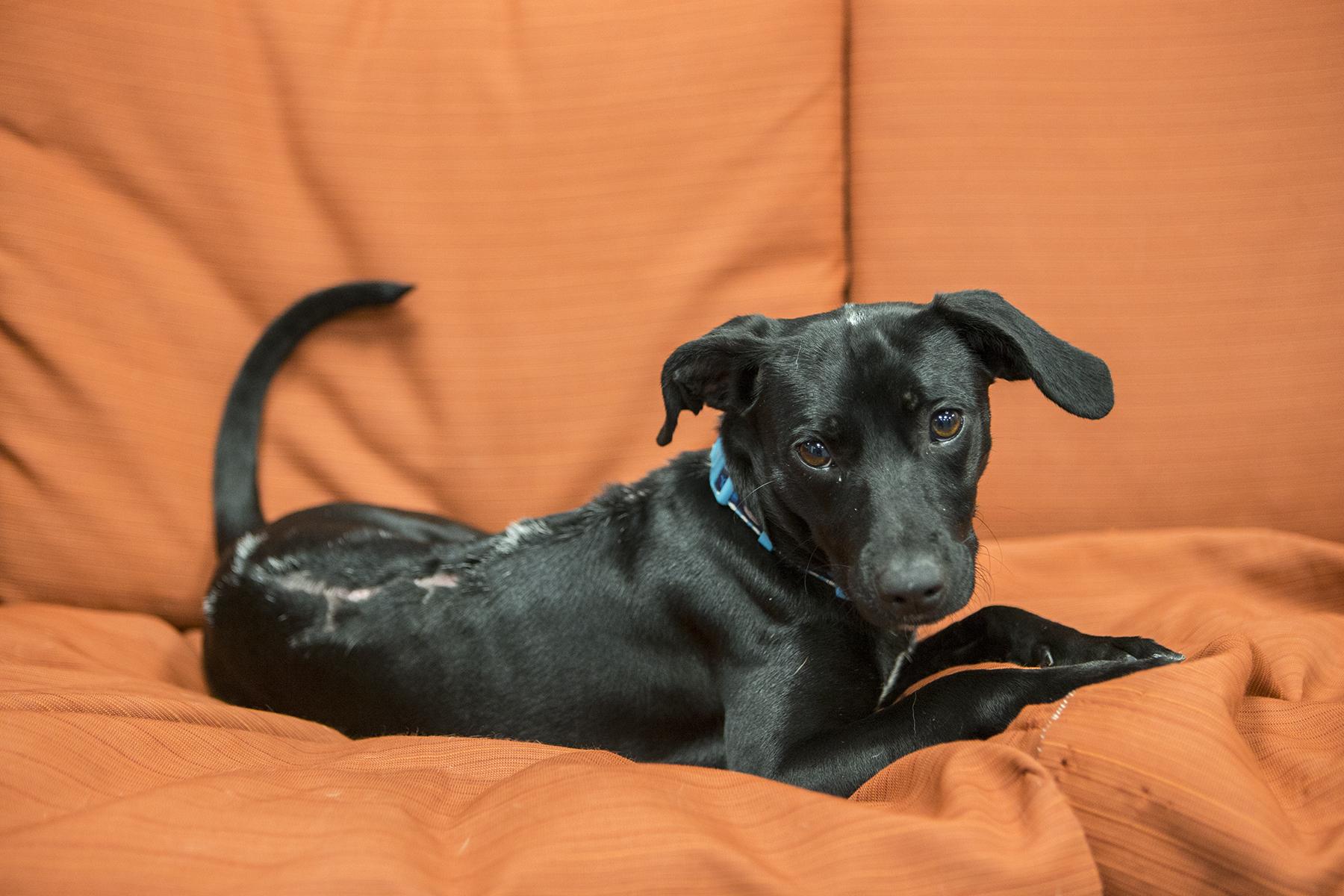 Shedd's newest rescue makes herself comfortable in the aquarium's dog lounge. (Brenna Hernandez / Shedd Aquarium)
LV: We actually got a tip – we have a volunteer that works at Anti-Cruelty who said, "We have this awesome dog we think would maybe make a great candidate for the Shedd program."
A lot of it was her temperament. We wanted a dog that wasn't fearful of people because if you started with a fearful dog, you can definitely work through that, but we wanted to start with one that was maybe a little bit more interested in wanting to socialize with people.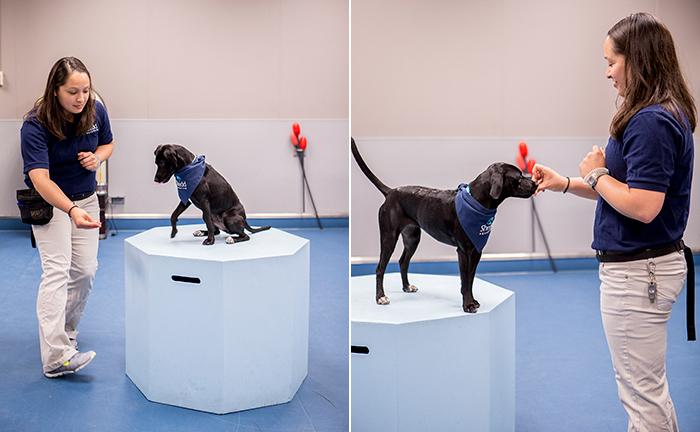 As with all Shedd rescue dogs, training begins immediately. (Brenna Hernandez / Shedd Aquarium)
PP: Peach has started clicker training but isn't ready yet for Shedd visitors to see her in the big show. 
Sound from current "One World" show at Shedd: We feature them in our show in order to highlight the similarities found between training you can do at home and the care we give to our animals here at the Shedd.
LV: When she starts learning that, "Hey, every time I hear the click, something positive is coming because I really like my food." But right now she's still learning some of the basics so: being able to sit on hand single, also being able to go up on the seat, go into crates, go into kennels.
PP: But even a lucky dog like Peach who's surrounded by professional trainers sometimes does naughty things like chew on couch cushions. 
At this point you may be wondering why Peach is named after a fruit. But she's not. All the dogs at the Shedd are named for characters in one of the most famous aquatic films of all time, "Finding Nemo."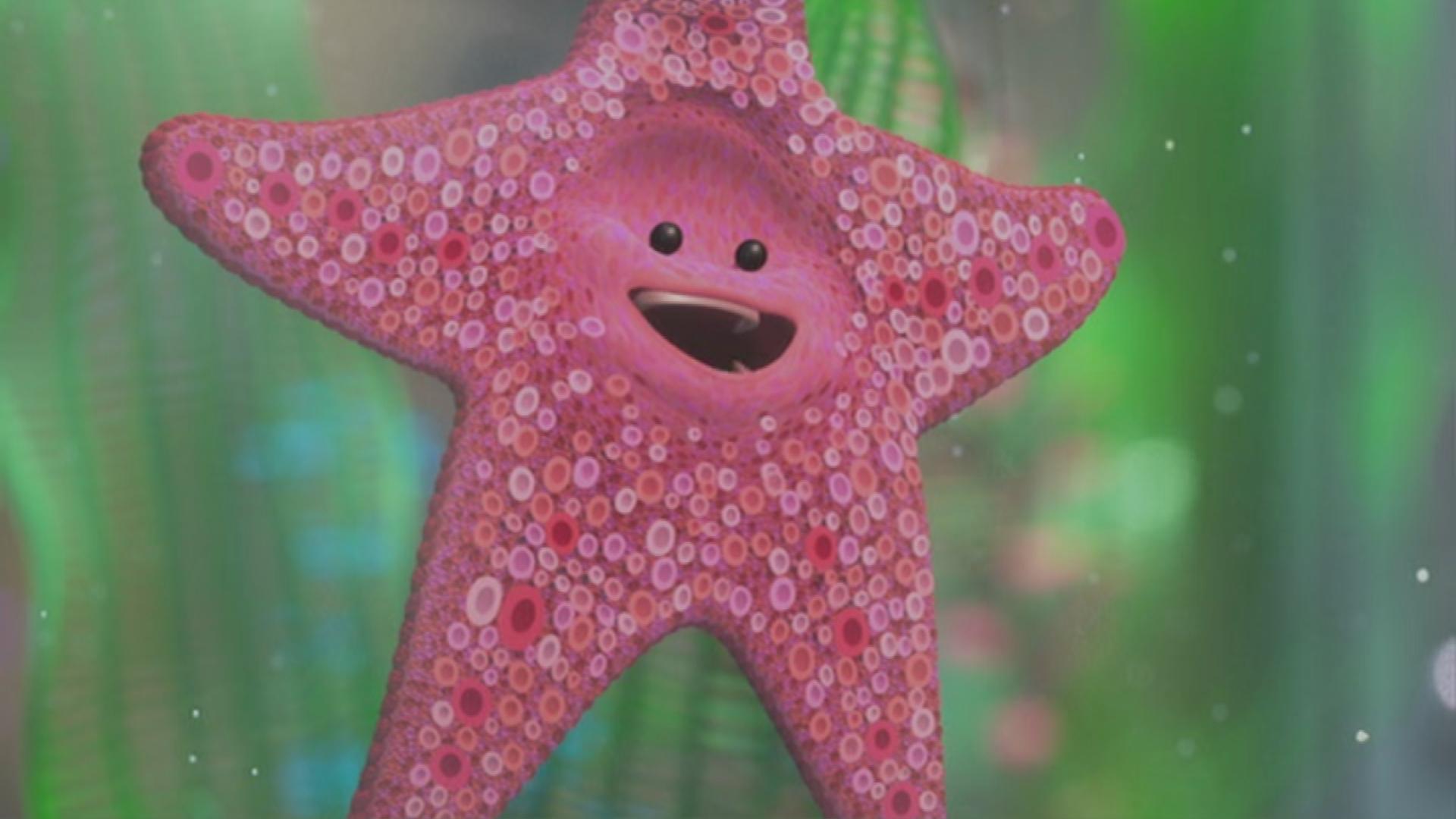 "Finding Nemo" (Disney Pixar 2003)
Peach is named after the starfish.
Not all Shedd dogs were suited to the life in a busy aquarium, so some have found other homes.
LV: We could technically house up to six but we have four right now and for right now we feel like that's a good number so we can be able to bring them out on several walks a day, do several training sessions, socialize with them, and also using them for shows and telling their stories that way.
---
More about Peach and animal adoption:
Peach was found under a hot metal garbage dumpster which may explain that scar on her back. There are no Shedd dogs up for adoption any time soon, but if you're interested in adopting a shelter dog, you can find more information by visiting the sites below, which may assist with adoption and offer other resources.
• The Anti-Cruelty Society
Founded in 1899, this privately funded no-kill shelter is located in River North and offers adoption services, behavior and training programs and more.
• City of Chicago Animal Care and Control Adoption Program
Based in Pilsen, the city's shelter houses over 500 animals and offers adoption services.
• Chicago Pet Rescue No-Kill Shelters in Illinois
A nonprofit, volunteer-based rescue and foster home service started by a Chicago resident of Edison Park. 
---