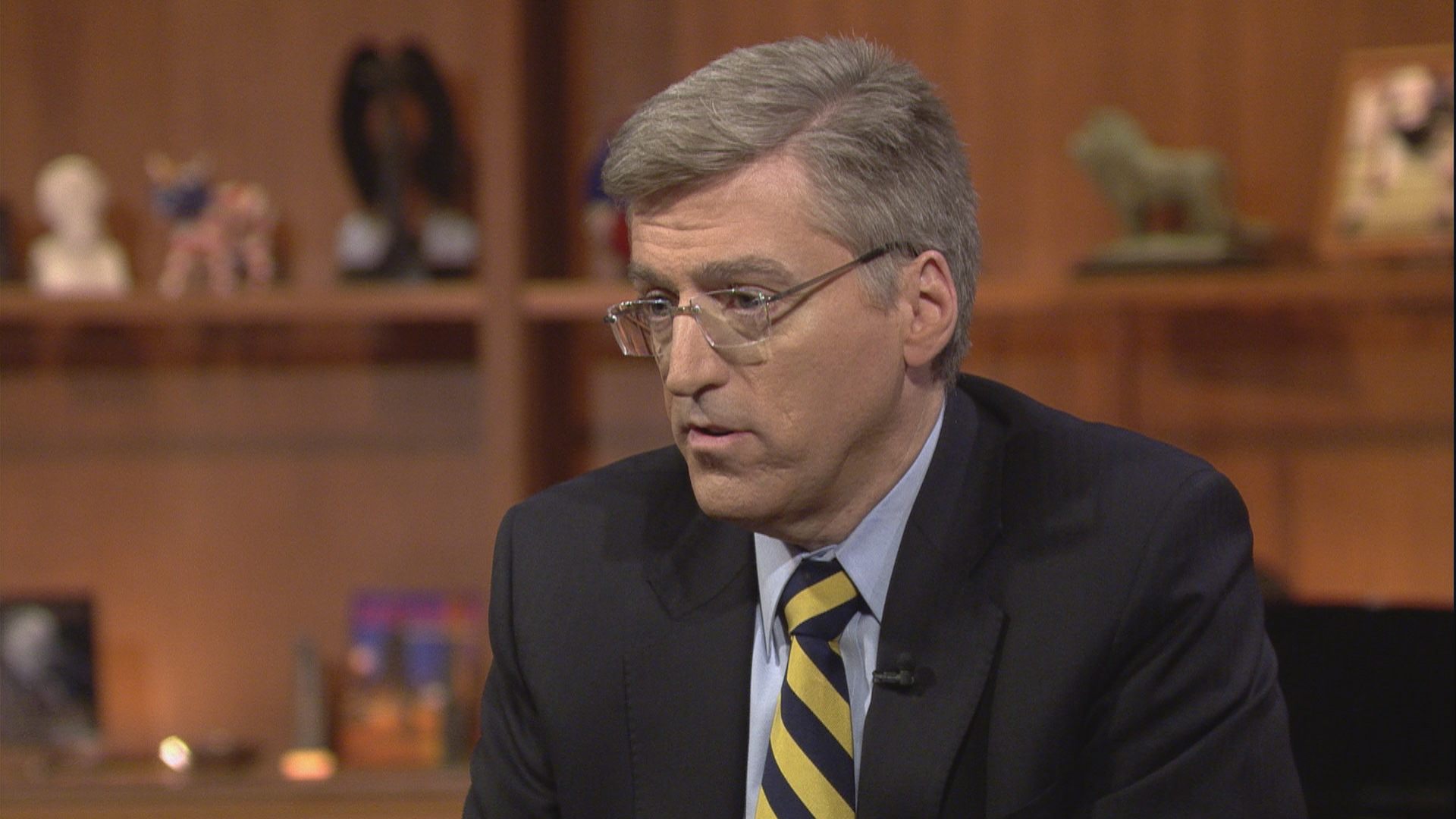 CPS Inspector General Nicholas Schuler during a Dec. 11, 2017 appearance on Chicago Tonight.
Chicago Public Schools' internal watchdog says his office should begin investigating all sex abuse claims made by students, arguing that the district's current method lends itself to conflicts of interest between employees and the victims they're tasked with protecting.
CPS Inspector General Nicholas Schuler penned a letter this week to Chicago Board of Education President Frank Clark recommending the school district transfer investigatory power over sexual abuse allegations to his office.
Sex crime investigations within CPS are currently handled by its own law department – the very same office tasked with defending the district in court against sex abuse victims who have filed lawsuits. Schuler believes the district needs an "independent team."
"That morass of competing interests makes it impossible to tell whether the law department is working for student victims or trying to limit the district's legal exposure," he wrote in the letter.
"In short, placing sex abuse allegations under the investigative purview of the CPS (Office of Inspector General) would assure the public that such allegations would be investigated without favor or prejudice, by a factfinder with a record of independence and transparency."
Document: Read the inspector general's full letter.
The letter comes only days after the Chicago Tribune released a multi-part series detailing CPS' ongoing failure to properly investigate and protect students from sexual abuse. Two former students who spoke about their abuse to the Tribune have already filed a lawsuit against the board, alleging it failed to protect them from their abuser.
The Tribune series detailed systemic issues within the school district, which allowed hundreds of students to become victims of abuse by CPS employees over the past decade. But Schuler said the Tribune's reporting is also filled with cases exposing the law department's "competing interests and lack of follow-through" in its sex abuse investigations.
In his letter, he highlighted a lack of criminal charges for CPS employees who kept quiet about alleged sex abuse. Schuler said his office would recommend "action against employees" who fail to report such allegations and pointed to a Tribune finding that the law department "cuts confidential deals" with educators accused of sexual abuse in order to make them resign.
"Making the OIG the primary investigator of sex crime allegations at CPS would ensure that, at a minimum, the OIG would sensitively – but publicly – report on such cases as appropriate," Schuler wrote.
CPS CEO Janice Jackson and Mayor Rahm Emanuel have taken responsibility for the problems within CPS that allowed this abuse to fester, following the Tribune report's release.
The district has since published an action plan and hired Maggie Hickey, a former assistant U.S. attorney and Illinois executive inspector general, to conduct a top-to-bottom review of CPS' existing policies and practices around sexual misconduct.
The mayor on Tuesday said it's his responsibility to make sure the district has a corrective plan in place, but added, "if anybody has an idea – anybody – bring them forward anywhere."
Jackson didn't directly address Schuler's recommendation in a statement sent Wednesday afternoon, but she did say Hickey's work will include a comprehensive review of all abuse cases, including those referred to the OIG. She also reiterated the district is open to any suggestion that will keep CPS students safe.
"My priority is to protect children, and I will partner with anyone who wants to work with us to ensure we're keeping students safe," Jackson said.
"I want to assure parents, students, and staff that no stone will be left unturned and I will not be satisfied until I am confident we are doing everything possible to protect students."
Contact Matt Masterson: @ByMattMasterson | [email protected] | (773) 509-5431
---
Related stories:
CPS Chief Responds to Scathing Investigation into Student Sexual Abuse
Behind the 'Betrayed' Series with Chicago Tribune's David Jackson
2 Former CPS Students Sue Board of Ed Over Failure to Prevent Sex Abuse
CPS Failed to Protect Students from Sex Abuse: Tribune Report
---