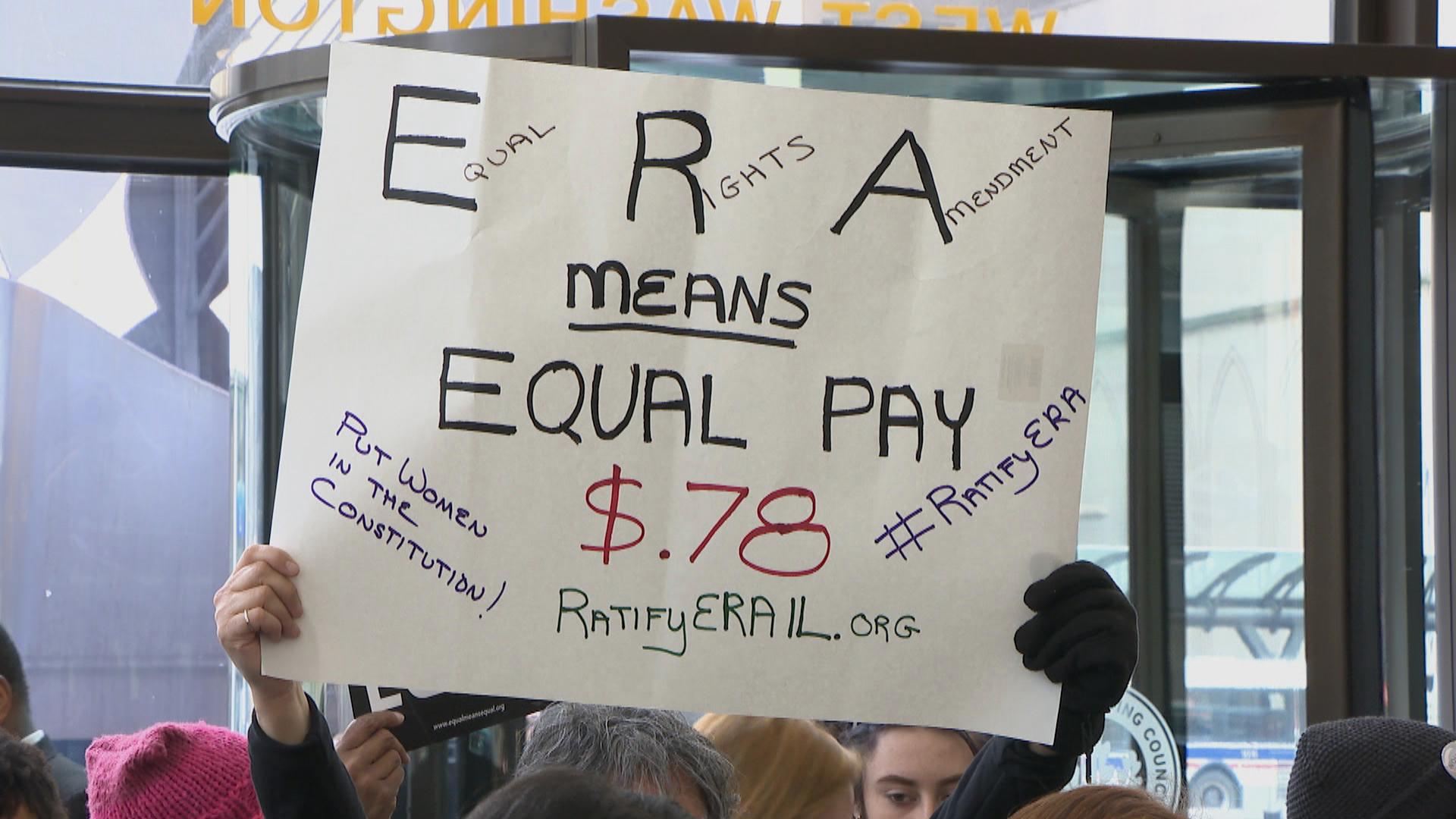 Nearly a half-century after it was first approved by Congress, Illinois on Wednesday night became the 37th, possibly penultimate, state to vote to ratify the Equal Rights Amendment – an action that leaves the ERA one state away from becoming part of the U.S. Constitution.
Should the ERA succeed, a provision would be added to the Constitution that would read, "Equality of rights under the law shall not be denied or abridged by the United States or by any State on account of sex."
The measure's narrow 72-45 victory, which nearly was defeated before a handful of legislators, including House Republican Leader Jim Durkin, helped to nudge it over the top in the final seconds, came after an hourslong emotional and at-times racially charged debate. The state Senate approved the amendment earlier in April and no action is required by Gov. Bruce Rauner, who has repeatedly said he supports equal rights in a generic sense, but has made a point to avoid taking a position on the ERA itself.
"These are my last weeks and months in this chamber. I'm the daughter of a man who was born on a plantation. I'm the granddaughter of a woman who left the south to come to Chicago for opportunity but never found it because of her race and her gender," said Rep. Litesa Wallace, a Rockford-area Democrat who was running mate to Sen. Daniel Biss in his failed campaign for governor. "I stand here a single mother who has survived damn near anything you can think of and I mean that quite literally."
Wallace, through tears, said she felt "conflicted" about her vote "because I stand here black and a woman," she said. "And every single day of that existence I am asked whether explicitly or implicitly to choose between those realities. And that's impossible."
She ultimately voted yes.
So did Rep. Carol Ammons, D-Urbana, who said, "This country needs a moral check because every time it comes to the issue of equity and justice it seems to get a little bit of amnesia, and this bill reminds us of the unfinished business of the constitution of this great country."
Equal Rights Amendment passes; it was several votes under, then agter legislators cheered "come on!" it surpassed the needed 71 votes, with bipartisan support (and bipartisan opposition). GOP leader Jim Durkin one of several Republicans voting for the ERA. pic.twitter.com/Dz1mryjuSC

— Amanda Vinicky (@AmandaVinicky) May 31, 2018
---
But other African-American legislators voiced their opposition, saying that black people – particularly young, black men – lack and need legal protections.
Concerns that the ERA will expand taxpayer funding of abortions and require the lifting of any abortion restrictions were a primary concern for lawmakers opposed to the procedure.
Rep. Peter Breen, R-Lombard, said it will "sweep away" protection for unborn children, and may force Illinois to lift its parental notification requirement.
But even some legislators who consider themselves "pro-life" voted for it.
"I am pro-life. I'm a mother of a 2-year-old daughter. I am for her, and others, to know that the state of Illinois believes she should have the same opportunities as men," Rep. Christine Winger, R-Wood Dale, said.
Other opponents argue that the amendment will force the country to include women in a military draft, or that it could make illegal gender-based scholarships.
State Rep. Jeanne Ives, R-Wheaton said "women are already guaranteed equality in the workplace" and recourse against sexual harassment through Title VII of the Federal Equal Employment Opportunity Act.
"We've made a lot of progress in this area. And we have a number of laws on the books already to protect women. The fact of the matter is women will not be protected until men decide to protect them and decide to stop the sexual harassment, decide to stop the domestic abuse, decide to stop the sex trafficking, decide to stop in the workplaces – when they are in charge -- that they are going to protect the women under their charge," said Ives, who nearly wrested the GOP nomination for governor from Rauner. "We have the rules on the books. What we need is great men to stand up and protect women."
Ives, who graduated from West Point, said that women have been in combat "since the Revolutionary War" and "so men, I call upon you to solve this problem. We don't need a defunct law that's been, you know, dead for decades to solve the problems of women's issues. We need men to be the strong men and support women as their equals. Otherwise you're just putting another law on the book and it won't mean anything."
Even if a final, 38th state ratifies the ERA, the fight over the amendment would not be over, given that some states are seeking to rescind ratification. Further, the 1982 deadline for ratification has long since passed, and even if Congress could, and should, choose to lift that requirement, a court battle is all but guaranteed.
Illinois' state constitution already includes an equal rights protection, with a Bill of Rights provision reading "no person shall be deprived of life, liberty or property without due process of law nor be denied the equal protection of the laws."
Follow Amanda Vinicky on Twitter: @AmandaVinicky
---
Related stories:
Illinois on the Precipice of a Budget
ERA Battle Moves to House, Supporters on Brink of Victory
Decades After Deadline, Equal Rights Amendment Regains Steam
---