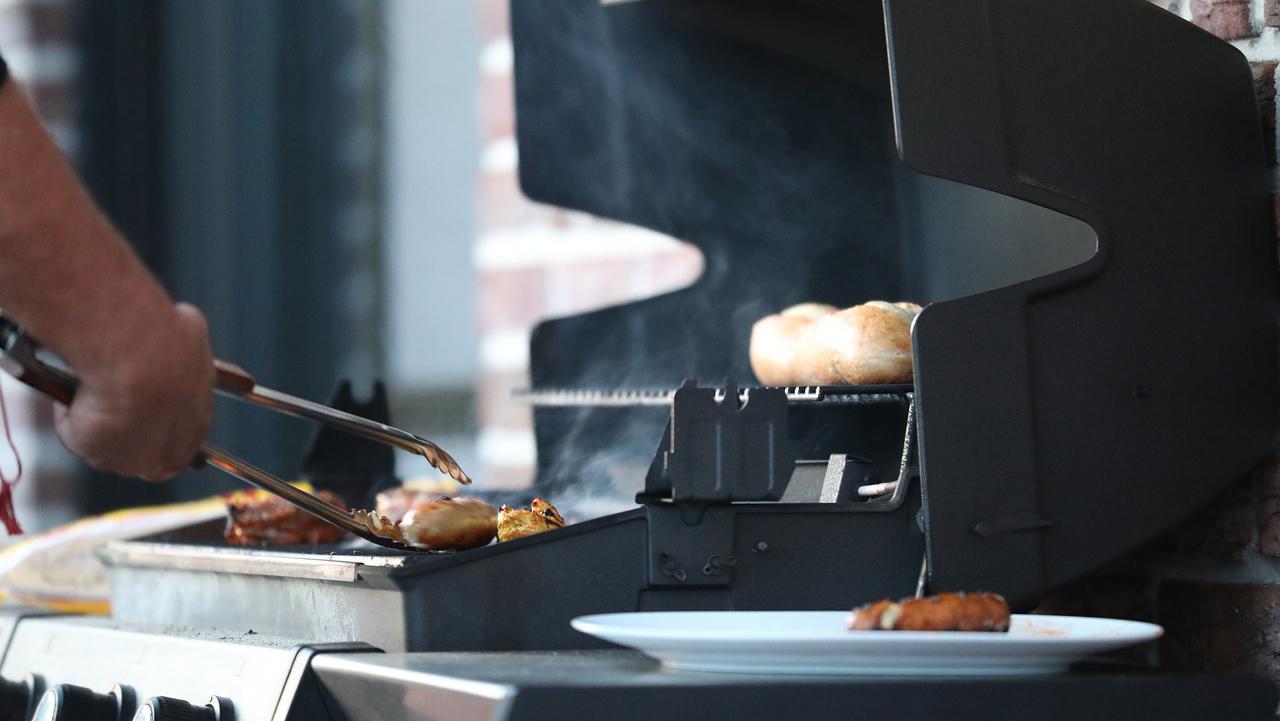 (Pixabay)
Memorial Day is synonymous with grilling. In anticipation of the long weekend of cooking out with friends and family, "Chicago Tonight" asked the chefs of "Dishalicious" for their favorite Memorial Day recipes.
Want a drink with that? Quench your thirst with one of these original cocktail recipes (with a history twist) from Chicago Tonight.
Click on any dish below to jump directly to that recipe. And then: Dig in!

Entrees
Elevate your grill game beyond burgers and brats with these dishes. 
Kalbi: Hanbun chef and owner Dave Park shares his recipe for Korean barbecue beef short ribs. "Traditionally, Kalbi is wrapped in lettuce and eaten with your hands which is perfect for a backyard barbecue," he says.
Steak Tagliata with Arugula: For the start of the grill season, Spiaggia chef Tony Mantuano says he likes to make steak in a style popular in Tuscany. "It's easy to make and to share with family and friends," he says.
Ko-Rican Chicken: Chef Bill Kim, co-owner of Cornerstone Restaurant Group's bellyQ and urbanbelly restaurants, shares his "quick and easy" recipe that "creates maximum flavors without doing a lot of work."
Carne Asada: Feeding an army of people this weekend? Mi Tocaya Antojeria chef Diana Davila says her recipe is "perfect for feeding a group" because it can marinated in advance and thrown on the grill when you're ready to eat.

Dessert
Because no meal would be complete without something sweet.
Blueberry Crunch Cake: Nico Osteria pastry chef Leigh Omilinsky shares a recipe that fuses two from her grandmother. "This is a blueberry crumb cake with the amazing sugary crunch on top along with salty buttery cake underneath. The blueberries and basil make it scream summer," Omilinsky says.
---
Kalbi (Korean Barbecue Beef Short Rib)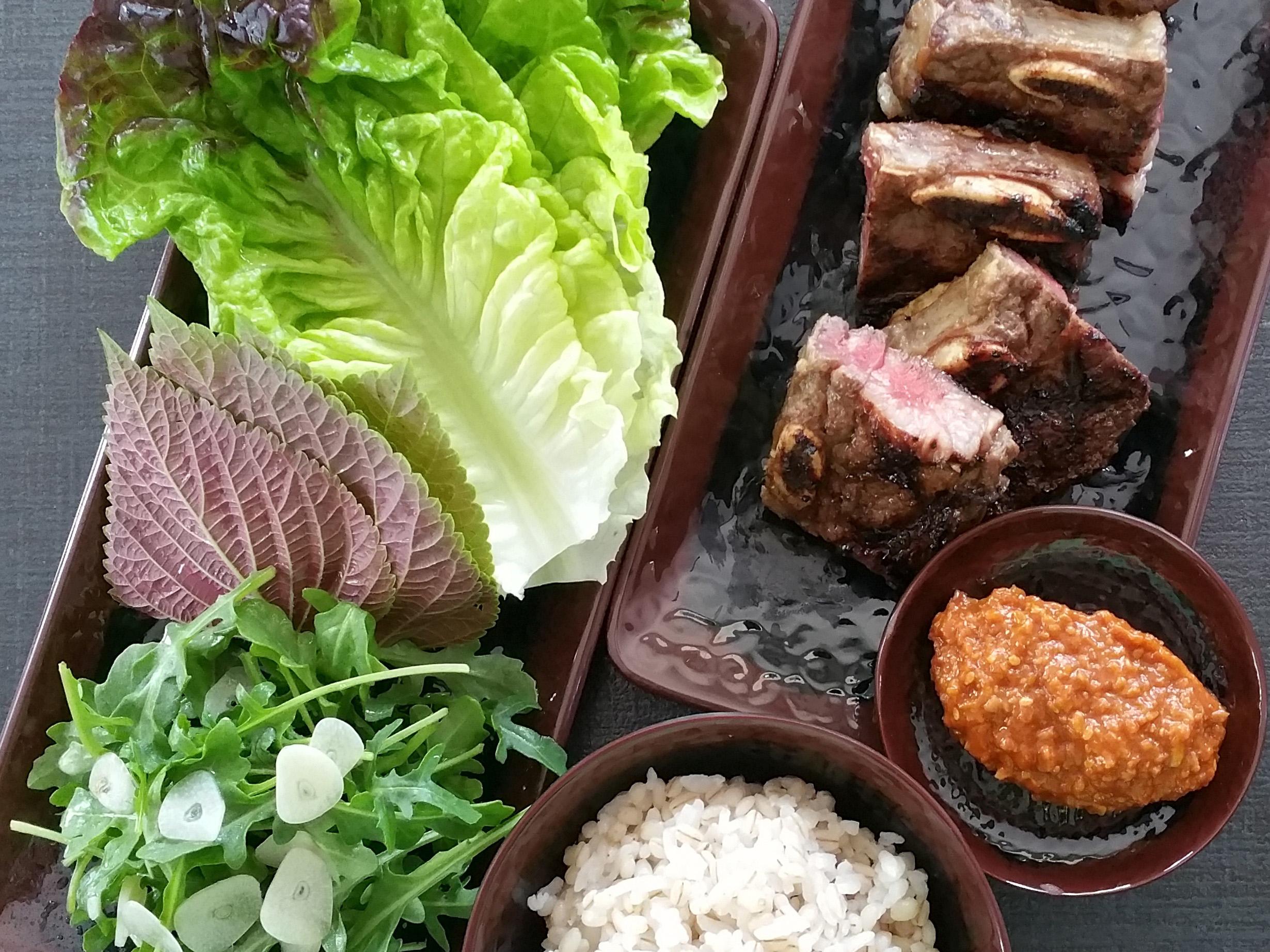 (Courtesy of Dave Park)
Yields: 8 servings
Marinade Ingredients
1 tablespoon ginger, peeled and roughly chopped
3 tablespoon garlic, cloves, roughly minced
1 3/4 cups onion, peeled, rough chopped
3 1/4 cups Asian pear, peeled, deseeded, rough chopped
2 cups soy sauce
1 cup chicken stock
2/3 cup brown sugar
1 1/4 cup sesame oil
1 teaspoon ground black pepper
2/3 cup mirin
4 pounds L.A-style beef short ribs
Take the first four ingredients and blend in a food processor until no big chunks are left. Meanwhile, combine the rest of the ingredients in a bowl, making sure to dissolve the brown sugar. Tip: Lightly warming the chicken stock then adding the brown sugar can help you melt the sugar without leaving any particles.
Once the first four ingredients are processed, whisk into the rest of the ingredients in the bowl and whisk to combine well. Marinate the beef short ribs overnight or for at least four hours.
Heat grill until hot and grill the marinated short ribs ensuring to take off excess marinade so it doesn't burn. Grill about 2 minutes per side then remove from the grill and enjoy with your favorite salad and ssamjang (Korean dipping sauce).
---
Serves 4 as an appetizer or 2 as a main course
Ingredients
One 12-ounce strip steak, trimmed of any fat or sinew
Sea salt and freshly cracked black pepper
Small handful of arugula
Extra virgin olive oil
1/4 tablespoon chopped, fresh rosemary
1/4 lemon 
Prepare a fire in a charcoal grill or preheat a gas grill to medium-high.
Generously season the beef with salt and pepper. Arrange on the grill and sear, turning once, until an instant read thermometer inserted into the thickest part registers 120 degrees Fahrenheit, or medium rare, 3 to 4 minutes on each side.
Remove from the grill. Transfer to a cutting board and let the meat rest for 5 minutes. Slice the steaks against the grain, on an angle into 10 to 12 slices. Arrange the slices down the middle of a warm serving platter and place the arugula on each side. Sprinkle the meat with olive oil and rosemary. Squeeze the lemon over the arugula and drizzle with some olive oil. (Tip: Do not to squeeze the lemon directly onto the meat, or it will discolor.) Serve immediately.
---
(Courtesy of Bill Kim)
Prep: 30 minutes
Marinate: 45 minutes
Cook: 18 minutes
Serves: 6 people
Ingredients
4 boneless, skin on chicken thighs
2 1/4 cups Ko-Rican sauce
1/4 cup nuoc cham sauce
1/4 cup coarsely chopped fresh cilantro
1/4 cup coarsely chopped fresh flat-parsley
1 tablespoon sambal oelek
Place the boneless chicken thighs in a large, shallow dish, pour 2 cups of the Ko-Rican sauce over the chops, and turn the chicken to coat evenly. Cover and marinate at room temperature for 20 minutes or preferably in the refrigerator for at least 4 hours or up to overnight.
While the chicken is marinating, make the Korean chimichurri. Combine the nuoc cham sauce, remaining 1/4 cup Ko-Rican Sauce, parsley, cilantro and sambal oelek in a food processor and process for about 1 minute until smooth. Set aside at room temperature.
Heat the grill for direct heat cooking to medium-high (400-450 degrees Fahrenheit). Remove the chicken from the marinade, shaking off the excess marinade. Place chicken on the grill and cook, turning once, for 2 to 3 minutes on each side until lightly charred. Remove the chicken from the grill and let rest for 5 minutes, then serve with the chimichurri.
Ko-Rican sauce
Prep: 10 mintutes
Makes: 1 1/2 cups
2 tablespoons sweet paprika
2 tablespoons dried oregano
2 tablespoon chili powder
2 tablespoon madras curry powder
1/4 cup kosher salt
1/2 cup distilled white vinegar
26 cloves garlic, minced
1/2 cup olive oil
Combine paprika, oregano, chili powder, curry powder, salt, vinegar, garlic and oil in a small bowl. Whisk until well mixed. Transfer to an airtight container and refrigerate for up two weeks or freeze for up to two months (Note: This sauce won't fully harden when frozen, so you can spoon out as much as you need whenever you want to use it.)
Nuoc Cham sauce
Prep: 10 minutes
Makes: 1 cup
1/4 cup dark brown sugar, firmly packed
1/4 cup fresh lime juice
1/4 cup fish sauce
1/2 cup water
1 clove garlic, minced
2 green Thai chilies, minced with seeds
Combine brown sugar, lime juice, fish sauce, water, garlic and chilis in a small bowl. Whisk until the sugar dissolves. Transfer to an airtight container and refrigerate for up to two weeks or freeze for up to two months. Or freeze in standard ice cube trays, then transfer the cubes (2 tablespoons each) to plastic freezer bags and freeze for up to two months.
---
Serves 15-20
Ingredients
5 pounds beef  (skirt steak preferable but other cuts would work)
1 1/2 tablespoons salt
1 1/2 tablespoon of Sazon
1 cup lime juice
1 cup garlic oil
1 tablespoon of Maggi
16 ounce can Tecate
1 whole white onion
Julienne white onion and put in the bottom of a pan large enough to hold 5 pounds of meat and marinating liquid.
Place meat on top of onion and drizzle with salt and Sazon. Add lime juice, garlic and Maggi on top of meat. Pour the 16-ounce can of Tecate on top of the meat and marinate for at least three hours or up to 24 hours.
Turn grill up to high heat (500 degrees Fahrenheit) and cook steaks about 4 minutes per side. (Internal temperature of steaks should be 125-130 degrees Fahrenheit)  
---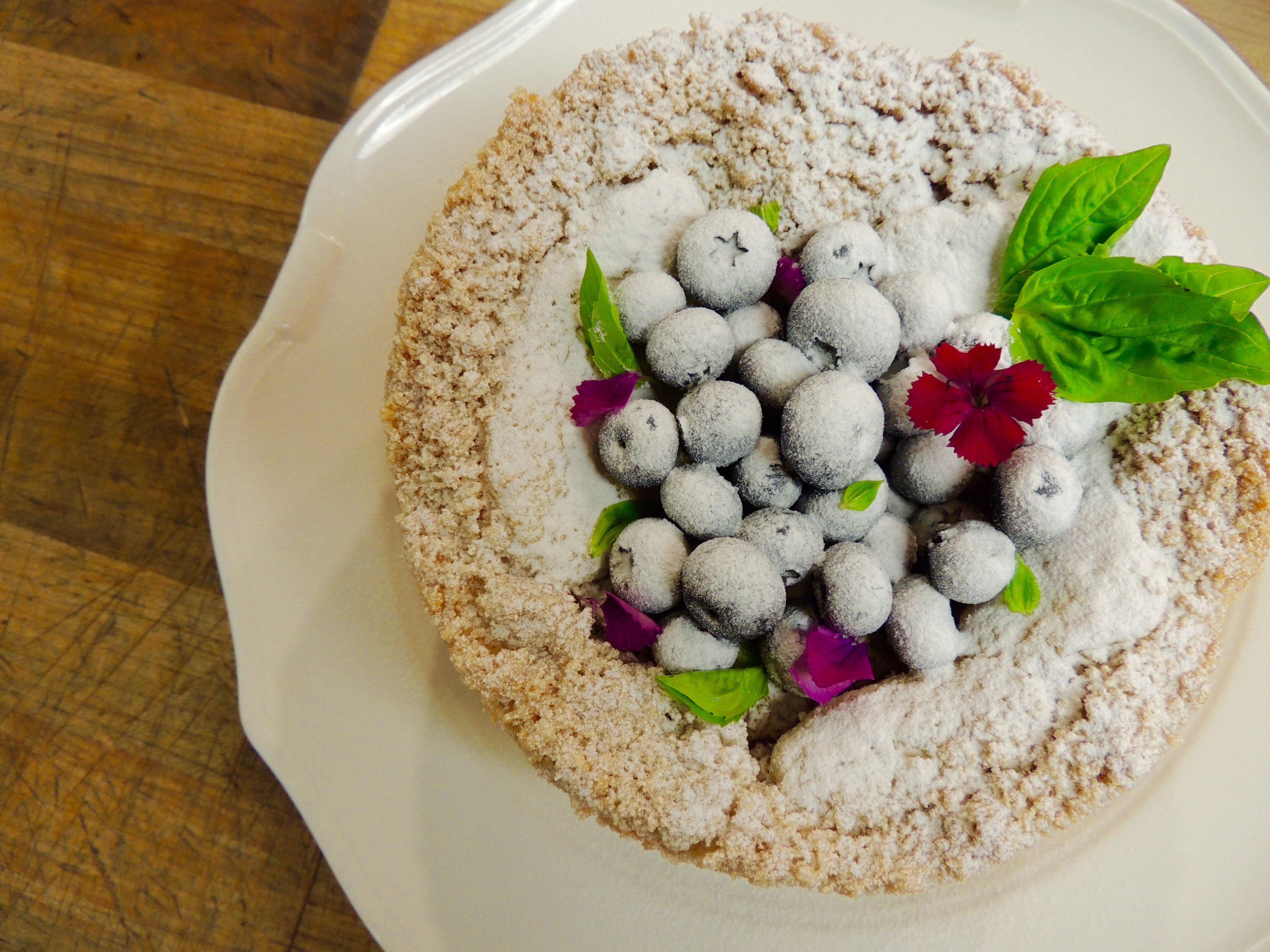 (Courtesy of Leigh Omilinsky)
Butter Cake Batter Ingredients
6 ounces butter
10.5 ounces sugar
11 ounces flour
1 ounce baking powder
12 ounces buttermilk
0.5 ounces salt
3 eggs
1 pint blueberries
Cream the butter and sugar until light and fluffy. Add the eggs one at a time. Scrape the bowl after each addition. Alternate adding the dry ingredients and the buttermilk. Scrape the bowl after each addition. 
Streusel Ingredients
1 stick butter
1 cup sugar
1 cup flour
1 teaspoon salt
Make sure butter is cold. Cube up the butter into 1/2 inch pieces.
Combine everything until it looks like streusel. There can be a few chunks of butter but it should be mostly combined. 
Line an 8-inch round baking pan with parchment and spray it with nonstick spray. Pour the batter into the pan, top with half the blueberries and the streusel. 
Bake at 325 degrees Fahrenheit for about 45 minutes or until a toothpick comes out clean. 
Top the center with remaining blueberries. Sprinkle with powdered sugar and basil. 
---
Related stories
Not-So-Secret Menu Item Lands Uptown Restaurant on James Beard Stage
Family Made Tortillas and Pitas Round Out Chicago's Food Culture
New WTTW Food Show 'Dishalicious' Takes Competition Out of Cooking