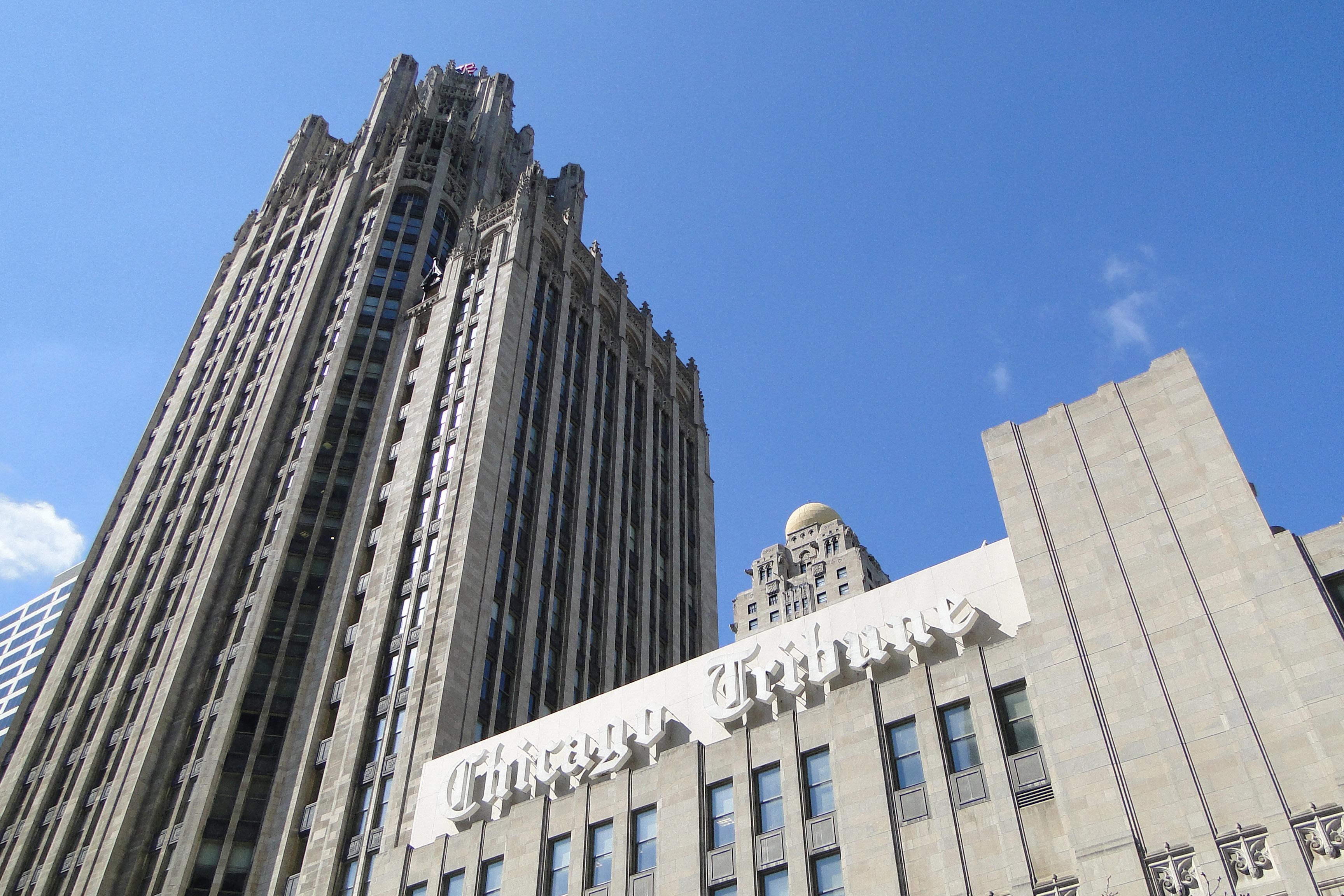 (Adam Jones, Ph.D. / Wikimedia Commons)
Tronc, the media company that owns the Chicago Tribune, agreed Sunday evening to voluntarily recognize the Chicago Tribune Guild union.
The union will represent the Chicago Tribune, RedEye, Hoy, The Beacon-News, Daily Southtown, Elgin Courier-News, Naperville Sun and the Design and Production Studio.
"Our attorneys and partners at the NewsGuild-Communications Workers of America tell us that in decades of organizing, they have never seen a newsroom earn voluntary recognition from a company of this size and with such a long history of anti-union bias," Guild organizing committee members said in a letter. "Tronc undoubtedly realized it would waste time and money during an election process it would lose."
The recognition comes after more than 85 percent of eligible employees signed cards stating their interest in union representation, according to the Chicago Tribune Guild. Union organizing committee members expect official union certification from the National Labor Relations Board in the coming week.
In a statement to Chicago Tonight, Tronc says it is looking forward to productive conversations with union representatives. "As we move ahead, we need to be united as one organization with an important purpose—to help the company transform and thrive as a business, and to serve our readers world-class journalism," the statement reads.
Less than a month ago, Chicago Tribune journalists announced their intention to form a union. Members of the union's organizing committee said staffers hoped the union would address employees' concerns about pay, job security and health care, among other topics.
Charlie Johnson, a Chicago Tribune home page editor and union organizing committee member, said the decision to unionize was driven by "mistreatment" by corporate ownership. "We feel that the Chicago Tribune and its community publications have been mistreated by a series of corporate owners, Tronc being the most recent and most public. We're dictated to by people who don't have a civic mission of journalism in mind," Johnson told Chicago Tonight in April. "The newsroom is in a position of jeopardy, and we're standing up to make sure we're paid fairly and to make sure we have a voice in how this place operates."
The Chicago Tribune Guild will represent more than 280 employees and have three bargaining units: one will comprise the Tribune and RedEye; another will comprise the Beacon-News, Southtown, Courier-News, Naperville Sun and Hoy; and one will comprise the Design and Production Studio.
The first two units will negotiate with Tronc together. "With voluntary recognition, all of us—the Guild and Tronc—can remain focused on providing the high-quality journalism for which we are known," Guild organizing committee members said in a letter.
Contact Kristen Thometz: @kristenthometz | [email protected] | (773) 509-5452
---
Related stories:
Chicago Tribune Staffers Move to Unionize
Chicago Tribune Critic John von Rhein to Retire in July
How Some News Outlets Let Readers 'Take Action' With a Click
Virtual Reality and the Future of Journalism
Controversial Reader Cover Raises Questions About Newsroom Diversity