Humor and human folly are the focus of an unusual show at Steppenwolf Theatre. That's where actor Rainn Wilson plays two roles with an ensemble better known for gritty naturalism.
The world premiere of "The Doppelganger (an international farce)" presents manic mischief on a global scale.

TRANSCRIPT
Rainn Wilson, actor, "The Doppelganger": We have, you know, dead bodies and sword fights and people vomiting, and we've got all kinds of crazy mayhem going on.
Farce is all about the timing. And getting laughs and telling story and moving things forward is very specific work in this particular kind of comedy.
It's a very tricky style. It's a little bit larger than life, but you can't be so much larger than life that it feels cartoonish. It can't be too broad, but it has to have a certain size in order to tell the story effectively.
Phil Ponce: That story looks at the exploitation of resources – human and otherwise – in the Central African Republic.
Wilson: The show, for my character – I play two characters – it's non-stop. I mean I'm on the stage the whole night long. I'm sweating buckets and back and forth and quick changes, playing these two different characters and ... it's a workout, it's a workout, so I'm getting ready to run a marathon. By the end of this show, I'll look like Wolverine.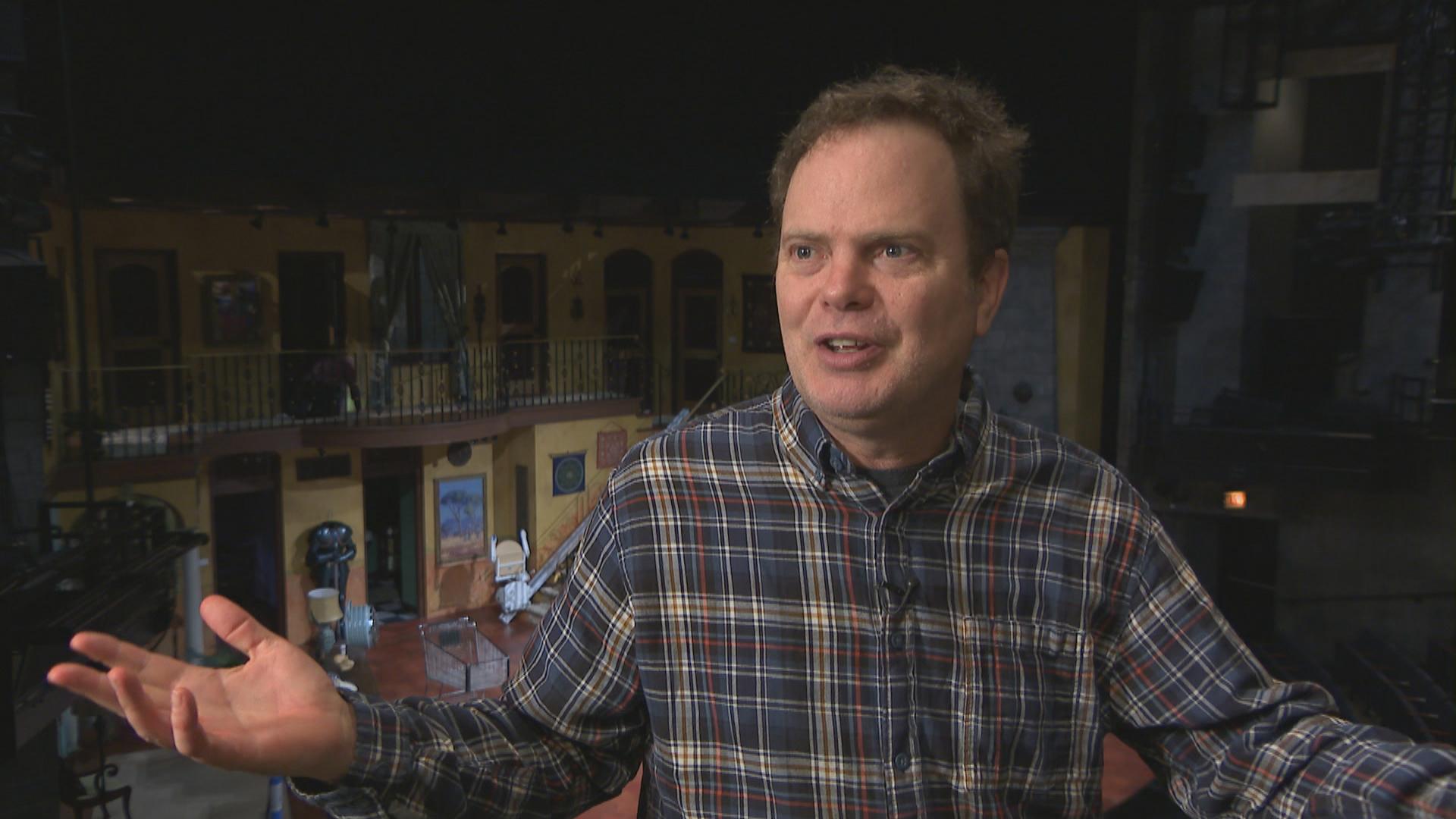 It's a nice balance between just ridiculous comic mayhem and silliness. As silly as you'd ever see, if you like physical comedy, and at the same time it's got some kind of probing and dark things to say about our world.
Ponce: Rainn Wilson is best-known for playing Dwight Schrute on nine seasons of NBC's "The Office." Before that, he worked in theater for 10 years, and before that …
Wilson: I graduated from New Trier High School in 1984, dating myself – ugh, yikes – and um, yes Steppenwolf was just kind of cooking up there in the '80s. And then they became legends. Not long after that I saw "Grapes of Wrath" and a few other things they did over the years.
Ponce: Wilson has another deep connection to the Chicago area.
Wilson: My parents were Baha'is, members of the Baha'i faith, and they worked at the Baha'i National Center in Evanston, and I worked as a security guard at the Baha'i Temple in Wilmette on Linden Avenue and Sheridan Road. It's a magical place.
Ponce: The playwright of "The Doppelganger" grew up in Rogers Park and went to Niles West. He has some definite ideas about his "international farce."
Matthew-Lee Erlbach, playwright, "The Doppleganger": The thing with farce is, it is tragedy. The stakes are high – very desperate stakes. Our world is farcical, it has been for a while, and right now it's revealing itself even more to be farcical, particularly the United States. Headlines read "president and porn star" and Russians, so just starting there it's a very small tiptoe from tragedy to farce.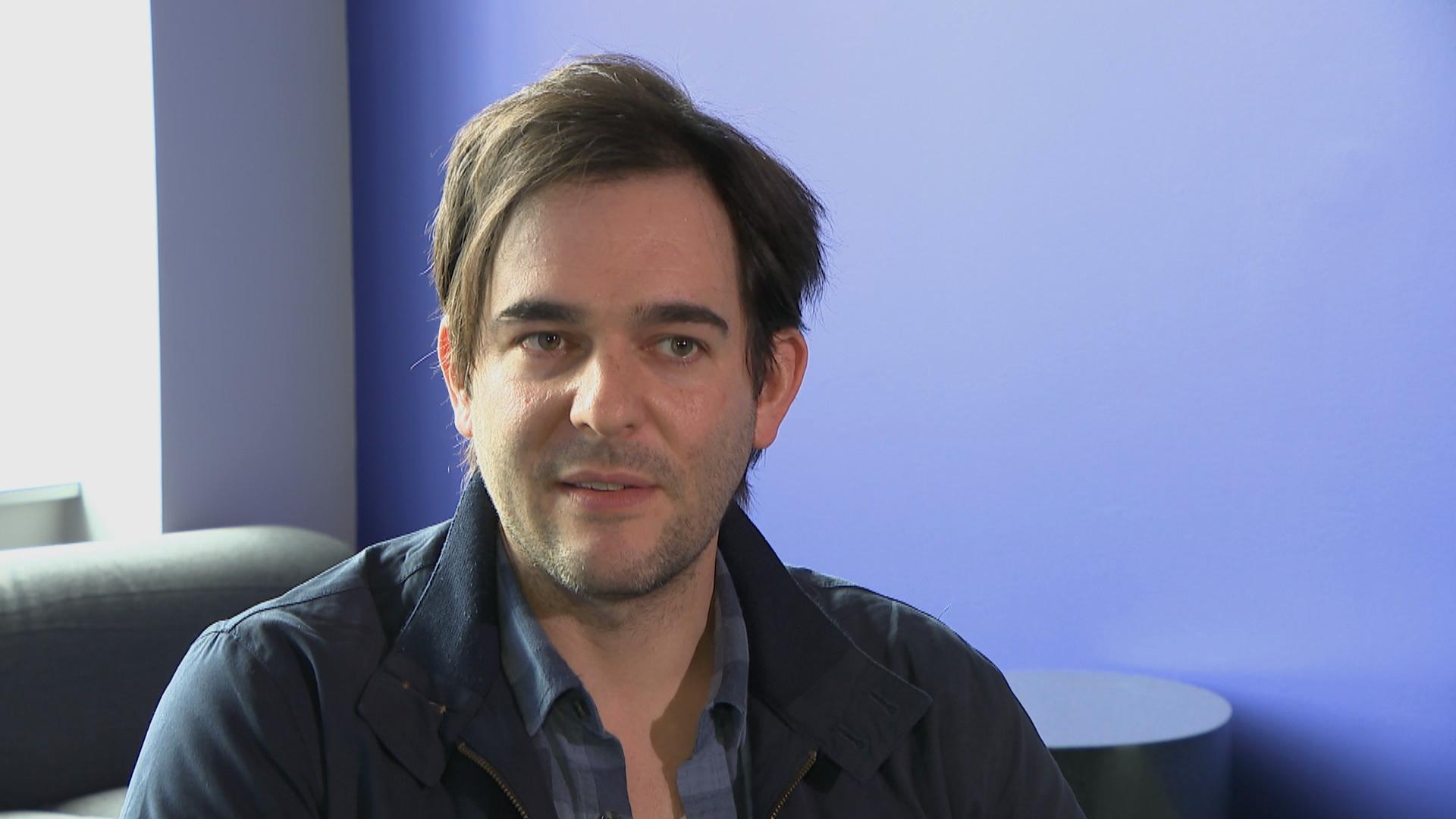 Matthew-Lee Erlbach
We are constantly fighting these battles that are ridiculous when you look at them objectively and go, "Wait a minute, as a human species we have computers in our pocket, we're able to travel the oceans of space, and we are worried about who's using what bathroom?" This is ridiculous.
Ponce: The playwright has high marks for his leading man – both of them.
Erlbach: He's a clown in the classic sense, and he knows how to use his body as an instrument. He's connected to that impulse as a clown, as an actor, his instincts are – it's like watching a cat with catnip, I mean he just knows how to play.
Wilson: This has been a tough job. I didn't realize when I signed up for it. Being a TV actor is a little bit cushy.
One of the great surprises, well it's not really a surprise but, how strong the ensemble members are of Steppenwolf. They're known for playing y'know ... darker, edgy emotional drama, and farce is not something Steppenwolf is really known for, but the ensemble members are exceptional, and can play any style and rise to the occasion. It's a real treat to be working with them.

"The Doppelganger (an international farce)" runs through June 2 at Steppenwolf Theatre, 1650 N. Halsted St. For tickets ($20-$114) call (312) 335-1650 or visit www.steppenwolf.org. Running time: 2 hours and 30 minutes with one intermission.
---
Related stories:
In 'The Doppelgänger,' Insiders and Outsiders Greedily Savage an African Nation
Steppenwolf Announces Premieres, Landmark Revival for 2018-19 Season
John Mahoney, 'Frasier' Dad and Steppenwolf Actor, Dies at 77
---