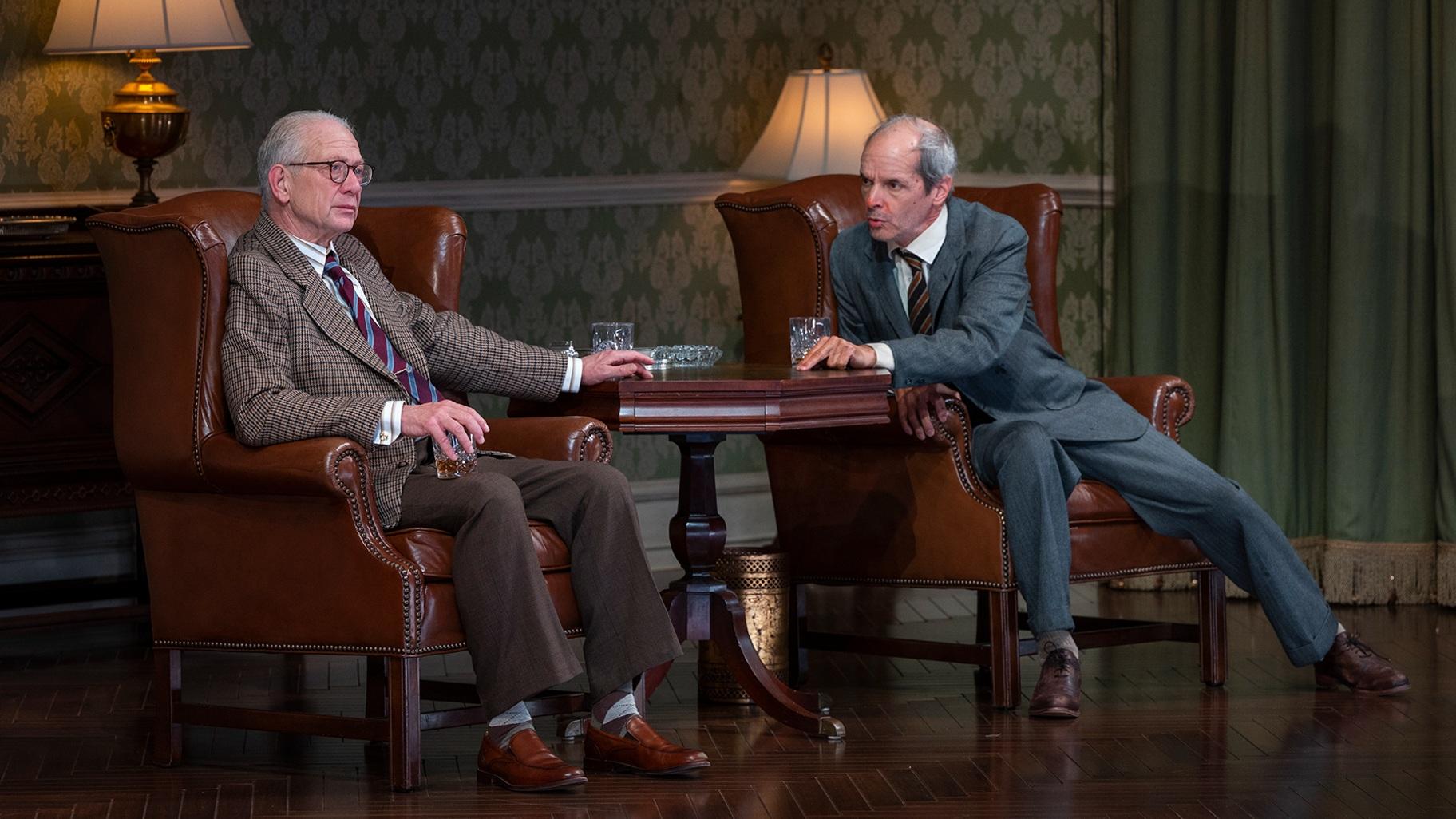 (left to right) Ensemble member Jeff Perry and Mark Ulrich in Steppenwolf Theatre Company's revival of "No Man's Land" by Harold Pinter, directed by Les Waters, playing now through Aug. 20, 2023. (Michael Brosilow)
Hirst and Spooner — two aging men, both intensely lonely in their particular ways — have just met in a London pub. And perhaps they have met before. But now, well into the late-night hours, they are drinking endless glasses of scotch, vodka and Champagne in Hirst's spare but elegant book-lined sitting room (designed by Andrew Boyce) that is outfitted with an exceptionally well-stocked bar.
Hirst is clearly the wealthier and more successful of the two, while the spindly Spooner is the compulsive talker dressed in a slightly shabby suit (costumes by Janice Pytel) who claims to be a part-time writer and artist with a wife and two daughters and a house in the country.
Arriving in this room later in the night are two somewhat younger men — Briggs, Hirst's elegantly dressed and subtly haughty "manservant," and Foster, who claims to be Hirst's son, but might just be his frustrated housekeeper and former boyfriend.
So there you have it: four lost souls who are the variously screwed-up men living in "No Man's Land," Harold Pinter's strange, angry, status-conscious and somewhat absurdist talkathon of a play that opened in London in 1975 and now, nearly a half century later, is on stage at Steppenwolf Theatre in a production directed by Les Waters.
If ever a play had an apt title, this one is it, as each of its four characters is obviously messed up and notably lost in his own very particular way.
Spooner, who talks a mile a minute (and is played with breathtaking verbal energy by Mark Ulrich, in the role originated by John Gielgud) is the ne'er-do-well who is all too aware of Hirst's status but is trying to make an impression by way of his compulsive babble (and his knowledge of various long-ago trysts). (And by some miracle, Ulrich stepped into this immensely demanding role after the originally announced Austin Pendleton "left the cast for personal reasons.")
Hirst (in the role originated by the masterful British actor Ralph Richardson) is played with just the right mix of haughtiness and alcoholic depression by Jeff Perry, co-founder of Steppenwolf.
Clearly something of an elitist who was a famous writer while in his prime, Hirst now lives an emotionally isolated life. An angry, unhappy, mostly silent man who, not surprisingly, drinks heavily, he clearly senses that he might well be approaching death. Whether he was ever really married, or just married as a cover, is a somewhat unanswered question.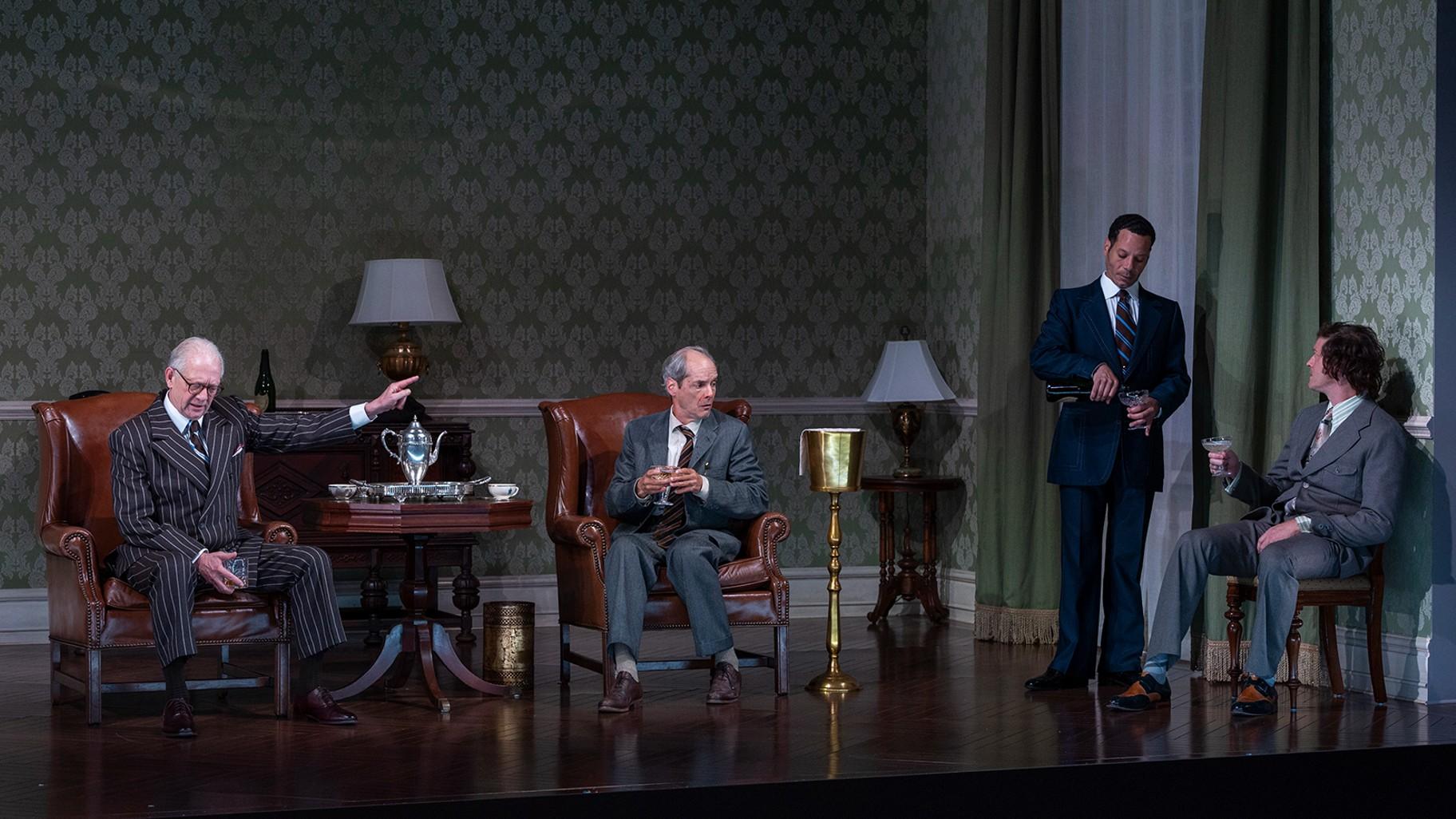 (left to right) Ensemble member Jeff Perry, Mark Ulrich, Jon Hudson Odom and Samuel Roukin in Steppenwolf Theatre Company's revival of "No Man's Land" by Harold Pinter, directed by Les Waters, playing now through Aug. 20, 2023. (Michael Brosilow)
Briggs (played by Jon Hudson Odam with just the right sense of formality and self-disciplined reserve), knows exactly how to handle Hirst. As for the somewhat shabbily dressed Foster (Samuel Roukin), he is a self-aggrandizing talker who makes it known that he has traveled quite a bit and knows how to interact with people, even if otherwise he is something of a loser.
The setting for all the interaction among these four very different lost souls is post-World War II, although that is mentioned only briefly. And it is only in the play's second act that Hirst and Spooner's various affairs with some of the same women in years past is discussed. And if there is a subtext of homosexual activity, it is about the relationship between Hirst and the much younger Foster, who, a good number of years earlier, decided to serve that man who he believed had "an intelligence worth serving."
Although a good deal of the dialogue in this production was lost to recent audio problems in both of Steppenwolf's large theaters, the body language of all four actors speaks loudly. And Pinter's vision of the emotional and physical condition of his characters — men attempting to function in a "no man's land," who are torn between success and failure, plagued by problematic sexual desires and are increasingly aware of their mortality — remains intriguing as well as tragicomic.
"No Man's Land" runs through Aug. 20 at Steppenwolf Theatre, 1650 N. Halsted St. For tickets, visit steppenwolf.org or call 312-335-1650.
Note: This article was updated to reflect the fact that Ulrich stepped into Pendleton's role when he left the production.
Follow Hedy Weiss on Twitter: @HedyWeissCritic
---