Fourteen percent of Chicago Public Schools principals left their schools last year, according to a report released Thursday. (That figure is lower than the national average of 20 percent, the report states.)
But the district's budget crises in recent years means some of those principals were high-performing, high-profile exits.
The district is now expanding a new strategy to keep its strongest principals on the job. 
Greg Jones and Ali Muhammad are Chicago Public Schools principals, and they're both trying to improve student achievement at Corliss High School in the city's Roseland neighborhood.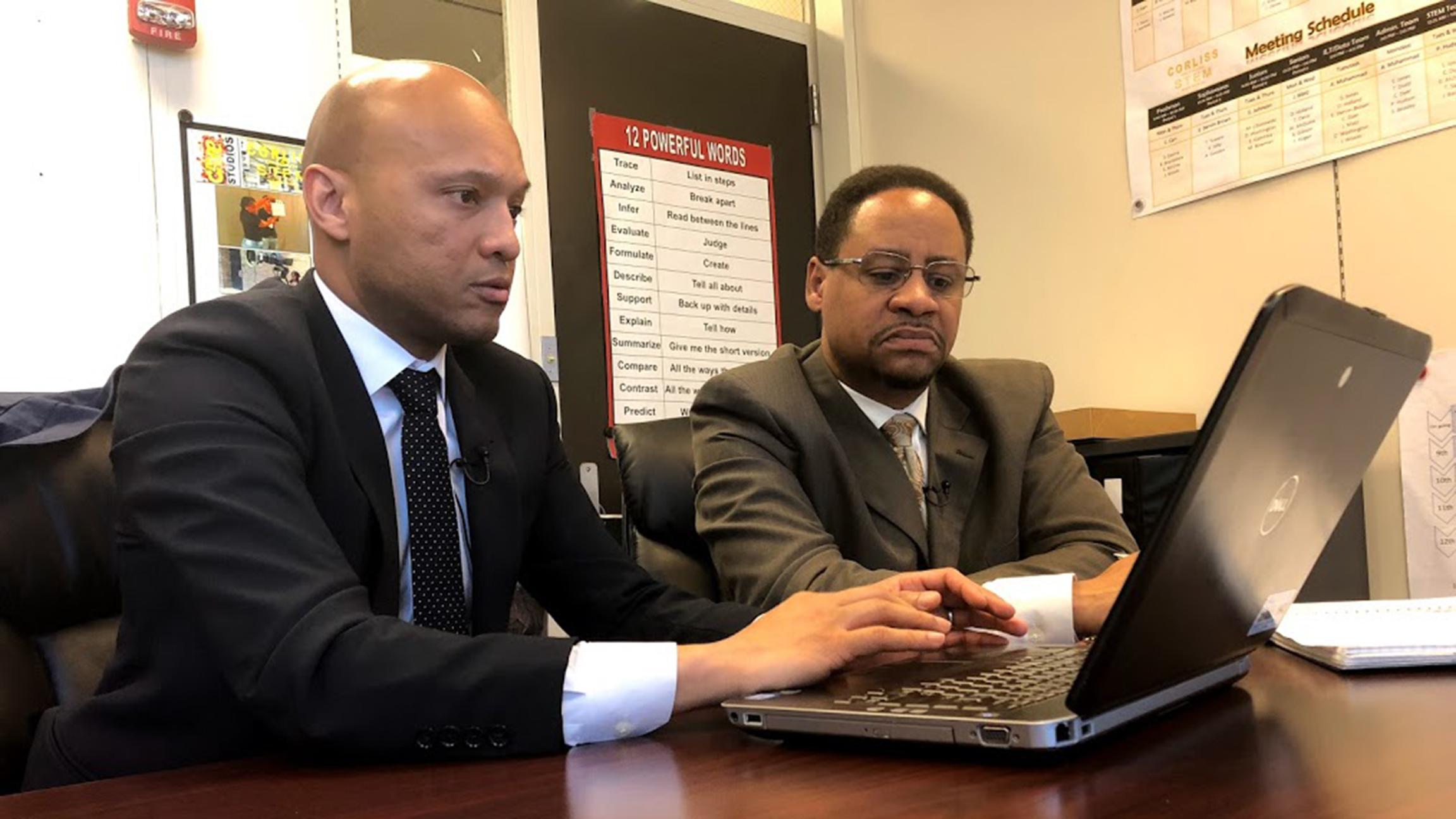 "The aim is to support teachers in building differentiated lessons and tasks so every student is being taught at his or her instructional level," said Jones.
But this is not his school. At Corliss, Muhammad is the full-time principal. Jones is the principal of Kenwood Academy, 9 miles away.
The two are testing out a new master principals program for CPS.
It works by sending a more experienced principal from a high-performing school, like Jones, to mentor and coach a principal at a school that needs more support.
On the morning we visit, Jones and Muhammad are discussing PSAT scores and prepping 11th graders for the SAT this spring.
Muhammad has been principal at Corliss for just under a year. The school is rated Level 2 by the district, meaning it's on intensive support.
"So challenges are: enrollment, students coming in with lower reading levels, social problems. Typical neighborhood school problems," Muhammad said. "You can call them problems, but we call them situations we have to help students improve upon."
On the other hand, Kenwood Academy is rated a Level 1-plus school, a top rating from the district. Jones has been there six years, and is skilled at managing precious time, building a solid team and driving academic and cultural success.
For Muhammad, having someone like Jones to serve as a thought partner, sharing ideas and even materials, has been helpful.
"Climate and culture, I'm not saying it's easy, but I know how to do that. I know I know instruction, but I want the systems and strategies in place to be able to show and improve on what we're doing," he said.
The two are in frequent contact over the course of the week, with Jones visiting Corliss about once a week, but also the Corliss team visiting Kenwood as well.
"The mentor program has taken life of its own. But what we've learned is that it's more important than the two of us," said Jones, "and how can we create the (education) space for teachers to engage in similar discourse."
The district is using grant funding to expand the master principals program from this one pilot up to 12 principals in three years.
The funds pay them a stipend for their additional workload, but also help cover the cost of professional development and instructional materials.
The district says it got the idea after learning that many successful principals want to have a greater influence, in addition to the success they've had at their own schools.
"It really says to principals, 'Your development matters to us and we don't want to pull you from school community if that's not the best decision for you,'" said CPS CEO Janice Jackson. "There are plenty of principals who want to be in their schools, they see that as a place where they can bring about the most change, but they also want to contribute more to CPS, to make sure CPS stays on the right track. I think the master principal program provides a good balance of both."
Allowing senior principals to mentor others means they can spread their wings while staying rooted in their current schools.
"It allows for someone like myself, who's in a space where professionally things are going well, to develop a different skill set, but also to utilize the experience that I've gained over time to help others," said Jones.
That formula should mean better principal retention for both schools.
"Whatever money we put into this as a school system is likely to be compensated for in reduction of principal turnover," said Steve Tozer of University of Illinois at Chicago's Center for Urban Education Leadership. "Principal turnover is expensive. In fact, there have been a number of groups that've costed that out, and so losing principals is not just bad for kids and bad for teachers, it also is bad for the bottom line of the school system."
And retaining strong principals means improving performance for students.
More on this story
CPS plans to select the first cohort of master principals and mentees this spring and summer, for them to begin their work in the fall.
Follow Brandis Friedman on Twitter @BrandisFriedman
---
Related stories: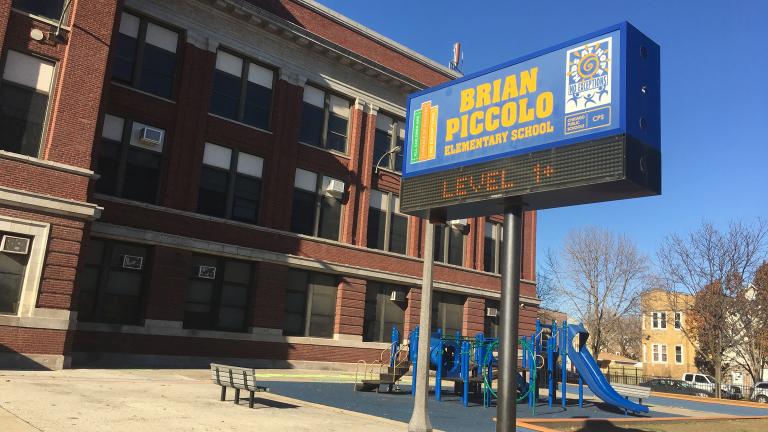 District's 'Turnaround' Operator Highlighted as Model for Success
Jan. 8: How some of Chicago's weakest schools have turned around to become some of the strongest.
---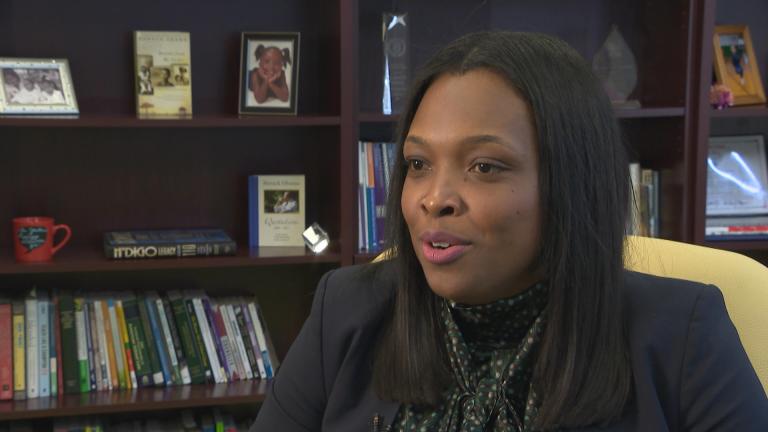 Janice Jackson Shares Her Vision for Chicago Public Schools
Jan. 3: Chicago Public Schools students return to the classroom next week, but the district's new chief executive officer is already at her desk, planning for the rest of the school year, and the future of CPS.
---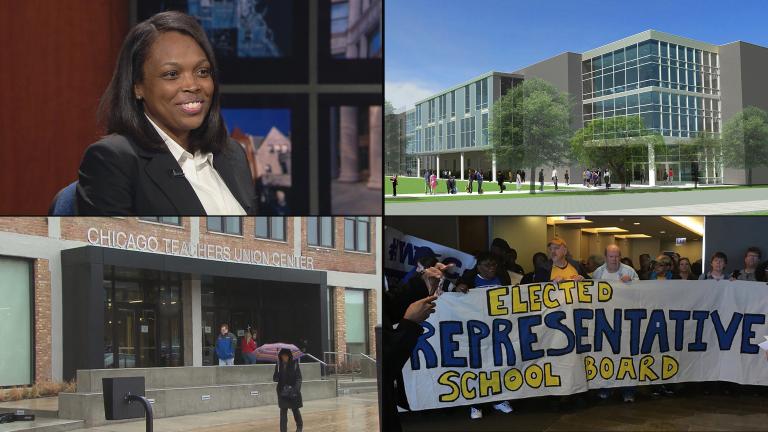 Education Issues to Watch in 2018
Dec. 20: With 2017 drawing to a close, here's a look at some of the top education issues to watch in the year to come, including CPS' new leader, school closures and the hotly debated topic of tax credit scholarships.
---