One of the longest on-air runs in Chicago media has been right here at Channel 11.
This week marks Joel Weisman's 40th anniversary as host of "Chicago Tonight: The Week in Review." His glasses may have changed over the decades (see below), but Joel's zeal for thoughtful analysis of the week's top stories has never wavered.
---
But as he hits this major milestone, Joel is ending his run as host.
On Friday, WTTW will celebrate with an hourlong retrospective featuring "Week in Review" highlights and a variety of special guests who have appeared on the show throughout the years.
On Thursday: Our exit interview, plus a few things about Joel we thought we'd share.

17 Things You Might Not Know About Joel Weisman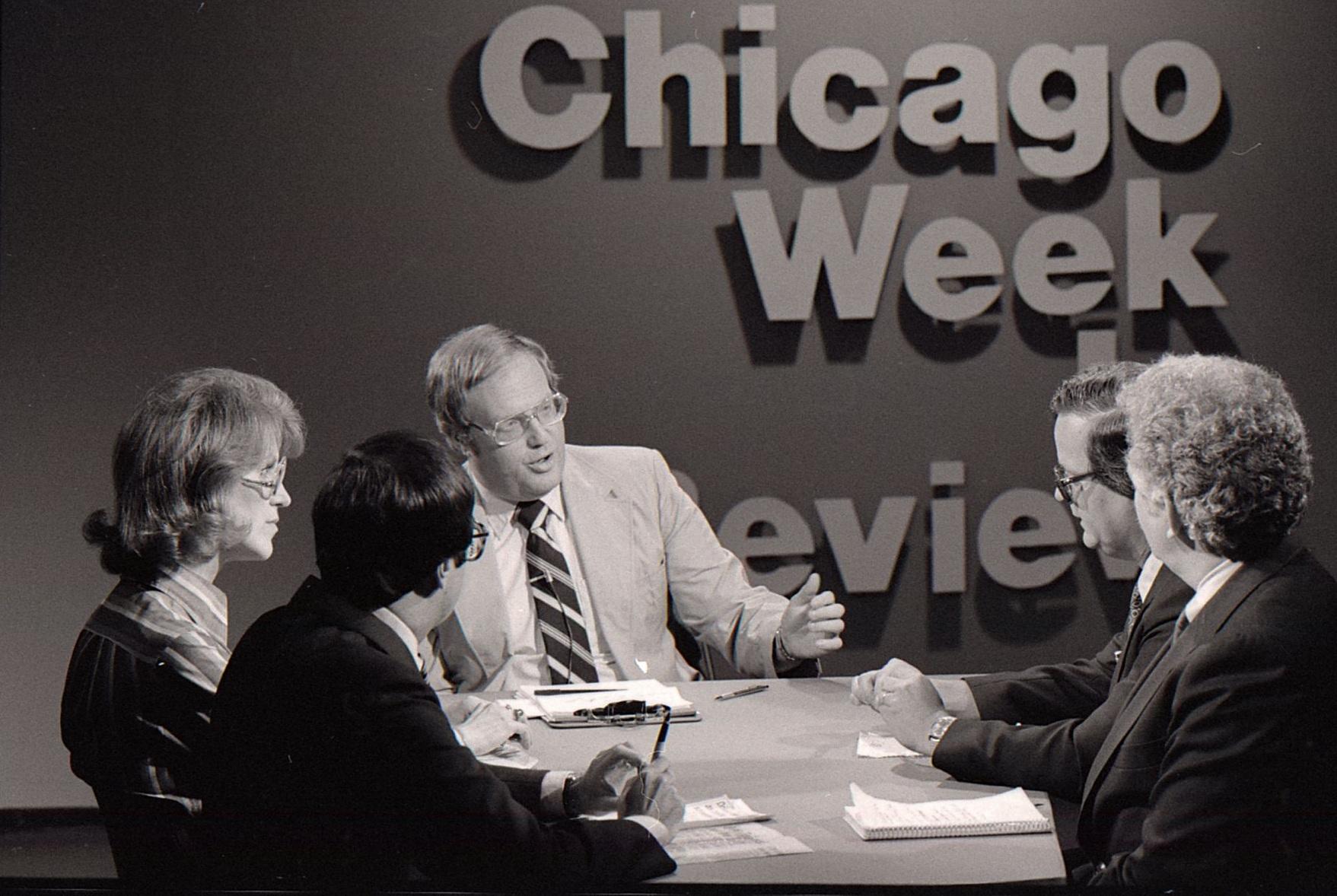 "Chicago Week in Review," 1980 (WTTW)
Joel's career in journalism started early
Joel's first journalistic enterprise was as creator and writer of The Social News. Joel produced the paper when he was in 5th or 6th grade at Philip Rogers Elementary School in West Rogers Park. The main attraction: popularity rankings. Joel and his co-writer published lists each week ranking students' popularity (one for boys and one for girls). Naturally, the other students were eager to find out if their rankings had improved (or plummeted) each week. Joel was always careful not to put himself too high (or too low).
In high school, Joel was the sports editor and a columnist for the Sullivan Sentinel. The name of his column? "Words from a Weisman." While in high school, Joel also wrote a column called "Strictly Sullivan for the Nortown News."
Joel plays favorites
An early idol of Joel's was Eric Sevareid, the award-winning writer and reporter who made a name for himself first in print and then in broadcast news. Other favorite journalists include the Washington Post's David Broder, R. W. Apple Jr. and James Reston of the New York Times, and of course, Mike Royko.
Carpet cleaning is in Joel's DNA
Advertising made "Hudson 3-2-7-hundred" one of Chicago's most indelible phone numbers. Joel's dad worked in the carpet cleaning business, first for General Rug, which later became Boushelle, the carpet cleaning company with that iconic number. Eventually, his dad owned his own carpet cleaning business.
And Joel would help his dad on the job: Early in his reporting career at the Chicago American newspaper, Joel covered a speech given by President Lyndon Johnson in Chicago before meeting up with his dad to help scrub the rugs at St. Mary's Church.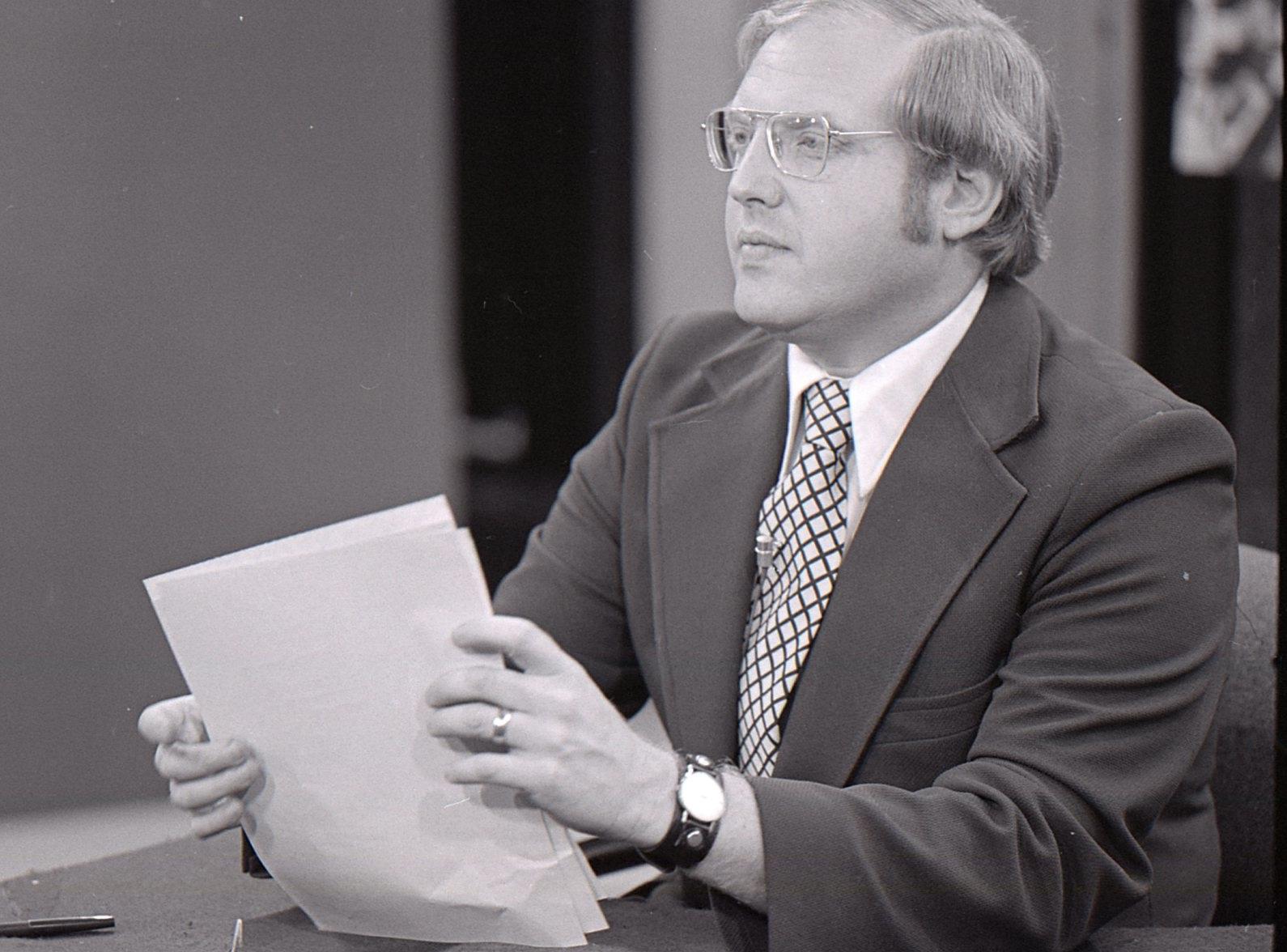 1975 (WTTW)
Joel's a big sports fan
If you watch the show regularly, this one is probably not a surprise. Joel's favorite teams: the White Sox and the Blackhawks.
As a kid, some of his favorite athletes were J. C. Caroline, the All-American football player for the University of Illinois who went on to play for the Bears;
Willie Mays (the greatest baseball player ever, according to Joel); and Blackhawks superstar Bobby Hull.
As a teenager, Joel worked as a ballpark vendor, and that's how he was able to see the 1959 World Series at Comiskey Park. Two years earlier, Joel was in the stands on Aug. 20, 1957 when Bob Keegan pitched a no-hitter for the White Sox.
Another thrilling sports moment Joel witnessed: On March 26, 2005, he was in Rosemont to see his alma matter, the University of Illinois, come back from 15 points down in the final four minutes of regulation and go on to beat Arizona in overtime, sending the Illini to its first final four in 16 years. The contest is remembered as one of the greatest college basketball games ever and is certainly one of the most consequential in the history of the Illini.
He's also a music fan
Some of his favorite performers include Steve Lawrence and Eydie Gormé, the Four Seasons, Chuck Berry and Fats Domino. Joel also loves to go to the symphony. What does he like there? The usual classics … and especially music from Russian composers. (Who would have guessed?)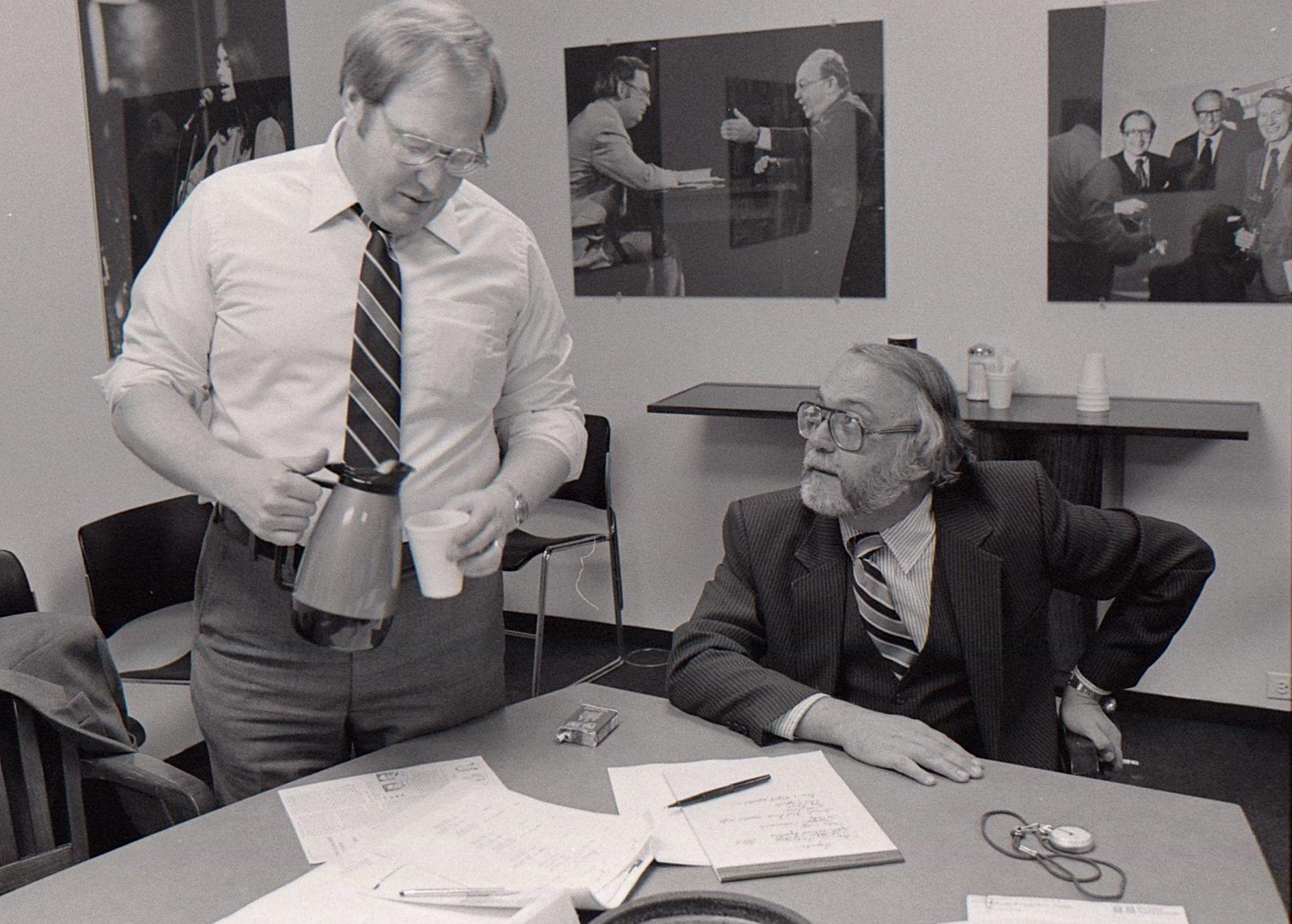 1982 (WTTW)
He's a moviegoer
Joel enjoys going to the movies. Recently, he really liked "The Post," and not just because he is the former Midwest bureau chief for the Washington Post. His favorite movie of all time? "Reds" with Warren Beatty.
Joel's favorite book gave rise to a family name
Joel's favorite book is "The Catcher in the Rye." It also became the favorite book of Joel's son, who, in turn, named his own son Holden, after the main character.
Joel has a healthy appetite
Ask Joel what his favorite food is and he'll say, "What isn't?!" When pressed, he'll tell you chicken Parmesan. And his favorite restaurant, hands down, is Sabatino's on the North Side.
Joel has one sibling
Joel's sister Freddi is four and a half years younger than him. He says she has wide-ranging interests: She's a psychologist, a photographer and an avid outdoor enthusiast. Was Joel nice to her as a kid? "I thought I was nice," he said. "She thought I wasn't. She's probably right. But I was very protective of her. For some reason, I always thought someone was going to kidnap her, so I always kept a close eye on her."
Joel was the last person to interview Mayor Harold Washington
Joel says his most memorable interview was an in-depth conversation with Mayor Harold Washington. It was Washington's last major interview, just days before his death in 1987.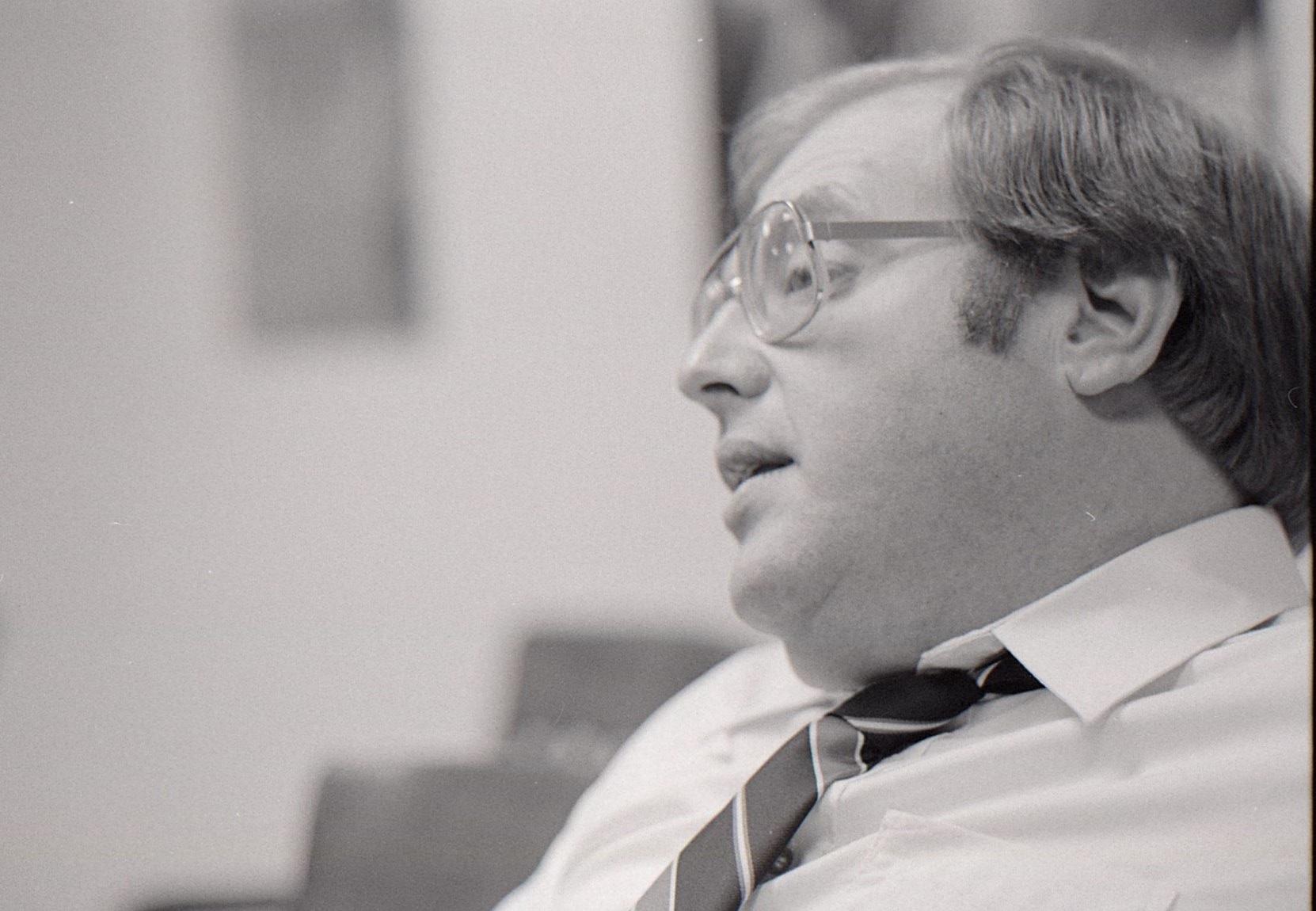 1982 (WTTW)
Joel's nickname makes sense
Joel's childhood nickname was "The Orange Man," owing to his red hair. His campaign slogan when he ran for student council: "Vote for the Orange Man."
Joel's kids' nickname makes sense too: The Three Weisman.
Joel is a smooth operator
Joel met his wife Analee on a blind date (she says she obviously was blind). He was a sophomore at the University of Illinois, and she was a visiting high school senior. Joel claims Analee was billed with false advertising. He was told she was "the Niles Homecoming Queen," but it turns out she was just a member of the homecoming court. They hit it off anyway. Ironically, they lived two blocks apart as kids, and went to the same grammar school, but did not know each other.
Joel has a fish story
One of Joel's hidden talents is that he can fillet a fish. "And I like to do it," he said. Joel enjoys fishing in Lake of the Woods in Ontario. He also once caught a hammerhead shark while deep-sea fishing off the coast of Florida. (He had it mounted and hung it behind the desk at his law office, where he'd ask clients, "Where else can you find a shark on the wall and a shark behind the desk?")
Joel's son stood up for him on the campaign trail
When his kids were young, Joel liked to take them along on assignment when he could; he thought it would be a good education for them. Joel was part of the press corps traveling with Jimmy Carter during the 1976 presidential campaign. His 9-year-old son Scott came along. When the candidate's plane arrived in Wisconsin, the press was set to exit the plane, as usual, out a back stairway.
They'd get off, get in position, and then photograph the candidate exiting the plane from the front. But this day, before deplaning, Carter told Joel he'd like to take Scott off the plane in front. Looking at Scott, Carter joked, "Maybe if I let you get off the plane with me, your daddy will write something nice about me." The precocious 9-year-old's response to the future president? "My daddy only writes the truth!"
Nonetheless, pictures of Carter and Scott Weisman made the front page of all the Wisconsin papers.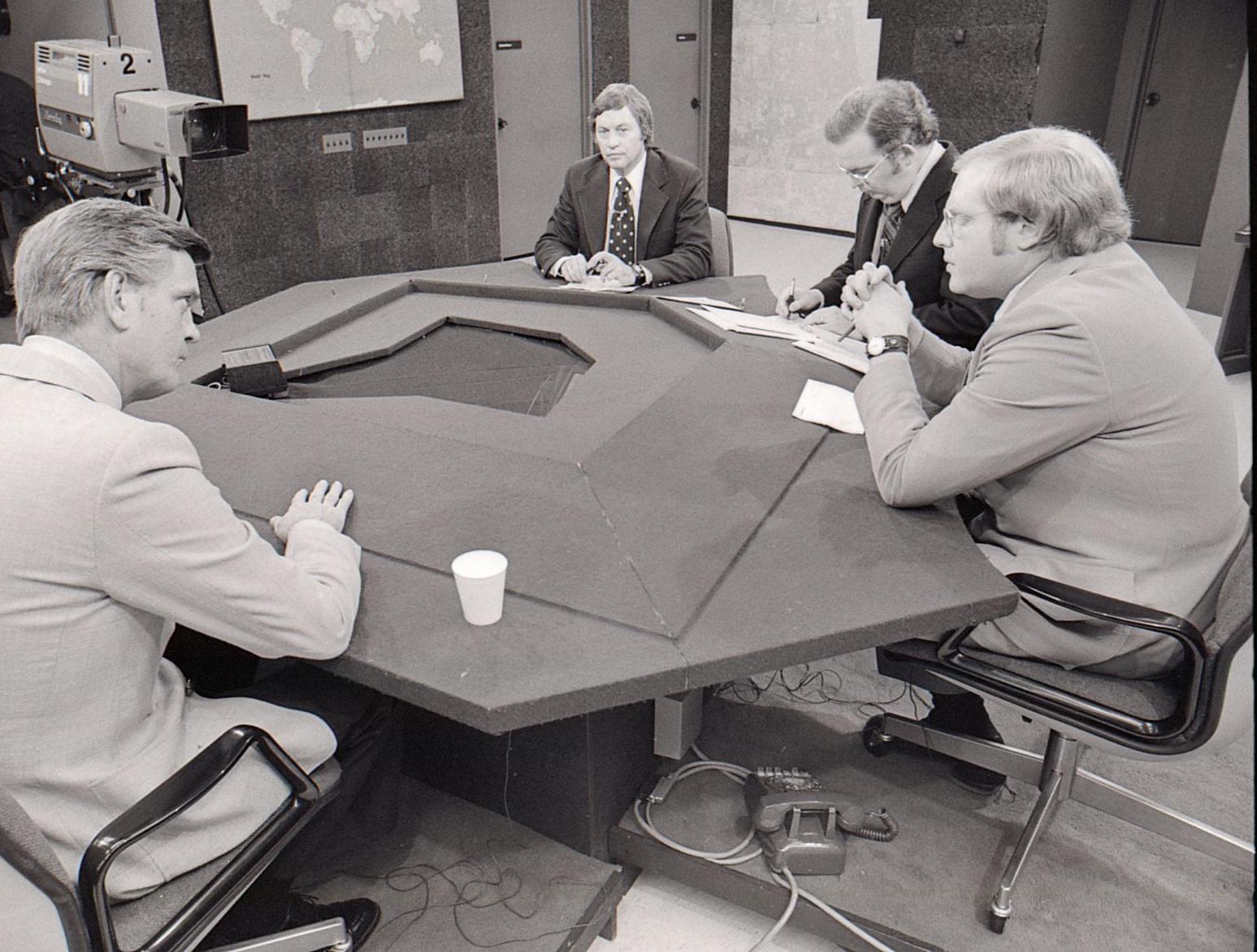 1975 (WTTW)
They call him the working man
Joel seems to always have had more than one job. He started his career in journalism working for the City News Bureau and then at newspapers in Gary, Indiana, and Chicago while going to law school. For decades, he worked both in journalism and as a lawyer.
But even as a kid, Joel kept himself busy and employed. He had a paper route, worked as a soda jerk/delivery boy/stock boy at a supermarket called National Tea. In college, he worked for the school paper, the town paper (the Champaign News-Gazette), and as a dishwasher at his future wife's sorority.
Joel is not superstitious
Joel doesn't have many superstitions, but he says he does check the obituaries every day to see if he's still alive.
---
Related stories: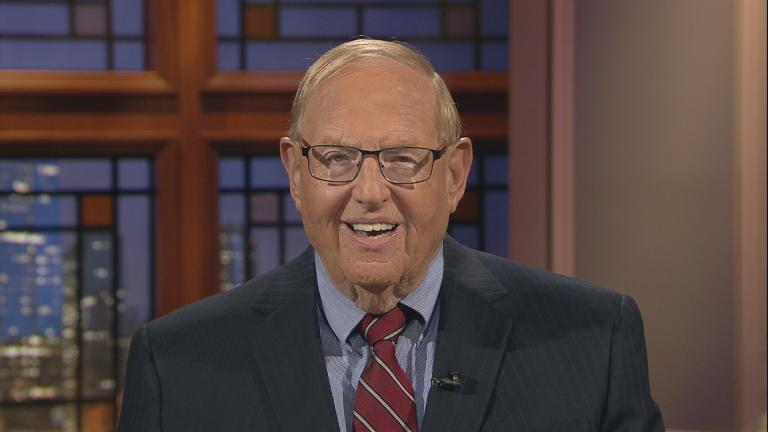 Joel Weisman to Retire as Host of 'The Week in Review'
Dec. 1: "After 40 years I've decided to end my term as host and senior editor of this show I helped create," Joel Weisman said. A special show next month will mark the show's fourth decade, and Weisman's final appearance as host.
---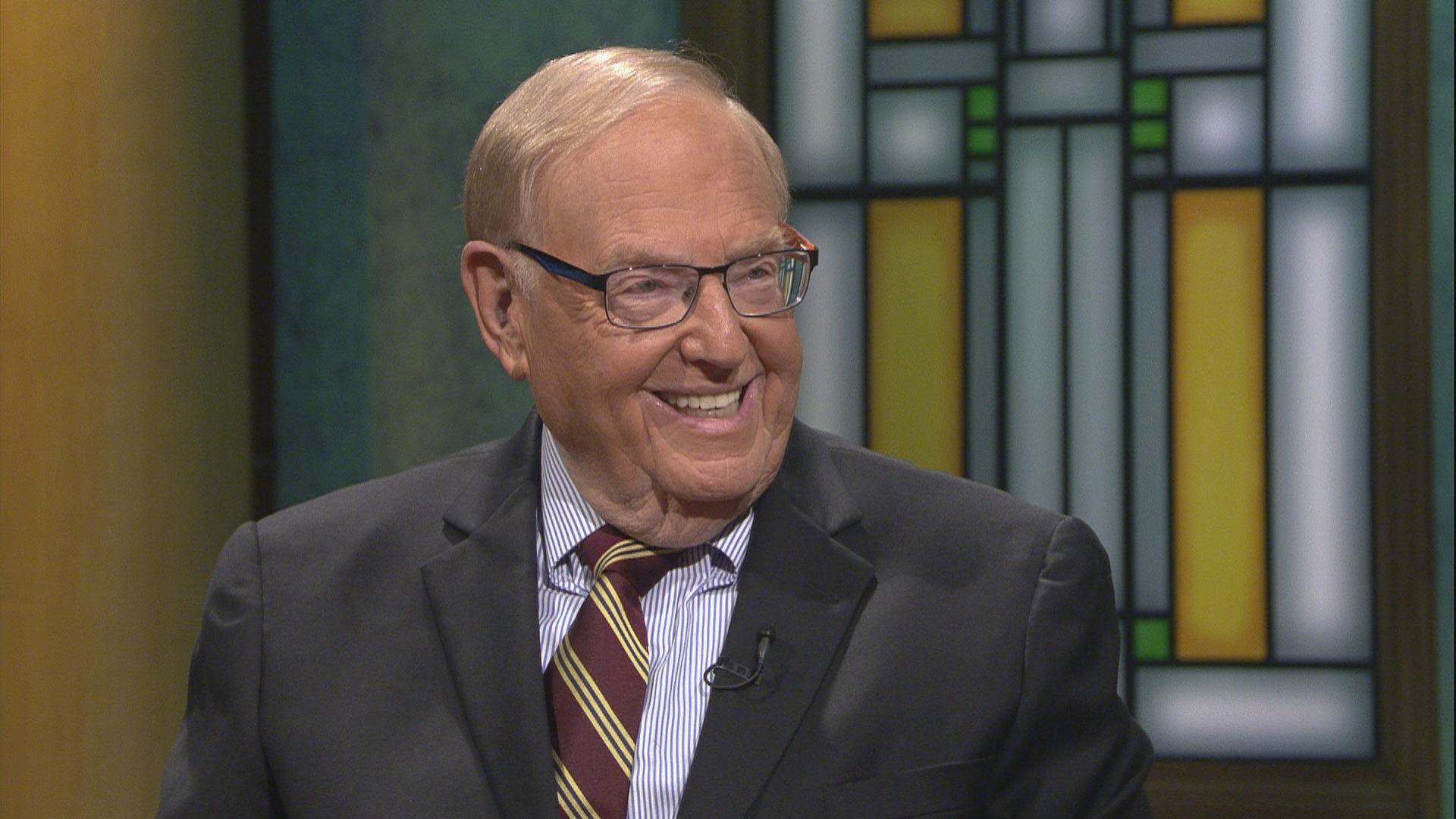 'Chicago Tonight: The Week in Review' Celebrates 40 Years with Joel Weisman
From WTTW's Playlist: "Chicago Tonight: The Week in Review" is the longest-running series in WTTW history, and one of Chicago television's longest-running series with a single host or anchor. Learn more about Joel Weisman.
---