Nearly a year to the day that an estimated quarter of a million people gathered in the Loop for the Women's March on Chicago, activists are set to fill downtown streets again for a March to the Polls this Saturday.
What you need to know to attend (or avoid) this year's event. (And here are some other things going on this weekend.)
Organizers say this is more than a march, it's a movement, and they say one of the best ways to advance their agenda is to elect more women and allies. 
"There's nothing more empowering in our democracy than participating in the electoral process, either by voting or even by running for office yourself. When women vote we make a difference. When women run, we change the face of our democracy so it more accurately reflects who we are as a nation," said Dorri McWhorter of the YWCA of Metropolitan Chicago.
While organizers are adamant that the event is not partisan, only Democratic elected officials are on the agenda as speakers: Among them, Attorney General Lisa Madigan, U.S. Rep. Jan Schakowsky, Cook County State's Attorney Kim Foxx, Cook County Commissioner Bridget Gainer and Chicago City Clerk Anna Valencia.
Wealthy Democratic contributor Tom Steyer, the leader of Need to Impeach, is also scheduled to speak, as is Suzette Wright, who recently appeared on "Chicago Tonight" to speak about sexual harassment when she was working at Ford.
No registration is necessary to attend the rally or march, though organizers welcome would-be participants to sign up at their Facebook page.
The event begins at 9 a.m. at Grant Park with music and a video; the rally starts at 11 a.m. The actual march from Grant Park to Federal Plaza begins at 12:30 p.m.
Anyone who wants to avoid the event entirely should be aware that it will keep nearby streets closed from 10 p.m. Friday through 2 p.m. Saturday.
Street closures include Columbus Drive, from Monroe Street to Balbo Drive, and Jackson Boulevard from Lake Shore Drive to Michigan Avenue. Closures are also scheduled for the westbound lane of Congress Parkway between Columbus Drive and Michigan Avenue. 
Below, a map of the march route (black lines) and street closures (red lines). 
---
Follow Amanda Vinicky on Twitter: @AmandaVinicky
---
Related stories: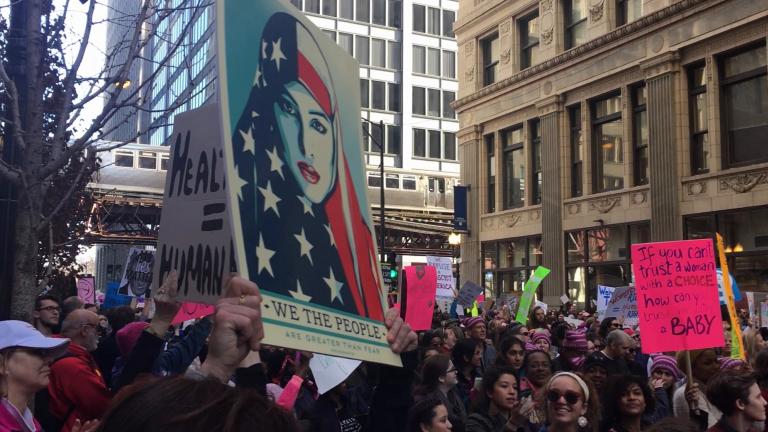 Women's March to the Polls Route Released
Jan. 5: Get updated details for the Jan. 20 event from the organizers of last year's Women's March on Chicago, including rally information and the planned route through the Loop.
---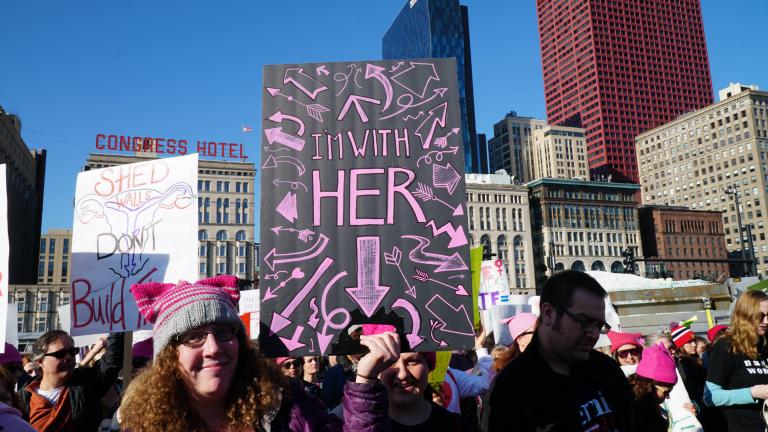 Photos: Personal, Political Messages at Women's March on Chicago
Jan. 23, 2017: Signs displaying personal messages on issues such as women's rights, democracy, health care and LGBTQ rights were carried by many in the crowd of thousands Saturday at the Women's March on Chicago. Take a look at what we spotted.
---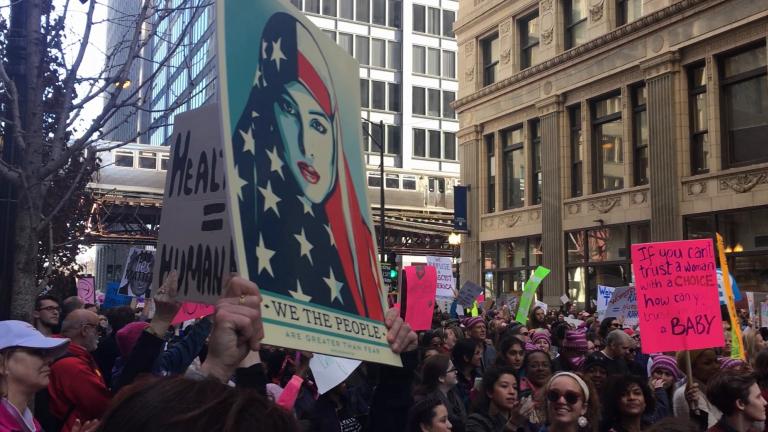 Thousands of Demonstrators Flood Loop for Women's March on Chicago
Jan. 22, 2017: Chants of "this is what democracy looks like" echoed Saturday through the streets of downtown Chicago as an estimated 250,000 individuals flooded the area to take part in the Women's March on Chicago.
---