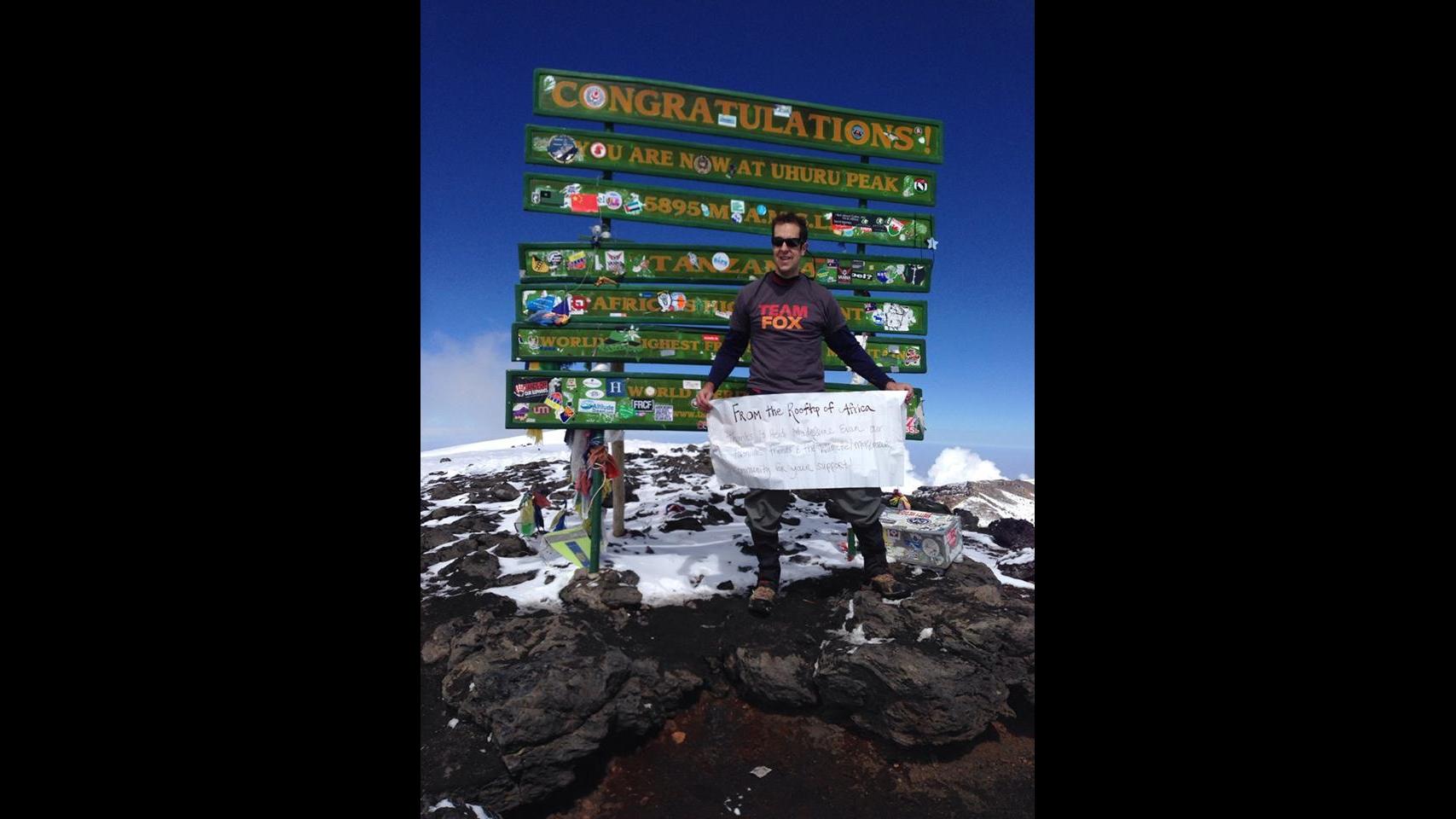 Bill Bucklew (Courtesy of Bill and Heidi Bucklew)
For a man who has climbed Mt. Kilimanjaro, finished an Ironman triathlon and completed four marathons in 2017 alone, walking across the country might seem like a walk in the park. 
But, guess again.
"It's harder to walk 26 miles in this environment than to run a marathon," Wilmette resident Bill Bucklew said last week as he was walking through Texas. "It's been tough."
The 2,503-mile trek from Tybee Island, Georgia, to San Diego would be a challenge for most people – let alone someone like Bucklew. The 48-year-old has Parkinson's disease, and now he's walking to raise awareness and funds to fight it.
"The mission of our group is to find a cure for Parkinson's disease," said Bucklew, who is hoping to raise $100,000 for Team Fox, the community fundraising program at the Michael J. Fox Foundation. 
Bucklew was diagnosed in 2012 with the progressive neurodegenerative disease, symptoms of which include limb rigidity, gait and balance problems, slowness of movement, and a tremor which occurs mainly at rest and is described as a "pill-rolling tremor in hands," according to the Parkinson's Foundation.
He was 43 at the time of his diagnosis, but said he began noticing tightness in his right leg about seven years earlier. With progressively worsening symptoms but no diagnosis, Bucklew began to worry about more than his physical state. "I started thinking I had mental health issues and was causing it myself because doctors couldn't find anything," he said. "In 2012, even though I had been through that seven-year process and I had an inkling up front of what I had, I still felt like I was punched in the stomach (when I got the diagnosis)."
Bucklew, the vice president of development for Pampered Chef, says he has not escaped the progression of the disease. "The biggest issue is work. I can't type very well. My fine motor skills are gone. I can't sign my name well. Even walking is quite difficult for me to walk normally because of the disease. There are all sorts of physical manifestations."
But he doesn't let that slow him down. Bucklew says he's always been active and started doing more marathons after his diagnosis, in addition to the Ironman and climbing expedition in Tanzania.
"In some ways I ramped up and started doing a lot more of these events than before," Bucklew said. "This year (2017) in particular I did a lot because I had a lot of training to do for this event."
Each day Bucklew begins walking "at the crack of dawn" and walks continually until around 10 p.m., logging as many miles as he can during that time. (Even during the lunch break he took while speaking with Chicago Tonight, he was walking.) Since hitting the road Nov. 24, Bucklew has walked at least 26 miles each day (that's a full marathon every day).
He has experienced some injuries, including issues with his lower back and Achilles, as well as a stress fracture. But he says he has a good medical team taking care of him, and a driver who leapfrogs him, checking in throughout the day.
Walking across the country may seem like a solitary activity, but it's been the opposite for Bucklew. "Every day I've found at least one group or individual who's been affected by Parkinson's disease and it's really crazy the mosaic of perspectives and stories around that," he said. "People come to walk with me because they're inspired by what I'm doing and they've had family members who had the disease or they themselves have Parkinson's disease."
While walking in Mississippi, a woman wearing a bathrobe joined him along a rural two-lane highway. "She had a mastectomy the week before. Her grandmother had Parkinson's disease and she was so inspired by me she said she wanted to do a marathon once she recovered and she wanted to tell me that I'd touched her," Bucklew said. "I don't think she was supposed to be out of the house much less walking down a highway – things like that are touching to see."
As of Jan. 2, Bucklew has walked 1,504 miles – the equivalent of 58 marathons. He hopes to reach San Diego by the end of the month, though he's trying not to think too much about crossing that finish line. (He said he's looking forward to a meal with family – one that does not feature Pop-Tarts as the main course.)
With many more miles ahead of him, Bucklew invites anyone who's willing to come out and join him. "There's a real-time tracker on the website and it literally tracks me second by second," he said, adding his team also follows social media accounts closely. "My goal is to help anyone with Parkinson's disease in their lives and having them connect with me in any way they can."
For more information about Bucklew and his walk, visit his website.
Contact Kristen Thometz: @kristenthometz | [email protected] | (773) 509-5452
---
Related stories: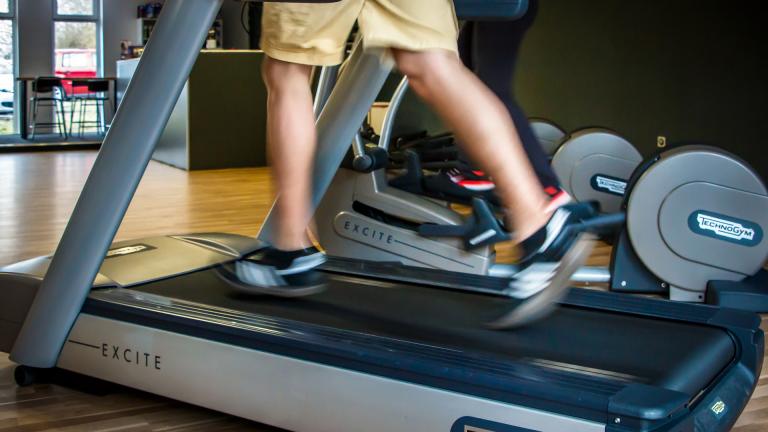 Study: High-Intensity Exercise Delays Parkinson's Disease Progression
Dec. 11: People with early stage Parkinson's disease could benefit from high-intensity exercise, according to a first-of-its-kind study which found that it decreased the worsening of motor symptoms when performed three times a week.
---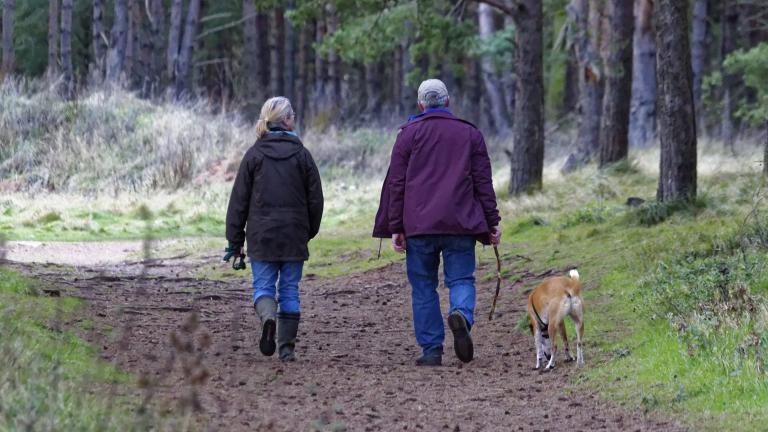 State Creates Program to Find Missing People with Alzheimer's Disease
Nov. 21: The new Silver Search program provides education and resources to help locate people who have Alzheimer's disease or dementia when they go missing.
---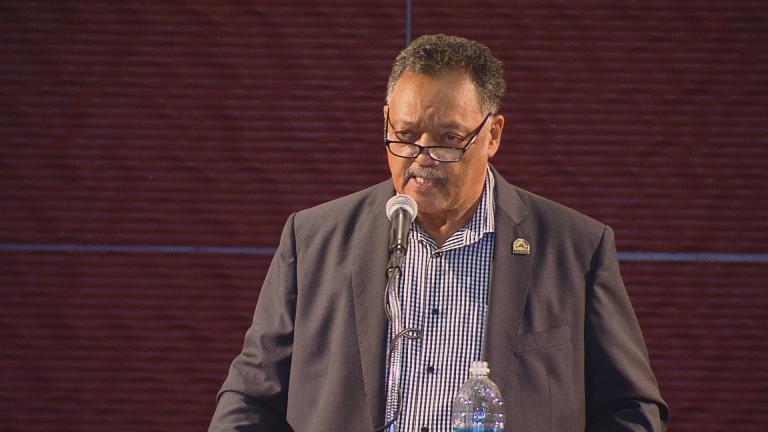 Rev. Jesse Jackson Diagnosed with Parkinson's Disease
Nov. 17: The civil rights advocate announced Friday that he was diagnosed with the progressive degenerative disorder in 2015.
---