It's been three months since Hurricane Maria dealt a devastating blow to Puerto Rico, and the U.S. territory is still struggling. A third of the island remains without electrical power and many schools and businesses are closed indefinitely. It's led to an estimated 2,000 people leaving the island each week, and hundreds of those evacuees have come to Chicago.
Like most every young mother, Maria Elena Ruiz's life is devoted to her children. She and her two sons, Gabriel, 9, and Jadriel, 7, are natives of Caguas, Puerto Rico, about 20 miles south of San Juan. There, they were living the island's version of the all-American life: Gabriel, a big baseball fan, was catcher on his little league team. And Ruiz, 29, worked at a mall while studying to be a paralegal. That life came to an abrupt end on Sept. 20 when Category 4 Hurricane Maria made landfall.
Ruiz says that within 48 hours, Hurricane Maria "destroyed our island, our entire homeland. It turned everything into nothing."
While she and her boys were not hurt, Jadriel, who has Down syndrome and suffers from asthma, developed a severe attack. Ruiz had no medicine on hand and all roads to a doctor or pharmacy were impassable.
Ruiz says her youngest son's delicate health was a key factor in leaving her home to find a more stable environment. For several days, she and her neighbors worked to clear the roads around their isolated neighborhood and when she finally managed to travel she witnessed widespread devastation. In one photo, Ruiz is sitting in one of the many long lines to get gas. Army helicopters eventually reached her remote area and her sons got some personal attention from the crew. But getting food on an ongoing basis turned into something she had never before experienced.
She says she had to wait in line five to six hours to get into the supermarket, only to find scarce amounts of groceries. With her youngest son in need of medical care, schools closed and her job on hold, Ruiz saw an ad in a local newspaper placed by a Puerto Rican social service agency in Chicago offering help. And she responded.
"I explained my situation," she said, "that the schools weren't opening regularly, and that Jadriel was sick and they said they would help me."
Ruiz and her sons left Puerto Rico for the first time in their lives and arrived in Chicago mid-November. The post-Maria exodus out of Puerto Rico has brought more than 1,300 residents of the island to Chicago. Many are starting their new lives at the Humboldt Park Field House where the city has set up a relief center. More than a dozen city and state agencies are helping with housing, health services, winter clothing and enrolling children in schools.
"This is traumatic for them," said Lisa Morrison Butler, commissioner of the Department of Family and Support Services. "These people are literally traumatized and it is heartbreaking they have lost everything. They're not sure if they can go back and they're faced now with trying to make a new life here."
Many of the new arrivals have friends or family in the Chicago area. But others like Ruiz do not and need help with everything from medical services and schools to help navigating a new world in which she does not speak the language.
"We know that a lot of those folks that are here so far from Puerto Rico would have stayed there, that that's their home and they love it and they would have loved to be able to be there. They're just very, very worried about how quickly the island will actually be back up and running," said Butler.
Twelve years ago, 10,000 Hurricane Katrina evacuees relocated to Chicago from New Orleans. While far fewer Puerto Rican evacuees are expected, the city believes the slow progress being made on the island will bring more island residents to Chicago.
"What we plan to do is continue to operate on Mondays and Tuesdays through the end of the year and we will continue to evaluate the situation and see how things are going," said Joel Mitchell, deputy commissioner of the Department of Family and Support Services.
Ruiz says she would like to return to her beautiful island, to the only life she ever knew. But she hasn't ruled out the possibility that she might find a better life in Chicago. She admits having already fallen in love with such things as the local park in her Kelvyn Park neighborhood. But the family faces some challenges. Gabriel is now a CPS fourth grader and on his way to learning English. Jadriel will not only need special educational attention, he's also had heart and intestinal surgeries to correct defects and may need more. Through it all, the young family has high spirits and Ruiz appears strong and determined.
With unyielding confidence, Ruiz says she will start again and become even stronger than before.
More on this story
The death toll from Hurricane Maria in Puerto Rico remains a source of controversy. The offical tally is 64, but independent analyses say the number exceeds 1,000.
---
Related stories: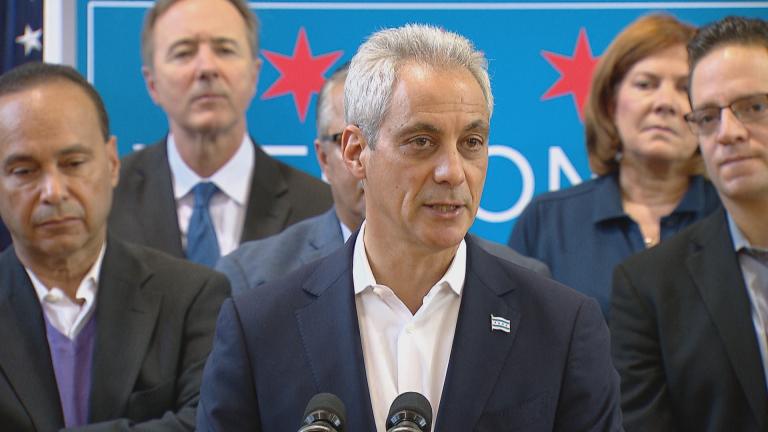 In Chicago's Humboldt Park, Relief for Puerto Rican Evacuees
Nov. 27: During a tour of a newly established relief center, Mayor Rahm Emanuel reemphasized that Chicago will remain a welcoming city and blasted the federal government for its response to Hurricane Maria.
---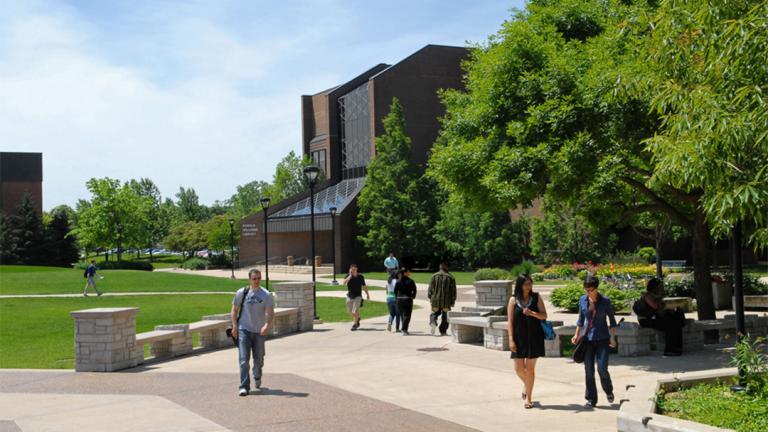 NEIU to Offer In-State Tuition for Students From Puerto Rico
Nov. 22: As Puerto Ricans recover from extensive damage caused by Hurricane Maria, students from the island can now get a discount at one Chicago university.
---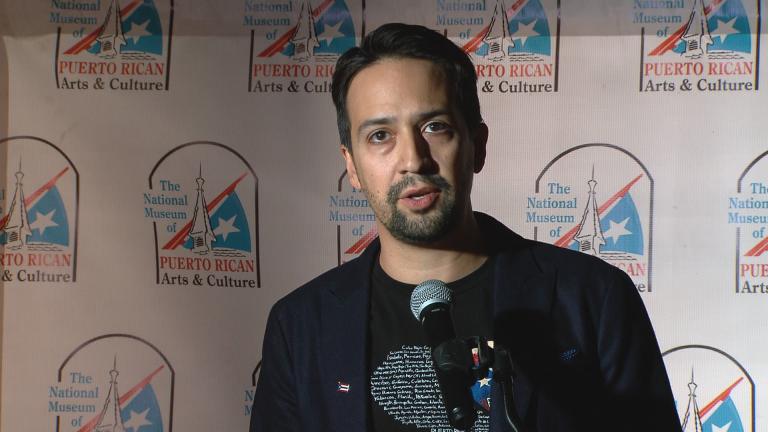 Lin-Manuel Miranda Visits Chicago, Pleads for Help for Puerto Rico
Nov. 1: A Broadway superstar returns to Chicago to plea for help for his Puerto Rican homeland, and addresses a controversial tweet about the president.
---