Chicago-based artist Edra Soto created a series of work about her homeland, Puerto Rico, and her migration to her adopted hometown. Soto makes temporary public sculptures that evoke island culture and architecture. Her artwork has been exhibited in Brazil, Cuba and the Whitney Museum in New York City.
At Chicago's Hyde Park Art Center, the big garage doors are open, welcoming visitors into Soto's immersive structure.
Architectural motifs mirror patterns seen on houses in Puerto Rico. A hand-fabricated domino table reflects a popular pastime on the island. And there are photographs embedded in the work.
"Destination/El Destino: A Decade of Graft" installation by Edra Soto. (Courtesy of the Hyde Park Art Center)
The project is called "Graft" — not the political kind, but a transplant, an offshoot planted in a new place.
"I have been working on the series 'Graft' for a decade now," Soto said. "The word 'graft' comes out of my necessity of creating something that represents my migration. My distance from Puerto Rico affects and informs the way I see Puerto Rico. I think it meant something very different when I lived there than what it means now. It's impacted by my migration and that experience of leaving Puerto Rico."
A closer look at some works reveals viewfinders with tiny photos Soto took in Puerto Rico.
"When you think about migration, you know, that is not one single experience or feeling," Soto said. "Migration comes with grief and loss and negotiations of that journey. And things that are very much out of our control sometimes make us decide that we are going to move somewhere else."
Soto grew up in Puerto Rico. She moved to Chicago 25 years ago and got her MFA from the School of the Art Institute.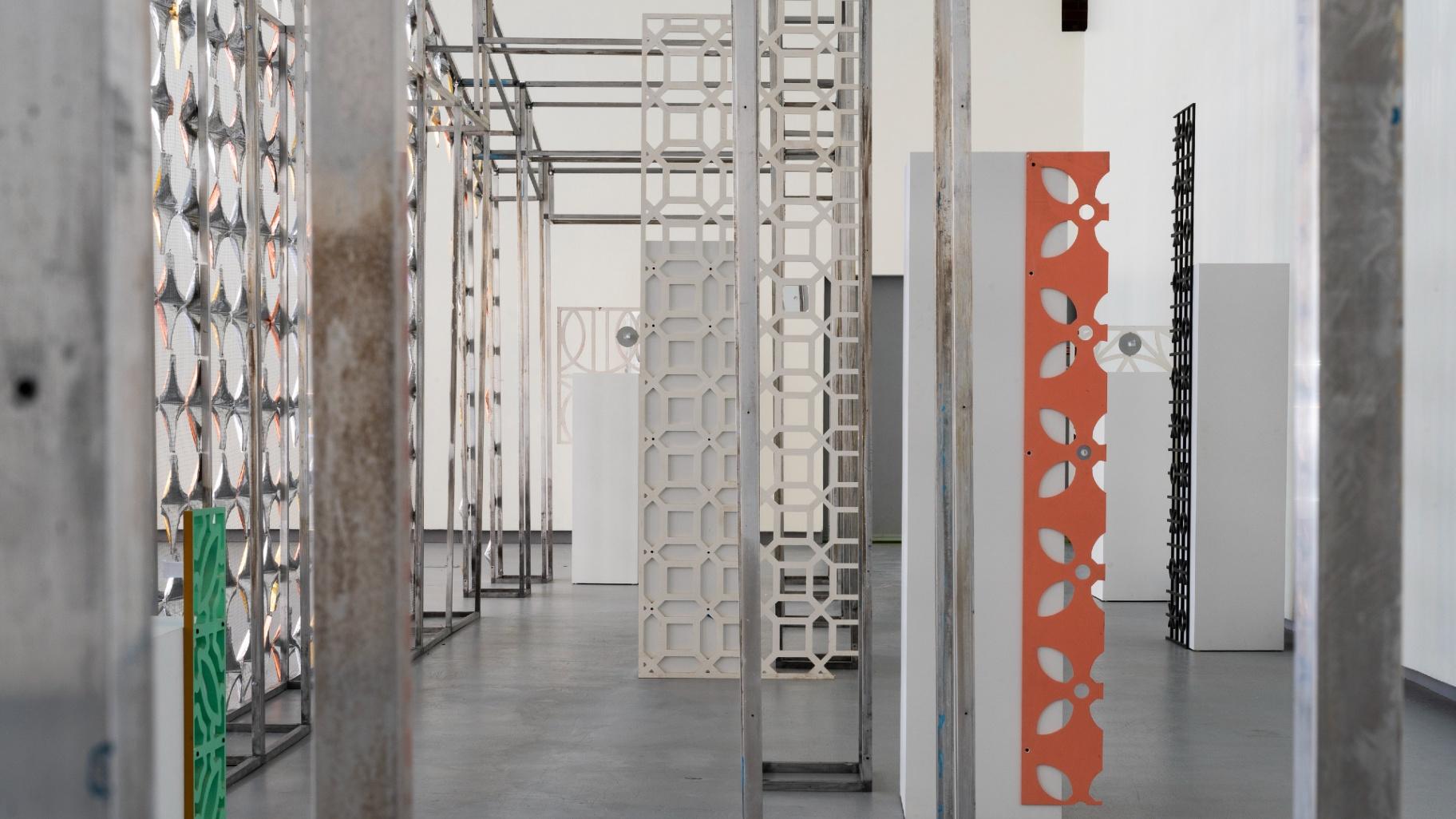 "Destination/El Destino: A Decade of Graft" installation by Edra Soto. (Courtesy of the Hyde Park Art Center)
She makes ephemeral artwork out of tape, tin, plywood and plastic. And she reuses materials — parts of "Graft" were previously in a pond at the Chicago Botanic Garden.
"This is something that is very different from making crafts at home, which is what my parents did," Soto said. "They did many different types of crafts like making commercial ceramics, making mosaics. My mother used to be a baker and she would make wedding cakes and quinceañera cakes."
"It's a symbolic transplant," Soto continued. "I call it 'Graft' because for me 'Graft' the word comes from skin transplant. I kept thinking about it as a really accurate way of representing my sentiment as somebody that migrated from Puerto Rico."
Soto's artwork will be at the Hyde Park Art Center through Aug 6.
---