The possibility of a DACA repeal, its impact on the Illinois health system and the future of medical students: A special report from DePaul University's Center for Journalism Integrity and Excellence.

Alejandra Duran-Arreola's grandmother was a curandera — a medicine woman in Mexico who healed with herbs and put dislocated bones back into place with her hands. Years later, at the age of 14, the granddaughter of the woman whose mission was to heal walked for 10 days and nine nights through the heat of the desert, her destination the United States. Arreola came with her four siblings and carried dreams of following the footsteps of her ancestry: becoming an American doctor.
Today, Arreola is pursuing an M.D. at the Loyola Stritch School of Medicine in the Chicago suburb of Maywood. Higher education would have been unthinkable for an undocumented person when she arrived in the U.S., but Arreola is a participant in the Deferred Action for Childhood Arrivals (DACA) program. Introduced by the Obama administration in 2012, this executive order gave Arreola the opportunity to not only to pursue higher education, but chase her dream at one of the most competitive medical schools in the nation.
In September, however, the Trump administration officially announced plans to rescind the program indefinitely, and her future — along with the rest of the nation's 800,000 DACA recipients — became far from certain.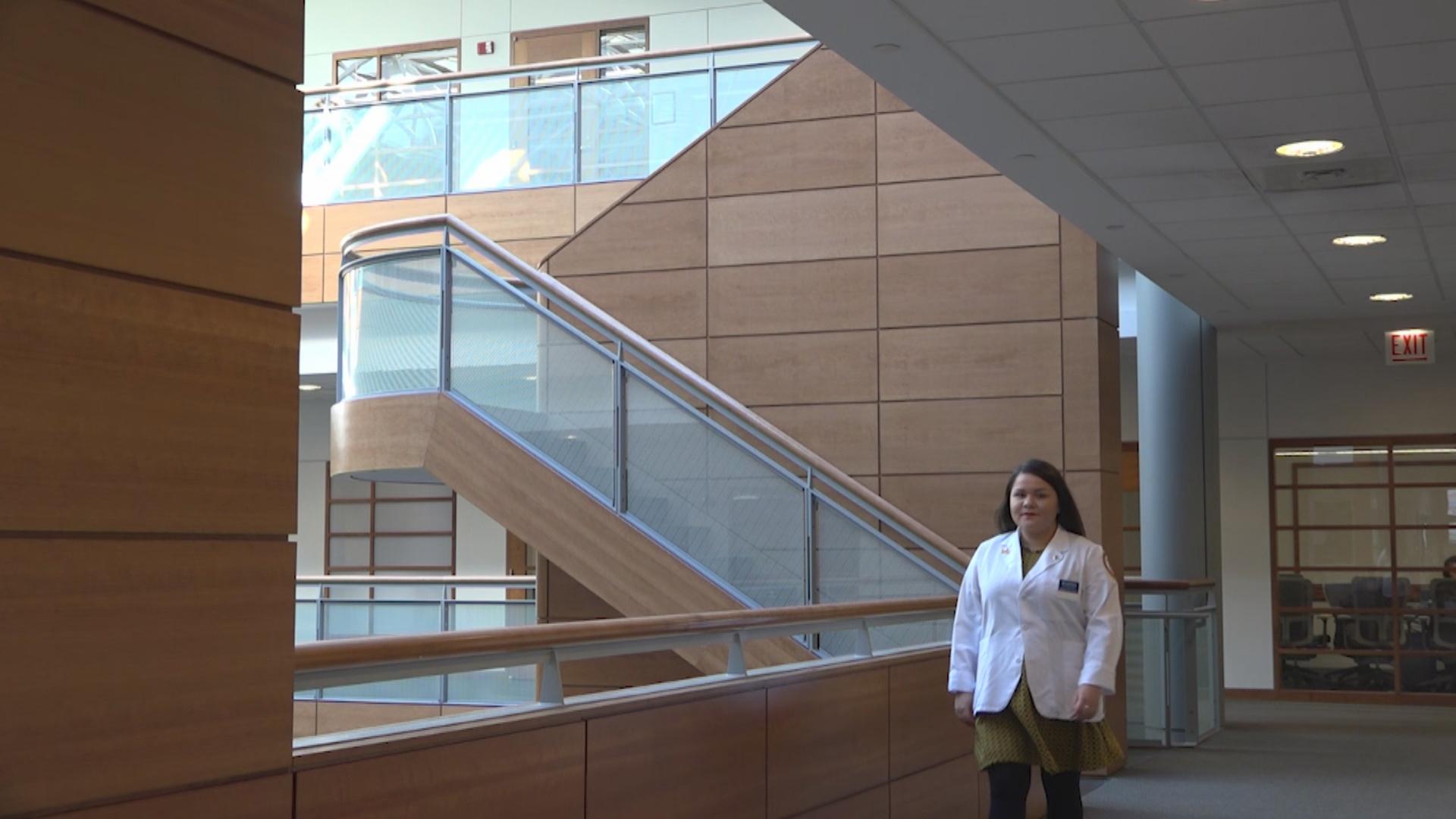 Since coming to the U.S. a decade ago, Alejandra Duran-Arreola is on the cusp of becoming a doctor.
According to an official at Loyola, there are approximately 70 DACA medical students attending schools across the United States. Loyola says it has 32 DACA recipients attending the Stritch School of Medicine, or roughly 45 percent of the nation's total.
In the meantime, the Department of Homeland Security has said the program and its benefits will expire by March 5, 2018 — unless Congress acts. Currently, Democrats and a handful of Republicans in Congress are working on a compromise bill to potentially salvage the program, but the end-of-year effort will come alongside other important deadlines like government spending legislation and Speaker Paul Ryan's main concern, tax reform.
DACA offers temporary asylum to previously undocumented people like Arreola who were brought to the United States as children. Among the requirements to be accepted:
• Must have come to the U.S. while under the age of 16;
• Are currently in school, have graduated from high school, have obtained a GED, or have been honorably discharged from the Coast Guard or armed forces;
• Do not pose a threat to national security or public safety.
Source: U.S. Citizenship and Immigration Services
Through the program, DACA recipients were given a chance at higher education and better career prospects in competitive fields across the nation. According to a recent report by the American Immigration Council, in Illinois, "more than a quarter-million U.S. citizens … live with at least one family member who is undocumented." Illinois ranks third in the nation in terms of DACA residents, with more than 35,000 DACA recipients living in the state.
Cesar Montelongo Hernandez is another Stritch medical student and DACA recipient, and he acknowledges the misconceptions around his legal status. "Sometimes it can be a little bit off-putting when people tell me outright I can't be undocumented because I'm in an M.D. Ph.D. program," Hernandez said.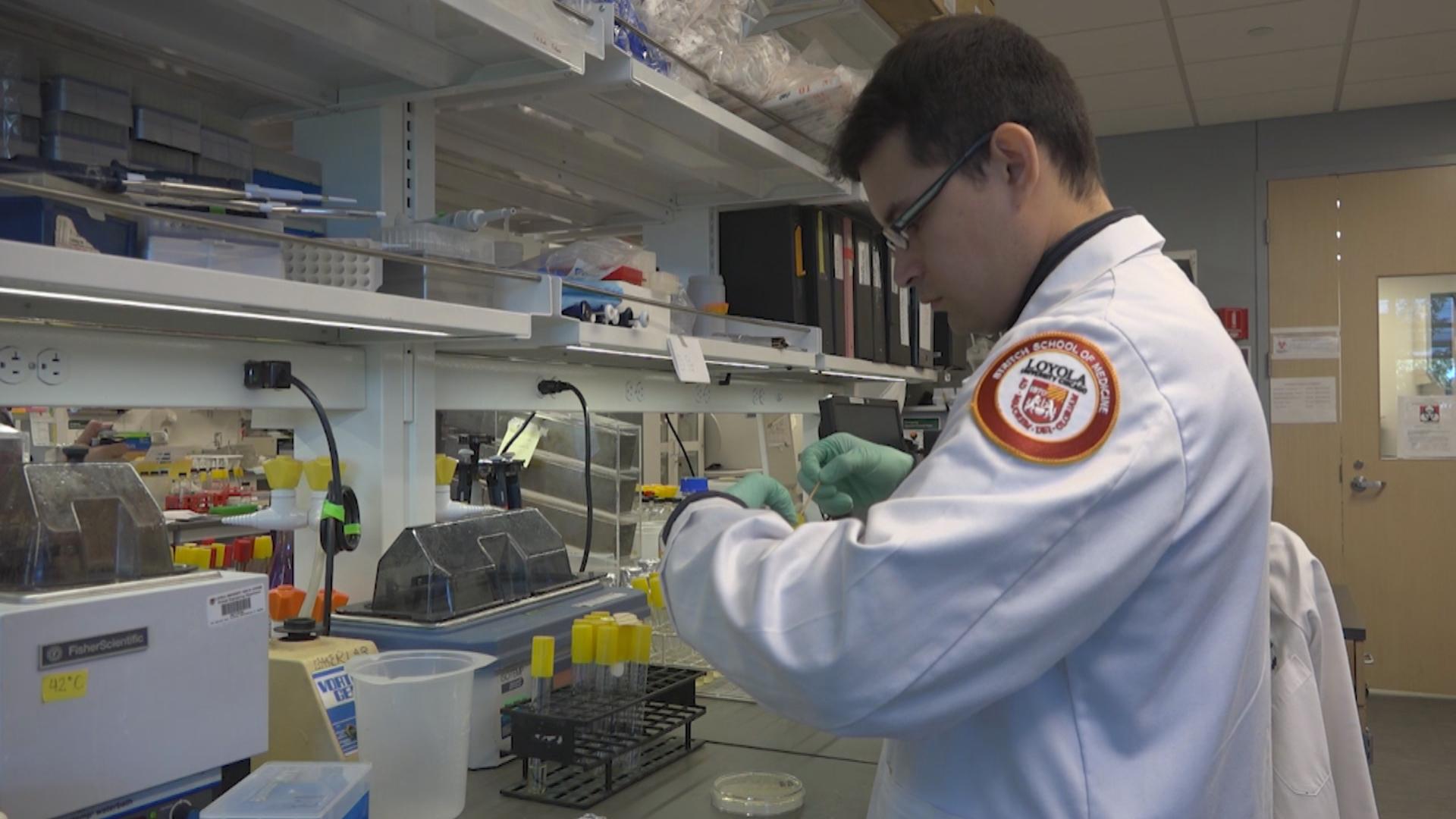 Cesar Montelongo Hernandez
Originally from Mexico, Hernandez came to the United States as a young boy who already had a vested interest in medicine. "I think it started back when I was six or seven years old and my father became sick in Mexico," Hernandez said. "We didn't know what he had, we had no real access to care and even the people we went to couldn't diagnose his illness."
Once in the United States, the diagnosis that came was shockingly treatable. "He was diagnosed with diabetes, which is such a common illness," Hernandez said.
The status of both Hernandez and Arreola is in a state of flux. Their DACA protections need to be renewed every two years — meaning that while they will be able to graduate, they may not be able to enter residency programs or secure a medical career in the U.S. afterwards.
The potential loss of medical talent is coupled with a national labor shortage in health care professionals. According to the American Medical Association (AMA), the U.S. does not currently have enough providers to sustain and adequately care for its growing population.
"The DACA initiative could introduce 5,400 previously ineligible physicians into the US healthcare system," the AMA said in a report issued at its 2017 Medical Student Advocacy and Region Conference.
In an open letter addressed to Congress, the Association of American Medical Colleges (AAMC) urged protection for DACA individuals.
"We believe that medical students, medical residents, and researchers with DACA status are important to the fabric of the nation's health care system, and their participation benefits all patients," they wrote. "We are extremely dismayed by the administration's decision to rescind the current executive action establishing DACA."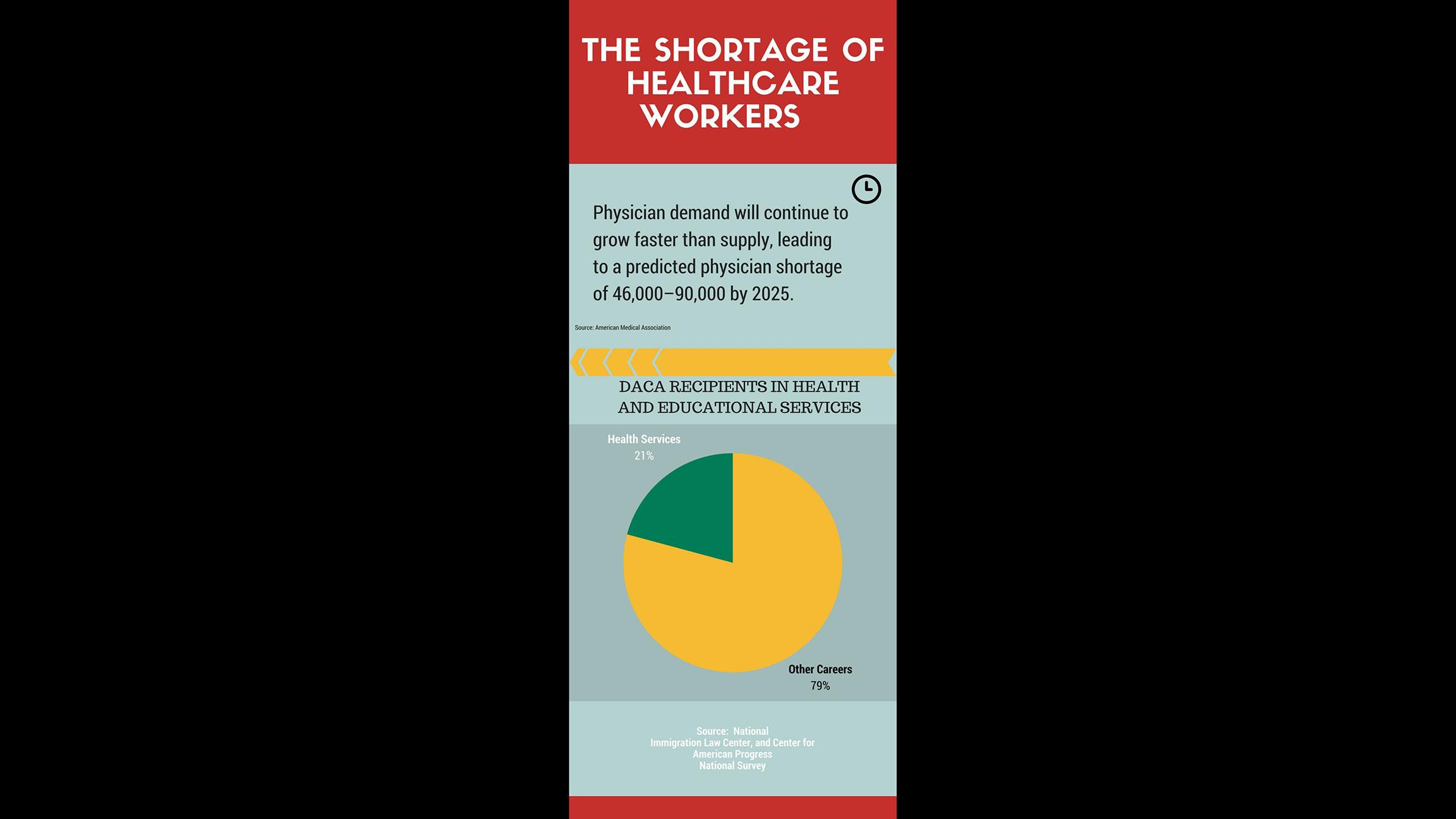 The medical shortage could have far-reaching impacts on the quality of health care in Illinois and nationwide. In practical terms, this means longer wait times in the emergency room, fewer nurses on staff and fewer providers.
Professor Mark Kuczewski, Chairman of the Department of Medical Education at Loyola's Stritch School of Medicine — known as "Dr. DACA" by Loyola staff and students — argued that these students bring a sorely needed skill set.
"Many of them bring special qualifications, for instance, being bilingual, bicultural, understanding patient populations that their peers might not understand," Kuczewski said.
The AAMC echoed Kuczewski's sentiments, arguing that "it is crucial that the physician workforce reflect the changing demographics of the country to mitigate racial, ethnic, and socioeconomic health disparities."
In Chicago's Pilsen neighborhood, over 90 percent of the Alivio Medical Center's patients are of Hispanic descent, according to CEO Esther Corpuz. The medical facility offers primary care to largely low-income patients who often can't find proper care due to language barriers.
"We're looking for somebody who not only speaks the language, but understands the cultural differences in our community," said Corpuz. "That's a unique person that we're looking for."
According to the Center for American Progress, over 21 percent of DACA recipients work in the education and health services industry. This extends beyond doctors to include physical therapy, dental care and nursing.
"That's a pipeline for our future," Corpuz said. "These are individuals that are contributing to society and to the future of health care."
Polls taken after the Trump administration's decision to rescind DACA show that over 80 percent of Republicans support the decision. However, two-thirds also approve a legal, permanent pathway to citizenship apart from DACA.
If DACA is rescinded, recipients will lose their legal protection, preventing them from working as American doctors and leaving them vulnerable to deportation.
"It's hard to believe that our country will look at these young people and really send them back to the shadows wasting the investment that we've made in their education all along," Kuczewski said. "[To] put these talents aside rather than utilize these talents. We need these doctors."
Despite this concern, students like Hernandez and Arreola still have work to do, research to publish, exams to take and no time to slow down. Even as their future appears murky at best, they appear undeterred.
"We're taking exams, we're learning and we're still striving to be a doctor because we don't know, and for all we know, hey, things might get better," Arreola said. "But for now, school."
Reporting by Brendan Pedersen, Ivana Rihter, Madeline Happold and DePaul's Center for Journalism Integrity and Excellence.

---
Related stories: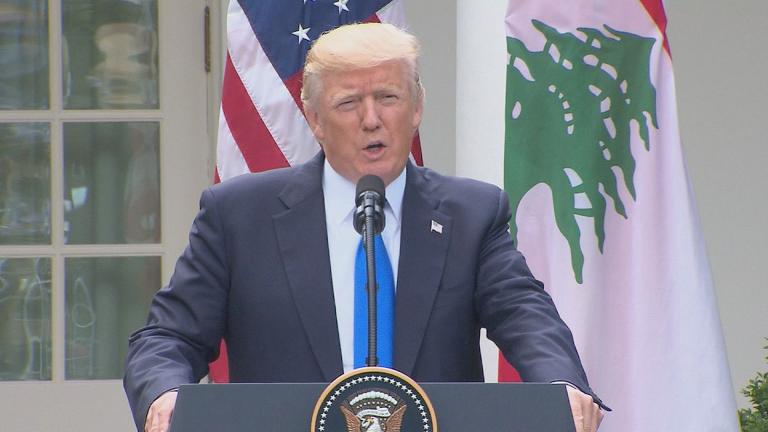 Attorney General Madigan Sues Trump Administration to Protect 'Dreamers'
Sept. 6: President Donald Trump's decision to end the Deferred Action for Childhood Arrivals program has Illinois politicians at odds.
---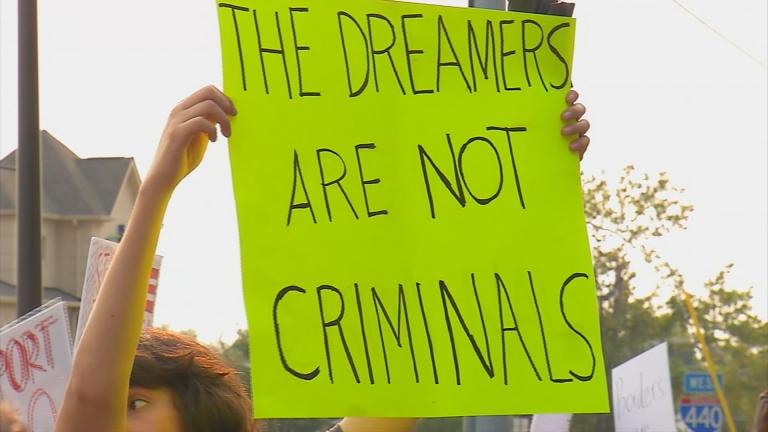 Debating DACA: Trump Gives Congress 6 Months to Find a Fix
Sept. 6: President Donald Trump has said he expects Congress to use the next six months to come up with a way to "legalize DACA." But given the level of dysfunction in Congress, can that happen?
---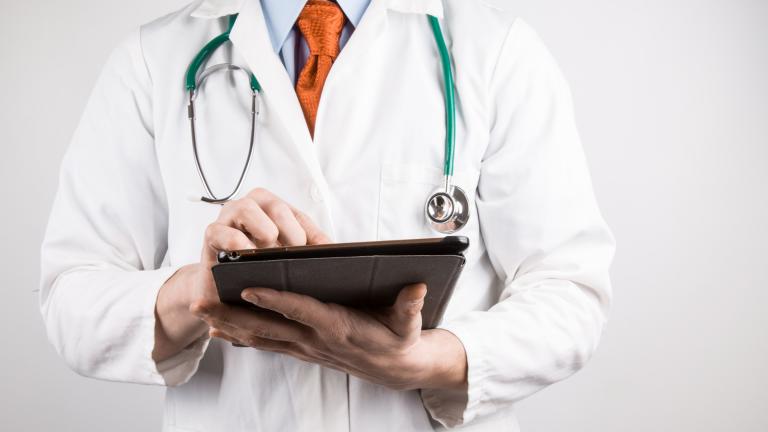 NIU Student Develops Health Care Website for Immigrants
Aug. 28: "My main hope is to make it easier for people to access health care," said Yosue Perez, whose website maps health care providers in Illinois that serve people regardless of their immigration status.
---