Geoffrey Baer gets eye-to-eye with some sky-high building ornament and gets beneath the surface of a towering metal figure in this week's edition of Ask Geoffrey.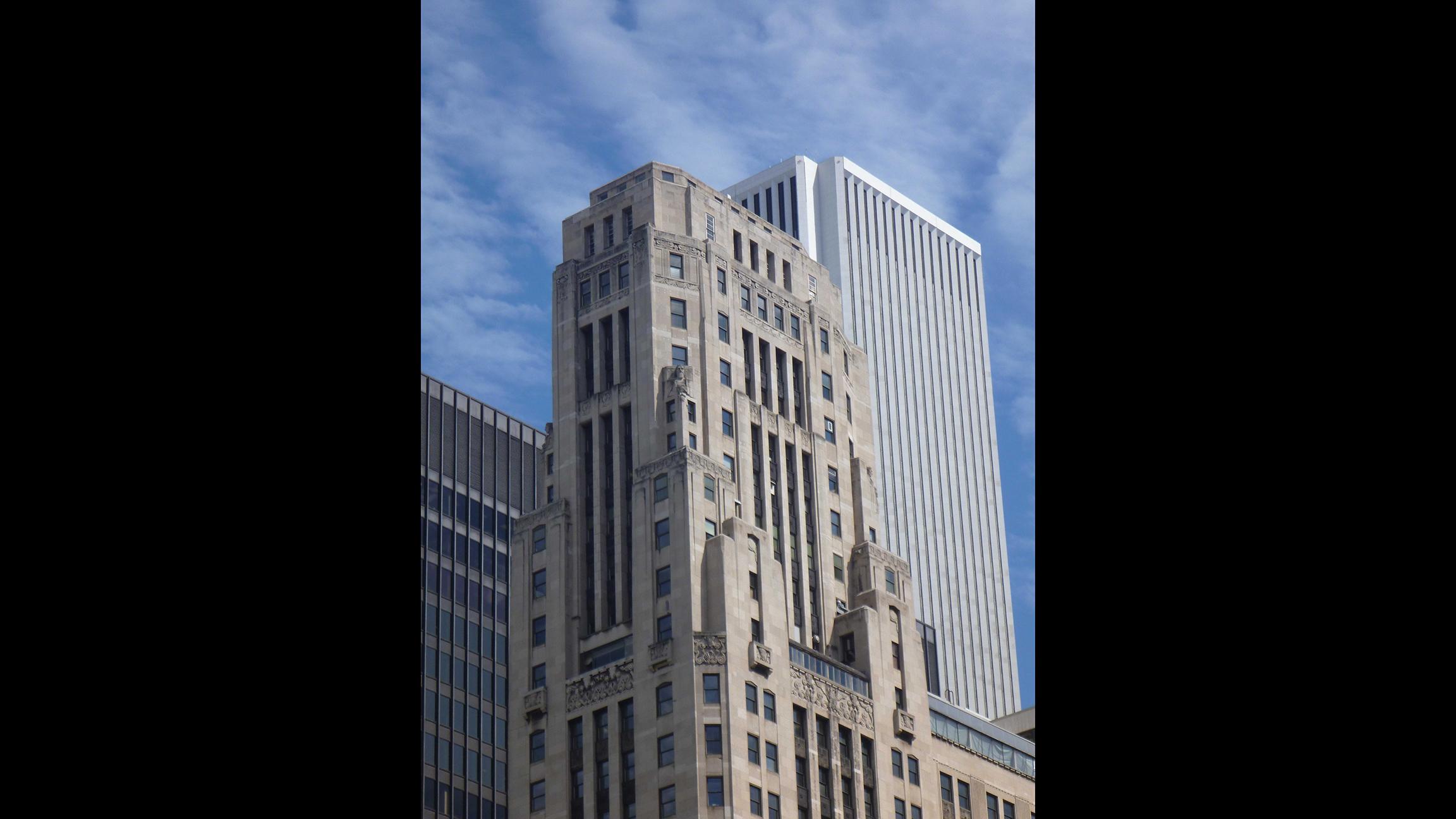 On the building across the street from the "temple-topped" Pure Oil building, there are four busts on the corners, perhaps 20 stories up. Who are those faces? We noticed them while we were eating lunch at the Terrace restaurant in Trump Tower.
—Phil Merhalski, Schererville, Indiana
This one took a little bit of sleuthing, because the former Pure Oil Building, now called the Jewelers Building, is tough to see from the terrace at Trump Tower and there isn't a building across the street from it with busts. However, what is clearly visible from there is the old London Guarantee Building, now the London House Hotel, at Michigan Avenue and Wacker Drive, which – like the Jewelers Building – has a classical temple on the roof. And right across Michigan Avenue from London House is indeed a building with busts at the corners nearly 30 stories up. Our viewer Phil confirmed that what he is asking about is actually 333 North Michigan Ave., a slender art deco tower by architects Holabird and Root built in 1928. And when we say slender, we mean it – it's just 60 feet wide and 396 feet tall.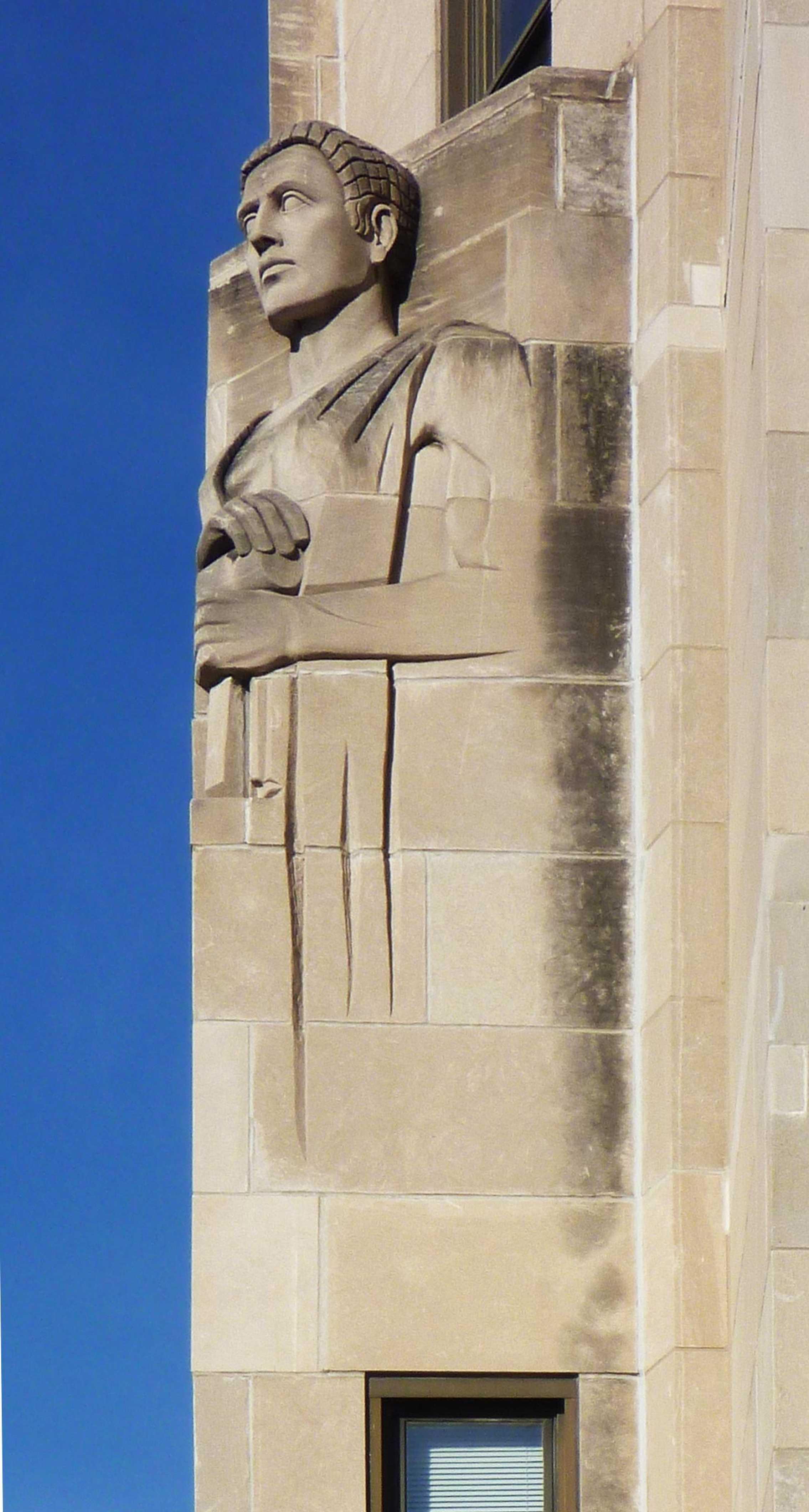 Unfortunately, according to the architectural firm Goettsch Partners which performed a recent restoration of the building, the sentinel-like figures aren't well-documented, so it's hard to say for sure what they represent, but we did learn that there aren't four busts – there are only three. The southeastern corner is occupied by fire stairs.
The building does have other interesting ornament. Down closer to street level, bands of low relief sculpture by artist Fred M. Torrey depict the pioneers, traders and hunters at Ft. Dearborn, which stood more or less on the site of this building in frontier days. You'll even spot Father Marquette in there.
333 N. Michigan Ave. was the last of four buildings built to frame the double-decker Michigan Avenue Bridge which opened in 1920 and was renamed the DuSable Bridge in 2010 to honor Chicago's first permanent resident, Jean Baptiste Pointe DuSable.
The inspiration for the design of 333 North Michigan Ave. can be traced to a famous building across the river – the Tribune Tower. In 1922, Tribune publisher Col. Robert R. McCormick announced a design competition with the lofty goal of building the most beautiful office tower in the world, and entries flooded in from all over. Of course the winning entry by New York architects Howell and Hood resulted in the neo-Gothic tower that still stands today, but the strong vertical lines and setbacks in the second-place entry by Eliel Saarinen inspired Holabird and Root's design for 333 N. Michigan Ave.
In 2015, 333 N. Michigan Ave. got a $50 million update from architects Goettsch Partners. A Blackhawks fan store occupies the ground floor, which makes sense because the building and team are both owned by the Wirtz family.

Art installation in Burnham Park (Courtesy of the Chicago Park District)
My favorite sculpture is at 47th and the lakefront. It's a 25 foot tall man wrapped in aluminum sheathing with his head looking up to the sky. Can you tell us who the artist is?
—Michael McCabe, Archer Heights
He's actually a little over 33 feet high, which makes him tough to miss for visitors strolling through Burnham Park on the South Side lakefront and even speeding by on Lake Shore Drive just south of 47th Street! And he's molded in stainless steel from smashed aluminum foil roasting pans using a process that keeps the source material visible.
The sculpture, titled "Looking Up," is by the Massachusetts-based artist Tom Friedman, a UIC alum.
We talked with the artist, who said that he tries to create connections with viewers with his work, and making the sculpture so tall inspires people to mimic the figure's pose. He also says he wanted the work to "spark a sense of wonder." If you're wondering why of all materials he chose foil roasting pans, Friedman says the pans "create a landscape that draws one into its surface."
Before the figure came to Chicago, it was in New York City for six months at the intersection of Park Avenue and 53rd Street. "Looking Up" was moved to its spot in Burnham Park in 2016. 
The artist actually made three of these figures in addition to the artist's proof. The first of the edition is a permanent installation in Austin, Texas, and nother is outside a planetarium in St. Louis, which is the artist's hometown.
Like many of the other sculptures in Burnham Park, "Looking Up" is on loan to the Park District, and is scheduled to remain in Burnham Park until 2018.
---
More Ask Geoffrey: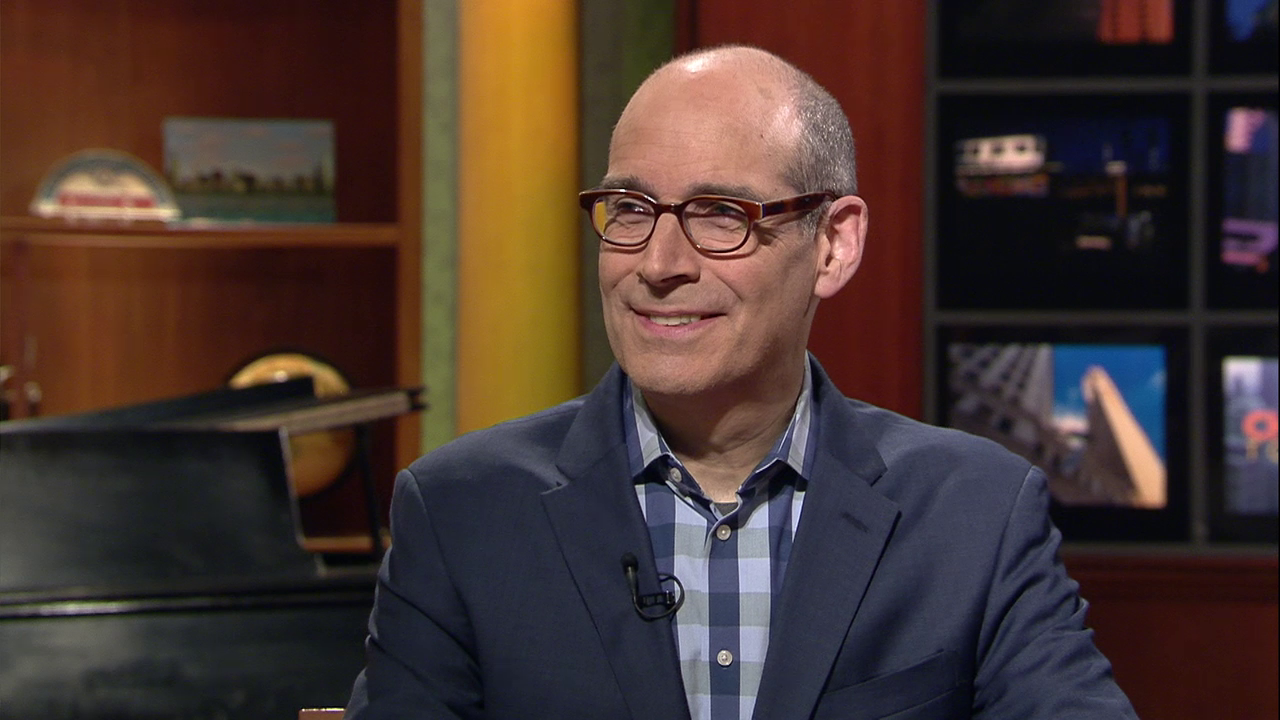 Did you know that you can dig through our Ask Geoffrey archives? Revisit your favorite episodes, discover new secrets about the city's past, and ask Geoffrey your own questions for possible exploration in upcoming episodes. Find it all right here.
Do you have a question for Geoffrey? Ask him.
---