Just over two months since it was implemented, Cook County commissioners have soured on a penny-an-ounce tax on sugary drinks.
Commissioners voted 15-1 in favor of repealing the so-called soda tax. Commissioner Larry Suffredin, D-Evanston, was alone in voting to keep it.
"Today the board exercised its collective will and set in motion a repeal of the sweetened beverage tax we approved last year. As I outlined last week, it is up to the commissioners to choose our direction on revenue, and I respect their authority to do so. Now, together, we must chart a new course toward the eighth consecutive balanced budget of my tenure as board president," Cook County Board President Toni Preckwinkle said in a statement following the meeting, which she was not present for, that characterized the vote as disappointing.
"The difficult fight for this revenue has focused me on what matters most: doing the hard work necessary to build a healthier, safer and more efficient Cook County. That work continues."
The tax hasn't formally been canned yet.
Tuesday's vote was a test run via the finance committee. But since all commissioners are on that committee, the vote leaves little doubt as to what will happen during Wednesday's regular board meeting.
Even if the repeal succeeds, Cook County residents and visitors will still pay a tax on sports drinks, diet colas and sweetened beverages throughout the fall, as the repeal measure doesn't take effect until Dec. 1.
Preckwinkle's proposed budget for next year, which she introduced last week, relies on the soda tax bringing $200 million into county coffers.
Without it, Preckwinkle says county offices and agencies – such as the sheriff's office, state's attorney, and county clerk – will have to shave their spending by 11 percent.
Treasurer Maria Pappas said her office could absorb more, a 12-percent cut, without losing any full-time staff.
"We are prepared to fight the good fight here without laying anyone off," she said.
Commissioner Richard Boykin, an ardent supporter of the repeal effort, told Pappas he was "gratified" and that other agencies should follow her example. Boykin says he opposes a "hatchett" approach of across-the-board cuts, and that some agencies should see their budgets trimmed further so public safety spending can be spared.
"We have to be creative enough to look at these things and to work with separate elected officials … have an honest conversation about where the county is at with its finances," he said. "Save the jobs of residents in the county, without actually causing a crisis that is not necessary."
Boykin said scare tactics are "shameful."
"The sky is not falling, we're not going to close trauma centers, we're not going to scare people and sy that we're pushing granny of the cliff and all that," he said.
But other officials warned that a crisis is what the county will get, if it doesn't find other ways to bring in more money. County Recorder Karen Yarbrough says her office has reduced its spending by $2 million since the 2014 fiscal year and can't cut back any more.
"This year we just simply cannot. It will affect he service that we provide," she said.
Assessor Joe Berrios, who also heads the Cook County Democratic Party, warned that he'd implement furloughs and layoffs and that he'd close the assessor's suburban offices.
"Tax bills will definitely go out later," he said. "I will do my darndest to make sure they go out on time but I cannot guarantee it."
During her impassioned testimony, Public Defender Amy Campanelli warned that she would have to eliminate 20 percent of her office.
"The effects would be nothing short of devastating. I wouldn't be able to staff all the court rooms and court calls throughout Cook County. We would not be able to accept representation for all the indigent who cannot afford counsel. I'd have to make a Sophie's choice by deciding who gets legal representation and who doesn't, instead of giving half attention to all my clients, which I will not do," she said. "These are people's lives at stake."
Commissioners heard testimony for a total of three and a half hours, as nearly 150 members of the public (a number ultimately whittled down to roughly 50) signed up to share their opinions on the tax.
That included public health advocates who maintain the tax is a way to prevent diabetes and other health issues; one proposed amending the levy so diet drinks are exempt. Grocery store and restaurant owners, who say they've seen declines in sales as customers shop in DuPage and Will counties or even in Indiana, to avoid paying the county's soda tax.
"Every day this tax is taking money away from my residents – the hard working blue collar residents of the Village of Worth – who depend on me for essential services," said Mary Werner, the mayor of suburban Worth.
Werner says she fears that the soda tax "awakened a sleeping giant" as people now realize they can leave Cook County to avoid its bag, gasoline, sales and other taxes.
"They're being taxed to death in Cook County, Illinois."
The county board has six weeks to make budget decisions, as it approaches a Nov. 30 budget deadline. 
Follow Amanda Vinicky on Twitter: @AmandaVinicky
---
Related stories:
Ahead of Tuesday Vote, Opponents Urge Commissioners to Repeal Soda Tax
Oct. 9: Cook County commissioners are scheduled to take another vote Tuesday on the county's so-called soda tax. Opponents of the tax were pounding the pavement Monday, hoping to convince a few more commissioners to support a repeal.
---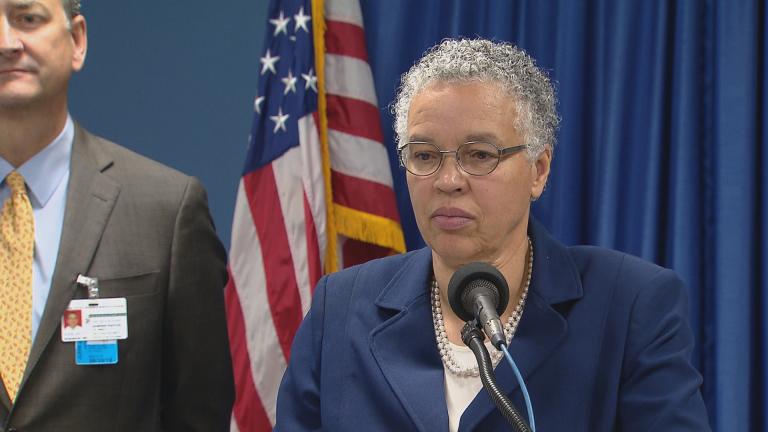 Preckwinkle: Soda Tax Repeal Will Lead to Cuts, 'Fiscal Uncertainty'
Oct. 5: The Cook County board president used her annual budget address Thursday to warn commissioners and the public that repealing a tax on sugary drinks will take the county down a path of "fiscal uncertainty" that will result in layoffs and cutting "essential services."
---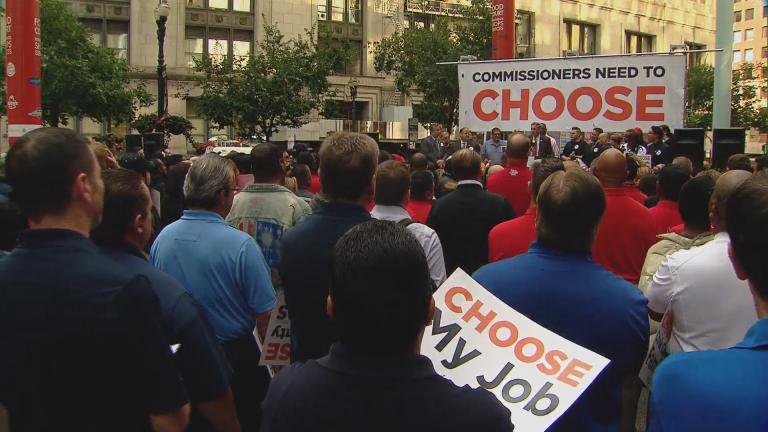 Cook County Board to Consider Repeal of Soda Tax
Sept. 12: Is the Cook County sweetened beverage tax about to fizzle out?
---