If you tuned in to watch any NFL game Sunday, you saw nearly all the football players in the league—and even some owners—join in a silent protest during the national anthem. Some took a knee. Some locked arms. Some even stayed in the locker room.
President Donald Trump can be credited with uniting most of the players on the hot-button issue of behavior during the national anthem.
At a rally on Friday, Trump said NFL owners who see players "disrespecting our flag" should get them off the field and fire them. 
"Wouldn't you love to see one of these NFL owners, when somebody disrespects our flag to say 'Get that son of a ***** off the field right now, out, he's fired. He's fired!' You know, some owner is going to do that," Trump said. "He's gonna say, 'That guy that disrespects our flag, he's fired!' And that owner, they don't know it, they're friends of mine, many of them, they don't know, they'll be the most popular person for a week, they'll be the most popular person in this country because that's a total disrespect of our heritage. That's a total disrespect of everything that we stand for, okay?"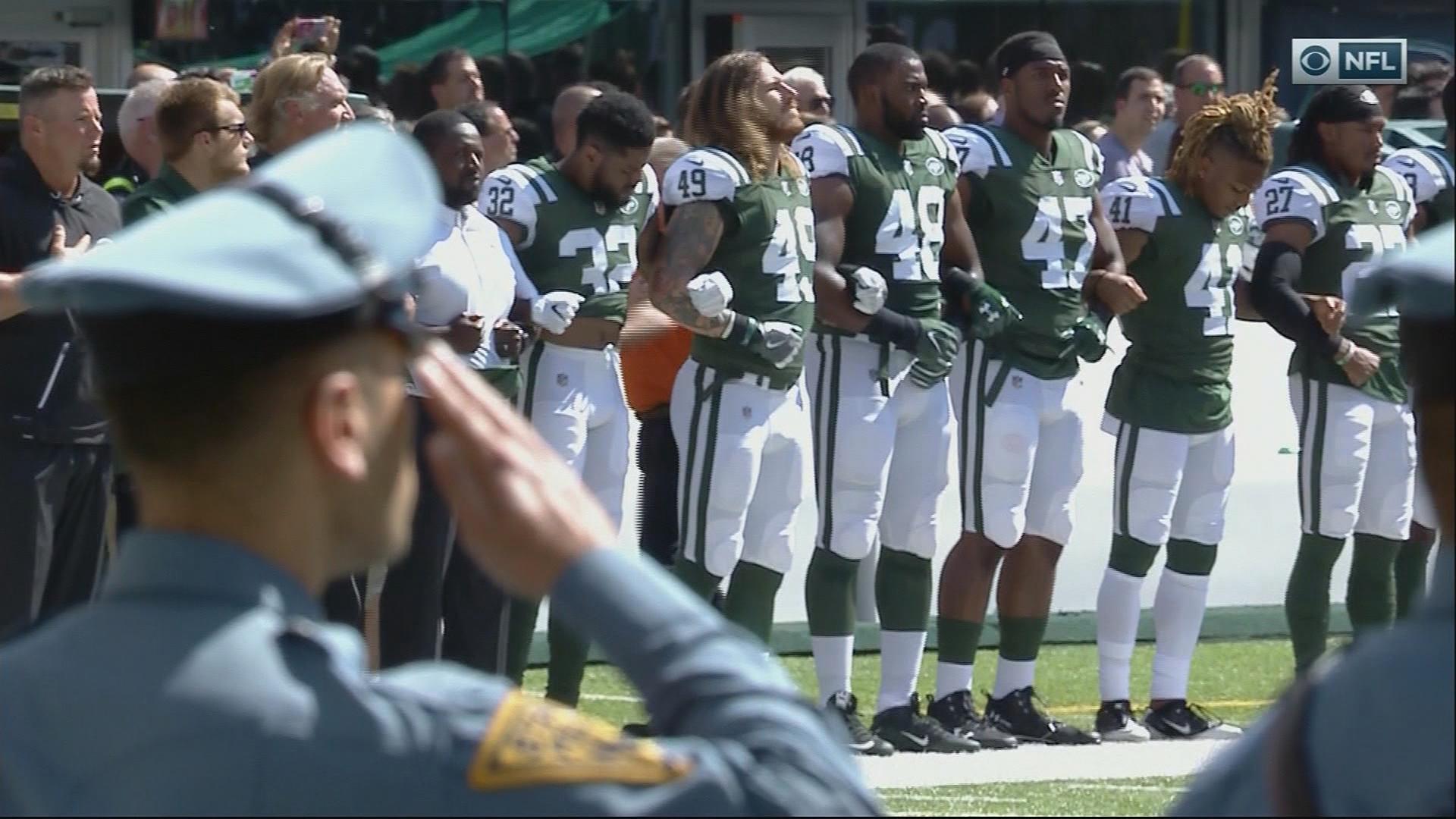 (Photo credit: NFL)
Trump continued his criticism of the NFL the next day on Twitter.
"If a player wants the privilege of making millions of dollars in the NFL, or other leagues, he or she should not be allowed to disrespect our Great American Flag (or Country) and should stand for the National Anthem. If not, YOU'RE FIRED. Find something else to do," Trump said in a pair of Tweets on Saturday.
In Chicago, Bears players stood and locked arms during the national anthem at Sunday's home game against the Pittsburgh Steelers.
"You see, every game we stand up for the flag, as a Bear. Just what was being said against us as professional athletes, we thought it was uncalled for," said Bears defensive back Sherrick McManis, in a Sunday media release. "So we wanted to make a stance as a team, as NFL players; we united together."
All of the Steelers remained in the locker room during the anthem except for offensive tackle Alejandro Villanueva, who served three tours in Afghanistan as an Army Ranger.
Before Sunday's game, Chicago Bears Chairman George McCaskey issued a statement saying the team is "proud to support our players, coaches and all members of our organization to bring peace and unity together through football. What makes this the greatest country in the world are the liberties it was founded upon and the freedom to express oneself in a respectful and peaceful manner. Through important dialogue with our players and team, this divisive political situation has unified our franchise for the present and the future."
When asked if McCaskey addressed national anthem controversy with the team ahead of Sunday's game, Chicago Bears Head Coach John Fox said that was a private conversation.
"I'm going to keep private things private. Basically, we felt as a team, George included, that this is issue is divisive and disrespectful," Fox said in a Sunday media release. "I think what we are all about is being united and together. No disrespect for the anthem. Our guys understand the reason why we are called the United States. All we did, which was no disrespect for the anthem, was lock arms in unity."
Bears offensive lineman Kyle Long echoed Fox.
"We didn't want to show any disrespect towards the military, the flag. But there are obviously issues going on in our country, and I think we did the right thing today," Long said in a Sunday media release. 

On the show: Chicago Sun-Times sports columnist Rick Telander joins host Carol Marin to discuss the controversy.
Follow Kristen Thometz on Twitter: @kristenthometz
---
Related stories: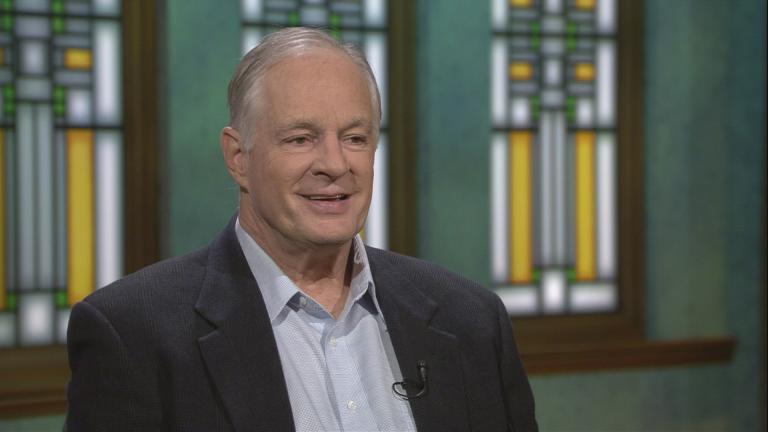 Rick Telander Pledges Brain to Concussion Research
Aug. 31: The Chicago Sun-Times sports columnist, a former college football player, joins Carol Marin to discuss football safety, concussions and his recent decision to donate his brain to science.
---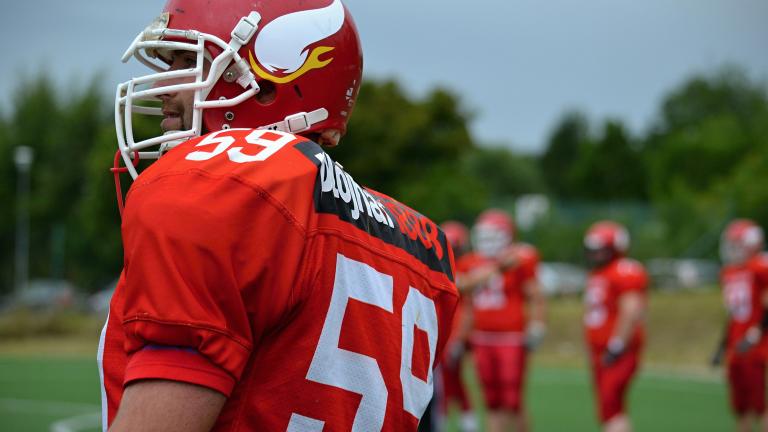 Study of Deceased Football Players Finds Widespread CTE
July 26: A new study offers the latest and perhaps most dramatic evidence of the neurological toll of football on those who play it.
---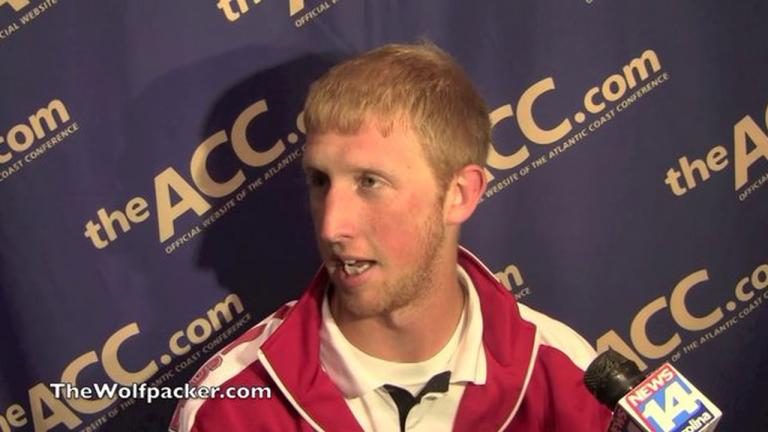 Reports: Bears to Sign QB Glennon
March 8: The Chicago Bears look to rebound from their miserable 3-13 season when the free agent signing period starts Thursday. And multiple reports say the Bears are all but certain to sign a new quarterback.
---