The U.S. border with Mexico spans 2,000 miles from the Pacific Ocean to the Gulf of Mexico. President Donald Trump's vision to build a "great wall" along that border will physically divide the two countries.
Artist and Pussyhat Project co-founder Jayna Zweiman wondered, "What else could happen in 2,000 miles that's not exclusionary but could be inclusionary?"
Following Trump's executive order in January temporarily banning immigrants from seven predominately Muslim countries from entering the country, Zweiman said she was compelled to act.
"When my grandparents came to this country, they all passed by the Statue of Liberty, and they all talked about the importance of that symbol. I thought it would be really wonderful if in addition to the Statue of Liberty – because people take so many different paths to the United States – if we could create a symbol of welcome for new people coming here," Zweiman said. "That's why I decided to transform 2,000 miles of yarn into individual welcome blankets for refugees and immigrants coming to us."
Keeping with the theme of inclusion, Zweiman has invited the public to create more than 3,000 welcome blankets that, if laid side by side, would measure 2,000 miles in length – just like Trump's proposed wall.
"I really think people want to make a positive personal statement about how they feel about our current political and social environment, and this is the platform for people to be able to do that," said Zweiman, who worked with Pussyhat Project co-founder Kat Doyle to design the template, a 40-by-40-inch blanket composed of 16 squares measuring 4-by-4 inches each.
"The idea is that taking on this project as a blanket can be overwhelming for some people, but everyone can knit a square," Zweiman said. "It lends itself to people getting together and working together."
People have been doing just that at the University of Chicago's Smart Museum of Art, which is exhibiting the Welcome Blanket project and providing materials for visitors to make their own blankets.

"What else could happen in 2,000 miles that's not exclusionary but could be inclusionary?"
–Jayna Zweiman
---
"There's something really quiet about knitting a Welcome Blanket for a recent immigrant or refugee," said Ali Gass, the Dana Feitler director of the Smart Museum of Art. "I really liked the idea and I like that the Smart Museum of Art will be this spot for all of these things from all over the world to gather."
When the exhibit opened in July, the space was empty. It has since become filled with colorful blankets from all over the world. "I really want to demystify the whole museum process," Gass said. "With the Welcome Blanket, you're watching the transformation over time. ... The museum has become this space that is slowly getting filled with welcome blankets."
Gass estimates the museum has so far received more than 1,000 blankets. "Every blanket we receive will be on display all together in the gallery," she said. "We're going to have a wall where people can write comments about their family stories and graphics of where all of these blankets are coming in from. They're truly coming in from all over the world."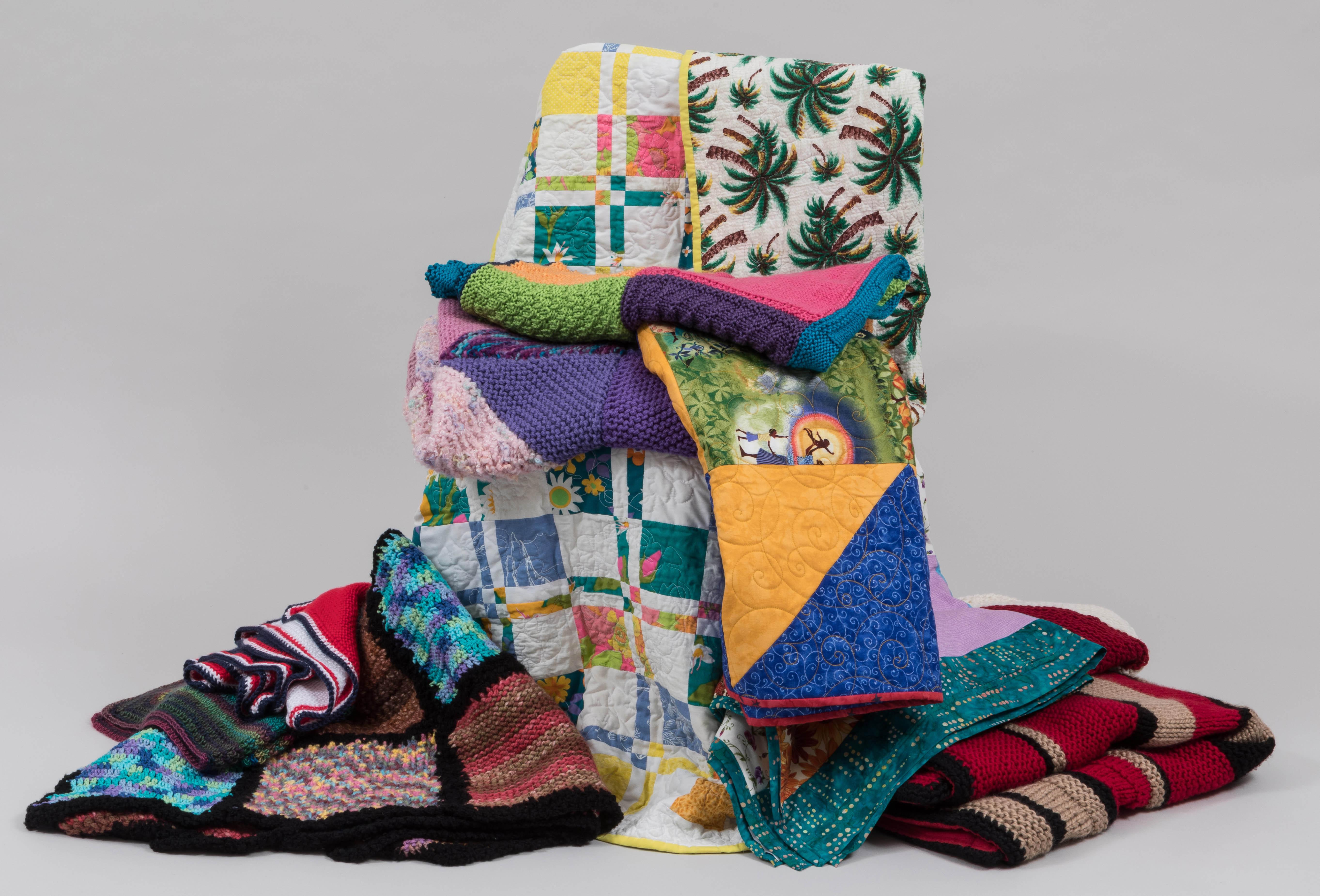 The Welcome Blanket project hopes to collect more than 3,000 handmade blankets by Nov. 4 to put on display at the Smart Museum of Art before they are given as gifts to new immigrants. (Courtesy of the Smart Museum of Art at the University of Chicago)
To make the project accessible to all, the Smart Museum of Art will cover the cost of shipping for those who cannot afford to send their knitted contribution to the museum. "We are grateful for those who pay to ship the blanket. ... But we didn't want to preclude anyone from participating," Gass said. The museum is crowdsourcing donations to pay for both shipping and yarn.
Those interested in participating are asked to send in their contribution by Nov. 4. In addition to the blanket, the museum is collecting notes from contributors.
"Each person or group of people who make a welcome blanket, we're asking them to include a note about a story that's important to them about their family history in terms of migration, relocation or immigration and a note of welcome to the United States," Zweiman said. Welcome notes can be anonymous, she said.
"It's such an honor and it's so humbling to be working with so many people who feel so passionately about treating other people with dignity and respect. This is a very joyful, positive and strong project and I think more voices we can get the better."
The Welcome Blanket will be on display at the Smart Museum of Art through Dec. 17. Collected materials will be distributed to new immigrants after the exhibit closes. For more information about the Welcome Blanket, visit the project's website.
Follow Kristen Thometz on Twitter: @KristenThometz
---
Related stories: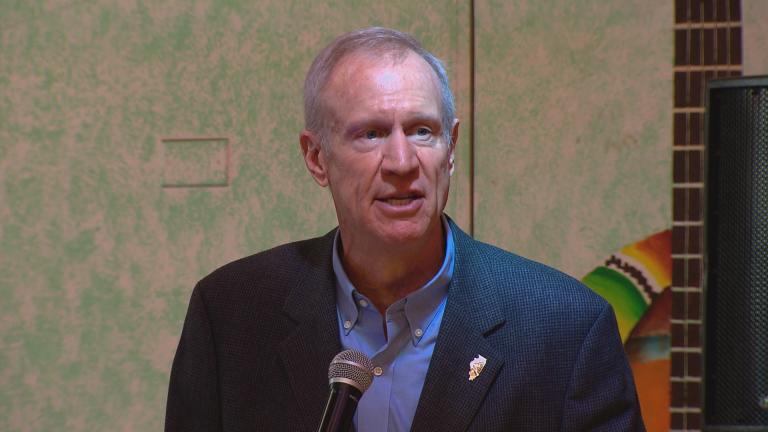 Rauner Signs Immigration, Voter Registration Bills
Aug. 28: Immigrants and refugees in Illinois can now breathe a sigh of relief, and people eager to vote will find it easier to register. The changes come as Gov. Bruce Rauner signed two pieces of legislation Monday.
---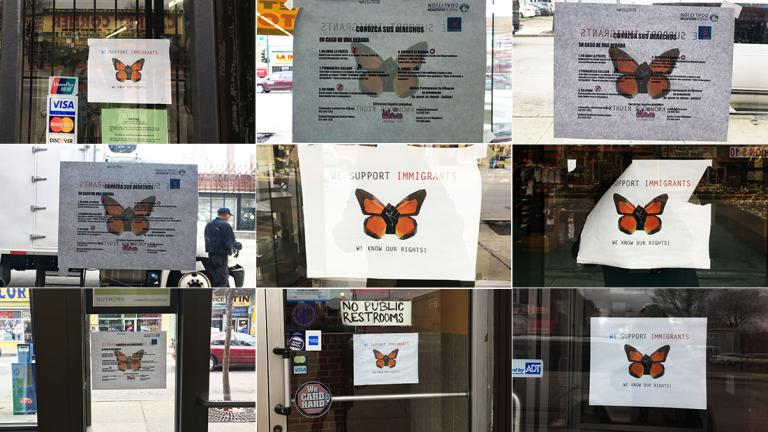 Monarch Butterflies Signal Immigrant Support
April 14: The orange-and-black insect has flocked to a Chicago neighborhood, but its presence is more of a political act than a natural one.
---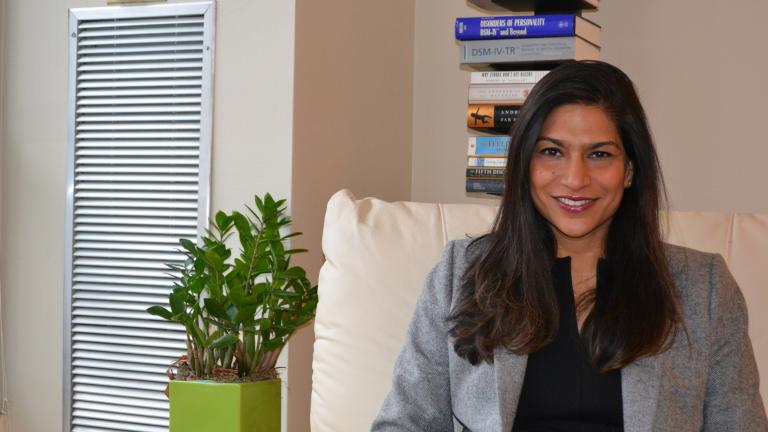 'Rewarding' Immigrant Experience Compels Chicagoan to Aid Refugees
March 3: Chicagoan Shaifali Sandhya knows what it's like to be a foreigner. Now a U.S. citizen, she wants to discover refugees' stories and address their "silent traumas" in the hope of making their resettlement easier.
---