UPDATE: Rauner issues statement, says email from his office "did not accurately reflect my views."
Illinois Gov. Bruce Rauner's spokesman says "fixation" on a controversial cartoon published by a political organization with close ties to his administration is "disappointing" and that "the governor – as a white male – does not have anything more to add to the discussion."
Legislators from both parties have condemned the Illinois Policy Institute's cartoon as racist.
Now, legislators are condemning Rauner's reaction to it.
"Wait what? So being a white male removes @GovRauner from a position of moral leadership? This is more disgraceful than saying nothing," Rep. Christian Mitchell, an African-American Democrat from Chicago, tweeted. 
"And the governor – as a white male – does not have anything more to add to the discussion." - @GovRauner camp oddly keeps controversy alive https://t.co/VedNzFNL3q

— Bill Cameron (@billjcameron) August 22, 2017
---
"The governor should be embarrassed for turning a blind eye to what is plain for everyone to see. The cartoon issued by the governor's allies at the Illinois Policy Institute is unambiguously racist," Chicago Mayor Rahm Emanuel said Tuesday in a statement. "We can give no quarter to racism, and there can be no justification for leaders unwilling to stand up and call out racist acts. For a man so eager to speak his mind so often, the governor's silence is deafening."
The drawing features a black child—presumably a Chicago Public Schools student given his Cubs hat and CPS's central role in Rauner's ongoing debate with Democrats—begging for money and holding a sign that says "Need Money 4 School." A cigar-toting white man shows the kid his empty suit pocket, while a wad of cash labeled "TIF" is falling out of his other, overstuffed-pants pocket.
TIFs are a tool used by communities to improve blighted areas; property taxes of new developments within a TIF district are supposed to be used for further economic development instead of being distributed to units of local government, such as school districts.
Rauner has accused Chicago of using TIFs as a "slush fund," and says that the city's reliance on them heightens the burden on taxpayers statewide for CPS, because they inaccurately discount local property wealth. Rauner, a Republican, used his amendatory veto power on a major education funding package, Senate Bill 1, in a way that would essentially mean school districts with TIFs would receive fewer state dollars.
Rauner told WBEZ radio Friday that he had not yet seen the cartoon, despite its having been denounced on the Illinois House floor days earlier. 
On Tuesday, Rauner spokeswoman Laurel Patrick said that Rauner has great respect for black lawmakers and others upset about the cartoon, but she said that Rauner has also heard from black individuals who do not find it offensive.
"Charges of racism must be taken very seriously. The tragedy in Charlottesville and its aftermath serve as sobering reminders that even today, some remain who would use violence and hate to divide us. We must never relent in working toward a future built not on what divides us, but what unites us. The governor would never try to talk anyone out of their reaction to any piece of art, political or nonpolitical, right or left, good or bad. Those reactions deserve respect on their own terms," Patrick said.  "What the media and political class should be concerned about is ensuring schools open on time and stay open with a fair funding formula. Now is the time to come together to do what's right for all of Illinois' children."
Mitchell says it's a "display of cowardice and a stunning abdication of moral leadership."
"Is Governor Rauner's identity as a white male more important to him than his job as governor? Will he no longer comment on issues affecting non-white Illinoisans? Will he no longer stand against reproductive rights for women, since he's a male?" Mithell asked.    
The Illinois Policy Institute, an independently funded organization that promotes limited government, published the cartoon last week to promote its position on an education funding debate. After a backlash, the IPI took down the cartoon, "not because we think it is racist, but because it is a distraction from another truth–the failure of political leaders to address the root cause of our struggling education system," CEO John Tillman wrote. 
"The Illinois Policy Institute recently published a cartoon to address the sad reality that TIF districts rob Illinois children – including children of color – of the funds necessary for their education. The price our children pay for this misgovernance is steep," Tillman said in the Aug. 16 statement. "What we find sad, and frankly offensive, is that in a world where so much real, harmful racism exists, political leaders are using the false charge of racism in an attempt to smear policy opponents and distract the people of Illinois from politicians' failures.
In a massive reshuffling last month, Rauner fired or demoted some of his top-ranking aides, including his chief of staff, and replaced them with Illinois Policy Institute's president and other employees.
Democratic gubernatorial candidate J.B. Pritzker's campaign sent an email saying that Rauner's "attempt to wipe his hands of his responsibility to respond to blatant racism from an organization he is closely tied to is absurd. Bruce Rauner calls out racism when it is politically convenient for him and otherwise can't seem to be bothered."
Meanwhile, Rauner's office confirmed that on Monday he will sign significant pieces of legislation: Senate Bill 1933 would automatically register Illinois residents to vote, unless they opt out, when they get a drivers' license renewed, get a fishing license, apply for food stamps, or otherwise interact with state government; Senate Bill 31 would prohibit law enforcement from arresting individuals based solely on their immigration status.
The measure could be a flash point for Rauner in his campaign for re-election, as some conservatives are threatening to withdraw their support of him because they say it abets immigrants who are here illegally by making Illinois a so-called sanctuary state. 

In a statement issued by Rauner on Tuesday night, the governor says, "Earlier today an email went out from my office that did not accurately reflect my views. 
The statement continues:
"I can understand why some people found the cartoon offensive. And I believe we should do more as a society and a nation to bring us together, rather than divide us.
"There are many passionate people engaged in public policy debates, and different people react differently.
"It is not my place to comment on every cartoon or picture that comes from people outside the governor's office or to tell people how they should feel.
"I urge everyone to put this behind us so we can focus on solving the very real challenges of education fairness and economic opportunity facing our state."
Follow Amanda Vinicky on Twitter: @AmandaVinicky
---
Related stories: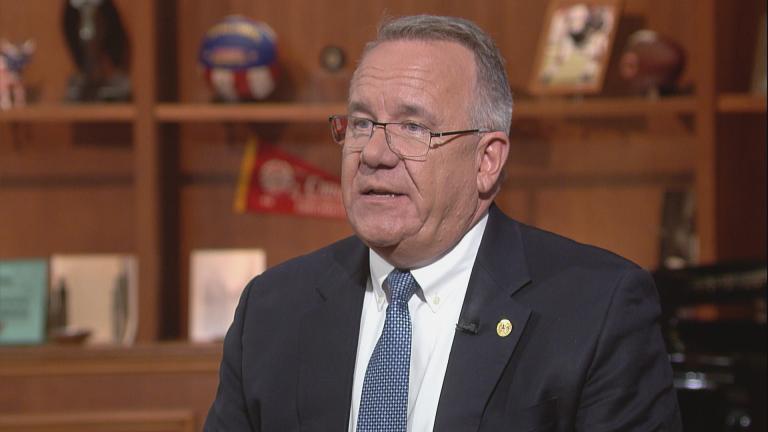 State Rep. Steven Andersson to Step Down
Aug. 17: The Republican legislator who was instrumental to the passage of Illinois' first budget in more than two years is leaving state politics. Find out why.
---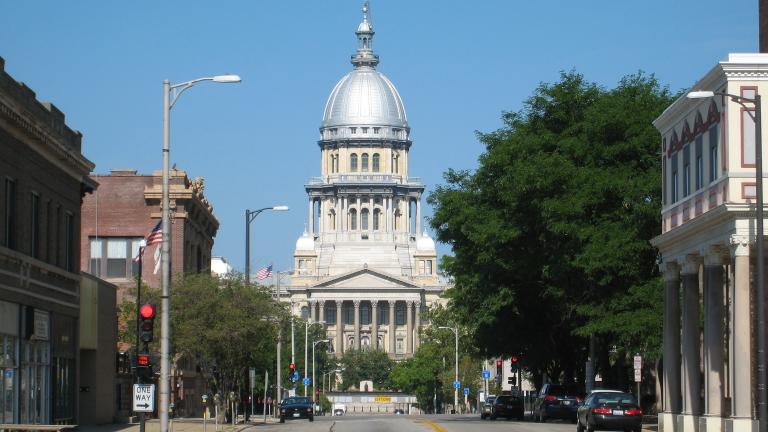 Rauner, Republicans Denounce Trump
Aug. 16: Republicans meet at the Illinois State Fair while the House convenes to hammer out a compromise on school funding.
---
Education Funding Unresolved as Illinois House Returns for Vote
Aug. 15: As Gov. Bruce Rauner's supporters rally Wednesday for "Governor's Day" at the Illinois State Fair, representatives will be returning to the capitol to take an ax to his vision for education funding.
---