The words in Gwendolyn Brooks' poem, "We Real Cool," were simple. The poem was short.
"It's a poem that is deceptively simple, but actually has a real depth and richness of theme, and it leaves much to the imagination because it is so short and so simple," said Eve Ewing, a sociologist and poet. "It also offers rhyme and rhythm which makes it accessible and memorable for young people."
Ewing says the poem carried a lot of weight.
"In my own life, I'm pretty confident that it's the first poem I ever remember learning or reading about in school or anywhere else, and I know that's true for many people," she said.
Ewing and fellow poets have partnered with the Poetry Foundation to use original audio from 1983 of Brooks, the late Illinois poet laureate, reading it to a group of poets in New York.
It was originally published in Poetry magazine in 1959.
"To actually hear her voice reading the poem is magical, it's a way of connecting with her across the universe. And furthermore, she reads the poem in a very distinctive and interesting way that is counterintuitive for many people," said Ewing.
A video, which includes that poetry reading, is just a sample of Manual Cinema's theatrical production "No Blue Memories: The Life of Gwendolyn Brooks," which will premiere at the Harold Washington Library Center from Nov. 17-19 part of the foundation's plans to honor Brooks' centennial.
Watch the Poetry Foundation's animated video of Brooks reading her poem, "We Real Cool," below.
---
"For people who feel like they know Brooks very well, there is still more to discover because she did have such a rich body of work, but I also think it's important for us as artists to think about her example of how she lived and what it means, again, to be an artist in service of community, the ways in which we can bring different audiences in to reach our work," Ewing said.
But for fans who can't wait until the fall, the exhibit, "Matter in the Margins," at the Poetry Foundation in River North reads into the margins, literally, of Brooks' notes, thoughts and lists.
"My mother wrote in the margins of everything," said Nora Blakely, Brooks' daughter.
One of Brooks' lists is of all the people who called her the day she won the Pulitzer.
"She had to stop because it got out of hand. She made grocery lists that were interesting, or as I refer to them 'poetified,' so that you would find things like ruby tomatoes, bright pearlescent onions," Blakely said.
"Gwendolyn Brooks was an observer, and it's what made her and what makes her writing still something that is of continued relevance to people because she looked so intently at the world around her," she added. "And I think that it was important to her to keep track of a lot of those things, things that she could go back to as she was writing.
The exhibit includes Brooks' journals and planners and correspondence with other writers, including Richard Wright, James Baldwin and Langston Hughes – and even Merriam-Webster Dictionary, which responded to Brooks' request to capitalize the letter "b" in black when referring to African-Americans.
"She was very firm on the idea that the name, that the title black pulled everybody in whether blacks in the United States, or in Africa, or in France – wherever they might be, and that African-American was specific and possibly incorrect," Blakely said.
For other writers, the Brooks' edit was both sought after and feared.
"She looked at selected poems, the proof, and went through it and made apparently copious notes about what was working and what wasn't working," Blakely said. "She was that intense and committed about her own work, and she was also that honest when she looked at other people's work."
Even Blakely's father, Henry Blakely, got a taste of the Brooks' critique.
"When she was engaged to my father and he wrote sonnets to her, she made corrections on the sonnets, saying 'Did you intend this to be Shakespearean or Elizabethan?' I'm not sure and would send them back to him," she said.
Though Brooks' own words were sometimes political or poignant, Blakely says she hopes visitors get to see the 360 degrees of her mother.
"She would dance through the house to the tune of Erroll Garner being played on TV," Blakely said. "She loved walking, she loved trees, she loved ice cream and could consume a quart in a sitting on a good day – or a bad day, depending how you look at it.
"For people to see her as more than a poem on a page and poem on a page is a wonderful thing," she added. "But it gives people an opportunity to see her in much more depth and understand a lot more details of her life."
Follow Brandis Friedman on Twitter: @BrandisFriedman

More on this story
The exhibition "Matter in the Margins: Gwendolyn Brooks at 100" is on display at the Poetry Foundation through Aug. 25.
Note: This story originally aired on Chicago Tonight on June 28.
---
Related stories: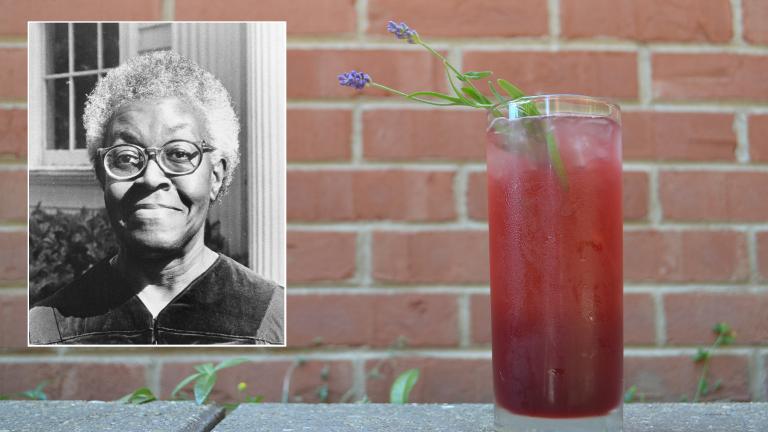 Historical Happy Hour: A Toast to Gwendolyn Brooks
June 9: The Pulitzer Prize-winning poet would have celebrated her 100th birthday this week. We take some poetic license ourselves with the Jazz June, a gin-based cocktail with a spring of fragrant lavender.
---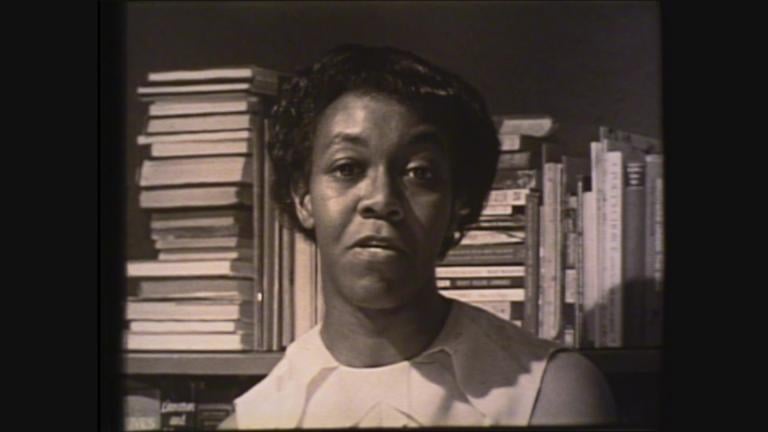 Remembering Gwendolyn Brooks on Her 100th Birthday
June 7: Wednesday marks what would have been the 100th birthday for poet Gwendolyn Brooks.
---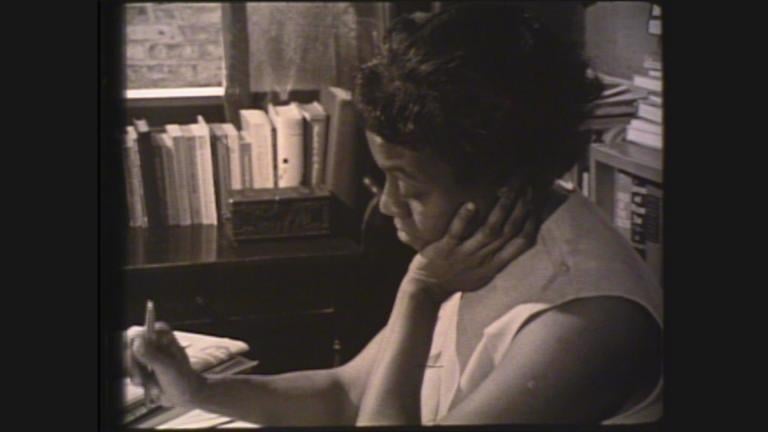 Honoring Chicago Poet Gwendolyn Brooks, Who Broke the Color Barrier
Feb. 1: The late Chicago poet Gwendolyn Brooks made history in 1950 as the first African-American author to receive a Pulitzer Prize.
---