Variety Comics, located at 4602 N. Western Ave. (Photo/Kristen Thometz)
For more than four decades, Variety Comics has anchored the corner of Western and Wilson avenues and attracted comic book fans and the curious alike with its superhero murals. 
"Growing up, I would always get excited to see the illustrations of Spiderman, Batman and Superman on the street. It marked the location: I knew I was on Western Avenue," said Lincoln Square resident Imran Javed, who produces The Jock and Nerd podcast which focuses on comic book culture. "Always as a little kid that gave me joy."
At the end of October, the Lincoln Square comic book store, located at 4602 N. Western Ave., will close due to declining business, according to Victor Olivarez, who co-owns the shop with Vin Nguyen.
"I hope people understand we all want the store to be open, but it is what it is," Olivarez said. "I think people took this for granted; they always thought we were going to be here. I've kind of been noticing now people are coming in who haven't been here for years … and they're saying, 'I never thought the store would close.'"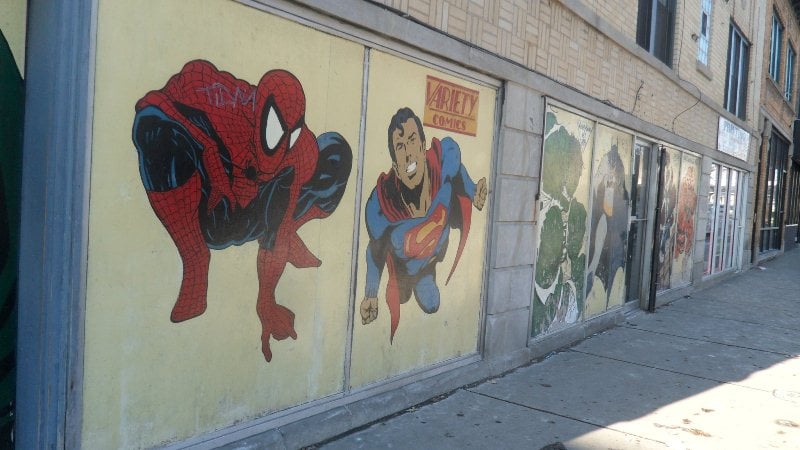 Variety Comics' original mural dedicated to superheroes. (Photo/Variety Comics Facebook)
Variety Comics' origins
Like all of the comics lining the shelves, the store has its own backstory.
The Lincoln Square mainstay, which opened in 1974, bills itself as the city's oldest comic book store on its Facebook page.
"It was just overwhelming to see all of these comics and all of these things I loved in one place and I could go in and browse through them," Norwood Park resident John Stangeland said of his first visit to the store during the summer of 1974. 
Many remember longtime owner Rick Vitone as the original owner, but that's not the case, according to Stangeland. The store was originally owned and operated by C.W. "Chuck" Ager (a friend of Vitone's) and Frank Craft, but within six months, Stangeland says, he began seeing Rick "permanently behind the counter … now in partnership with Frank."
Vitone's passion for comics was evident.
"He had a real love for the stuff he grew up with and stuff that came before him. He loved the comics of what we called 'the golden age' [which was] the late '30s through the mid-t0-late '40s," Stangeland said. "If he knew you also appreciated that stuff and liked it—boom! He wanted to talk to you about it and hear what you had to say. If you connected with him on that level, it was immediately apparent that he loved that stuff."
In the early-to-mid 1980s, Vitone became the owner of Variety Comics, according to Stangeland, and it was around this time that Olivarez discovered the world of comics.
"I went to a store and found a Godzilla [comic]—Marvel Comics' 'Godzilla' No.12. I loved the cover. That was my first comic," Olivarez said, adding the Godzilla series eventually introduced him to The Avengers and other superheroes like Captain America and Batman. 
"It's like a soap opera, you want to know who those characters are and to know what their history is, so you read more," he said. "I went to a drugstore and somebody told me about [Variety Comics], so I used to walk all the way from Logan Square—so I wouldn't spend my money on the bus—to come here."
The money saved on bus fare was spent on comics.
"I was coming every two weeks or every week, whenever I had money," he added.
A friendship is born
During his frequent trips to the store, Olivarez developed a relationship with Vitone.
"We became good friends, and it got to a point where he'd let me run the show -- the store -- when he had to go on a vacation," Olivarez said. "He trusted me enough to run the store, and I felt like whenever he'd want a day off, he'd call me."
Long before trusting him to run the store, Vitone trusted Olivarez with rare comics.
"He'd give me stuff and I'd give it back. He'd say, 'I want you to read this,' and he'd give me hundreds of dollars [worth of] books," he said. "I guess it was a test, and then I'd bring them all back. So I passed, and there was no point in stealing from him because all you had to do was ask for something and he'd give you a deal or give it to you."
In 2009, Vitone became very ill. "It became clear he was never going to come back and run the shop," said Stangeland, who became close friends with Vitone and launched his own comic book store with Vitone's help. "I asked him, 'What's the one thing you want me to do?'… He said, 'I want to know that Variety will keep going and that it's going to stay in business.'"
Variety Comics co-owners Vin Nguyen (left) and Victor Olivarez. (Photo/Kristen Thometz) Before Vitone's death, Olivarez and Nguyen expressed interest in carrying on the legacy of Variety Comics.
"They understood that it was almost a dying wish and when it came time after Rick passed, the business had to be sold. I knew these guys wanted to observe Rick's wishes, which is part of the reason why the store went to them," Stangeland said.
Owning the store with Nguyen fulfilled Olivarez's career ambition of owning a bookstore.
"I was seeking advice from [Vitone] to open a store. I never had the guts to do it—the financial risk was too much. I didn't want to take it. Because I was a caretaker for my mother, I couldn't take a chance to make a financial loss," Olivarez said. "This was kind of like a dream, I guess a dream fulfilled. I wanted to own a bookstore. You know, I never thought I'd own this store, but he got sick."
Closing time
News of the store's closing has brought back old customers, including one dressed in a Dr. Doom costume, along with new ones.
"I started coming back once I heard the store was closing," Javed said. "You walk in there and it's like stepping back in time. I don't think they've changed the store in 40 years. It smells like paper, mylar and ink."
Javed's first trip to Variety Comics was in the late '80s or early '90s as a teen. Walking down the stairs into the store, "I felt like I was home," he said.
"I felt like I reached a magical kingdom of back issues because they had this incredible back issue collection. They had this really nice quality merchandise and old issues on the wall," he added. "The mark of a good comic store is the stuff that's on the wall where they have first appearances, like of the Justice League and the Amazing Spiderman. You knew you were in a good store if they had classic comics on the wall and for sale."
"It's disappointing," Stangeland said of the closing. "It's kind of surprising that a store could mean that much, but it does. And for a lot of people that came through those doors during their youth, it was a moment in which they found their community. With Comic-Con and 'The Big Bang Theory,' the geek culture has an enormous support system. Back then there really wasn't any of that, so you would go there to find people who understood and loved the same things you loved."
A selection of comics on display at Variety Comics. (Photo/Kristen Thometz)
Variety Comics' back issues also caught the eye of Andersonville resident Thom Heil, who was searching Variety Comics for some "odds and ends" to fill out his collection, such as some older Superman issues.
Heil first visited the store about 10 years ago while touring comic stores in Chicago. The long history of Variety Comics separated it from other stores, Heil said.
"I'd always be surprised by the old stuff they had with the back issues," he added.
Sorting inventory to sell has been an "uphill battle," Olivarez said, "because every time we clear out 100 boxes, there's like 200 more boxes behind it."  
One thing that hasn't surfaced yet is Vitone's collection of Captain America comics.
"There was a legend that he had the original series of Captain America, which was like from the 1940s, through the whole series," Olivarez said. "Everybody knows he didn't sell it, but we never found them in his house or here … [laughs]. That's always the one thing we're looking for."
West Rogers Park residents Julian Kane and his mother Lisa DiChiera made their first trip to the store on Sunday.
"We're in the habit of every couple of weeks buying comics," DiChiera said, adding she likes how the comics get her son off of the computer and reading a physical book. "He's good at art, and he enjoys the comic art, so there's the artistic side of it, too and he likes drawing comics."
West Rogers Park resident Julian Kane reads an issue of Spiderman. (Photo/Kristen Thometz)
While DiChiera was looking for old MAD Magazine issues featuring political satire and Star Wars covers, Kane searched for comics to add to his collection, specifically Groot and Deadpool Vs. Thanos issues.
"I really got into Marvel after seeing the 'Ant Man' movie and 'The Avengers,'" Kane said, adding he didn't think the store should be closing. "I wish they wouldn't be because I just found out about it."
While the store is selling all of its merchandise, the plywood paintings of superheroes lining Western Avenue have been spoken for.
"We'll give a couple of them to our longstanding customers, and the others are committed to being bought by other individuals," Olivarez said. 
Western and Wilson avenues won't be the same without the superhero murals.
"I wish they would just leave the superhero illustrations," Javed said. "That's going to be sad the first time I go by there and it's boarded up and the drawings are gone."
Variety Comics is located at 4602 N. Western Avenue. The store is closed on Mondays, and its hours are: Tuesdays 12-5 p.m., Wednesdays 12-6:30 p.m., Thursdays and Fridays 12-6 p.m., Saturdays 12-5 p.m. and Sundays 12-4 p.m. 
The shop's final day of business will be Oct. 31.