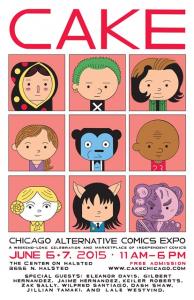 Not all comic books are about spandex and capes. From June 6 to 7, fans of independent comic books will gather at the Center on Halsted for the Chicago Alternative Comics Expo, which is also known as CAKE. The comic convention will feature signings from some big names in the industry, such as Gilbert and Jaime Hernandez, as well as panel discussions and workshops.
One of the featured exhibitors at the convention is the Ladydrawers Comics Collection, which analyzes comic books on issues like race, gender, and sexuality. We'll talk with Ladydrawers founder and author Anne Elizabeth Moore about the convention and her work about the comics industry.
Don't know much about indie comics but are curious to try them out? We talked to Liz Mason, manager of Quimby's bookstore in Wicker Park, about what books she'd recommend to newbies. Read her recommendations below.
Best American Comics 2014, edited by Scott McCloud/Bill Kartalopoulos (Houghton Mifflin) $25
A helpful annual overview including excerpts of comics from the year, as featured in print an online. The 2014 volume includes work from a variety of artists including Charles Burns, Raina Telegemeier, R. Crumb, Gilbert Hernandez, Chris Ware, and more.
CAKE Digest 2015 - $10
This is a helpful cross-section of some of the (mostly) Chicago-based types of artists that frequent Chicago Alternative Comics Expo (CAKE), a celebration of independent/alternative/underground comics. Edited by artist Paul Nudd, this year's anthology features artists such as Krystal DiFronzo, Keith Herzik, Joe Tallarico, Danielle Chenette, and more.
Optic Nerve #14 by Adrian Tomine (Drawn & Quarterly) $6.95
If you don't read comics you might recognize Tomine's illustrations from The New Yorker, but he's been doing Optic Nerve for years. His work is the farthest you can get from superhero comics. This book features compelling small vignettes of existential dread and heartbreaking discomfort softened by extremely thoughtful and elegant drawings.
Treasury of Mini Comics Vol. 2 (Fantagraphics) $29.99
Independent publisher Fantagraphics put out two volumes of self-published comics (what we mean when we talk about mini comics), featuring selections from a variety of arty comics folks, some of which have gone on to bigger acclaim. It's nice to see where many artists started, their own proverbial kitchen table of independent publishing, the type of thing we specialize in selling at Quimby's. I prefer the selection volume because it has more ladies in it than the first volume. It comes in a delightful small hand-sized hard cover volume.
King Cat #74 by John Porcellino $4 
People cite the very poetic John Porcellino as an influence when they first start making comics, then they get some amount of recognition and go on to do things like illustration in big magazines or make ads for products. In the meantime, John P. just keeps chugging along doing his own thing, making comics with a minimal Zen-like style that communicates pure poetry.
Hark! A Vagrant by Kate Beaton (Drawn & Quarterly) $19.95
Beaton creates short panels describing an element in history mashed up with current vernacular in appetizing black and white art. She takes a premise in history and drags it out to its logical extreme: the girl is getting in the way of the pining suitor who just wants to sing about how he wants to court her! What do French Revolution soldiers do in the mirror before they go to battle! You get the idea.
---
View a slideshow of last year's convention.