Though this week's been a bit gloomy, summer weather ought to be here in no time. (We hope.) Many Chicago cyclists are starting to shake off the winter cobwebs and get back on their bikes.
They'll be greeted by new protected bike lines, continued work on separating the lakefront trail, and plenty of fellow riders taking advantage of the Divvy bike share system. They're also likely to have heard the concerning statistic that so-called "dooring" crashes in Chicago jumped from 202 crashes in 2014 to 302 crashes in 2015.
While he describes the increase as "troubling," Jim Merrell of the Active Transportation Alliance warns against reading too much into it.
"The total number of reported crashes in Chicago and around the region for people biking has remained relatively consistent over the last 10 years or so," Merrell said. "At the same time, we know the number of people biking between 2000 and today has roughly tripled, so the crash rate is actually going down. Biking in Chicago is actually getting safer. We think that has to do with the growth in cycling and overall awareness, and reflects the investment in bike infrastructure and protected bike lanes."
Merrell applauded a new protected bike lane along Randolph Street through the Loop, which creates a protected eastbound bike path that mirrors the westbound protected lane along Washington Street. He also thinks the Divvy bike share system, which hit 10 million trips in January, has been embraced as part of the city's transportation system by locals and visitors alike. But with a new administration in Washington, the future of federal money for the program is unclear.
"Divvy has been funded in large part by a program called the Congestion Mitigation and Air Quality Improvement program, which funds different programs to reduce traffic congestion," Merrell said. "These are really important programs that improve our quality of life and our environment, and people should call their members of congress and aldermen and say that they want to keep seeing robust support for these projects and others."
Merrell also says cyclists should be aware of a just-launched construction project to create separate pedestrian and bicycle paths on the lakefront trail, which will close down part of the trail on the near North Side. And he's encouraged by movement on a project called the Riverview Bridge, which will connect California Park and Clark Park along the Chicago River north of Belmont.
"There's a lot of exciting movement around what could be a second great trail, like the lakefront trail, along the Chicago River," Merrell said. "What we really need is to have a comprehensive network of bike routes that are connected and give people a low-stress experience, where they feel comfortable regardless of age or ability."
Merrell, advocacy director for the ATA, joins Chicago Tonight for a roundup of biking news.
Related stories: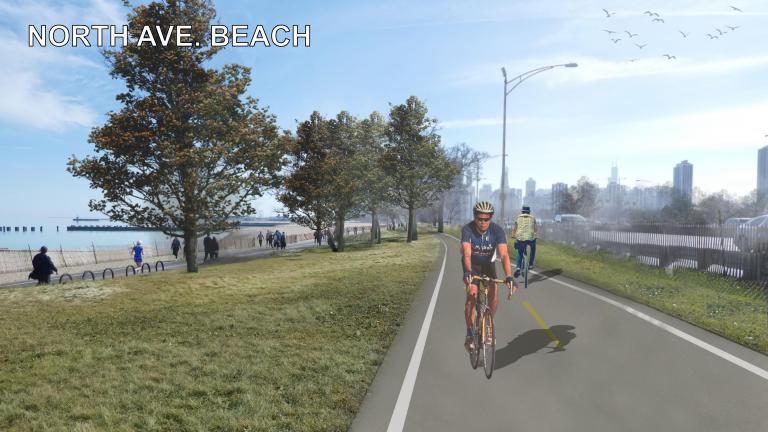 Lakefront Trail Separation Requires North Side Closure, Detour
May 15: Starting next week, the Lakefront Trail will be closed between Diversey and North avenues as the project to separate the bike and pedestrian paths continues.
---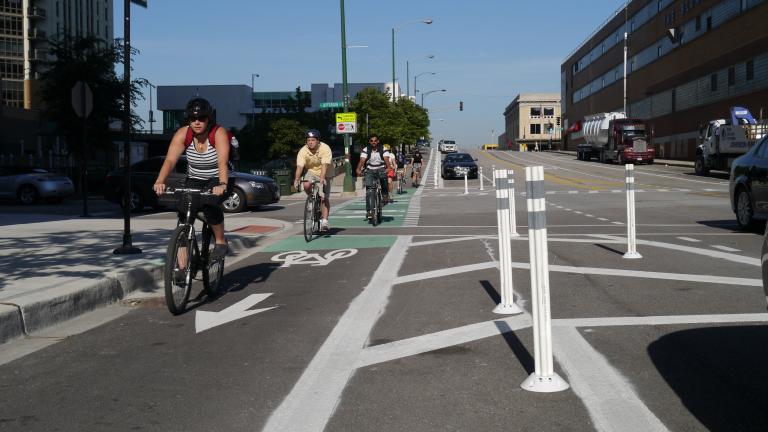 Chicago 'Dooring' Reports Saw Steep Increase in 2015, Data Shows
April 21: Crash data for 2015 released this week by the Illinois Department of Transportation shows a rise in the number of reported "doorings" in Chicago – collisions that occur when the door of a parked vehicle is opened directly in the path of an oncoming cyclist.
---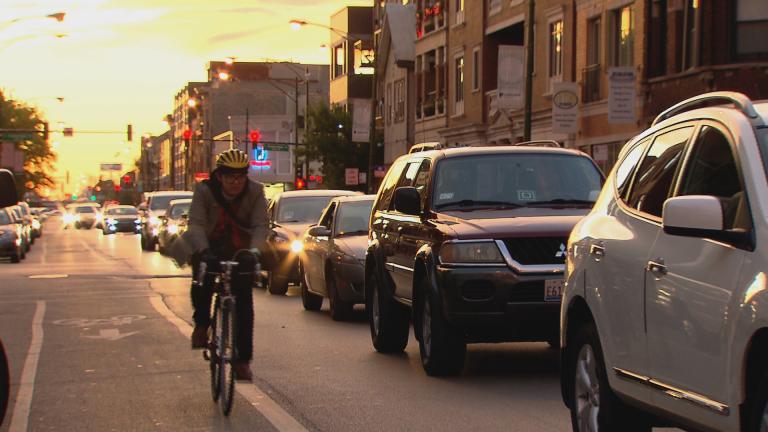 Study: 'Idaho Stop' Could Make Chicago Streets Safer for Cyclists
Dec. 14, 2016: A new DePaul University study suggests that it may be safer for bicyclists to roll through stop signs and red lights rather than coming to a full stop. The practice, legal in Idaho, is known as an "Idaho stop."
---