(Walmart / Flickr)
Chicago's new checkout bag tax appears to be working.
Since the 7-cent tax on paper and plastic bags went into effect Feb. 1, the number of disposable bags used per shopping trip in Chicago has decreased 42 percent, according to a preliminary study commissioned by the city.
Mayor Rahm Emanuel announced results of the study Monday, citing it as evidence that the bag tax is changing shoppers' habits for the better.
"I am glad so many Chicagoans are choosing to forgo paper or plastic bags at checkout, and encourage others to help Chicago further reduce disposable bag use in the city," Emanuel said in a press release. "By decreasing our paper and plastic bag use, Chicago is making important progress in reducing our carbon footprint as well as reducing street litter and improving recycling operations."
The tax is part of a citywide ordinance intended to curb the use of disposable bags. Studies published by the National Tax Association have found that these taxes lead to a reduction in the use of disposable bags; the overall economic and environmental impacts, however, are still being debated.  
Five cents of the tax goes to the city, and 2 cents goes to retailers. 
The preliminary study on the tax's impact was conducted by ideas42, a behavioral design lab, along with researchers from the University of Chicago Energy and Environment Lab and New York University.
According to a report from ideas42, the study compared the shopping bag use of 14,168 customers at large grocery store chains in Chicago and surrounding suburbs in the months leading up to and after implementation of the bag tax.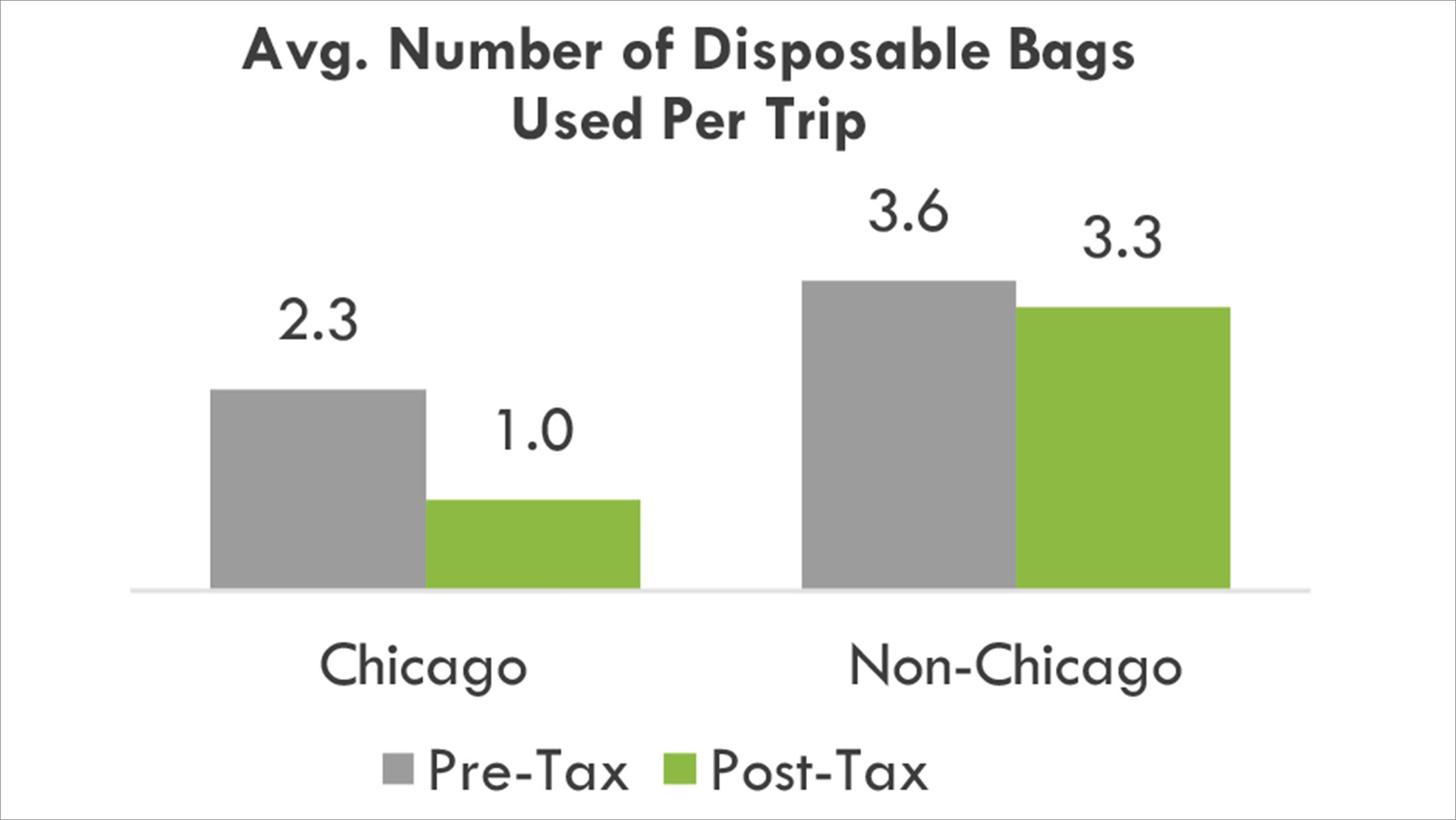 Read: Preliminary study measuring impact of Chicago's checkout bag tax (ideas42) Prior to the tax, customers shopping in the study's sample stores in Chicago used an average of 2.3 disposable bags per trip, with more than 80 percent using at least one disposable bag.
After the tax, the average number of disposable bags used decreased by roughly one bag per trip – a reduction of 42 percent.
The city said the results are similar to changes seen in other municipalities that enacted bag taxes.
"We know from our work in behavioral science that while shoppers often want to do the right thing for the environment, they sometimes need a little help," said Ted Robertson, ideas42 managing director, in a press release. "These promising results not only benefit Chicago's environment, but may also inform other municipalities around the nation."
Chicago joined Washington, D.C., Los Angeles, San Francisco and Seattle as major U.S. cities with taxes on disposable paper and plastic bags.
Studies estimate that more than 100 billion plastic bags are used annually in the U.S. Although many plastic bags are recyclable, recent studies by the Environmental Protection Agency show that only a small percentage – just more than 5 percent – actually are recycled.
Most plastic bags that aren't recycled end up in landfills, where estimates suggest they can take up to 1,000 years to decompose.
"We've all seen where disposable bags often end up – wrapped around trees and bushes, in Lake Michigan or the Chicago River, blowing around on windy days," said Jen Walling, executive director of the Illinois Environmental Council, in a press release. "Hopefully the reduction we've seen so far is a first step in getting all of these bags out of our environment."
The study also shows that the number of shoppers using at least one disposable bag decreased from 82 percent before the tax to 49 percent after.
Since the tax started Feb. 1, the study indicates that many shoppers have switched to reusable bags. In Chicago, the use of such bags increased from 13 percent to 33 percent after the tax took effect, according to the study.
Some customers have foregone bags altogether: The number of customers who do not use any bags increased from 8 percent to 21.5 percent, the study shows.
Researchers will collect additional data later this year to estimate the longer-term behavioral effects of the tax.
Follow Alex Ruppenthal on Twitter: @arupp
---
Related stories: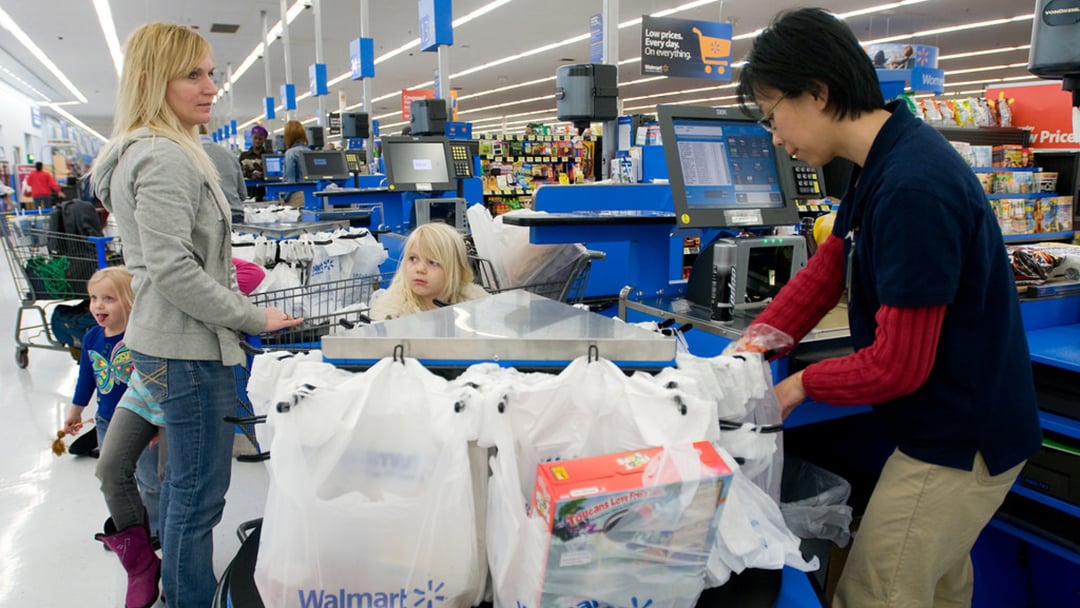 Chicago's 7-Cent Bag Tax to Start Feb. 1
Jan. 31: Shopping trips may become additionally taxing for Chicagoans starting in February as the checkout bag tax is set to go into effect on the first of the month.
---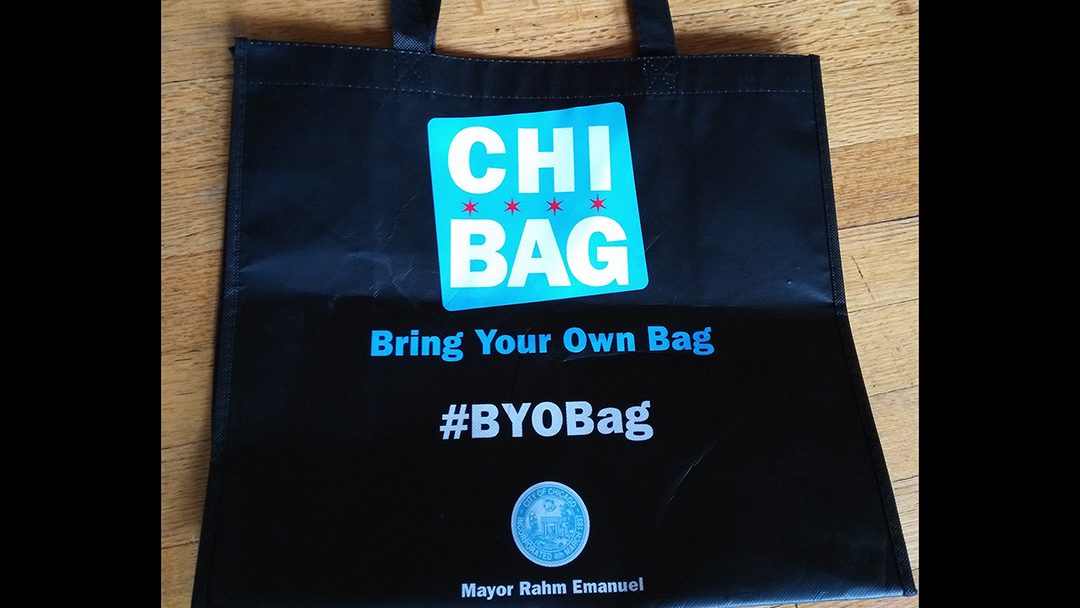 Chicago to Give Away 25,000 Reusable 'ChiBags' for Start of Bag Tax
Jan. 30: Starting Wednesday, customers will pay a 7-cent tax on each paper and plastic bag provided by stores to carry out items in all Chicago retail stores.
---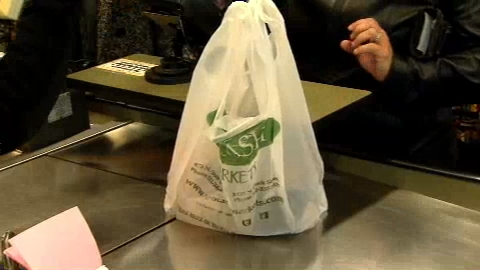 Does Chicago's Plastic Bag Ban Carry Real Weight?
Aug. 10: One year in and the city's ban on flimsy, one-use plastic bags is now fully in effect. But is it really reducing pollution or, as some critics charge, is it actually making the problem worse? Our panel examines the ban's impact.
---