The Chicago City Council did something Wednesday it hasn't done in years: It unanimously approved a city budget.
The $8.2 billion spending plan doesn't contain nearly as much pain for city taxpayers as last year's budget, but there are some increases coming–especially if you shop at a city grocery store.
Even some veteran City Hall reporters were gobsmacked at the lack of virtually any pushback from aldermen on this budget. Last year, 15 aldermen voted against the fiscal 2016 budget which contained a massive $543 million property tax hike to mainly stabilize city pension funds.
And just two months ago, Mayor Rahm Emanuel got the aldermanic go-ahead to raise taxes on water and sewer services. This year also brought Chicago residents the first garbage collection fee.
Now Chicago residents face another fee of sorts but it's one they can avoid paying: In the new budget, the City Council repealed its ban on plastic grocery bags and instead approved a 7-cent fee on every plastic and paper bag at grocery stores. The aim is to get shoppers to bring their own reusable bags.
While many Chicagoans may feel they are being nickel-and-dimed to solve a fiscal crisis that was that created by elected officials, Emanuel insists this is the only path to fiscal security.
"There has been plenty of debate over the five years," he said. "Both on pensions and on prior budgets."
As for the plastic and paper bag fee, here is the reaction from the American Progressive Bag Alliance, a Washington, D.C., group that advocates for the plastic bag industry.
"The move to … approve the most regressive tax on paper and plastic bags in the nation has nothing to do with the environment and everything to do with raising revenue. Bag bans and taxes hurt consumers and threaten manufacturing jobs without providing any meaningful environmental benefit. Unfortunately Chicago has just replaced one bad policy with another that will further nickel and dime its overtaxed citizens and shoppers."
A key item in the budget involves the hiring of more Chicago police officers–one of the mayor's goals in combatting the skyrocketing violence in the city. About $60 million is allocated to fill nearly 500 vacancies next year. The mayor pointed out that the city has made changes at the police academy to create more capacity and changes to the test to try to bring in more candidates. But whether that budget allocation will be enough and whether the hiring pace can keep up with retirees are both wait-and-see propositions.
While alderman were clearly are all on board with the budget there was a bit of dissent on another issue. It involves an initiative proposed by the mayor and City Treasurer Kurt Summers. They're calling it the Community Catalyst Fund. The goal is to invest $100 million over the next three years in the neediest areas of the city. This fund is open to private investors in a similar way to the mayor's rather unsuccessful Infrastructure Trust. This new initiative got almost unanimous approval Wednesday, but three of the so-called progressive aldermen voted no.
"We're being asked to give a blank check to Wall Street of $100 million with zero oversight by this City Council, zero oversight by the inspector general and expect them to do the right thing by taxpayers? It's not going to happen," said Ald. Scott Waguespack (32nd Ward), who voted no on the initiative.
"I believe in the faith of the city treasurer and keeping his word as to where these dollars will go," said Jason Ervin (28th Ward).
Something not on the agenda that was apparently the buzz at City Hall: The uncertainties of the Donald Trump administration.
The new budget relies in part on an improving economy. Whether President-elect Trump will be moving the economy is of course a big unknown. But another prospect is that Trump has threatened to cut off federal funds to cities like Chicago that are immigrant sanctuaries, meaning that local law enforcement does not have to cooperate with federal law enforcement unless it involves convicted criminals or undocumented immigrants with arrest warrants out on them.
Emanuel says he doesn't think Trump will go after the nearly 300 jurisdictions nationwide, including New York City and Los Angeles, because the new president will have more pressing matters to attend to. But he added that immigrant parents are already pulling their kids out of school for fear that it's going to happen soon. And Ald. Rick Munoz (22nd Ward), whose ward is largely Mexican, says that the fear in the community has skyrocketed.
---
Related stories: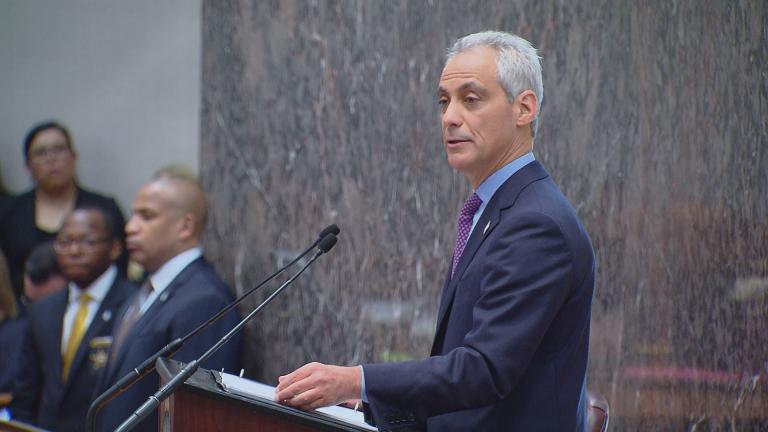 Mayor Presents Budget 'Unlike Any Other'
Oct. 11: Is the fiscal tide finally turning for Chicago? The mayor lays out the coming year's spending plan.
---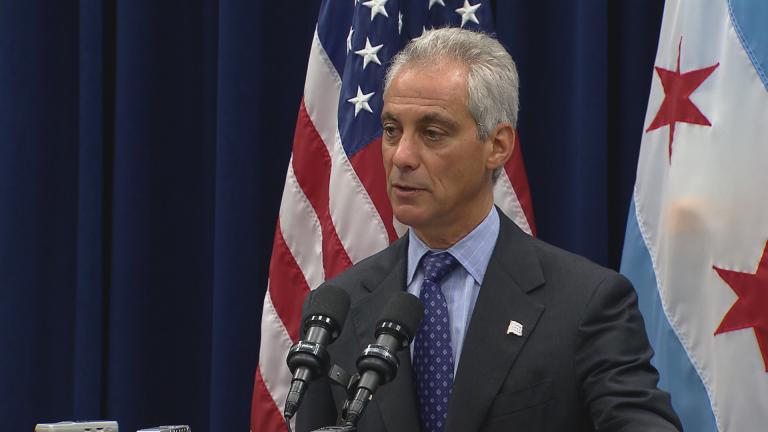 City Council Votes to Raise Water Tax
Sept. 14: The debate over water and sewer taxes is over in Chicago: they are going to go up. But what do aldermen want to do about driverless cars in Chicago? The latest from Wednesday's meeting.
---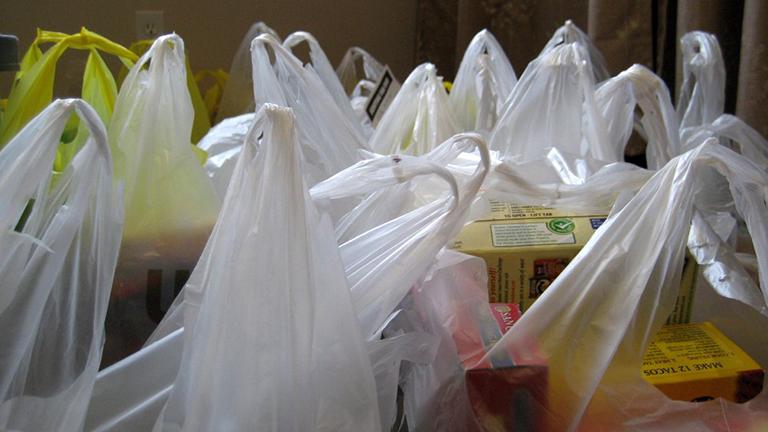 Chicago's Plastic Bag Ban Extended to Smaller Chain Stores
Aug. 1: As of Monday, chain stores that are 10,000 square feet or less must comply with the city's plastic bag ban originally enacted a year ago.
---