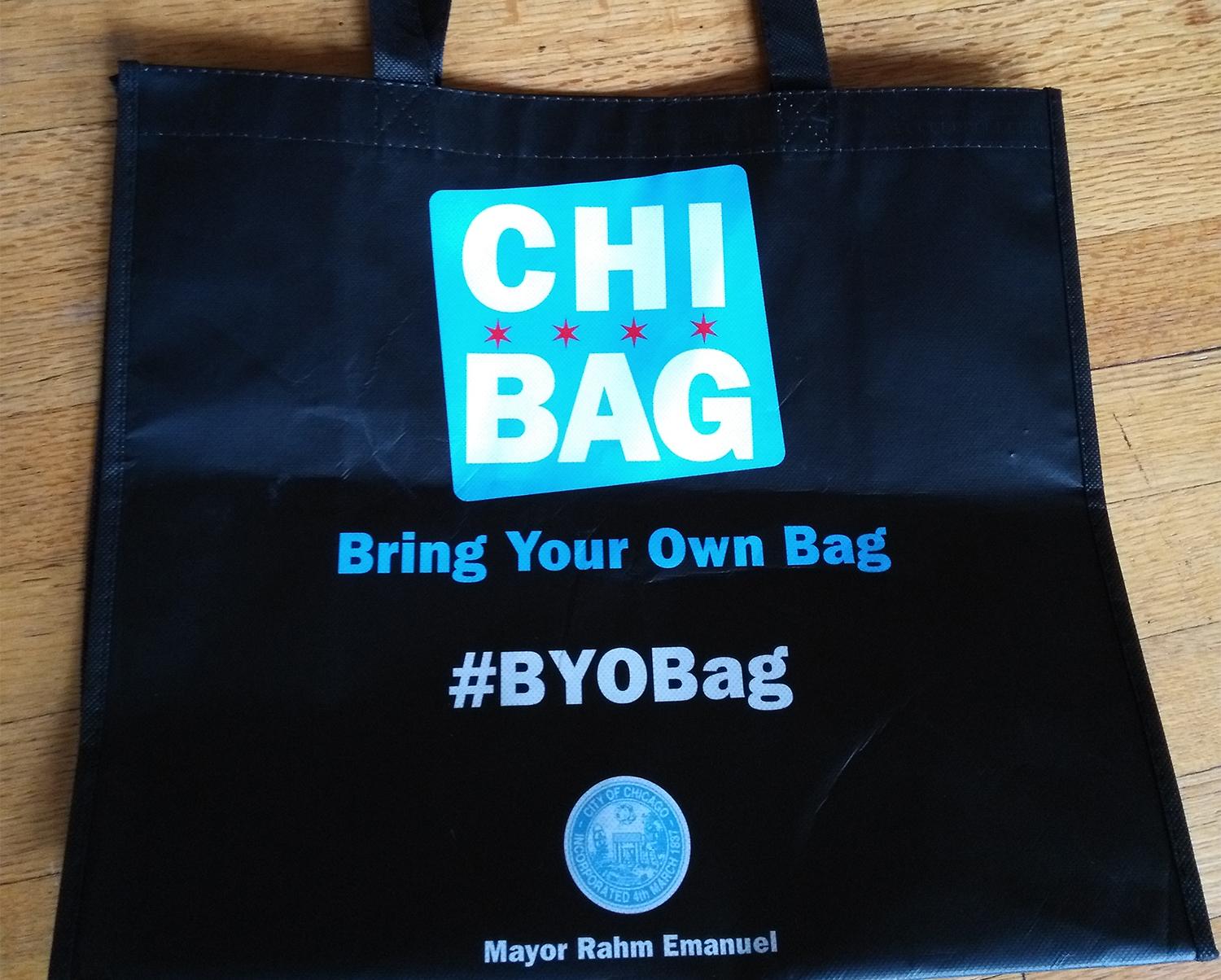 (Illinois Environmental Council)
Chicago will give away 25,000 reusable bags at grocery stores this week to help spread the word about the city's new 7-cent tax on paper and plastic bags, which takes effect Wednesday.
Approved in November, Chicago's Checkout Bag Tax is part of an effort to decrease the use of disposable bags. Chicago is one of 12 cities nationwide to enact bag bans and fees, which the National Tax Association says reduces the use of disposable bags.
Starting last weekend and continuing through Wednesday, shoppers at Jewel-Osco, Mariano's, Target and Whole Foods locations throughout Chicago have the chance to pick up a free, reusable "ChiBag."
The city also plans to distribute the bags at seven CTA locations during Wednesday's evening commute.
"I'm happy to partner with the business community on this outreach effort to help residents build the habit of bringing their own shopping bags," Mayor Rahm Emanuel said in a press release. "By providing residents a reusable bag, we are giving them the tools they need to avoid the tax, and we will also help to reduce the number of paper and plastic bags used in Chicago."
Starting Wednesday, customers will pay a 7-cent tax on each paper and plastic bag provided by stores to carry out items in all Chicago retail stores. Five cents of the tax will go toward the city, while the remaining two will be pocketed by retailers.
Separate from the ChiBag giveaway, Mariano's President Don Rosanova said the store would offer a "special promotional price" on Mariano's reusable bags to ease customers' transition to the new tax. Mariano's will also continue providing 5-cent rebates to customers for each reusable bag they use.
Representatives from the nonpartisan Illinois Environmental Council will help distribute the free bags this week. The organization started giving out the bags last week during a networking event.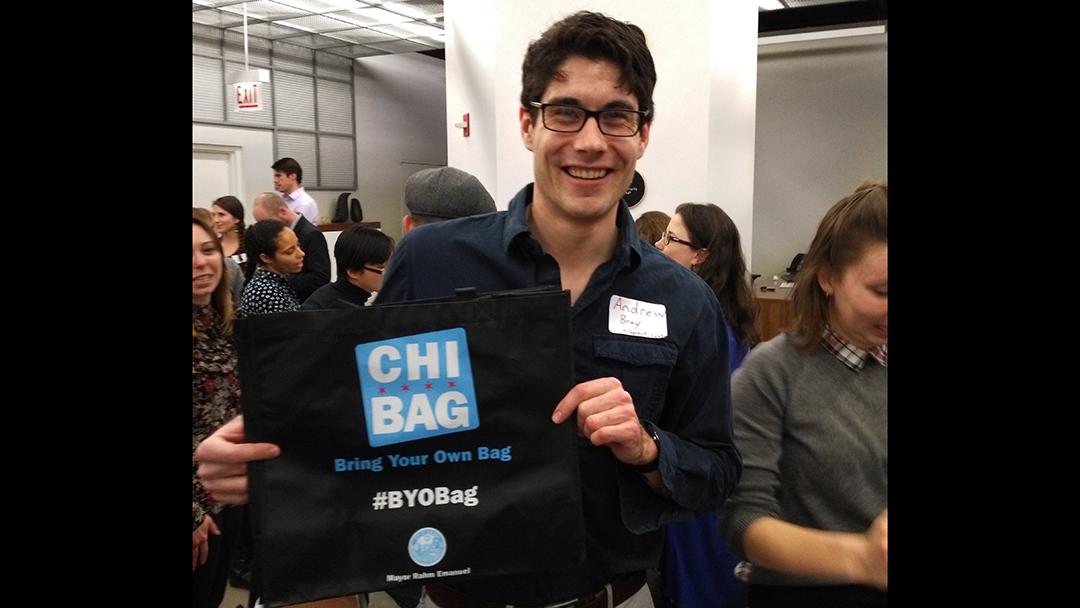 The Illinois Environmental Council distributed free reusable bags provided by the city of Chicago. (Illinois Environmental Council)
Follow Alex Ruppenthal on Twitter: @arupp
---
Related stories: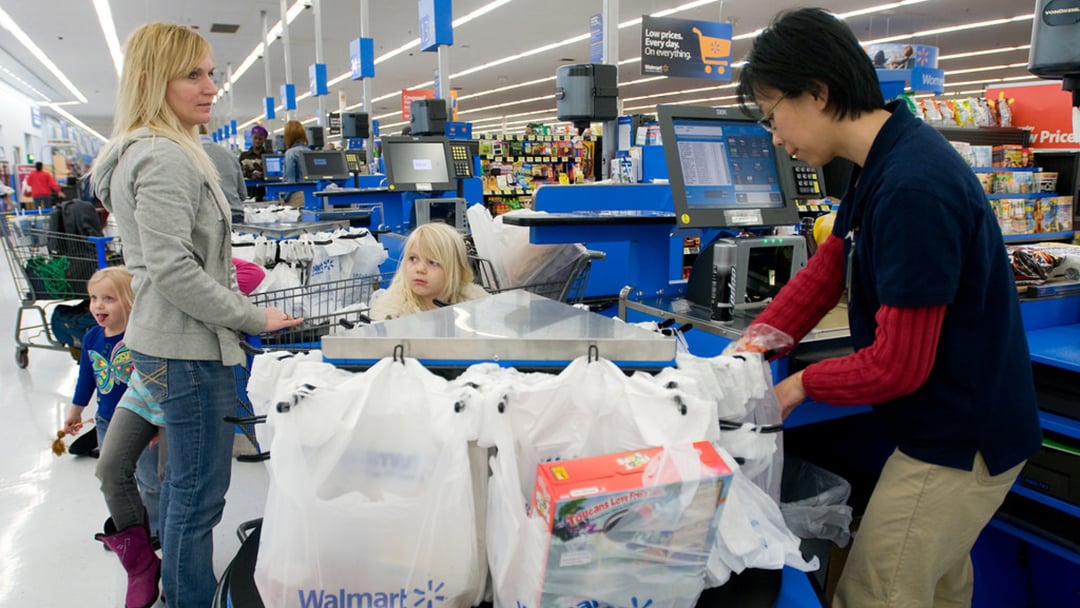 Chicago's 7-Cent Bag Tax to Start Feb. 1
Jan. 23: Shopping trips may become additionally taxing for Chicagoans starting in February as the checkout bag tax is set to go into effect on the first of the month.
---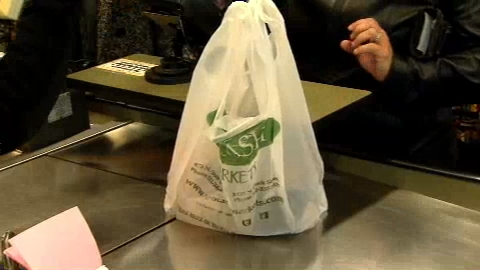 Does Chicago's Plastic Bag Ban Carry Real Weight?
Aug. 10: One year in and the city's ban on flimsy, one-use plastic bags is now fully in effect. But is it really reducing pollution or, as some critics charge, is it actually making the problem worse? Our panel examines the ban's impact.
---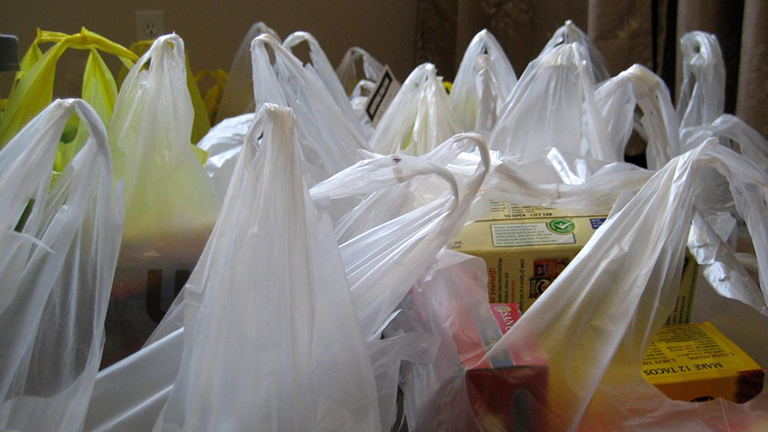 Chicago's Plastic Bag Ban Extended to Smaller Chain Stores
Aug. 1: As of August, chain stores that are 10,000 square feet or less must comply with the city's plastic bag ban originally enacted a year ago.
---