Debborah Luke of the Association of Zoos and Aquariums speaks to Shedd Aquarium's premier donor society March 20. (Alex Ruppenthal / Chicago Tonight)
The Western pond turtle once lived in locations up and down the West Coast, from Seattle's Puget Sound to western Oregon and California and even Baja California, on Mexico's western shore.
But by the mid-1990s, the combination of overexploitation for food, loss of habitat and newly arrived predators had wiped out all but two small populations of the species in Washington state totaling 150 turtles.
To aid the dying turtles, state conservation specialists partnered with two area zoos to hatch and raise turtles in a controlled environment. The Western Pond Turtle Working Group, now working with Shedd Aquarium, has to date released more than 1,500 zoo-reared turtles, a significant step toward recovery of the species.
"If you can target a species before it's on the brink of extinction, maybe you can act and plan to save it," said Katherine Haman, a veterinarian with the Washington Department of Fish & Wildlife.
The tale of these once-nearly extinct turtles was one of several success stories shared with donors Monday evening at a Shedd event focused on conservation efforts nationwide. A panel of four experts discussed the alarming rate at which species are facing threats to their survival in the wild and how partnerships among zoos and aquariums can help save species from extinction.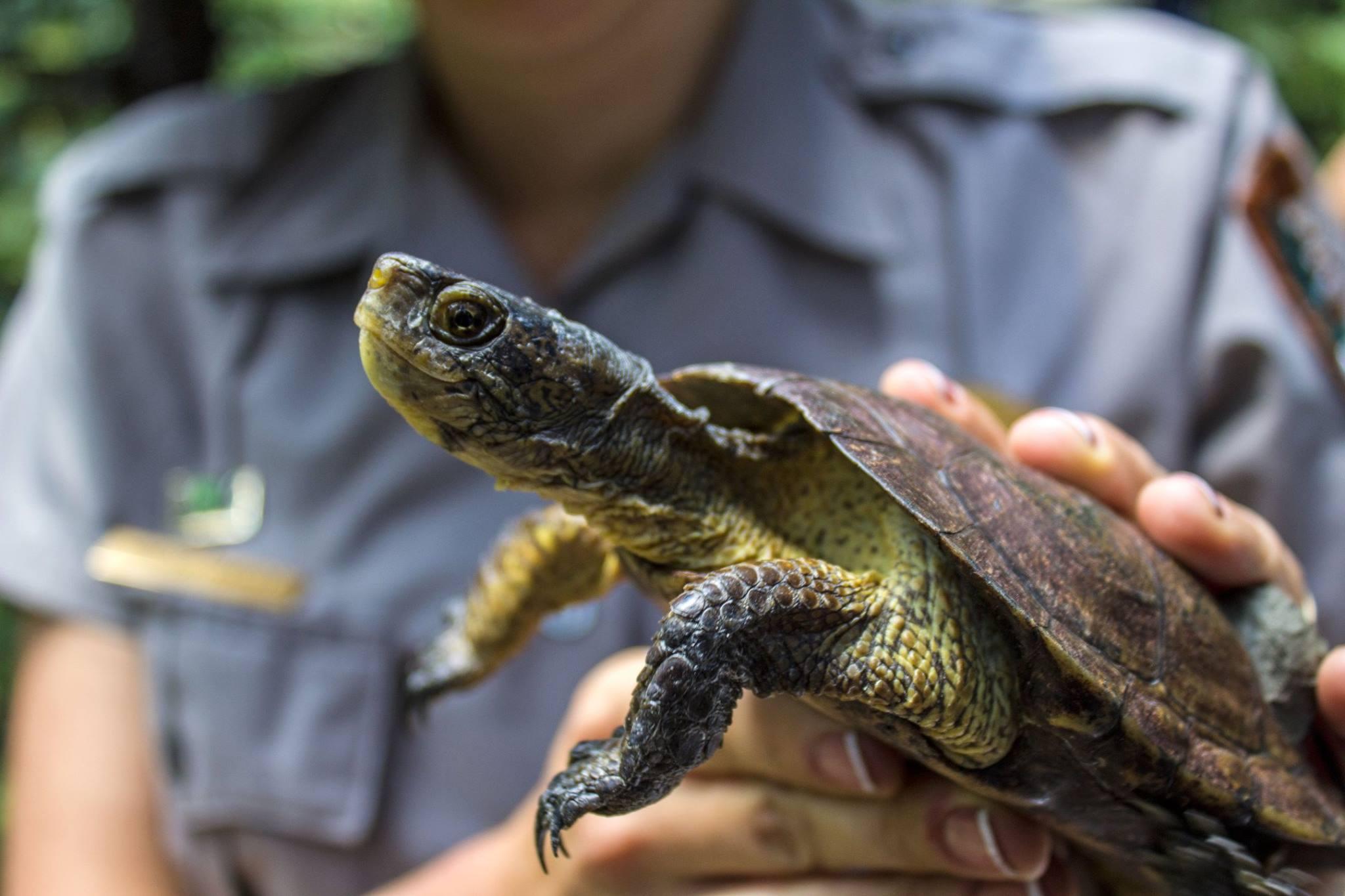 Western pond turtle (Yosemite National Park)
The event, titled Collaborating for Conservation, was open to members of Shedd's Aquarium Council, a premier donor society dedicated to conservation.
"The world is in the middle of what experts are calling the sixth mass extinction," said Andrea Rodgers, Shedd's vice president of communications and public relations. "And while the previous five die-offs were driven by natural events, this current mass extinction is driven by humans."
At Shedd, visitors can see 56 species of invertebrates, fishes, amphibians, reptiles, birds and mammals that are at risk of disappearing from the planet within 100 years, according to scientific assessments by the U.S. Fish and Wildlife Service, Illinois Endangered Species Board and Association of Zoos and Aquariums.
Although conservation has long been part of the mission at Shedd and other major aquariums and zoos, three years ago AZA launched an initiative to boost collaboration among all the roughly 230 zoos and aquariums accredited by the organization.
SAFE, or Saving Animals From Extinction, aims to leverage the audience of the 183 million people who visit AZA's zoos and aquariums each year to create a conservation movement.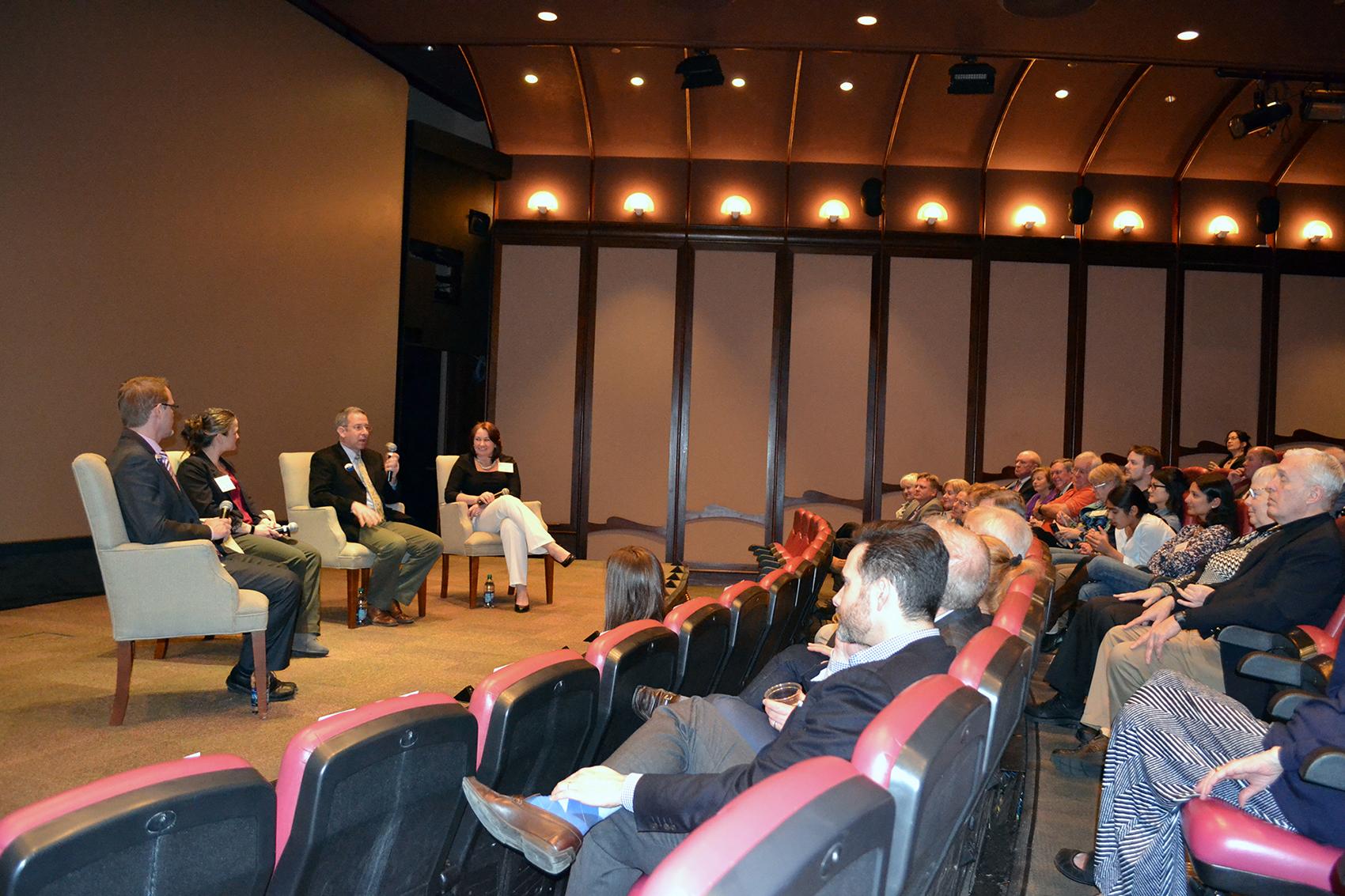 A panel of conservation experts meets with Shedd's Aquarium Council on March 20. (Alex Ruppenthal / Chicago Tonight)
"I think we have to do a better job telling our story," said Debborah Luke, AZA's senior vice president for conservation and science. "I don't think it's that [people] don't care [about conservation]. I think they haven't been told the story."
In 2015, AZA members and partner groups identified 10 Signature Species, a list that includes the African penguin, Asian elephant, black rhinoceros and Western pond turtle. As part of SAFE, conservationists at AZA's member institutions, including Shedd, will develop three-year action plans to save identified species.
"The idea is to connect all the conservation entities working on one of those species and bring them into the same room," Luke said. "That's not always easy to do, even though everybody's working on conservation. Sometimes, there are very sharp elbows in that room; they don't want to work together."
Luke said AZA brings conservationists together for two to three days to "figure out what has to be done to save that species."
One example was a Western pond turtle workshop in March 2015 at the Oakland Zoo during which experts from the U.S. and Mexico developed strategies to address threats facing the species, including predators such as bullfrogs and large-mouth bass.
Now, one of those conversation experts, Haman, is working with Shedd's Microbiome Project to study bacteria on the turtles' shells as part of her effort to better understand cases of recently documented shell disease among the turtles. The condition leaves deep lesions that expose the turtles' underlying bone and can penetrate into the body cavity.
"This is really, really important because it can actually guide [treatment]," Haman said.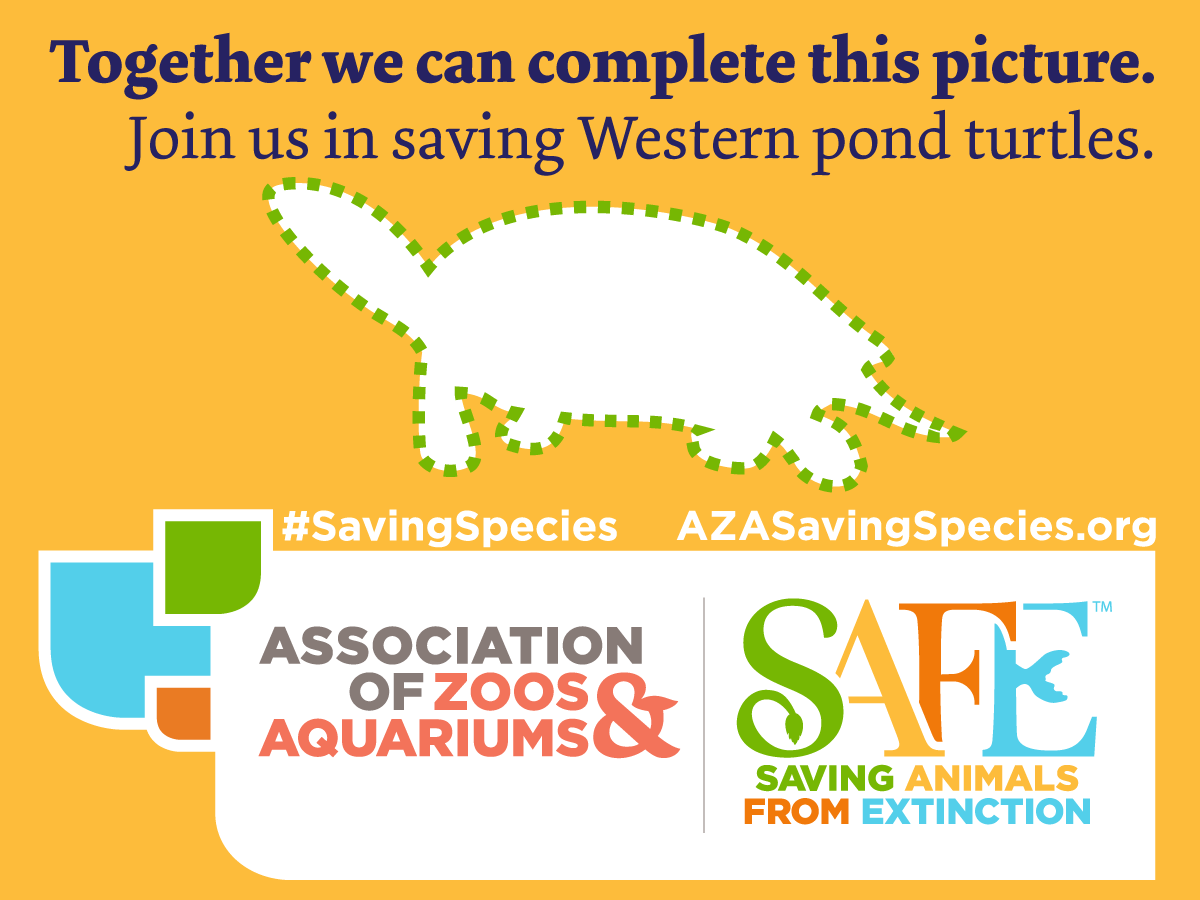 (Association of Zoos & Aquariums)
Through member aquariums, zoos and donors, AZA's SAFE initiative also seeks to increase public participation in conservation actions and awareness of ongoing conservation work.
After the panel discussion, donors had a chance to ask experts a handful of questions, including about how the current political climate is affecting conservation programs.
"What is the [AZA] doing to educate visitors for this interesting time from a political perspective, for the budgets that are being proposed for the EPA and other [agencies]?" said donor Patty McCarthy. "This is an amazing education of how much people can make a difference. No matter if you're red or blue, this is human health and the environment."
Another donor asked whether Shedd risked losing funding based on proposed budget cuts to a host of environmental and cultural programs.
"Right now, at least form a research standpoint, relatively little is from the government," said Charles Knapp, Shedd's vice president of conservation and research. "However, as our team grows, that was actually part of my strategy to grow [more], to tap into government granting opportunities. So, we're all thinking about it. And we have to continue to be creative as to how we develop collaborations."
Follow Alex Ruppenthal on Twitter: @arupp
---
Related stories:
Dragged Behind a Boat, Shedd Team Searches for Queen Conch in Bahamas
March 15: Shedd Aquarium researchers are studying queen conch populations in the Bahamas to understand the decline of the popular snail in the Caribbean.
---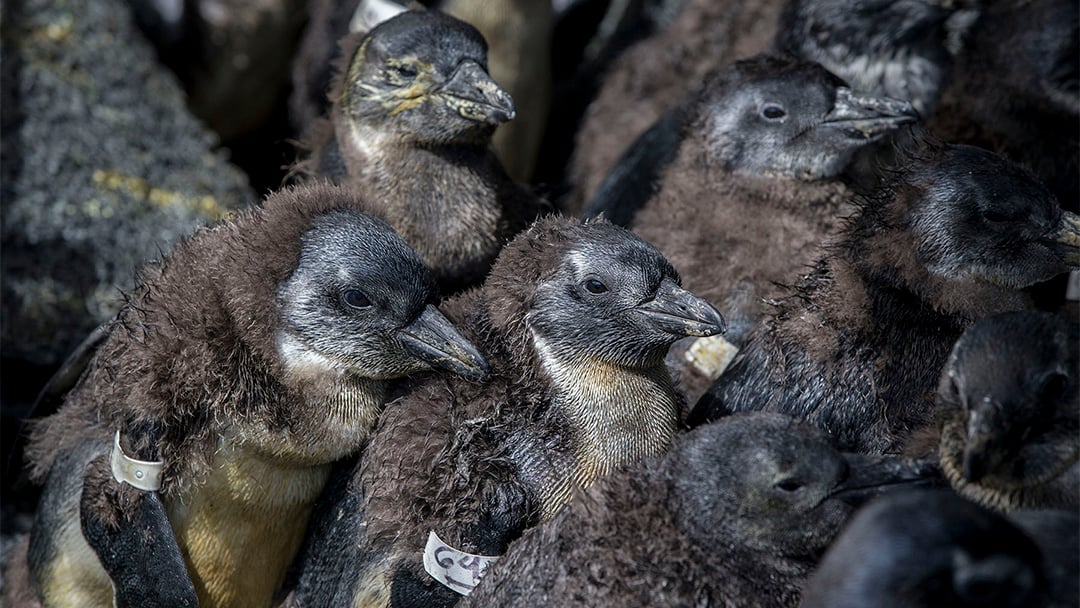 Shedd Staff Help Rescue Endangered Penguin Chicks in South Africa
Feb. 20: For the fifth year, members of Shedd Aquarium's Animal Response Team participated in a rescue mission of endangered penguin chicks in South Africa. Learn about their work.
---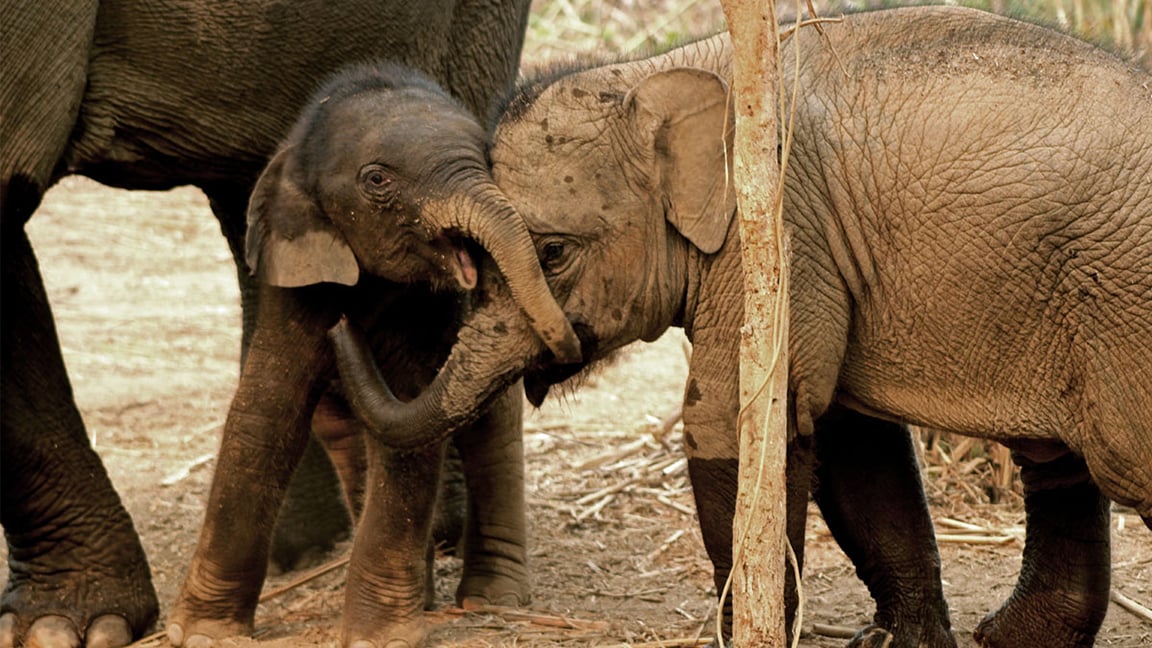 Shedd Urges President Obama to Sign Wildlife Trafficking Bill
Sept. 30: The Shedd Aquarium is calling on President Barack Obama to sign legislation that aims to curb the highly lucrative, international business of illegally trading endangered and threatened animals.
---