In an effort to curb violence, Mayor Rahm Emanuel has directed resources to expand mentoring programs for teenagers enrolled in Chicago Public Schools. But now a new effort is targeting young men and women who aren't in school and who are unemployed.
These so-called "opportunity youth" are getting a lot of attention.
Research from the University of Illinois at Chicago Great Cities Institute says there are 58,000 disconnected youth ages 16 to 24 who have been out of school and out of work in Chicago.
And the University of Chicago Urban Labs says the rate of disconnected youth of color is higher in Chicago than in any other major city.
"Some of them are living in communities that are also significantly underserved. And so the disconnection may even be generational: Perhaps you've been living in a family that has suffered from disconnectedness," said Lisa Morrison Butler, Chicago's Commissioner of the Department of Family and Support Services. "But we also see some folks that have juvenile justice backgrounds, and so it contributes to the challenges that they may feel. Other youth might actually be homeless."
It's this research that's guiding efforts from a nonprofit called Thrive Chicago.
Originally incubated in the mayor's office, it now works to serve as a hub to gather information and make connections between the dozens of community organizations working to get opportunity youth back to school or work.
With this new campaign, called 10,000 Reconnected, Thrive is also working with the private sector, researchers and foundations to get 10,000 of these young folks back in the game in the next three years.
"It's really remarkable that this number of 60,000 out of work and out of school youth has remained stagnant in Chicago for some time," said Thrive Chicago President Sandra Abrevaya. "It's difficult because there are so many organizations that are trying to address these challenges. We actually found that there are at least 50 organizations that identify as serving these youth. But what we also found is that most of them serve 100 or fewer youth at a time, and they only have the resources to support them for six months or less, typically."
By establishing reconnection hubs, young people have a place to start.
Community groups can help meet some of their more basic needs – like housing, child care or transportation – before figuring out which direction their path goes.
It can mean returning to school, paid apprenticeships or internships, and at some point, long-term employment.
Experts say being successful will not only mean training the young people, but also their future employers.
"We can also talk to them about these youth," said Morrison Butler, "and the fact that these youth are coming to you and they do have gifts, and they do have passion, and they sure have desire. But they may be a little wanting in certain areas. Perhaps no one has really talked to them before about what it means to be a professional. And so it's important that we can help the corporations understand that hiring these folks might require that you be a little bit more forgiving."
A multimillion-dollar grant from the Laura and John Arnold Foundation will allow Urban Labs at the University of Chicago to study the program's effectiveness.
Follow Brandis Friedman on Twitter: @BrandisFriedman.
---
Related stories: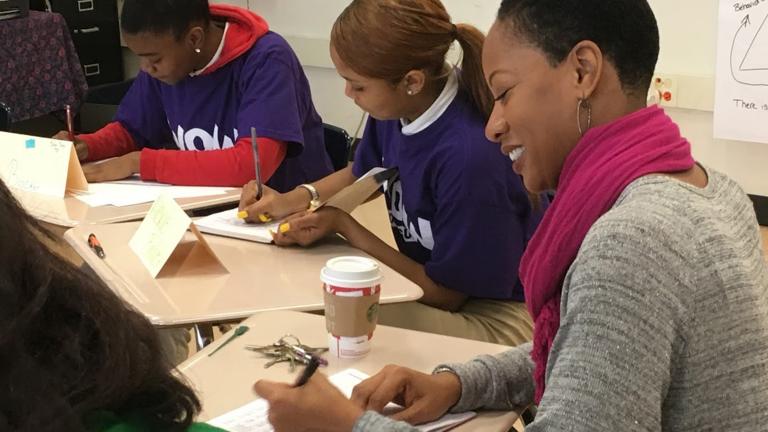 Mentoring Program at Chicago Schools Expands to Girls
Nov. 22: No longer just for the boys, a popular mentoring program is now making sure girls aren't being left behind.
---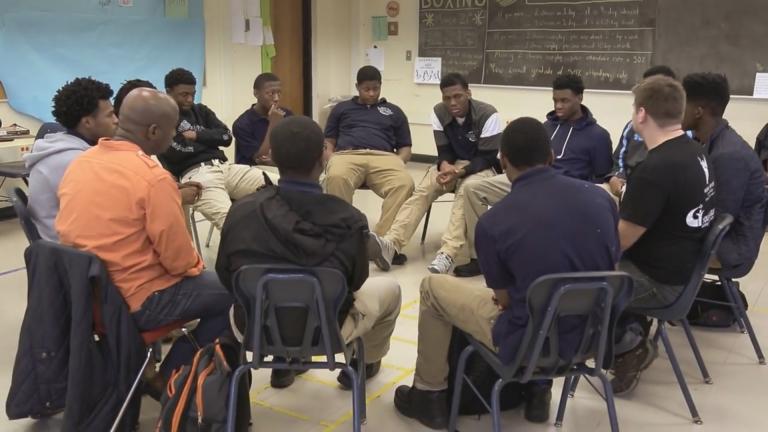 Chicago's At-Risk Youth: Are Mentoring Programs the Answer?
Sept. 26: The mayor makes mentoring programs a centerpiece of his anti-violence strategy. How much impact could they have?
---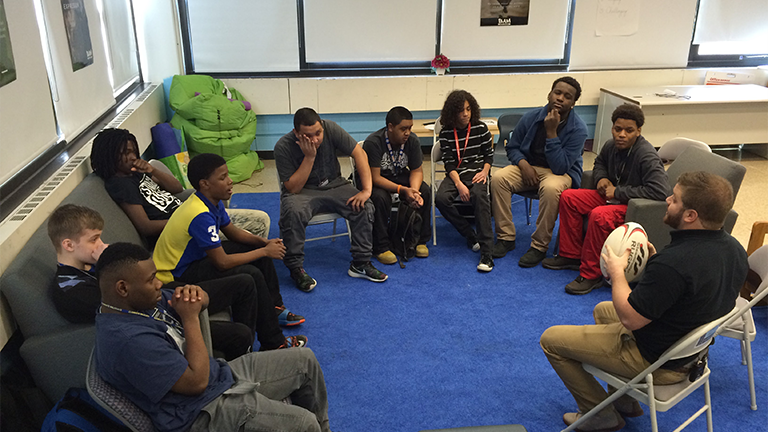 Study: Program for At-Risk Youth Cuts Arrests by 35 Percent
June 28: A new study finds a program that works with at-risk young men in Chicago reduced overall arrests in the group by 35 percent, violent crime arrests by 50 percent and boosted on-time high school graduation for participants by 19 percent.
---