Jonathan Manning has an idea that he's pitching to a room full of people.
"I've always been business-minded, always had to be an entrepreneur," the 29-year-old said.
He and his partners are proposing to renovate abandoned homes and sell them as affordable housing.
Part of the idea includes converting old shipping containers into living spaces.
"It was very personal for me," Manning said. "I experienced a lot of things growing up. When I was a child, my parent used to go through slumlords, who always wanted rent on time, but our apartments were messed up: sinks, ceiling fixtures, were broken."
He's among 15 other men pitching their business ideas while taking questions from an audience of experts. The ideas range from a nonprofit youth center to full-service gas stations that provide jobs for high school students.
These potential entrepreneurs developed their business plans in an unlikely place: Cook County Jail. After their pitch session, they earn certificates for completing the 12-week program.
"It really showed you the legal structure of the business and how to be financially responsible, how to target a market to bring revenue into your business," said Michael Brashears, who's been detained since last summer.
"I thought I was business-minded until I got into the class and she showed me all the real step-by-step that I needed to do and she taught me a lot," Manning said.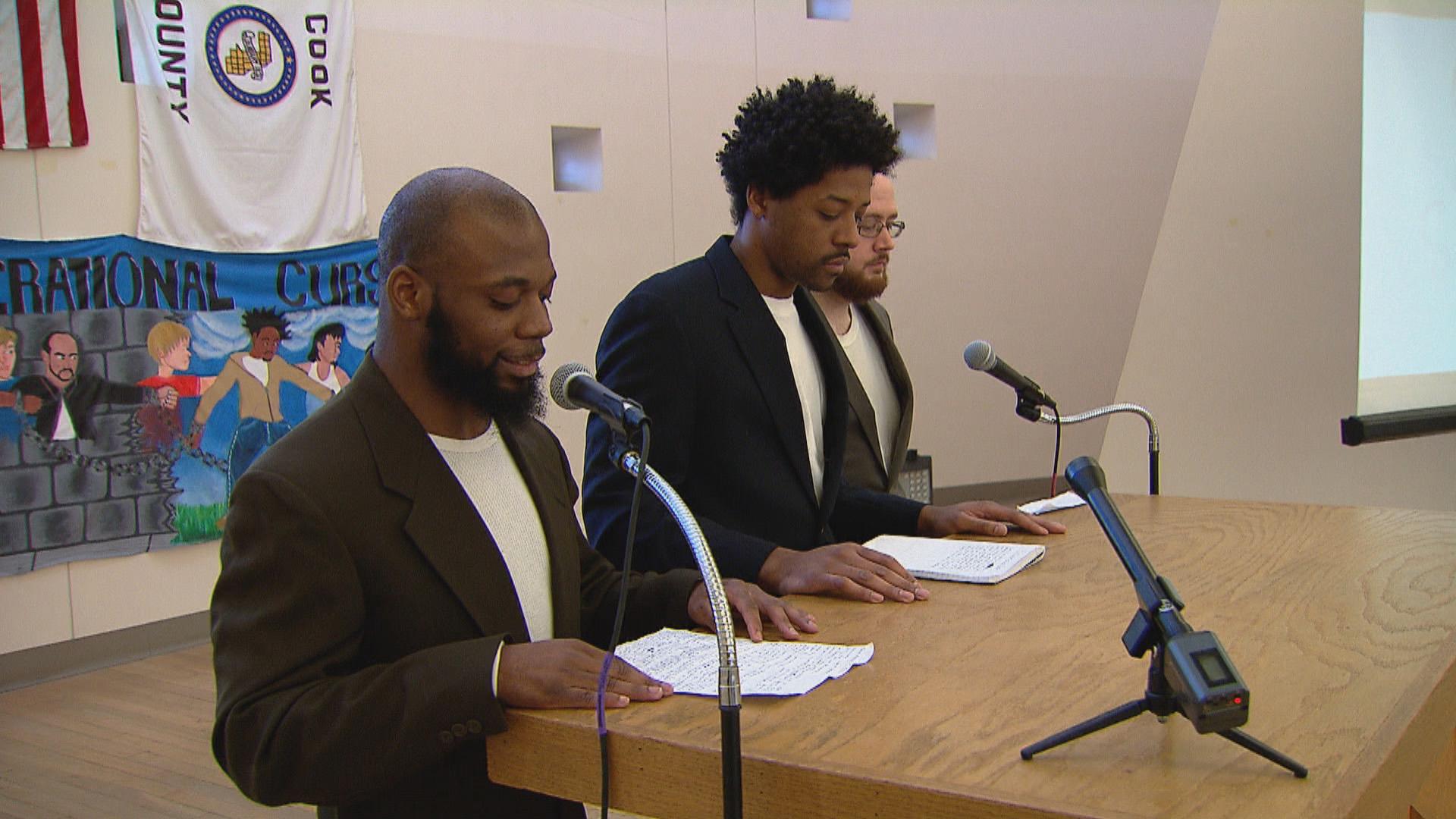 (WTTW News)
Brashears and Manning are referring to Rachel Getz, their teacher and the program's coordinator.
Getz says that during the class the men learn how to develop a business plan, adding some basic professional skills along the way.
"As a teacher I get to see them develop a business plan over time, and I get to see them develop as humans," Getz said. "They come in shy towards the beginning, then they open up. They practice public speaking skills, team building. Some groups struggled to work together at first and I watch them transform into a team."
For a little boost of confidence, each man was allowed to wear a sports coat for their presentation. Getz received them through a donation.
This program is one of many offered in the Cook County Jail.
Sheriff Tom Dart says he offers so many, from the therapeutic to the scientific, because the overwhelming majority of detainees leave the jail and go back to their communities – not prison.
"Most of communities they come from are, if not devoid of opportunities, there's not many. So, the challenges are so many," Dart said.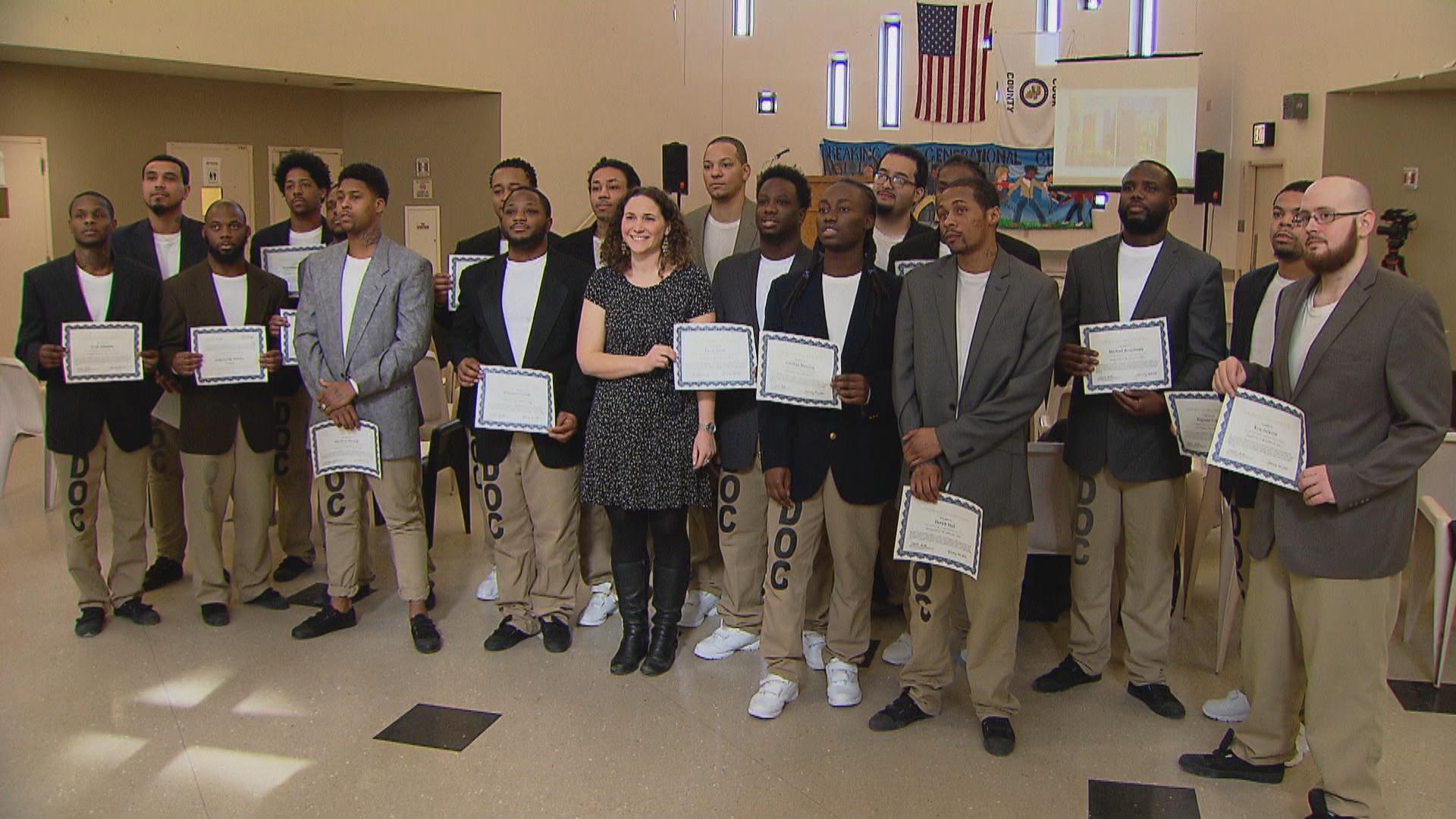 In addition to the skills they learn in these programs, they also get something more: confidence in themselves.
"You can see it in their eyes, the way they talk, they are now on the same level as the rest of us, in their mind. Which for a lot of them is half the battle," said Dart.
One former inmate at the jail is Anthony Hernandez.
"When I was in here, we didn't have anything. There was no entrepreneurship program, they would teach you nothing," Hernandez said. "The Department of Corrections is not for the Department of Corrections to correct you. It's for you to correct yourself."
That was years ago. Since then, Hernandez has become a successful businessman himself, owning a fleet of cabs.
He returns to Cook County Jail to remind these men that their mistakes don't have to define them forever.
"For these guys to come up with business plans in the midst of fighting their cases, being away from families, children, using scrap paper from a notebook, but still be able to do that, in the midst of these conditions, not liberated: imagine if you're liberated and you have doors open to you," he said.
Hernandez hopes to show the men that while their release dates may be uncertain, their future beyond these walls doesn't have to be.
Follow Brandis Friedman on Twitter @BrandisFriedman
---