Solving the epidemic of gun violence in Chicago is an unrelenting challenge, particularly as the city deals with the annual summer increase in shootings.
One program working to employ young men from South and West Side neighborhoods, areas disproportionately affected by gun violence, wants Chicago's business community to see it as a problem it can – and should – help stem.
You may not think of a job as a gun violence prevention tool, but according to Arne Duncan, it is.
"When there's a shooting or murder, I would love to see not just (Chicago Police Superintendent) Eddie Johnson asked, 'What are you doing?' but every CEO in town asked, 'What are you doing to hire?'" Duncan said.
Creating Real Economic Destiny, or CRED, began in 2016. It's one of many programs created by the Emerson Collective, a social change organization founded by Laurene Powell Jobs, the philanthropist and widow of Apple co-founder Steve Jobs. Duncan, its managing partner who served as U.S. education secretary and Chicago Public Schools CEO, says CRED offers life coaching and mentoring, trauma support and paid job training, and ultimately works to help participants find steady work.
"Guys aren't winning on the street," Duncan said. "They're tired of getting shot. They're not getting rich. They're tired of police chasing them. They want to do something better, they want to do something different. The onus is on us. It's incumbent upon us to give them those opportunities."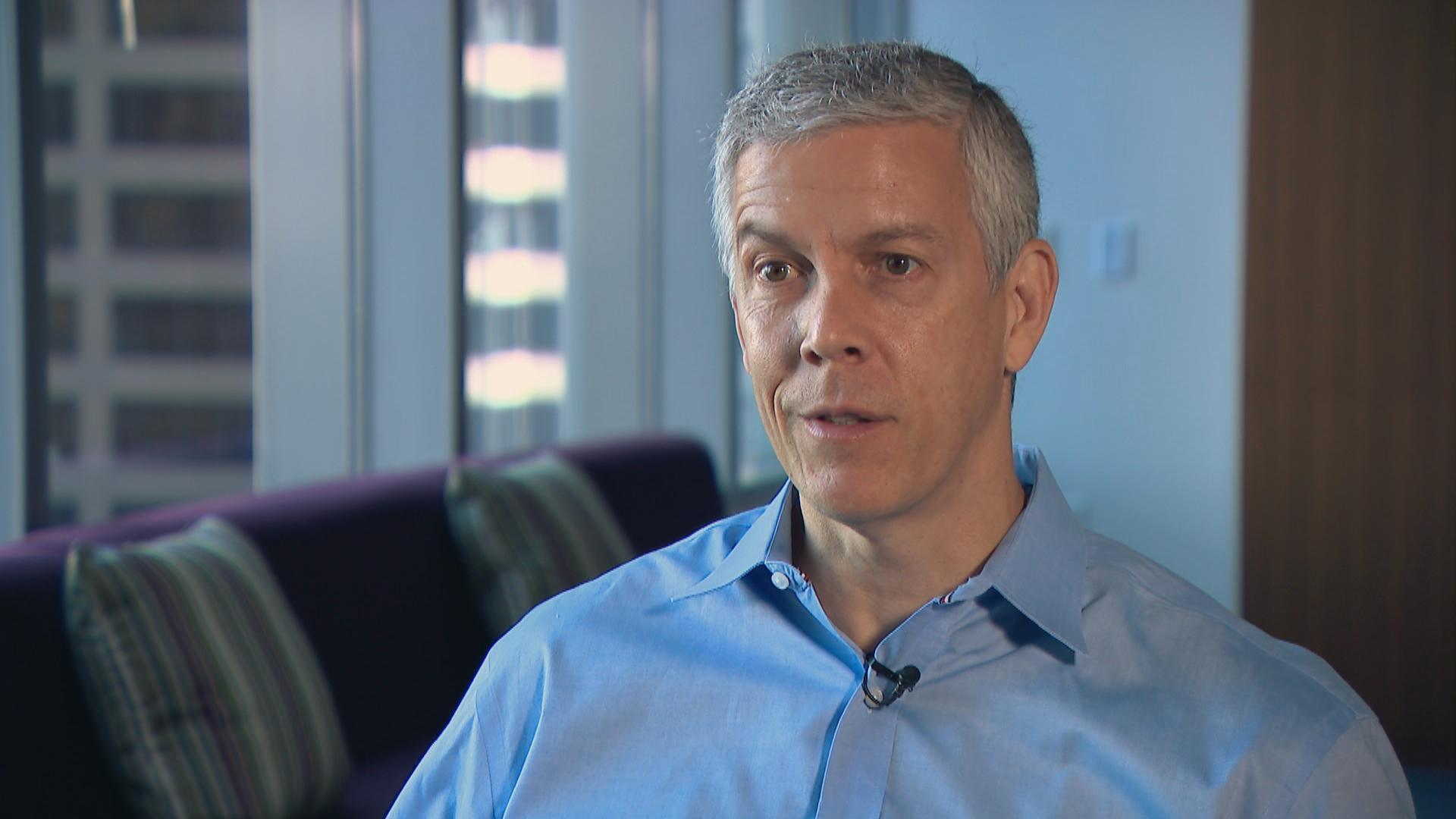 "Guys aren't winning on the street," said CRED managing partner Arne Duncan.
CRED currently works with about four dozen employers in manufacturing, hospitality, construction and health care. Last year it placed a graduate with the Chicago office of worldwide accounting and consulting firm Deloitte after managing partner Carl Allegretti heard Duncan speak about CRED's mission.
Allegretti remembers that moment.
"I asked, 'What support do you need? Financial support? What can we do to help you?'" he recalled. "Arne said, 'Here's what I need, Carl: I need leaders in the city of Chicago to hire the young men that I'm talking to, because I believe the solution is jobs for these young men.'"
Duncan brought two men from CRED's first cohort in for a meeting. One of them, Brendan Taylor, impressed Allegretti by sending a follow-up text to thank him for his time.
"In today's communication style, we built a text relationship," Allegretti said. "I'll never forget one morning when I asked him, 'Did we get our high school (diploma) yet?' And he said, 'I finished it at 3 a.m.'"
"I had literally quit a job prior to starting CRED – like, the same day I got the interview for CRED, I quit the job," Taylor said.
A Roseland native, Taylor had been working a series of jobs that didn't pay much and didn't seem to have much of a future. He had dropped out of high school, struggling after his brother was killed.
"It was rough going back to school and trying to stay focused on graduating," Taylor said. "Getting my high school diploma … was a really big accomplishment for myself and also my family, my mom."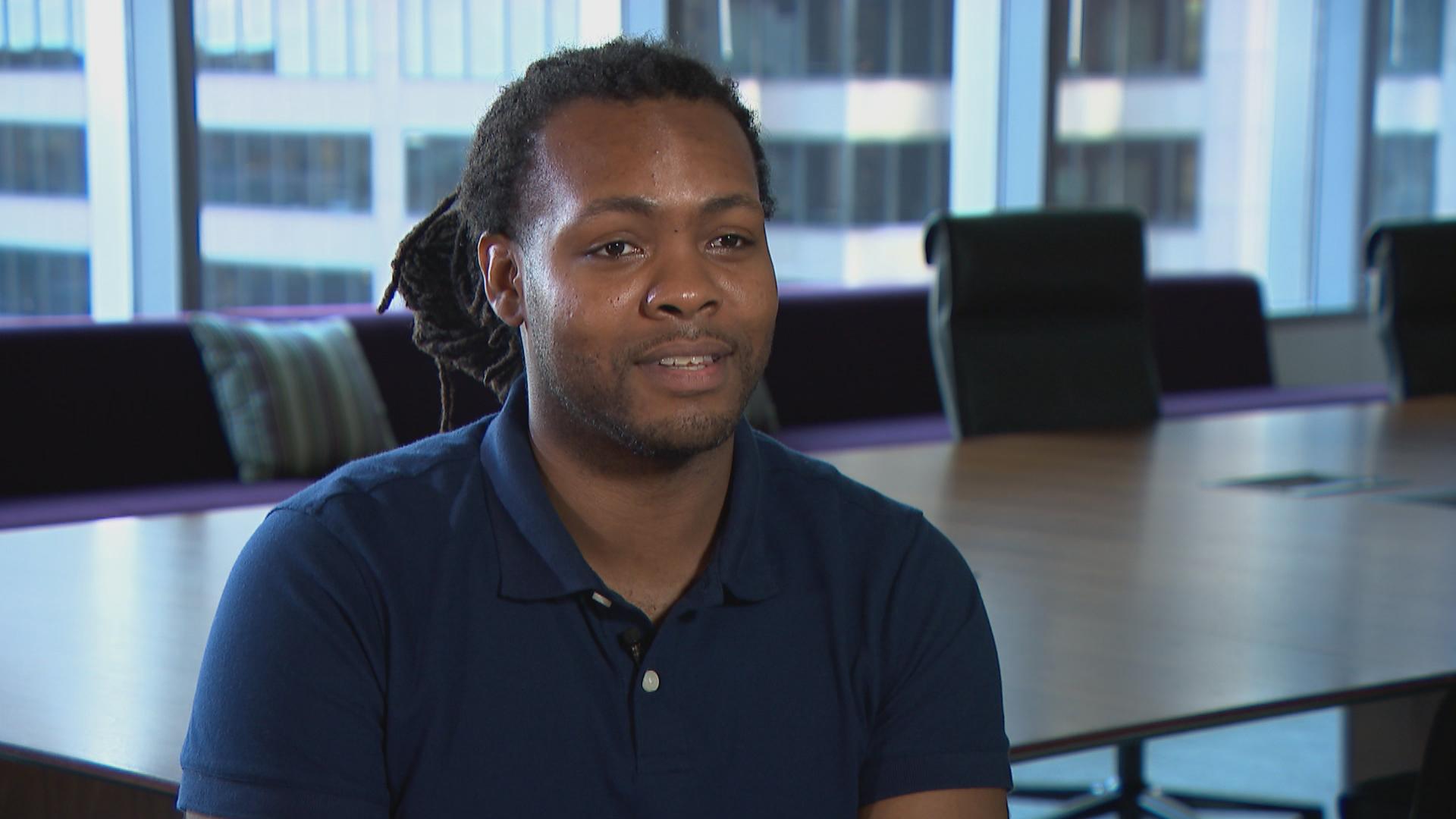 Brendan Taylor
After getting his diploma, he was hired to work at Deloitte's Chicago office.
"It was extremely overwhelming, because I had never been in an office setting such as Deloitte, but … I feel amazing. Deloitte has become my family," Taylor said.
A family that, along with CRED, helped support him when last year, just after starting his new job, Taylor was shot while standing on the street. A friend he was with was killed.
"They care," Taylor said. "When I was shot, they were by my side. Arne called me almost every day, tried to furnish my apartment, things that you would have family members do or people very close to you."
"I just have this huge sense of urgency," Duncan said. "The way (our kids) are living now is not their fault and it's not fair. This is not something that 10 years from now I want to get there. The next three, four, five years we have to keep growing, getting smarter. … Our goal is an 80% reduction in violence in the city. That may sound very ambitious but that's where we need to be just to be in line with other cities across the nation."
From a first cohort of 30, CRED and its partners now work with nearly 500 men. Duncan says to dramatically reduce violence, they aim to work with and employ about 2,000 – who, like Taylor, can flourish.
"Some people would view this as giving somebody a second chance," Allegretti said. "I believe that this has been (Brendan Taylor's) first chance, and he's made an awful lot of people better through this process."
"A big step for a lot of companies in Chicago would be to reach out to the guys in CRED," Taylor said. "There are a lot of guys like me. I'm not one of one, I'm one of many. A lot of guys have been dealing with trauma all their lives and never had the opportunity to learn something different, pick up something different, expand their minds."
---
Related stories:
Southwest Side Bungalow Provides Shelter from Street Violence
Research Collaborative Partners with Communities to Address Chicago's Gun Violence
Chicago Responds to Weekend Carnage With Condolences, Calls for Action
How Exposure to Violence Impacts Young Children in Chicago
---