In his book "The Death and Life of the Great Lakes," author Dan Egan chronicles the history of the world's largest group of freshwater lakes as well as the natural and man-made dangers threatening it.
The Great Lakes account for about 21 percent of the Earth's surface freshwater and provide drinking water to tens of millions of people living in the Great Lakes Basin, or the land surrounding the lakes.
In his book, Egan, who covers the Great Lakes for the Milwaukee Journal Sentinel, details several invasive species that have negatively altered the lakes' ecosystem.
For instance, the waters of the Great Lakes have become noticeably clearer – but that isn't necessarily a good thing.
Zebra and quagga mussels first spotted in the Great Lakes nearly 30 years ago have devoured vast amounts of plankton, outcompeting native species for the aquatic food.
"These mussels have fundamentally rewired the way energy flows through the lakes and stripped out the plankton, upon which the food web is built," Egan said. "But nobody could've conceived of quagga and zebra mussels before they arrived, so the biggest threat is what's coming next that we haven't heard of."
Many invasive species, like the voracious Asian carp, have entered or are close to entering the Great Lakes via man-made waterways like the Chicago Sanitary and Ship Canal, which links the lakes to the Mississippi River System, and the St. Lawrence River Seaway, which connects them to the Atlantic Ocean.
Egan also touches on the volatile effect climate change has on the Great Lakes' water levels and the perilous prospect of foreign actors located outside the Great Lakes River Basin siphoning off freshwater.
Funding to help clean and protect the Great Lakes may be off the table, further throwing its future into jeopardy.
President Donald Trump's proposed budget, which is pending Congressional approval, slashes $300 million in annual funding for the Great Lakes Restoration Initiative, a federal program started in 2010 that works to restore the lakes' natural habitat and keep invasive species out of the lakes.
Dan Egan joins us to discuss his book.
Below, an excerpt from "The Death and Life of the Great Lakes."
---
---
Related stories: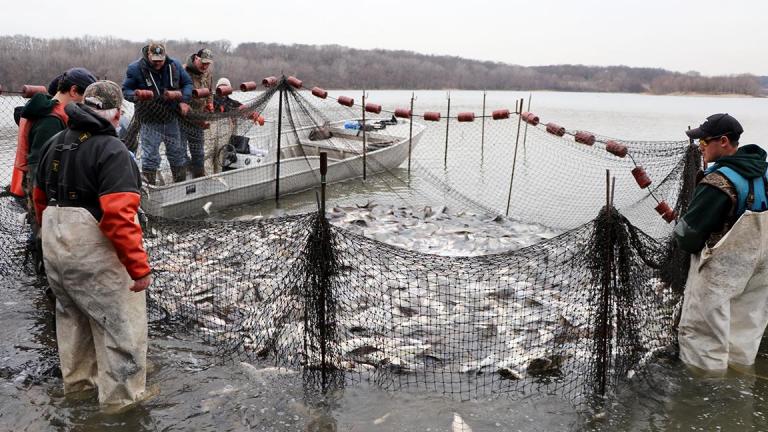 Budget Cuts Could Hinder Efforts to Keep Asian Carp Out of Great Lakes
March 20: Looking at the impact of a proposed funding cut to the program that aims to keep invasive species out of the Great Lakes.
---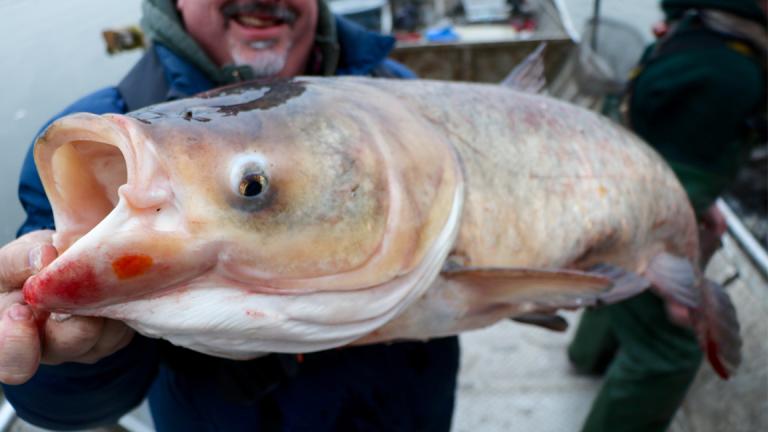 Photos: Capturing the Invasive Asian Carp in the Illinois River
March 20: Wildlife agencies and fishermen in Illinois are using a Chinese technique to catch Asian carp, an invasive fish species threatening the Great Lakes ecosystem.
---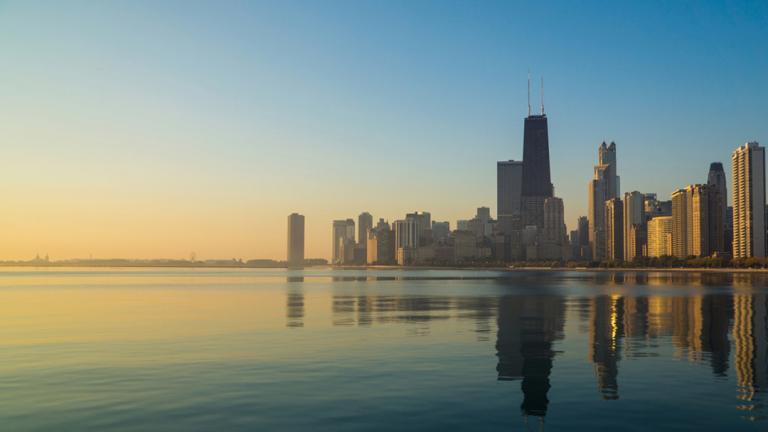 Great Lakes Funding Threatened
March 13: Lake Michigan and other Great Lakes could see a substantial amount of federal funding dry up.
---