Will the president's new travel ban pass legal muster?
President Donald Trump on Monday signed a revised executive order to temporarily ban travel from six majority-Muslim nations. Local reaction was quick and sharp, with some vowing to once again take the president to court, others saying it is an improvement, and still others dodging the question altogether.
The administration says it has addressed the issues brought up by the 9th Circuit Court of Appeals, which effectively squashed the first travel ban. The revised order bans travel for 90 days from Yemen, Somalia, Sudan, Iran, Syria and Libya – but not Iraq. It'll be a 120-day ban on Syrian refugees and visa seekers, as opposed to the indefinite ban from the last order.
The ban does not give preference to Syrian Christians, and it does not apply to people from those countries that already have some sort of legal status here.
"Today's executive order will make America more secure and address long overdue concerns about the security of our immigration system," said Homeland Security Secretary John Kelly. "We are taking a rigorous review of our immigration vetting programs to increase our confidence in the decisions we make relative to visitors and immigrants that travel to the United States."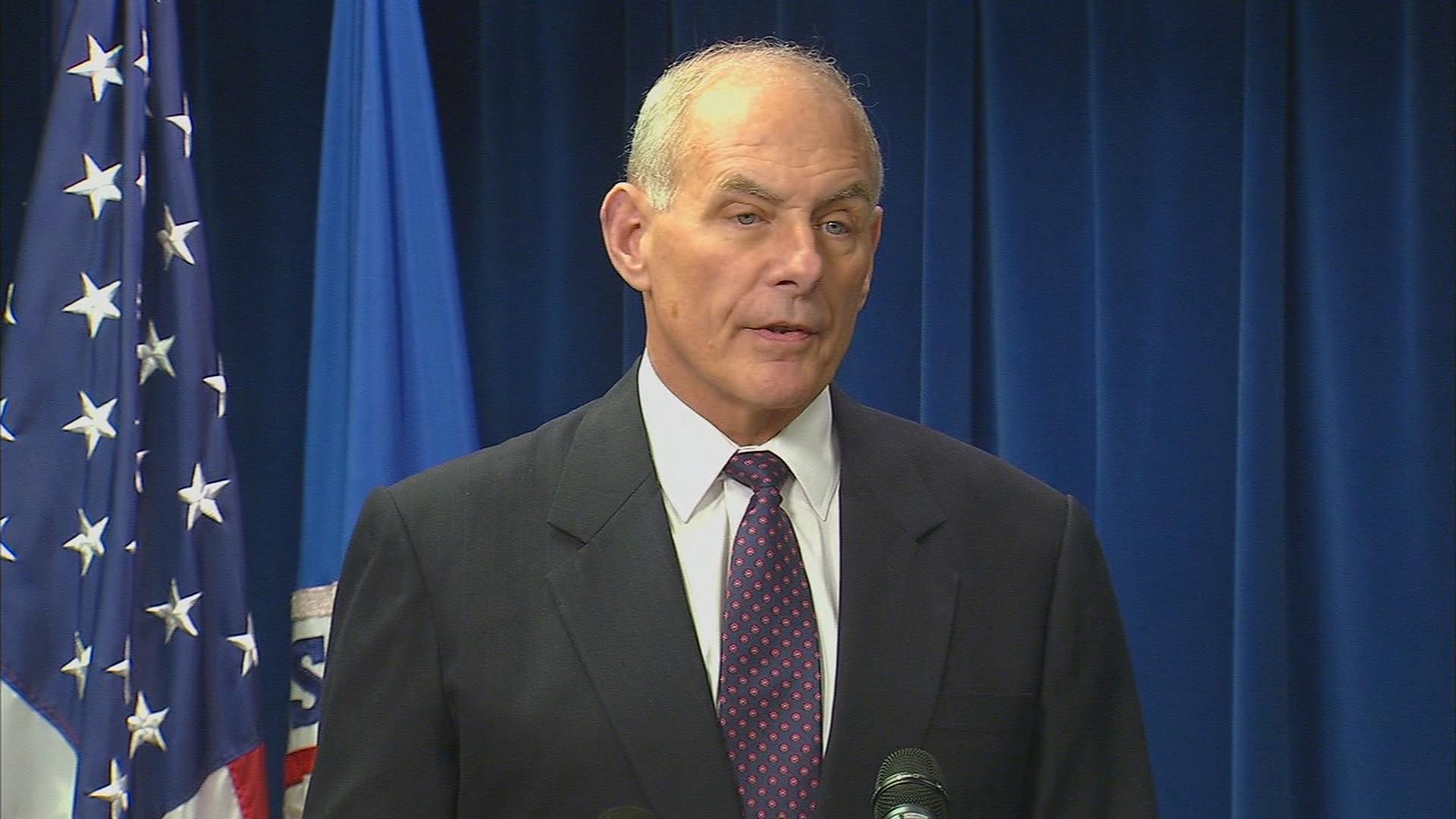 Department of Homeland Security Secretary John Kelly: President Trump's order will "make America more secure."
But opponents say that, watered down or not, the order still amounts to a ban on Muslims entering the country.
"This travel ban is just like the old travel ban, it is a ban on Muslims entering the United States, it is a religious test applying to people, and we don't have religious tests in our constitution," said Illinois ACLU spokesman Ed Yohnka. "This ban will be challenged just like the last one."
"We have the most intensive vetting procedures in this country already," said Hatem Abudayyeh, head of the Arab-American Action Network. "We believe the country is unsafe because of Trump and his policies targeting immigrants and black people and other marginalized communities, it is not unsafe because of immigrants."
Other legal experts say they believe this order has a much better chance of withstanding constitutional muster.
"It does not affect countries based on religion, it affects countries based on their level of stability," said Eugene Kontorovich, law professor at Northwestern University. "We're talking about failed states – that's the common theme. When we say 'Muslim' is the common problem, it's like saying that America restricted immigration from the Soviet Union during the Cold War, that it was something against the Orthodox Church."
Predictably, the order was panned by Mayor Rahm Emanuel and most of the area's Democratic congressional delegation, and tepidly supported by most Republicans.
We tried to solicit the input of the Chicago area's most senior Republican congressman, Peter Roskam, who refused to take reporter questions after a City Club speech he gave Monday on tax reform. Roskam simply said, in passing, "I haven't read it yet."
Follow Paris Schutz on Twitter: @paschutz
Below, statements from state and local politicians on the revised executive order.

U.S. Rep. Mike Bost, 12th District:
"The safety of the American people is the top priority of the federal government. I appreciate the Administration's use of more precise language regarding which individuals are covered by the travel pauses. I am hopeful that this additional clarity will help ensure that the United States government honors its most important obligation: to protect the American people."
U.S. Rep. Danny Davis, 7th District:
"President Trump issued a new executive order on immigration and refugees today. It was released with no public ceremony which is entirely appropriate. There is nothing to celebrate here.
"The new order rescinds the January 27th order which the President declined to defend in court despite his bravado after the wave of court rulings halting that order. The new order includes a number of changes in an attempt to address the crudest defects in the original order. But at its heart it remains an unacceptable and harmful, heartless Muslim ban.
"In the attempt to reframe his repeated public promises to implement a "Muslim ban" this order offers more "alternative facts" and generalizations about the threats to national security as justification for the new rules. The reality is that this ban does nothing to enhance our national security. In its attempt to walk back some of the most extreme rhetoric the new ban is littered with new contradictions regarding the urgency of implementing the ban and the rationale of targeting six specific nations.
"I am certain the new order will again be challenged in the courts.  The clear record of the President's intent, the lack of justification for the cruel extremes of this order should be cause for all Americans who view our nation's commitment religious freedom and to reject religious discrimination as a core Constitutional value to oppose this order as vigorously as they opposed the first ban.
"I opposed the January 27th order and I continue to oppose today's order with the same determination."
U.S. Rep. Rodney Davis, 13th District:
"I'm glad President Trump is taking steps to clarify his executive order, especially the exclusion of those who have already gone through the very lengthy process to obtain legal status. This caused problems for several people my office was helping, including an Iraqi interpreter who assisted our troops. I hope there were some lessons learned from last time and the implementation of this new executive order is successful because these are steps needed to secure programs that even Obama security officials admitted were not secure."
U.S. Sen. Tammy Duckworth:
"Just like his last Muslim ban, this executive order plays into our enemy's hands by giving them a propaganda tool to spread a false narrative about the United States hating Muslims. This ban will not make our country safer and betrays the American values those of us who served in uniform fought to defend. Discrimination is discrimination and no amount of sugarcoating by the President will change that.
"President Trump's last Muslim ban created chaos for my constituents and Americans across the nation. Multiple federal courts rightfully halted implementation over concerns surrounding its legality and constitutionality. I am confident this new order will not stand either, if not in the courts then at the ballot box."
U.S. Sen. Dick Durbin:
"No amount of relabeling will change the fact that President Trump's travel ban is unconstitutional and un-American. Wasting taxpayer dollars and unnecessarily inflicting pain on innocent families isn't going to change that. Trump's executive order plays directly into our enemies' hands and makes America less safe. Trump's first travel ban was blocked by multiple federal courts, and his latest will no doubt face the same fate."
Mayor Rahm Emanuel:
"The legal grounds of the first travel ban were questionable at best, and today's iteration is nothing more than a wolf in sheep's clothing - different packaging intended to achieve the same result. It is a betrayal of our nation's values that our government would slam the door on refugees fleeing war, death and unimaginable conditions, that our government would divide families, and that our government would attempt to exclude people based on their religion. This executive order runs contrary to the ideas America was founded upon and the ideals that have made America a beacon of hope around the world."
U.S. Rep. Bill Foster, 11th District:
"Once again, the Trump administration has unleashed another poorly thought out and misguided executive action. This new ban on individuals from six predominantly Muslim countries targets individuals simply because of their country of origin and religion. As a recent report from the Department of Homeland Security explained, the largest threat to Americans comes from 'homegrown' terrorists who have been alienated and radicalized by exactly the kind of hatred and bigotry that Trump's statements and executive actions amplify. His executive actions do nothing to make America safer and are nothing more than a mechanism for state sanctioned discrimination from an administration more concerned about propagating hysteria than engaging in sound governance."
U.S. Rep. Luis Gutierrez, 4th District:                                                                
"This is just the same stuff on a different day. If you called xenophobia a rose, would it not smell just as foul? Our President, who clearly has a hard time distinguishing facts from fiction, is continuing to take us down the wrong road, the road away from security, morality, and prosperity.
"As I said in January, the President should have faith in the strength of our own country and the vitality of her citizens and culture.  A nation of 300 million people that has blazed a trail for the world for more than 240 years can withstand 50,000 or 100,000 moms, dads and children fleeing for their lives.  We always have and we always should.
"The poem on the Statue of Liberty says 'I lift my lamp beside the golden door!' not 'We are scared of you, come back later when we feel better.'"
U.S. Rep. Robin Kelly, 2nd District:
.@POTUS can't repackage his un-American & unconstitutional #MuslimBan. It's STILL a #MuslimBan AND it's still un-American & unconstitutional

— Robin Kelly (@RepRobinKelly) March 6, 2017
---
U.S. Rep. Adam Kinzinger, 16th District:
"As I've said for weeks, Iraq is our biggest ally in the fight against ISIS and it was undoubtedly the right thing to remove them from the travel ban. At a time when hundreds of Iraqis are dying in the fight to free us all from the clutches of ISIS, we need to ensure they know they have our support.
"It is the job of the Commander in Chief to determine what is required for national security, and I give the President the leverage to make that decision just as I did for the former President. I support a comprehensive look at our vetting process and have confidence that Secretary Kelly will do all that is necessary to put in place standards and procedures that protect the American people and our homeland, without damaging our foreign relations around the world."
U.S. Rep. Raja Krishnamoorthi, 8th District:
"The President's new executive order is just a continuation of the same divisive and economically damaging policies that a federal judge has already struck down. This does little to protect us and damages our standing abroad while weakening our economy at home."
U.S. Rep. Dan Lipinski, 3rd District:
"The new Executive Order fixes some of the egregious problems with the original, but the Trump Administration still has not explained how this makes us safer, not less safe."
U.S. Rep. Bobby Rush, 1st District:
"President Trump's executive order has made the nation less secure, people more afraid and members of Congress wondering if we've all stepped into the Twilight Zone.  This ban is about religion—and it cuts at the very fabric of who we are as a nation. That's why I've declared my office as a sanctuary. This Executive Order is immoral, tears up families and goes after people who've lived here, worked here and have paid taxes here without incident."
U.S. Rep. Jan Schakowsky, 9th  District:
"Don't be fooled by the new packaging: President Trump is once again trying to ban Muslims and refugees from entering our country," said Rep. Schakowsky. "Just like his first attempt, this ban erodes our country's standing in the world and makes us less safe. Closing our borders to travelers and refugees because of their religion remains immoral and unconstitutional. President Trump's own inner circle has admitted that their revised ban would have the 'same basic policy outcome' as the first. I will do everything I can to ensure that today's executive order meets the same fate as the first – getting blocked by the courts and rebuked by the public."
U.S. Rep. Brad Schneider, 10th District:
"By the Trump Administration's own admission, the new executive order signed today was 'tailored to achieve the same goals' that our judicial system ruled unconstitutional in the first order.
"Regardless the window dressing, today's order still does not make our country safer, does nothing to target the root causes of terrorism, and undermines the values that define our nation.
"I support continuing to improve our screening processes for refugees and others admitted into the United States, but arbitrarily banning entry from certain Muslim-majority countries and barring refugees fleeing terror remains wrong and ineffective."
U.S. Rep. John Shimkus, 15th District:
"My record on this issue is clear, and has not changed: I support a vetting process that ensures every refugee, migrant or foreign national is not a security threat prior to his or her admission to the United States. That's why I supported bipartisan legislation to stop the resettlement of Syrian and Iraqi refugees until our nation's top security officials can be certain that each individual poses no threat to our homeland, and why I support President Trump's order today.
"Our world has grown more dangerous, and our enemies more emboldened in the last eight years. It would be irresponsible to ignore these threats, and to allow our screening of those entering our country from unstable or hostile regions to continue with incomplete information. The reality is that U.S. security officials can't just call Bashar al-Assad or the Ayatollah and ask them if certain individuals are terrorists. Not only would Syrian and Iranian officials likely deny us that information, but we would be naïve to trust them even if they did provide it.  
"America is an extraordinarily compassionate country, and we should continue to use our unique capabilities to help those in need around the world. So far we have contributed more resources to help Syrian civilians than any other nation, more than $4.5 billion since the start of the crisis. We should continue to provide humanitarian assistance, not only together as a nation, but individually to any of the dozens of non-governmental and faith-based aide organizations doing important work there. Finally, as I've said for months, the most immediate way the U.S. can help refugees fleeing Iraq and Syria is to establish and guarantee safe havens within the region where they can receive vital humanitarian assistance."
U.S. Rep. Mike Quigley, 5th District:
"President Trump's executive order creating a Muslim ban undermines the foundational ideals of the United States, a nation founded by immigrants. I call on the Administration to immediately rescind this shameful order, which will have very real and dangerous consequences. Already, we are hearing reports of green card holders held in legal limbo at airports around the world. Refugees fleeing violence and persecution are being turned away before boarding U.S. bound flights, even after they endured years of thorough screening and vetting. President Trump's decision to issue this executive order on Holocaust Remembrance Day only adds insult to injury. Have we learned nothing from the atrocities of the past?
"My own city of Chicago has been and will continue to be a vital home to immigrant communities from around the world. Our city is forever enriched by and grateful for the contributions made by immigrants and refugees, living side by side as Americans.
"As a Member of the House Intelligence committee, I am convinced that sweeping bans on whole categories of immigrants and refugees is deeply harmful to our national security interests, further complicating the fight against ISIS and other terrorist groups. Moreover, banning a group of people strictly on the grounds of their religion is unconstitutional and disrespects the legacy of our nation's founders. Religious freedom is essential to who we are as Americans and the suggestion that one religious group should be favored over others by our government is unacceptable. These are the values past generations have fought to preserve, and we must not be the generation that falters in their protection.
"'Give me your tired, your poor, your huddled masses, yearning to breathe free.' These words are emblazoned on the Statue of Liberty–a universal symbol of freedom, friendship and the gateway for millions of immigrants throughout our history. Today, these words take on a new urgency in the face of the Trump Administration's immoral actions."
---
Related stories: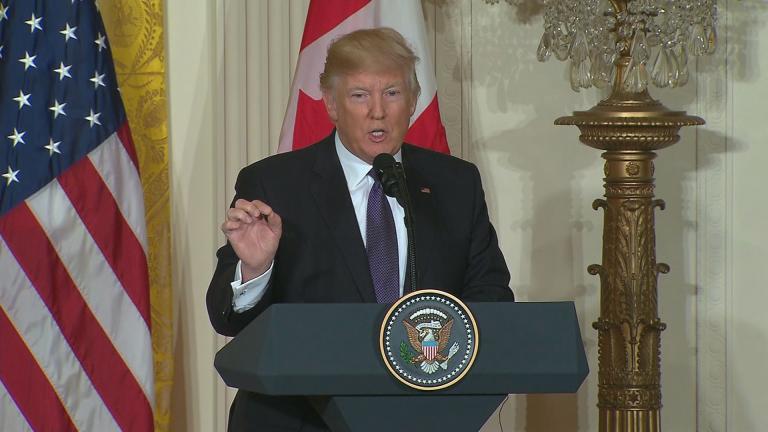 Immigration Under Trump: Raids and the Future of Executive Order
Feb. 13: What's been the impact of the immigration raids – and the travel ban – and what's next?
---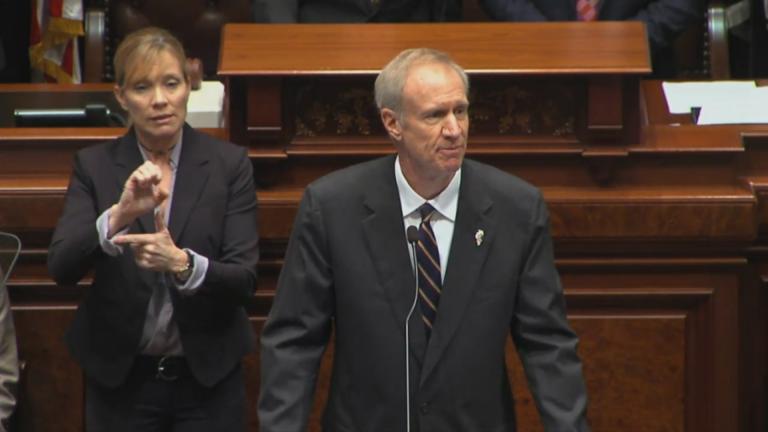 Rauner Calls Trump Immigration Ban 'Overly Broad,' 'Rash'
Feb. 10: Gov. Bruce Rauner on Friday criticized President Trump's executive order and discussed ongoing issues with Chicago Public Schools and education funding during an interview on WBEZ.
---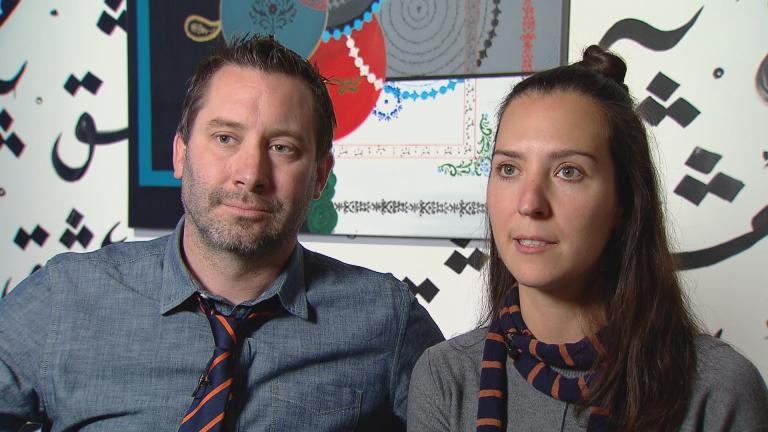 Iranian-Born Chicago Artist Reunites with Husband After Travel Ban
Feb. 9: After a week of fear and stress, an Iranian-born Chicago artist was finally able to return to the U.S. following a court ruling that put an injunction on the president's travel ban. Now she is sharing her story.
---