An Iranian-born Chicago artist got caught up in President Donald Trump's executive order on immigration when she was visiting family outside of the U.S.
After a week of fear and stress, she was able to return home, following a court ruling that put an injunction on the president's ban. But she says her experience has fundamentally altered her life and the lives of those around her. 
Now she and her American-born husband are telling their story. 

TRANSCRIPT
Paris Schutz: Sarvin Haghigi says her art is meant to promote a peaceful image of the Iranian and Muslim worlds. Her work and the walls of her Bridgeport Art gallery are covered with the Farsi word for love.
Sarvin Haghigi: By writing love over and over again, I tried to create this positive space and turn something negative into a positive.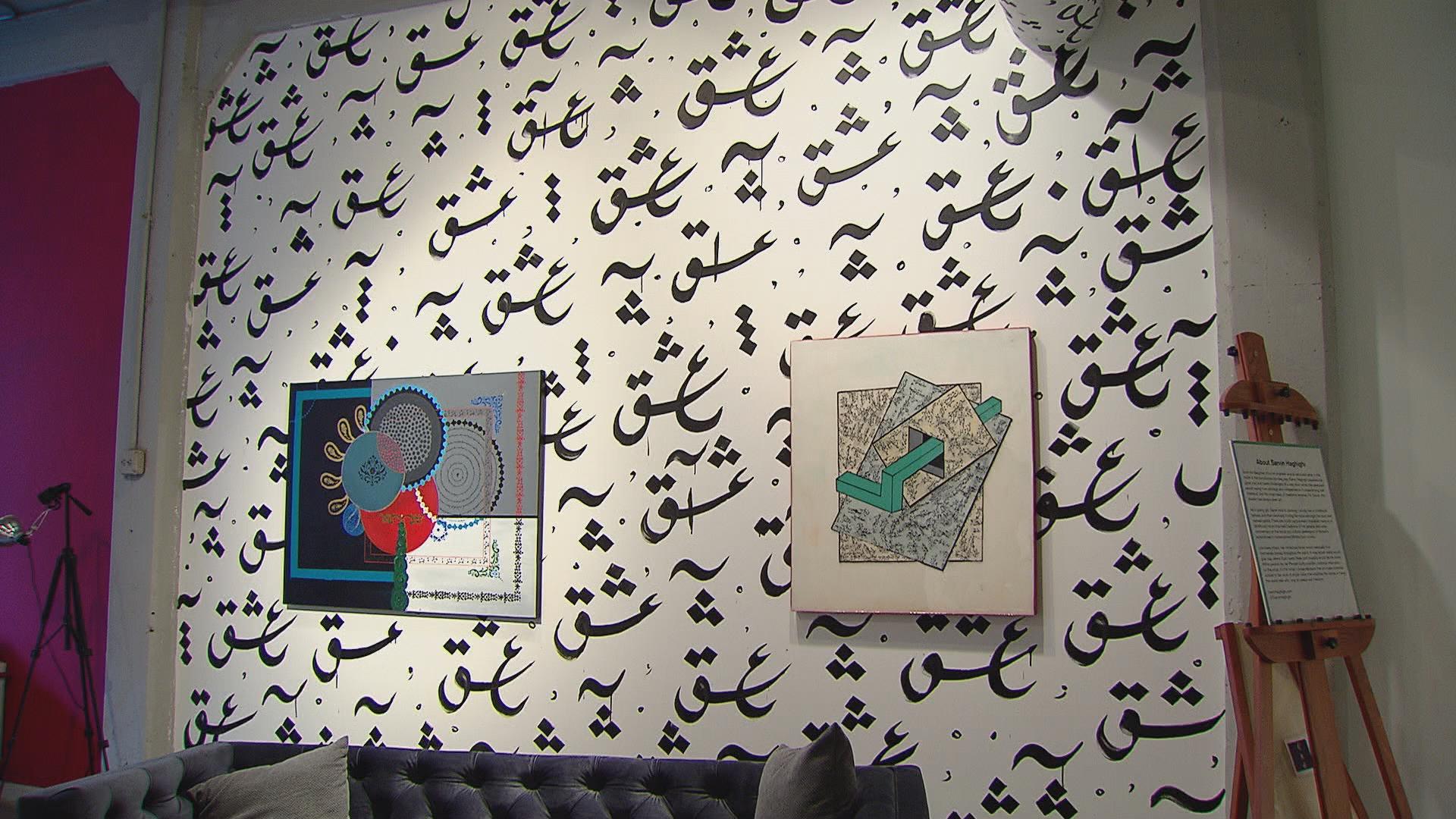 Schutz: But she says her faith has been tested by the executive order that put a 90-day ban on refugees and non-U.S. citizens coming from Iran and six other countries.
Haghigi: I feel very insulted because Iran and all of those countries that are included in the ban were not directly involved in any kind of terrorism toward the U.S.
Schutz: Haghigi grew up in Tehran, is married to a U.S. citizen and is a U.S. green card holder. She was in Australia last week visiting family and scheduled to fly back on the day the executive order was signed. She was advised to cancel her flight and stay in Australia. Haghigi's American-born husband, Andy Culley, says he was frantic and spent a week wondering if his wife would be let back in the country.
Andy Culley: I think the order came out Friday. We didn't get specificity on the order that it didn't include permanent residents until the following Thursday.
Schutz: The two say they considered the possibility they'd have to leave their lives in Chicago behind.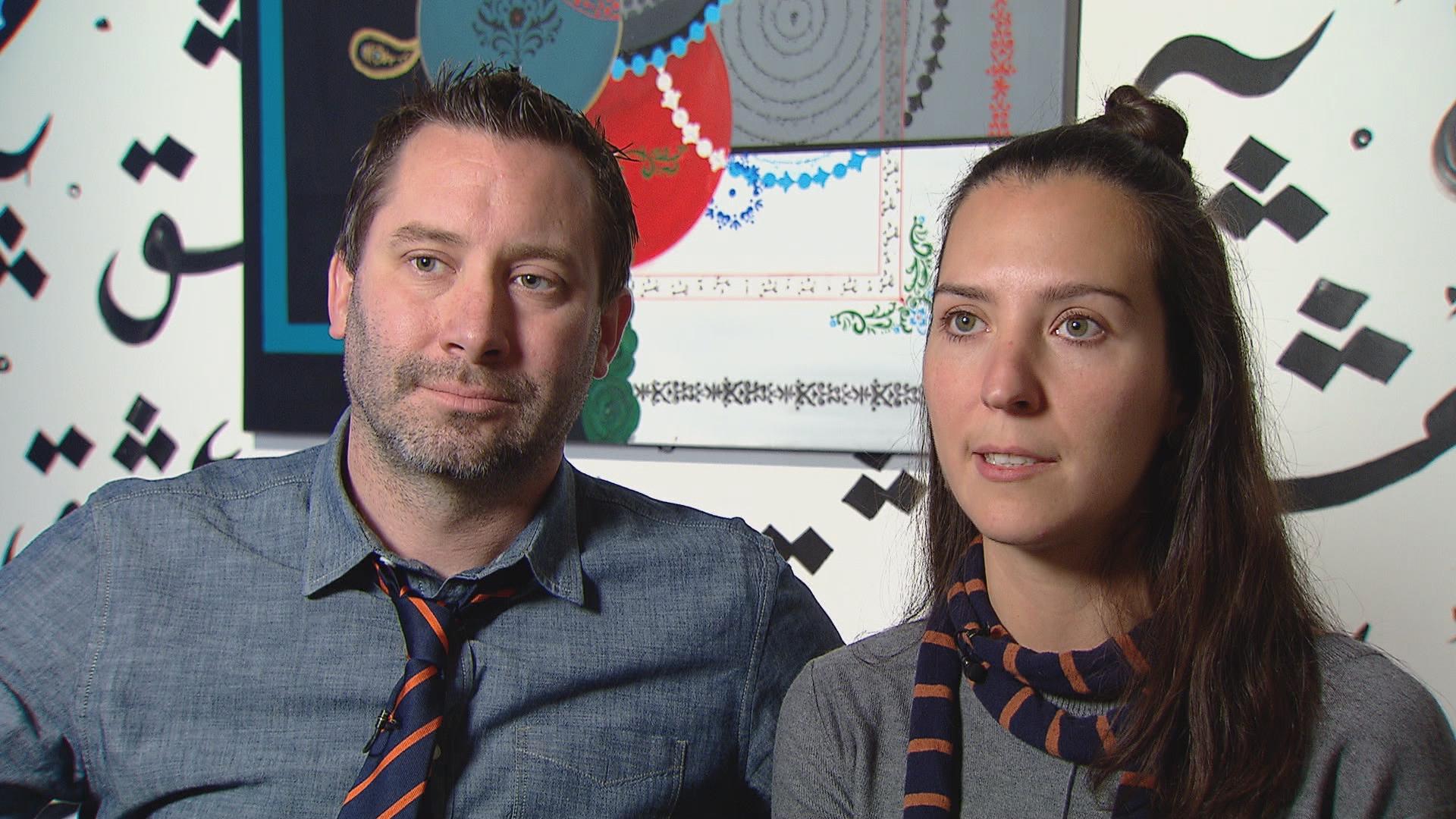 Haghigi: I was super worried, and I think, we were thinking of, if I cannot come back here, our plan B is just to go to Canada.
Schutz: But this Saturday, after the Washington state court ruling halting the ban, Haghigi decided to try her luck.
Haghigi: I'm gonna board in another three hours and come back home. Hopefully, I'll see you guys soon. Can't wait. I'm tired and I miss home.
Schutz: Haghighi and Culley first met climbing Mt. Kilimanjaro. Three and a half years ago, he persuaded her to move to Chicago to start a life together. They say they have both gone through an intense vetting process for her to get a green card and pursue citizenship.
Haghigi: Questioning and interviewing, and you have to provide a ton of documents to the point that I had to share our personal email exchange, travel details, even phone conversations – you name it.
Culley: They also have the right to come and knock on your door and check our closets to see if we still live together to say that we're not vetting properly and that these are dangerous people coming in and they're going to try and sneak in five or six days is ludicrous.
Schutz: Their current reunion, however, is bittersweet, as Haghigi says she fears leaving the country again.
Haghigi: It's heartbreaking. I don't know if I can go see my family. They're not allowed to come in. It's devastating.
Schutz: For now, Haghighi says it's back to work trying to promote a more hopeful message through her art in a time of great uncertainty.
Follow Paris Schutz on Twitter: @paschutz
---
Related stories: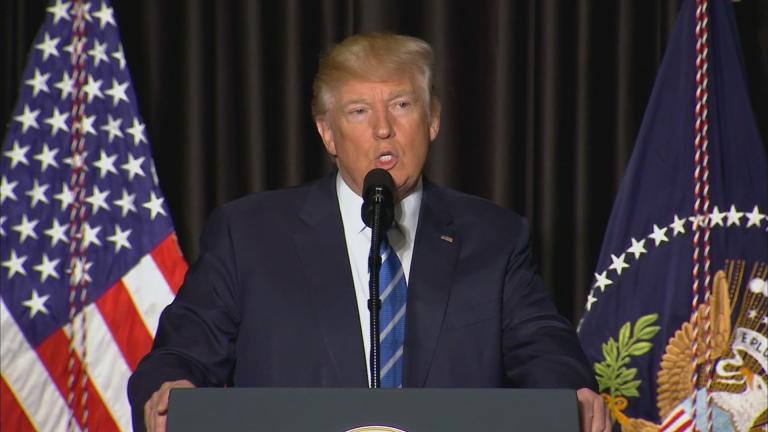 Next Steps in Case Against President's Immigration Ban
Feb. 8: How a federal appeals court could read the law on the president's immigration ban. 
---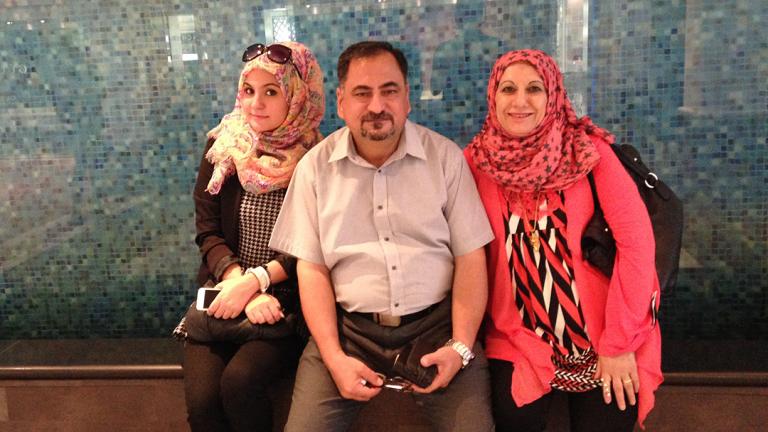 In Chicago, Iraqi Refugee Family Finds New Home, Support
Feb. 8: Among the last refugees to enter the U.S. before President Trump signed his executive order on immigration was the Al-Obaidi family from Iraq. Chicago Tonight went to meet the family and the Chicagoans who are welcoming them.
---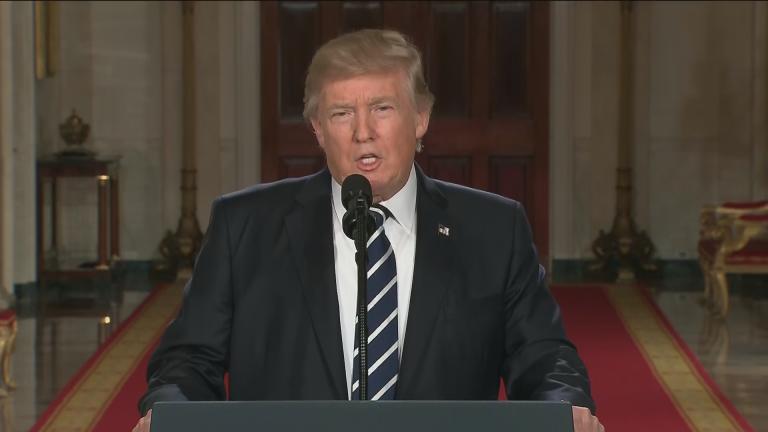 Appeals Court to Weigh In On Constitutionality of Trump Travel Ban
Feb. 6: President Trump's spokesman believes the travel ban is constitutional – a federal appeals court will weigh in on Tuesday.
---