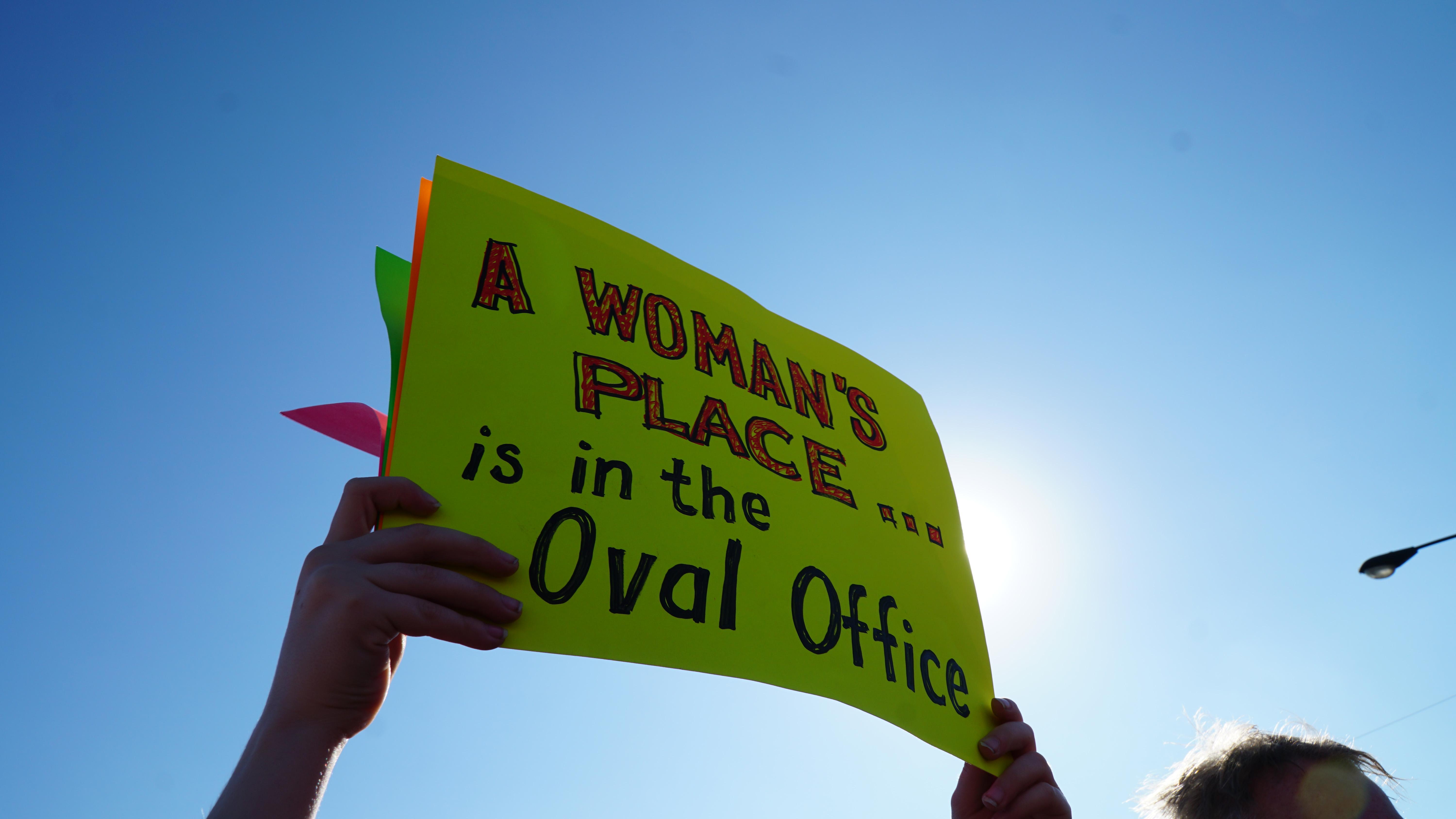 On Jan. 21, an estimated 250,000 demonstrators participated in the Women's March on Chicago. (Alexandra Silets / Chicago Tonight)
Wednesday marks the 106th International Women's Day. From a Chicago rally to a neighborhood restaurant crawl to stand-up comedy, there are plenty of ways to celebrate. Below, a sampling of events.
Learn about the history of International Women's Day.
Future is Female Festival Chicago
A themed showcase of future-looking work by women features three 10-minute play readings, plus stand-up and storytelling. Proceeds benefit Sarah's Circle. (Get tickets here.)
Details: 8-9:30 p.m. Tuesday at Bughouse Theater, 1901 W. Irving Park Rd. $10. | MAP 
Organizers behind the Women's March in Washington D.C. are calling on women to wear red on Wednesday as a show of solidarity. Other suggestions? Take the day off from paid and unpaid labor, and avoid shopping unless at small businesses or those that are women- or minority-owned.
Edgewater International Dinner Crawl
Get samples of international food at 16 Edgewater restaurants that are owned by women or have female chefs. The Shannon Rovers Irish Pipe Band welcomes guests at the beginning of the crawl; a portion of ticket sales benefit the GirlForward mentoring program.
Details: 4-7:30 p.m. Wednesday. Check in at the Edgewater Chamber of Commerce, 1210 W. Rosedale Ave. $35. | MAP
International Women's Day Celebration and Benefit
A fundraiser for Sarah's Circle, a nonprofit supporting women affected by homelessness, this event includes raffles and drink specials.
Details: 6:30 p.m. Tuesday at A.J. Hudson's, 3801 N. Ashland Ave. $10. | MAP
The digital startup community hub 1871 sponsors a day of panels, speeches and workshops. The day kicks off with "Resting Bold Face: Powerful Women Who Lead by Example" and wraps up with a keynote speech by Jessica Bennett, author of "Feminist Fight Club."
Details: 8 a.m.-8 p.m. Wednesday at 1871, 222 W. Merchandise Mart Plaza. Free, advance registration is recommended. | MAP
Chicago International Women's Day Rally
A host of community organizations and leaders are behind an indoor solidarity rally "to celebrate all those who have been leading the fight for women's rights and to play a part in building an all-inclusive women's rights movement!" Speakers include Liz Radford, one of the organizers of the Women's March on Chicago.  
Details: 7 p.m. Wednesday at Chicago Teachers Union Hall, 1901 W. Carroll Ave. | MAP
International Women's Day at Chicago Museums
The Ukrainian National Museum's "Celebrating Women of Courage" exhibition opens Friday in honor of National Women's History Month and features photography, paintings, short film and other media from more than 15 female artists who have "overcome extreme difficulties in their lives." 
The Haitian American Museum of Chicago and the Jane Addams Hull-House Museum co-host Gina Athena Ulysse, an artist-academic-activist who recently published "Because When God is Too Busy: Haiti, Me & the World." The free event at the Jane Addams Hull-House Museum takes place at 6 p.m. Friday. 
Casa Michoacan hosts the opening of "Creacion Representacion: Mujeres en las Artes Visuales." The Spanish-language event takes place at 6 p.m. Wednesday and delves into the topic of creative representations of women in the visual arts. 
Events listed are subject to change. We recommend double-checking times and locations before you head out the door.
---
Related stories: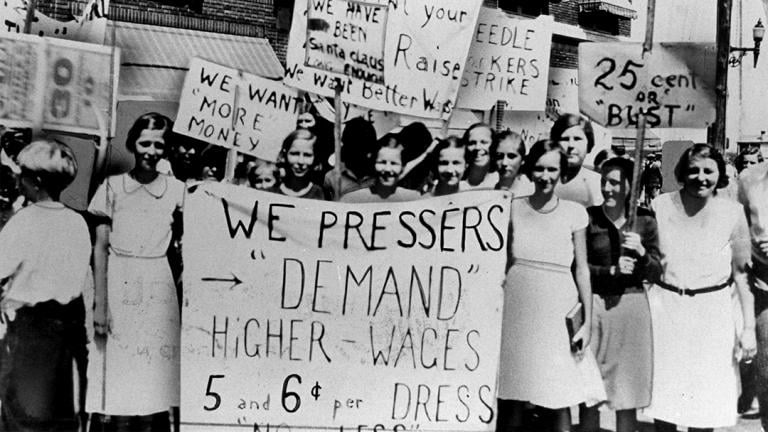 A Brief History of International Women's Day
March 7: Though the United Nations didn't designate March 8 International Women's Day until 1975, its origins trace back to 1909, according to the United Nations. Learn more.
---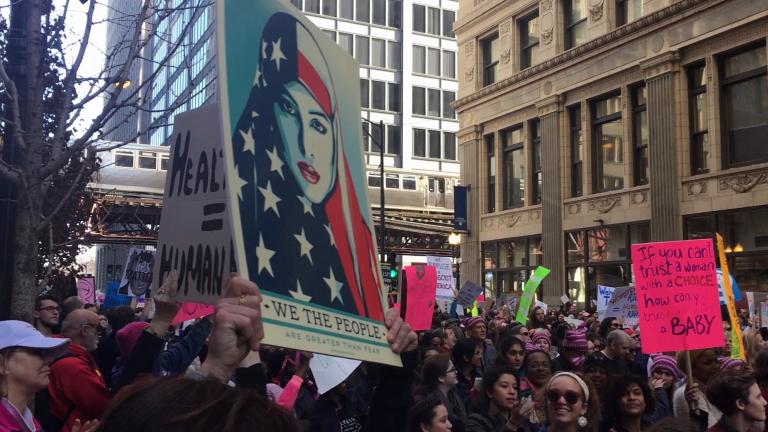 Organizers of Women's March on Chicago Expand Platform, Look Forward
March 2: Organizers of last month's Women's March on Chicago are hoping to channel the momentum of that event into action through information, education and advocacy.
---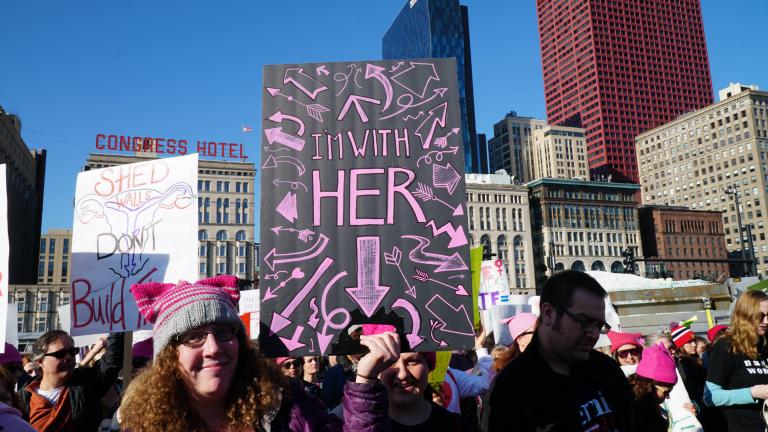 Photos: Personal, Political Messages at Women's March on Chicago
Jan. 23: Signs displaying personal messages on issues such as women's rights, democracy, health care and LGBTQ rights were carried by many in the crowd of thousands Saturday at the Women's March on Chicago. Take a look at what we spotted.
---