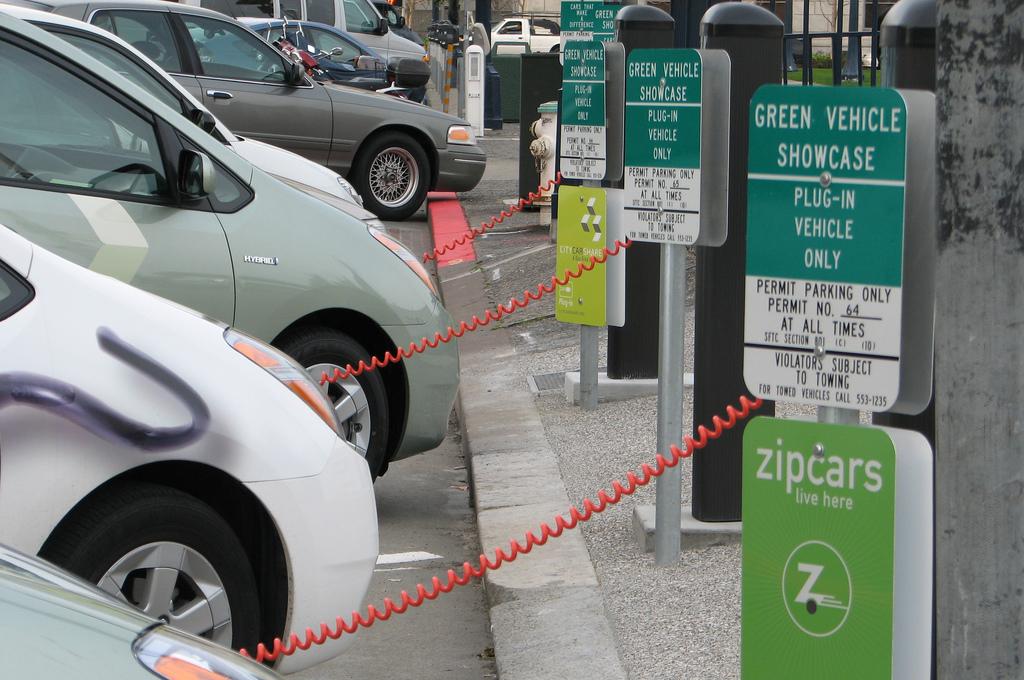 (Felix Kramer / Wikimedia)
Illinois set a high mark for electric vehicle sales in 2016, and Chicago hopes increased demand delivers a new batch of electric car charging stations throughout the region.
In February, the Chicago Department of Transportation hosted two webinars for those interested in opening fast-charging electric vehicle stations that would be available to the public in six northeastern Illinois counties (Cook, Will, DuPage, Kane, Lake and McHenry).
Through its federally funded Drive Clean Station program, Chicago is offering grant funding to cover up to 30 percent of equipment and installation costs for new direct current, or DC, fast-charging stations. Compared to residential-use stations that take overnight to fully charge vehicles, DC fast chargers supply a full charge in just 20 to 30 minutes.
Costs for fast-charging stations range from $80,000 to $100,000, said Tamara Dzubay of the Chicago-based Environmental Law & Policy Center.
Through July 31, CDOT is accepting grant applications from private, public and nonprofit entities that want to set up new fast chargers. Potential applicants could include rest stop operators, hotels and retail locations.
There are currently 34 fast-charging stations in northeastern Illinois, according to CDOT's Feb. 21 press release.
"CDOT and the administration of Mayor Rahm Emanuel strongly support sustainable transportation options, and we are pleased to be working with [nonprofit] CALSTART to increase the number of electric vehicle charging stations in the Chicago area," CDOT Commissioner Rebekah Scheinfeld said in the press release.
Last May, Chicago announced $1.4 million in Drive Clean grant money to fund a portion of startup costs for as many as 15 fast-charging stations, along with four compressed natural gas charging stations.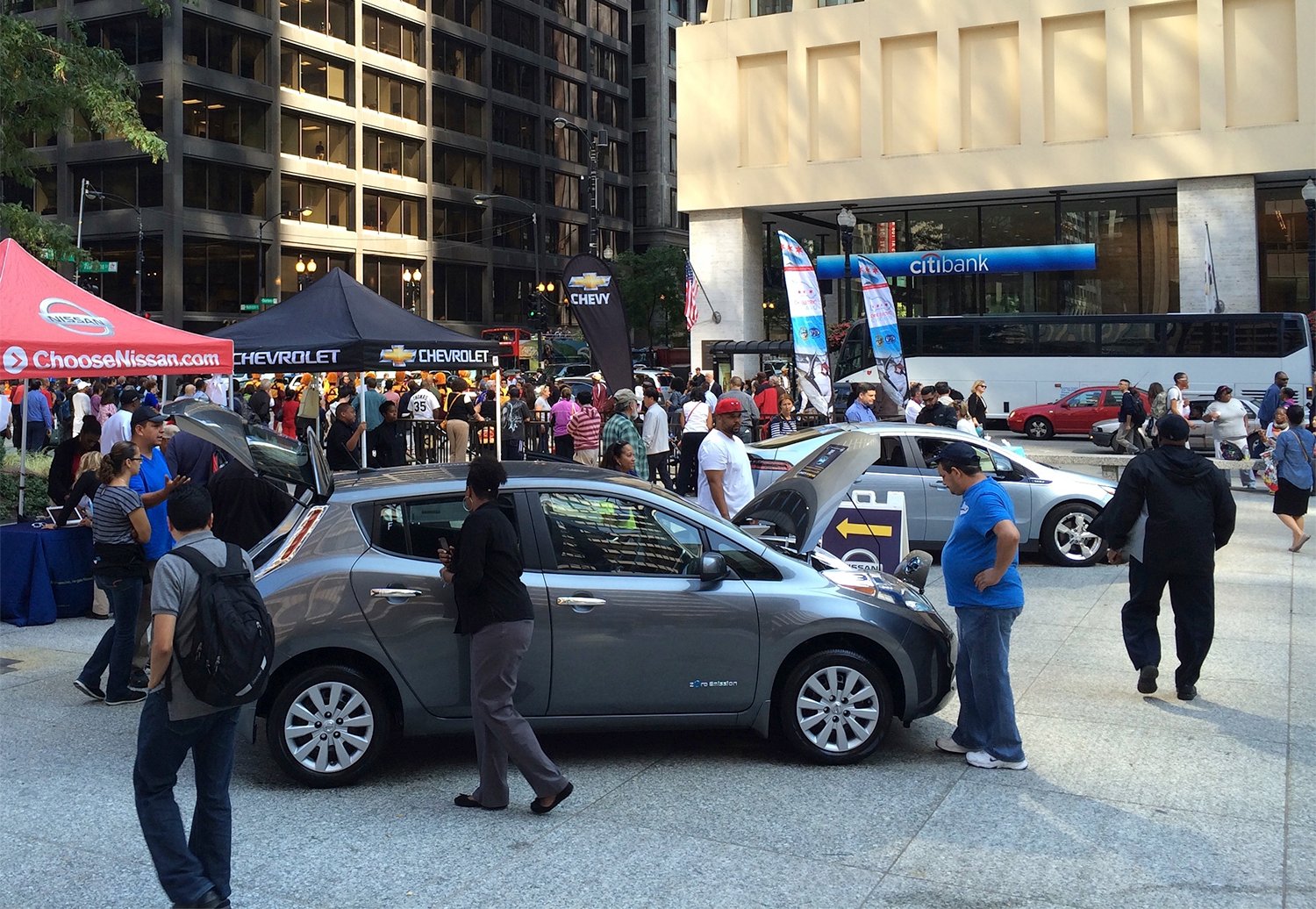 (Chicago Area Clean Cities)
Some of the $1.4 million went unused in the 2016, and the new round of grants is a continuation of last year's program, CDOT spokesperson Mike Claffey told Chicago Tonight.
Chicago has had mixed results with past efforts to support electric vehicle charging stations.
In 2010, the city became known as an early advocate for electric cars when it signed a contract with the company 350Green to install several hundred charging stations with $1.9 million in grants from the Department of Energy.
But by 2013, only some of the stations had been installed, and others did not work. Two of 350Green's former owners were later charged with fraud for falsely obtaining nearly $3 million in federal grants distributed by the city of Chicago and agencies in Pennsylvania and California, as reported by the Chicago Tribune.
Today, the city is hopeful that increased interest in electric vehicles statewide will help expand the region's infrastructure for electric cars, including a network of charging stations that prevents drivers from feeling "range anxiety," or the fear they won't make it to the next charger, Dzubay said.
"Chicago has a lot of fast chargers, but as the city points out there are gaps and needs for additional ones," said Dzubay, a clean energy and sustainable business specialist for ELPC, which runs the website PlugInChicagoMetro.org as a public resource on electric vehicles. "Anyone interested in electric vehicles might be worried that they would run out of charge before they reach a location."
Illinois electric vehicle sales from 2011 to 2016 (Alliance of Automobile Manufacturers) After a decrease in electric car sales in 2014 and 2015, Illinois set a state record for electric vehicle sales last year with 2,683, according to the Alliance of Automobile Manufacturers. The state's previous high was 2,534 in 2013.
According to AAM, Illinois ranks 10th among U.S. states in electric vehicle sales. California has the most with nearly 260,000 sales, more than double the amount of all other states combined.
Dzubay said interest in electric vehicles is increasing both regionally and nationwide, a claim supported by data from the federal Energy Information Administration, which projects a compound annual growth rate of almost 10 percent in 200-mile range electric vehicles from 2016 to 2050.
"As technology advances, vehicle range will increase, and that will decrease range anxiety," Dzubay said. "It's exciting that there are funding opportunities to increase fast chargers."
In addition to existing funding through the Drive Clean Station program, Dzubay said Illinois could receive more than $15 million for electric vehicle infrastructure as part of nearly $2.7 billion in environmental mitigation funding to be paid by German automaker Volkswagen as part of a settlement for cheating emission tests in the U.S. 
Follow Alex Ruppenthal on Twitter: @arupp
---
Related stories: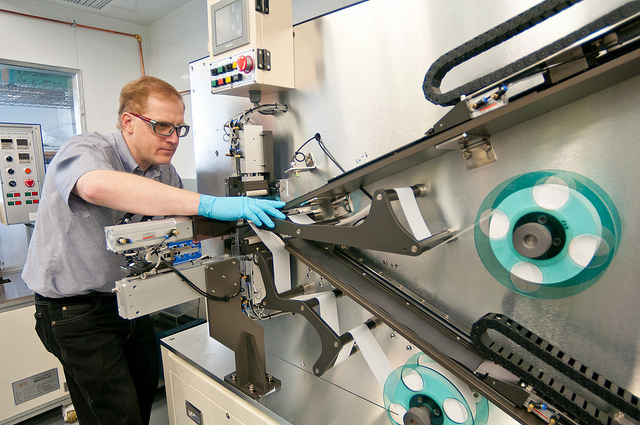 The International Race to Build a Breakthrough Battery
Feb. 26, 2015: Author Steve Levine had fly-on-the-wall access for two years to "the battery guys" at Argonne National Laboratory -- America's team in an international competition to build a battery that will change the world.
---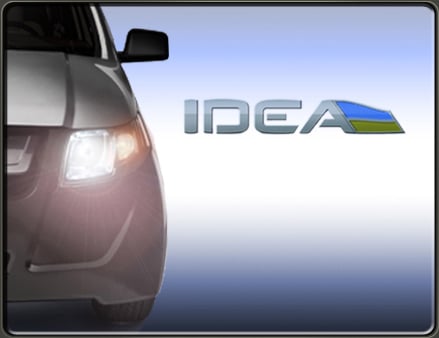 Bright Automotive
April 4, 2012: The electric vehicle industry has been touted as a way to reduce dependence on foreign oil, create jobs, and save the environment. But an Indiana company that promised a plug-in hybrid van with 100 miles to the gallon just closed its doors. Elizabeth Brackett tells us why.
---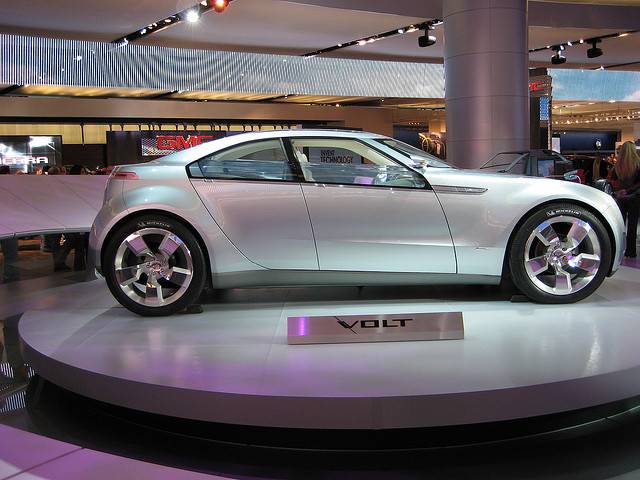 Electric Cars
Oct. 4, 2011: We take a look -- and go for a ride -- in what could be the future of transportation: hybrid electric and completely electric cars.
---