Five candidates are vying for the position of 4th Ward alderman in the Feb. 28 special election.
They include sitting Ald. Sophia King, attorney Ebony Lucas, activist and reverend Gregory Livingston, attorney Marcellus Moore and Gerald Scott McCarthy, an attorney and certified public accountant.
One year ago, Will Burns resigned as 4th Ward alderman to join the private sector.
Soon after, Mayor Rahm Emanuel filled that vacancy by appointing King, a former educator with ties to President Barack Obama.
In fact, Obama's endorsement of King on Jan. 30 was the former president's first political statement since leaving office. Livingston likened the endorsement to "cheating," according to a DNAinfo article.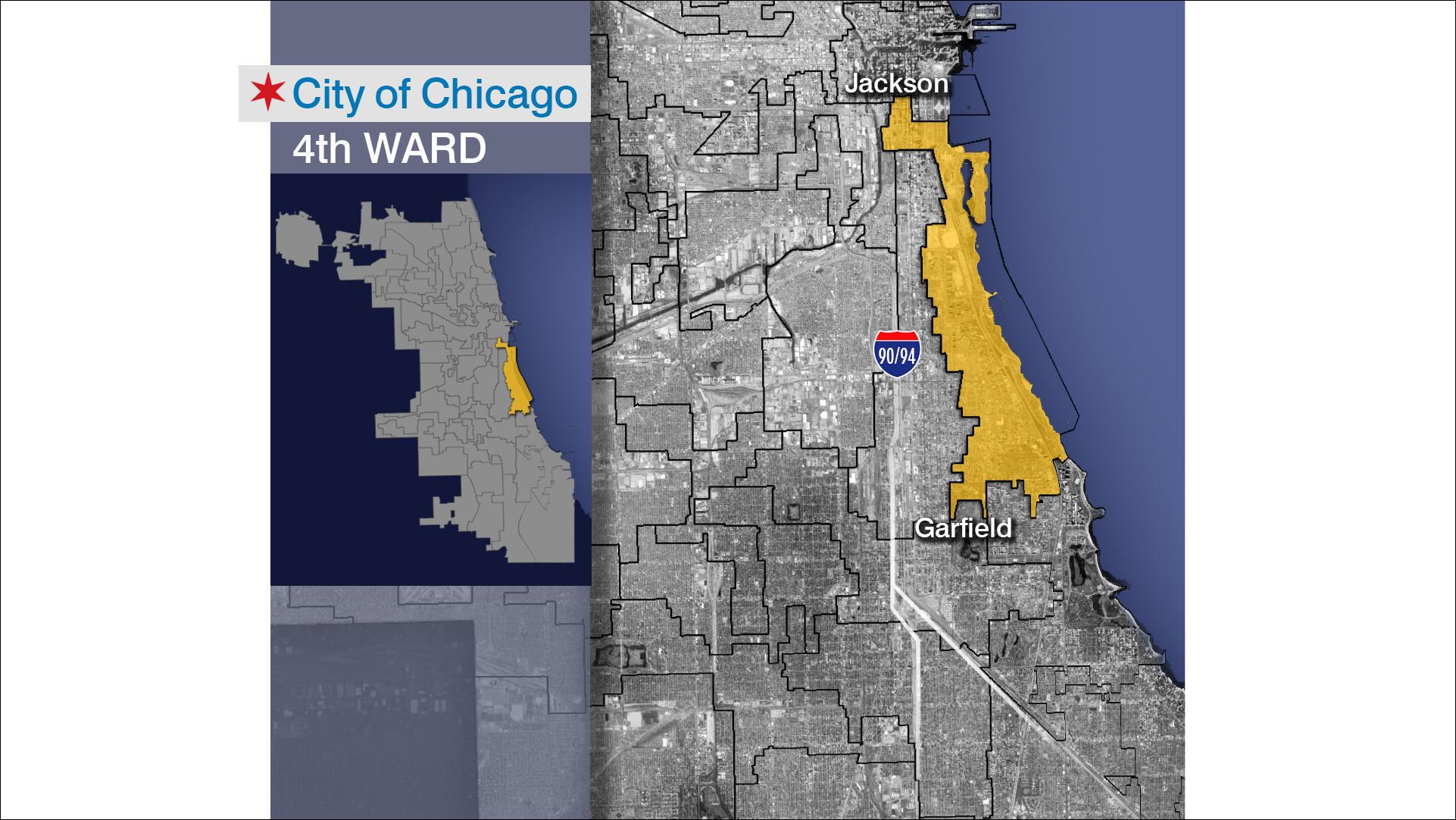 The 4th Ward encompasses parts of the South Loop, Bronzeville, Kenwood and Hyde Park neighborhoods.
It's a diverse community where some perceive economic disparities.
In his book "Chicago Politics, Ward by Ward," author David Fremon wrote that "no other ward has wealth and poverty in such proximity."
The five 4th Ward aldermanic candidates join us to discuss their platforms.
Below, edited Q&As with each candidate. Candidates appear in ballot order.
Jump to a candidate: Ebony Lucas | Marcellus Moore | Sophia King | Gregory Seal Livingston | Gerald Scott McCarthy

Why she's running for alderman:
I have been living in the Bronzeville community since 2008. I am an attorney. I have a real estate law firm on 47th and Greenwood in the ward. Before I was an attorney, I was a teacher and worked as a nonprofit fundraiser. My experience in education, working with nonprofits and learning how to be resourceful and being an attorney and learning how to be an advocate as well as learning a lot about the various city departments makes me highly qualified for the position of alderman of the 4th ward.
But most importantly, I'm a parent. I have four children that I'm raising in the community with my husband and I'm passionate about bringing improvement to our schools, creating affordable housing, creating jobs and bringing more amenities to our community to make it a better place to live for my kids and the future of the community in general.
What issue she wants to tackle:
I think the most specific issue that I want to tackle is education and making sure that our schools are receiving proper and appropriate funding. Making sure that funds for our schools are not taken out and used for TIF programs or any other programs. Because when we look at the violence in Chicago – and last week we saw three young children who were murdered. They were murdered by another child: a 19-year-old boy. That is a failure, to me, of our educational system. It shows that we're missing the boat somewhere. When we cut school budgets, cut special ed, cut mental health services, cut music and art and programs that really go to teach our children and develop them socially and emotionally, as well as academically, then we fail them.
It's not always the issue of violence. But it's the issues of job creation. When jobs are created in our community and when there are opportunities in our community – whether or not people qualify for those. People have to be educated and prepared for life.
How she'd rate Mayor Rahm Emanuel job's performance:
I think there is a lack of priority placed on our schools and preservation of the public school system. The fact of the matter is not all parents can afford private school. Not all parents are resourceful enough or have the time to do the type of research that someone who is more affluent or who has more support systems can do. We have to make sure that we're providing services equitably throughout our entire city. And right now, services are not provided equitably. Even in the 4th ward: you see an abundance of development in Hyde Park and then you see Bronzeville, Cottage Grove and 31st through 47th streets completely neglected. And that's not just a function of Rahm Emanuel. It's a function of the previous aldermen that we've had. They haven't done very well in addressing the needs in our community.

Why he's running for alderman:
I'm the only candidate that was born in the ward, went to nursery school in the ward, learned how to write their bike in the ward and I've returned after going to Morehouse, where I was a fourth-generation graduate. I believe I'm the only candidate that's lived in the South Loop part of the ward. I've also lived in Prairie Shores and my current Bronzeville home.
I have three children that I'm currently raising – they have all been in or are the products of Chicago Public School systems. Well before this race started, I've continued to be active in the community. I'm currently on two local school counsels. I've run the local little league for the last decade.
I've just been committed to and had a vested interest in this community for certainly my adult life and, again, have had a tie to it for my entire life. In the spirit of giving back and service, I've always felt that the alderman role in this community fits my skill set both professionally and civically. So, I think that's what stands me out from the other candidates. I'm standing here, completely on my own merit without any significant political relationships, without having a number of businesses or properties owned in the ward, but purely for the love that I've had and shown to the community for years.
What issue he wants to tackle:
My first priority is violence. It's kind of two-fold: there's the actual violence that the people who live in the ward know. As many of us know, there's been shootings in the South Loop part of the ward as well as blocks from President Obama's home in the ward. There's violence throughout the ward and the people who live in the community have to deal with it on an actual daily basis.
Then when we start talking about things like economic development and growth, the perceived violence not just specific to our community, but in the South Side, is a deterrent to some businesses and families and people who are looking to come into the community. Just because of the perception. We have to address that, in my mind, before we can get to a point where people will feel comfortable moving to the community, sending their kids to school in the community and where businesses will look to come to the community.
I think there's great opportunity. I think this is the greatest ward in Chicago. We have the most lakefront than any ward in Chicago. But there are things that cause people to not want come here and live here. Those of us who live here know how great it is, but we have to get that message out and make sure that it continues to be a community that we're all safe in.
How he'd rate Mayor Rahm Emanuel job's performance:
There are things with Rahm that I think he's done well and there are certainly things that I think he's not done well. There are big issues that we're all aware of that he's not handled well. But the fact of the matter is, whether people like Rahm or not, he was elected. It's similar to what I'm asking now: if people are tired of what's going on in City Hall and if people are tired of politics as usual in the city, then they need to be looking to candidates that don't necessarily have those connections. I'm not on the platform of complete anti-Rahm, but I'm not on the platform of being a supporter. I completely intend to be independent and as alderman I intend to serve the best interests of the people of the ward and not those of any particular person or entity.

Why she's running for alderman:
I've been working in the community for almost 30 years now. I helped start a neighborhood school, I served on the park advisory council for eight years and I helped start a couple nonprofits – one for gun violence prevention and another with a mission to increase employment and wealth in the African-American community. So I just see it as an extension of what I've already been doing in the community. I really just want to use the tools of the aldermanic position along with collaborative skills and relationships I've built over the years to bring more resources to the 4th Ward.
What issue she wants to tackle:
I'm taking a comprehensive approach to looking at safety. By that, I mean looking at direct approaches, like better community policing and hiring of more diverse groups of officers. But we also need to look at some systemic issues that have gotten us to this place. Like good neighborhood schools – we need to make sure that our kids, who are the neediest, have the resources that they need for afterschool programs, for curriculum and co-curricular programs and making sure there are jobs in the community.
I've been paying attention to some of those details. Like every development that comes into the community, I make sure that they're hiring locally. I've been working with neighborhood schools to make sure that they have the appropriate resources. As an educator, I know how important it is to have resources brought to your school.
These are the kids that are the neediest in terms of resources and they don't have the type of engagement that you'd expect for our kids to have. So youth engagement and jobs are comprehensive approaches to this issue of safety.
How she'd rate Mayor Rahm Emanuel job's performance:
It's hard to say. What I'm concerned about is the job I'm doing as alderman and making sure that I'm bringing resources to the community. I know that public office is a very hard thing to do and I applaud anyone that gets into public office for the right reasons and is doing things – especially to help those who are the neediest. I'm really concerned about my job rating and how I'm bringing those types of services to the community and how I'm bettering the community. That's really what I'm concerned about.

Why he's running for alderman:
This is a continuation of the work that I've always done here in the city – whether it's pastoring, public advocacy or civil rights. Some of the things I've done recently have been catalyzed by the Laquan McDonald situation. "Rolling Stone" magazine wrote an article about me entitled "Meet the Man Trying to Take Down Rahm Emanuel." We've been working on a "recall Rahm" bill because we felt the cover-up of this was something that was quite egregious towards the entire city.
When Will Burns resigned, some friends of mine said, 'You've always been working from the outside in, why not try to work from the inside out and try to work for justice in that regard?' That's really how we got involved in terms of running for alderman.
What issue he wants to tackle:
The predominant issue is violence here in Chicago. We have one person being shot every two hours, one person being murdered every 11 hours – that's 12 attempted murders a day and two murders a day. There are families that exist in the 4th Ward of course that have not experienced urban violence. Some of them may not even understand the necessity of urgent work in terms of anti-violence.
But we don't need to wait until they do experience it for them to understand that we need to do something about [violence] in a holistic manner ward-wide and citywide.
How he'd rate Mayor Rahm Emanuel job's performance:
I think Rahm is doing a horrible job. I think that Rahm belongs in Washington, D.C. as a power broker because he doesn't have the skill set to govern the challenges of disadvantaged folk. The elite don't need governing so much as they need to be networked and connected. He's a power broker.
The reason I say that is here's a man that brags about phasing out health care for city retirees. This is someone who had massive school closings – the largest in American history. When these 50 schools are closed, it's costing a million dollars a day to maintain these schools. So here is money that we're wasting to maintain closed schools – especially when it first happened. Almost $400 million that could've been used for anti-violence programs or resources in blighted areas.
In terms of how I'd work with him? That's pretty simple: politics makes strange bedfellows and Rahm Emanuel is a very practical, pragmatic man – there's no emotion involved here. The 4th Ward is a lakefront ward – we have something that he wants engagement with. We leverage that, because again – it's not about emotion, it's about his pragmatism and seeing what this ward has to offer, which is an awful lot. And so, that makes it very easy for us to say, 'Hey, look, let's talk.' And that would be a great reality show, he and I sitting across from each other. That should be interesting.

Why he's running for alderman:
I guess the best way I can say it, is to be an advocate for the people I think are people ignored: the innocent youth being killed in the streets, the under-manned, under-staffed police officers, the seniors who have to choose between groceries and electric bills, the parents who have to get up an extra hour or 90 minutes early to take their children to schools outside the district. I guess I'm running to be an advocate for the people who I feel are being ignored.
What issue he wants to tackle:
I think what I want to do is create a spirit of selflessness. I think we have to understand that, if we're going to solve the ills that affect our city, we have to be in this together. We need to start acting as a community and put people first. I like to say invest in people. With that in mind, we can build a better city.
How he'd rate Mayor Rahm Emanuel job's performance:
I'd give him a D. I don't think his government is inclusive. He gets portrayed, and probably rightfully so, as a tyrant – "it's my way or the highway." You can't govern like that. You have to be inclusive. Some of my best decisions are made with a dialogue with people who share similar concerns. I say this a lot: my platform was developed, not just by me, but by listening to people. I think that made me a better leader. I know it made me a better resident of the 4th ward.
---
Related stories: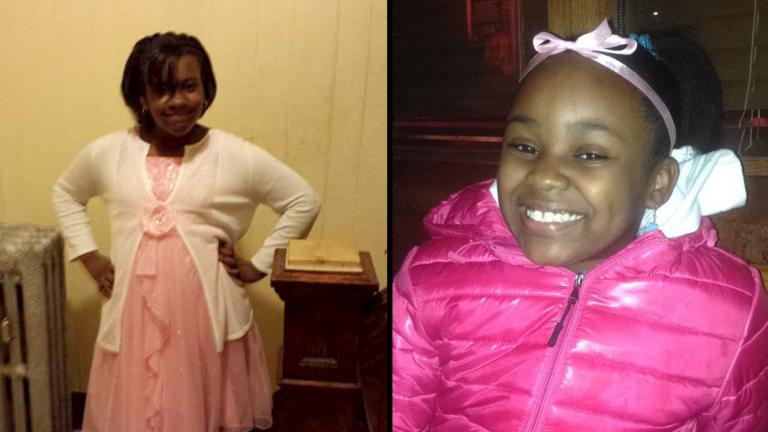 Two Young Girls Shot by Stray Bullets on Chicago's South Side
Feb. 14: In another disturbing chapter of Chicago's gun violence epidemic, two young girls were shot in the head within 30 minutes of each other Saturday night on the South Side.
---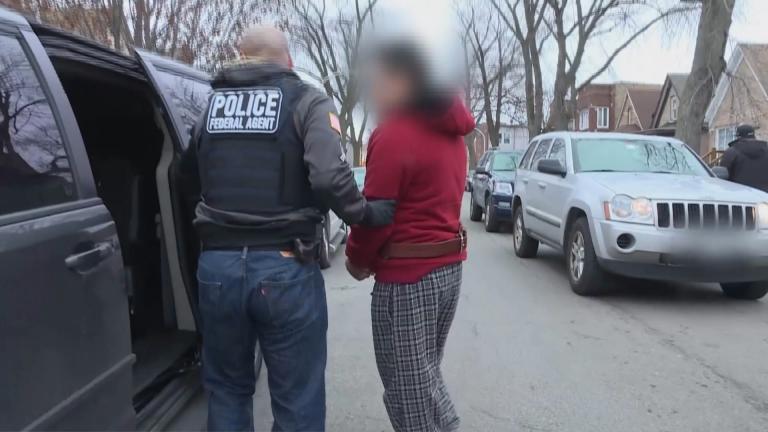 Immigration Raid Has Chicago Businesses, Residents on Edge
Feb. 13: The crackdown on undocumented immigrants has some Chicago residents on edge, while business leaders say it's impacting the local economy.
---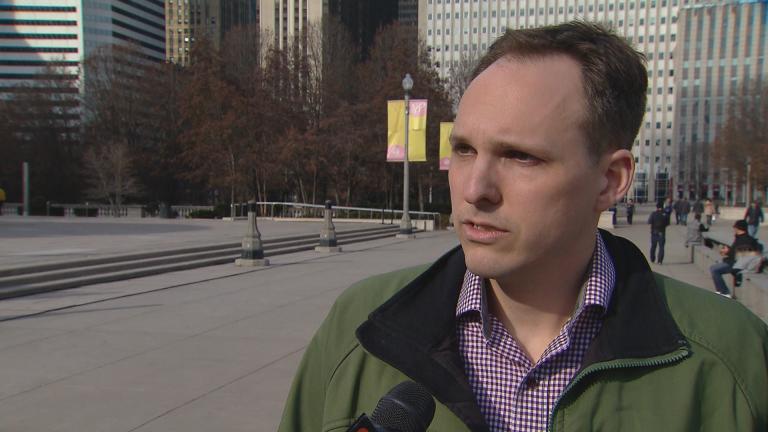 Left Wing 'Tea Party' Growing in Chicago
Feb. 6: Behind the new movement called Indivisible that has bubbled up in Chicago and around the nation in response to the election of Donald Trump.
---