Artistic collaboration is in the spotlight at the Museum of Contemporary Art Chicago.
The MCA joined forces with the Walker Art Center in Minneapolis for a dual exhibition about an artist of dance who worked with celebrated artists of other disciplines.
Get a behind-the-scenes look at "Merce Cunningham: Common Time," on display through April 30 at the Museum of Contemporary Art. 
TRANSCRIPT
Jay Shefsky: At the opening of the Merce Cunningham show at the MCA, there was a demonstration of dance.
Paige Caldarella, Merce Cunningham dancer (2000-2004): A lot of the choreography is very difficult just mentally and physically. For me, some of the beauty is when you see those imperfections of the dancer wobbling slightly to then re-group.
Because, I think it shows a little bit of the effort behind the work and then just shows the sense of balance and ease that they can find their way back.
Shefsky: Merce Cunningham's dances were famously tough on the dancers.
The choreographer and dancer partnered with many renowned artists of his era, including the musician John Cage, and the visual artists Robert Rauschenberg, Frank Stella and Andy Warhol.
The exhibition explores the music, scenic décor, costumes and independent artworks that complemented Cunningham's unorthodox choreography.
Lynne Warren, curator at MCA Chicago: Merce was way ahead of the curve, and that's one of the reasons why we wanted to do the show here.
Merce Cunningham and his partner John Cage, in the area of music innovation, they definitely were models for how so much has evolved  including engagement, reaching new audiences, bringing people together who might not have ever come together. The different forms like dance, music and art, but within the arts themselves, like sculpture and painting and technology.
Shefsky: The exhibition is itself a collaboration between the MCA and the Walker Art Center in Minneapolis.
Olga Viso, executive director at the Walker Art Center: The MCA Chicago and the Walker Art Center are very much sister institutions that have parallel histories, and we're multi-disciplinary art centers so we, we're more than museums; we've always had a commitment to artists who really blur the boundaries between dance, music, visual arts and cinema.
The Walker acquired the Merce Cunningham dance archive, which is 4,000 objects, so we could fill the whole MCA, we could fill the Walker, many times over. So in order to really do justice to presenting the work of Merce Cunningham we felt we needed to do an expansive survey that could be in both our institutions and could happen in common time.
Shefsky: Merce Cunningham died in 2009 at age 90, after dedicating seven decades of his life to artistic expression.
Caldarella: Merce was always in the studio, making new work, he still taught company class well into his 80s, and his classes were pretty difficult. But he was so kind outside of the studio and very quiet in the studio, and he always sat in the back of the studio with his stopwatch timing us.
Warren: Merce Cunningham is extremely well known in the dance and choreography world but he isn't as well known outside of that world, including within the visual arts world, so it's really important and amazing for us to be able to present him to our audiences to learn about this extremely creative man who was a visionary in his field.
Viso: It's really a show that immerses you in a fully sensory experience where it brings the dance alive.
---
Related stories: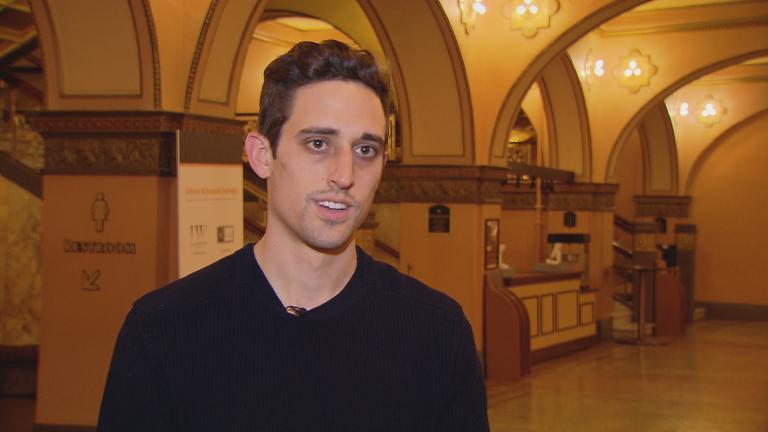 Hot Young Choreographer Shakes Things up at Joffrey Ballet
Feb. 16: The Joffrey Ballet recently reimagined Tchaikovsky's "Nutcracker"– and the company is now moving to the pulse of popular music.
---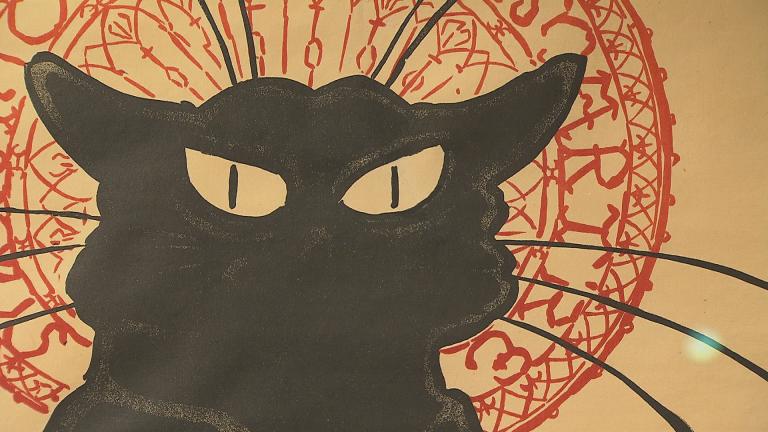 'Passion for French Posters' on Display at Driehaus Museum
Feb. 13: When fine art and advertising joined forces: We check out a new exhibition of posters from late 19th century France.
---
2017 Kicks Off Years of Free Entry to Art Institute for Chicago Teens
Dec. 30: Beginning Monday, city residents under the age of 18 will no longer be required to pay the $14 admission fee at the museum in Grant Park thanks to a gift from a pair of Kansas donors.
---