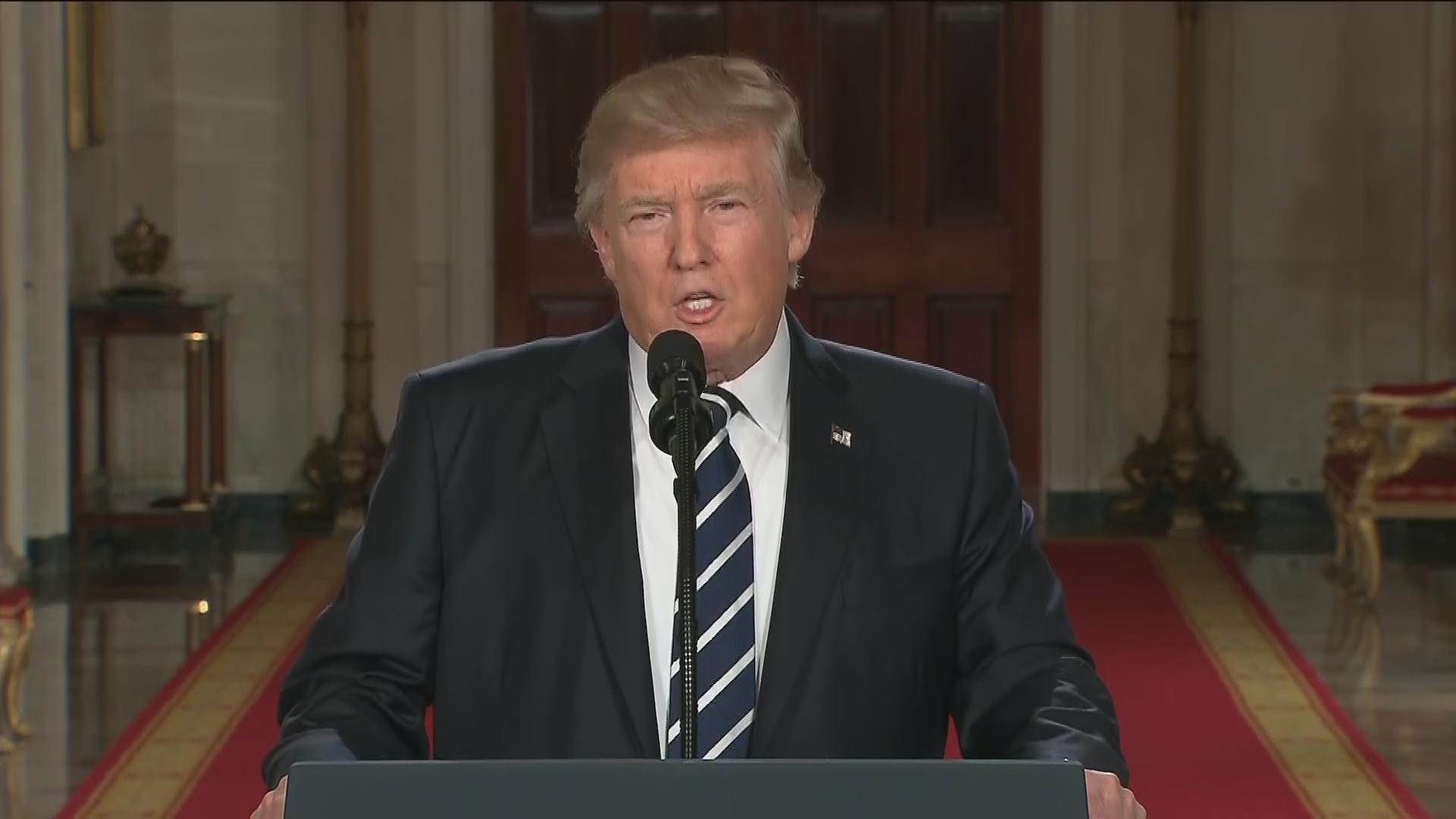 Monday, Feb. 20, marks the national holiday Presidents Day (officially known as Washington's Birthday). While the holiday honors America's presidents, thousands in Chicago are expected to use the occasion as an opportunity to protest the current administration.
"We're not on this day honoring the current administration," said Laura Hartman, who is the co-coordinator of the Not My President's Day rally in Chicago. "What we do want to honor, wish to honor, is the decisions of prior presidents and the dignity and principles we do value."
The rally is scheduled for Feb. 20 from noon to 4 p.m. on the southeast corner of Wacker Drive and Wabash Avenue – directly across from Trump Tower. The downtown rally is one of dozens planned across the country that day.
Despite the rally's moniker, organizers say they recognize Donald Trump is president.
"Donald Trump was elected president and we under no circumstances are claiming that he is not our president," Hartman said.
"We don't want this to be any type of attack on personality," added rally co-coordinator Lindsey Andersen. "It's a protest of policy."
Trump's travel ban will be a focal point of the nonpartisan rally, according to organizers.
"We are a sanctuary city and we're not going to stand by idly and watch discrimination and degradation of individuals and causes that are vital to our values of human beings," Andersen said.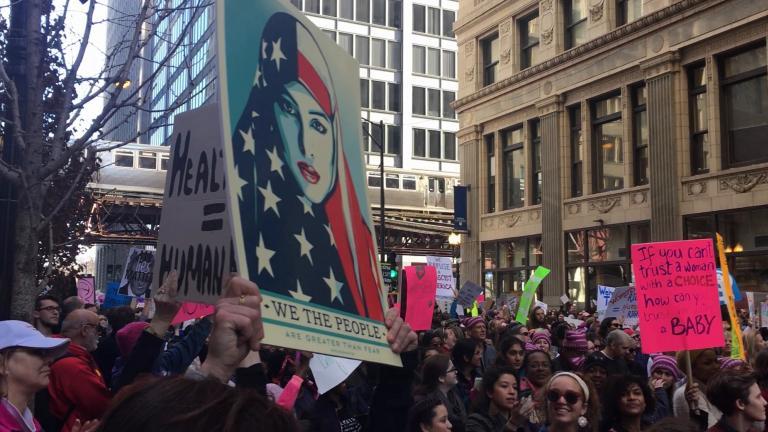 Chants of "this is what democracy looks like" echoed through downtown streets Jan. 21 as an estimated 250,000 individuals joined the Women's March on Chicago. (Maya Miller / Chicago Tonight)
The rally will also be used to give voice to other issues highlighted by the presidential campaign and the administration's first weeks in office, including environmental issues and LGBTQIA rights.
"The overarching principle is unity and what we see this administration trying to do is to divide, and so we want to embrace instead," said Hartman. "We're in favor of equal rights for all human beings."
More than 3,000 have said they plan to attend the rally and another 16,000 have expressed interest in the event, according to the rally's Facebook page.
As for those planning on attending, "keep in mind this is really a chance to speak up and call out the actions of the administration and give voice to the fact that we're not going to stand for this," Andersen said. "We don't find this acceptable and this needs to change.
"We will not be silenced and we will continue our pursuit of dignity for all of those who have been affected or will be affected in the future until things change."
Organizers are planning for an all-ages, peaceful protest and have notified the Chicago Police Department and Department of Transportation of the upcoming event. Legal observers from the National Lawyers Guild will be present during the rally, according to Hartman.
The American Civil Liberties Union of Illinois, American Federation of Government Employees, LetsStopAids and NoDAPL are also partnering with organizers for the event.
Participants interested in speaking at the rally can submit their information to organizers along with what they intend to say.
Ahead of next week's rally organizers will host a poster making session on Saturday, Feb. 18. For more information about that and the rally, visit the group's Facebook page.
Follow Kristen Thometz on Twitter: @kristenthometz
---
Related stories: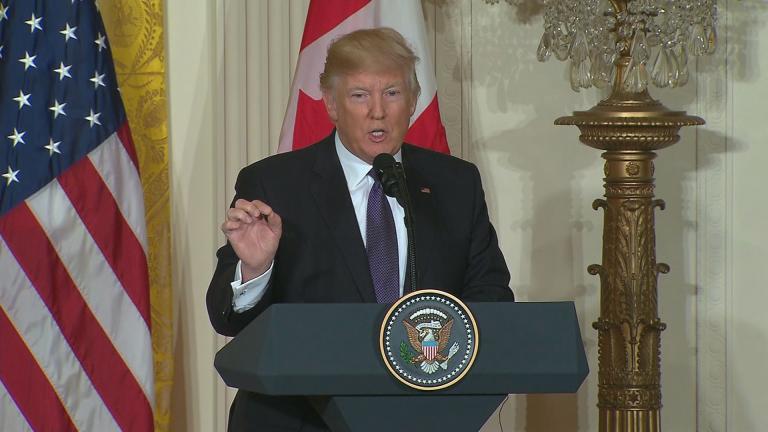 Immigration Under Trump: Raids and the Future of Executive Order
Feb. 13: What's been the impact of the immigration raids – and the travel ban – and what's next?
---
EPA Staff Rally in Chicago, Protest Trump's Nomination to Head Agency
Feb. 7: Several dozen employees based in the Environmental Protection Agency's Chicago office joined a downtown rally to protest President Donald Trump's nomination to lead the agency.
---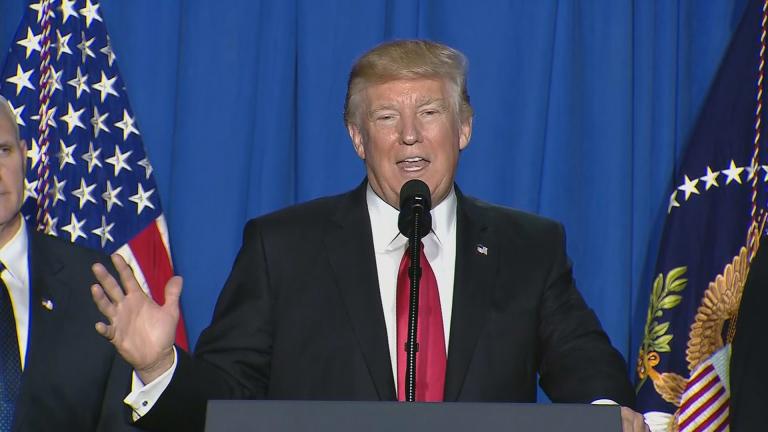 Women's March Inspires Trump Taxes March Chicago
Jan. 26: Thousands have expressed interest in a march urging Donald Trump to release his tax returns. "We want to see your taxes, Mr. President," said organizer Taran Brar.
---