For the third straight day, a group of volunteer attorneys set up shop right outside the arrivals gate at Terminal 5 of O'Hare International Airport to offer assistance to anyone detained.
They say the day has been marked once again by confusion from Customs and Border Patrol officials who are unclear on how exactly to interpret the latest iteration of President Donald Trump's executive order, and how the federal court injunction applies.
READ: Refugees, Visa and Green Card Holders Detained, Turned Away at O'Hare
The attorneys say they believe all green card holders from those seven affected countries are eventually being let in after extra processing. This follows massive confusion over the weekend, when green card and visa holders were detained for hours until the court ruling came down. It has prompted Democratic senators Tammy Duckworth and Dick Durbin to call for an investigation into how the executive order was rolled out.
"The chaotic execution of this raises serious concerns in regard to whether taxpayer dollars were efficiently and effectively spent, rather than wasted on unwarranted and unjust detentions of lawful permanent residents (LPRs) and others who posed no security threat, and who had already been authorized by the United States Government to enter our country," Duckworth and Durbin wrote in a joint statement. "We are deeply concerned by [Customs and Border Protection's] failure to respond to time-sensitive Congressional oversight inquiries and allegations that the agency refused to permit attorneys to meet with detained LPRs at O'Hare and other airports across the country."
Meanwhile, area Republican congressmen approved of the move to vet visa and refugee screening programs, but were wary of the way the order was rolled out.
"Unfortunately, the President's executive order is overly broad and its interpretation has been inconsistent and confused. This has led to unintended consequences, like the barring of legal permanent residents and the rejection of Syrian Christians at the airport," said U.S. Rep. Randy Hultgren (R-IL) in a statement.
Echoing that, U.S. Rep. Adam Kinzinger (R-IL) added that "reports of green card holders and those who assisted us in the war on terror being denied or delayed entry is deeply concerning. Such detention is unacceptable and must be remedied immediately."
Follow Paris Schutz on Twitter: @paschutz
---
Related stories: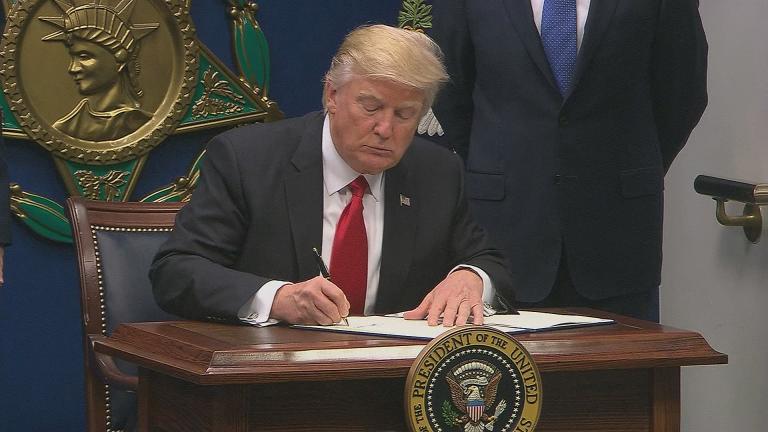 Does Trump's Travel Ban Make Americans Less Safe?
Jan. 30: The White House pushes back against criticism of President Donald Trump's travel ban. Is the executive order a big setback for counterterrorism efforts?
---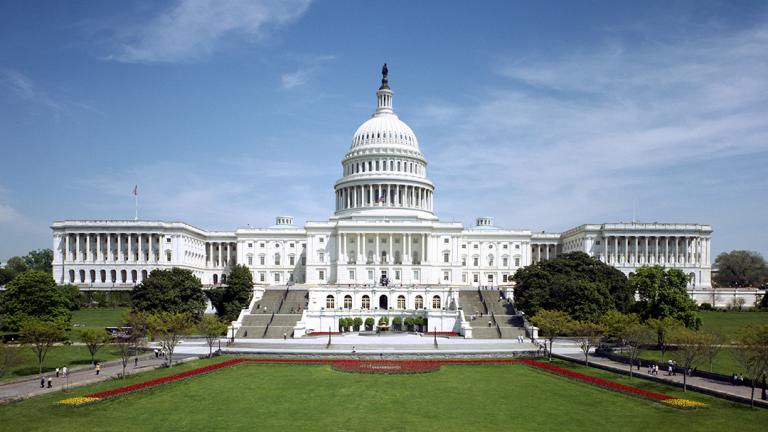 Illinois' US Senators, Reps. Respond to Trump's Executive Order on Refugees
Jan. 30: A majority of Illinois' congressional members have issued statements about President Donald Trump's executive order temporarily banning immigrants from seven predominately Muslim countries. Find out what they have to say.
---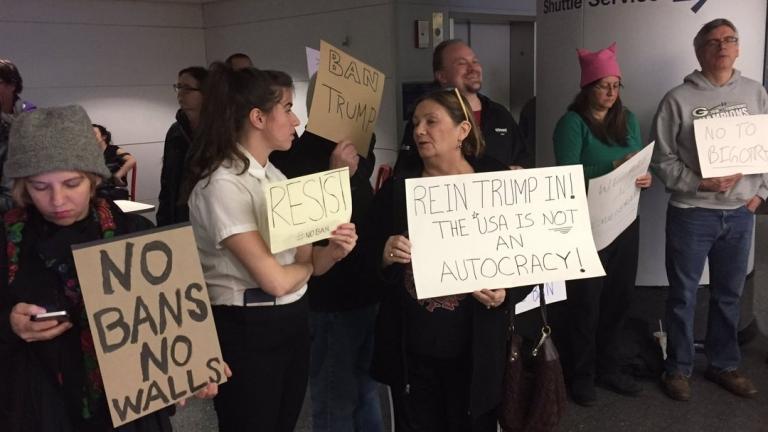 Refugees, Visa and Green Card Holders Detained, Turned Away at O'Hare
Jan. 29: What began as a regular Saturday at O'Hare International Airport grew into a dizzying scene of demonstrators and attorneys working feverishly to release travelers who had been detained by U.S. customs and border patrol officials.
---