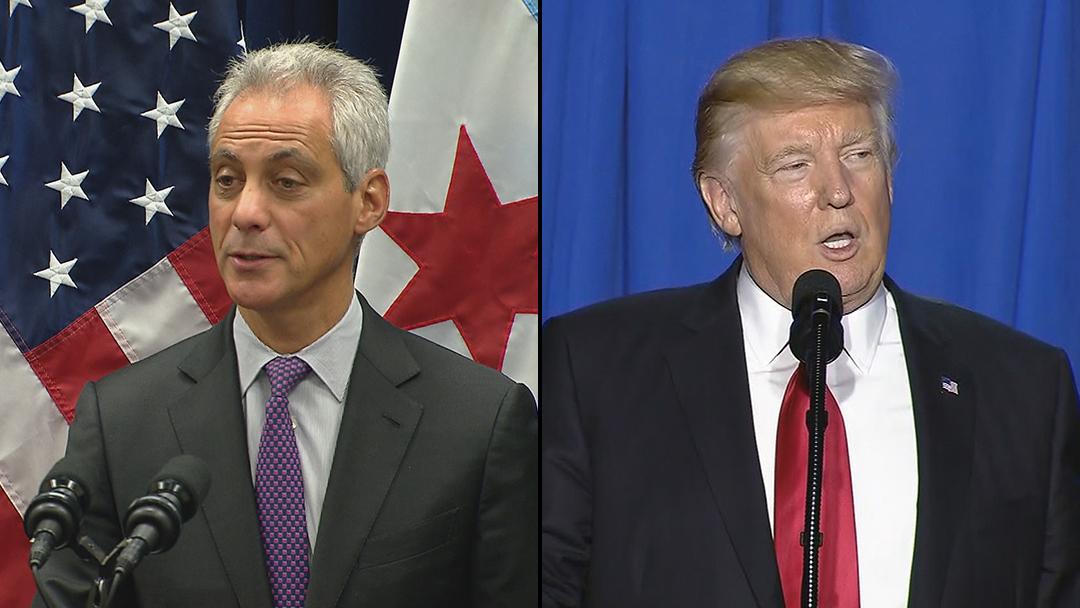 Chicago's status as a sanctuary city that harbors undocumented immigrants is on thin ice.
President Donald Trump on Wednesday signed an executive order that strips away any federal funding that's not mandated by law from so-called sanctuary cities. It was part of a series of orders aimed at boosting immigration enforcement and beginning construction on a wall along the U.S.-Mexican border.
"We are going to get the bad ones out," Trump said Wednesday before the U.S. Department of Homeland Security. "The criminals and the drug dealers, and the gangs and gang members and cartel leaders."
But the mayor and other city leaders say they aren't backing down.
They say the city will continue policies that prohibit the Police Department and other civic bodies from sharing the citizenship status of immigrants with federal authorities, regardless of Trump's executive order.
"I haven't read the content of (the executive order), but I want to be clear: we're going to stay a sanctuary city," Mayor Rahm Emanuel said.
"Whether you're from India or Israel, or whether you're from Mexico or Moldova, where my grandparents are from, you are welcome in Chicago."
Some aldermen said they were concerned about the possibility of losing federal money, but that it wouldn't deter their resolve.
"I think we have to stay strong," said Ald. Danny Solis (25th Ward). "All sanctuary cities – New York, Los Angeles – we have to hold our own and fight back."
"He has no authority over the Chicago Police Department, and the Chicago Police Department will not act as agents of the department of immigration," said Ald. Ricardo Munoz (22nd).
It's unclear how much Chicago stands to lose under the order, and whether or not it can be fully enforced. The Center for Tax and Budget Accountability says the number could be as little as $78 million and as much as $1.33 billion in federal grants, depending on legal interpretations.
Meanwhile, immigrant rights groups came together to condemn the president's latest move.
"We are going to continue organizing," said Rosi Carrasco of a group called Organized Communities Against Deportation. "We are telling our community members, 'Don't be afraid, join the organizations and organize and fight back. We are going to continue to work in solidarity with all the communities that have been impacted by the measures announced by the administration."
Trump Tweet
While moving to cut off funding to sanctuary cities, the White House is also offering to send more federal assistance to Chicago. White House Press Secretary Sean Spicer clarified what Trump meant in his tweet late Tuesday night, in which he said if Chicago can't fix the "horrible carnage" he would "send in the feds."
If Chicago doesn't fix the horrible "carnage" going on, 228 shootings in 2017 with 42 killings (up 24% from 2016), I will send in the Feds!

— Donald J. Trump (@realDonaldTrump) January 25, 2017

Spicer says the president is open to various forms of federal aid to the city.
"We'll hopefully get a dialogue started with Mayor Emanuel so we can figure out what the path forward can be so that we can come up with a plan that keep the people of Chicago safe and help ease the problem there," Spicer said.
Emanuel on Wednesday echoed sentiments he made in our Chicago Tonight interview Tuesday night that he would welcome more federal cooperation on criminal prosecutions and more funding for anti-violence initiatives. But he and others say they flatly oppose sending in the National Guard.
Follow Paris Schutz on Twitter: @paschutz
---
Related stories: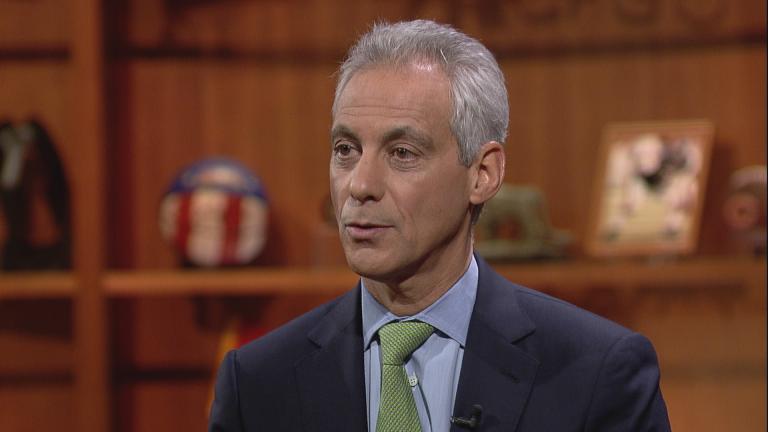 Emanuel: Illinois 'Rudderless' Under Rauner
Jan. 24: Mayor Rahm Emanuel slams the governor for not having proposed a balanced budget, and suggests Gov. Bruce Rauner begin his State of the State address Wednesday with an apology to taxpayers.
---
Noble Charters, CTU Take Steps to Protect Undocumented Students
Jan. 19: Educators across Chicago have continued calls for undocumented students to be protected from deportation and discrimination leading up to President-elect Donald Trump's inauguration Friday.
---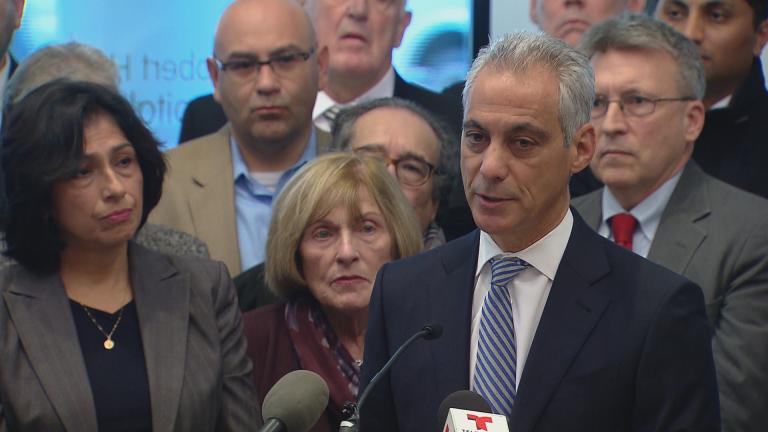 Mayor: Chicago to Remain a Sanctuary City for Immigrants
Nov. 14: In the wake of Donald Trump's election, mental health officials say a growing "public health crisis" has emerged. Meanwhile, Mayor Rahm Emanuel assures immigrants that Chicago will remain a sanctuary city.
---