Mayor Rahm Emanuel again voiced his frustrations with Illinois Gov. Bruce Rauner on Tuesday during an interview with Chicago Tonight.
Emanuel slammed the governor for not having proposed a balanced budget during two years in office, and suggested the governor should begin his State of the State address Wednesday with an apology to taxpayers.
UPDATE: Rauner Responds to Emanuel's 'Partisan Rant'
Though he didn't get into specifics of the grand bargain budget deal currently moving through the state Senate, Emanuel said he supports "the bipartisan effort to comprehensively deal with the situation."
"What I don't support is what the governor has done. The state of Illinois is rudderless under Rauner," Emanuel said. "Harry S. Truman had a sign on his desk that said 'the buck stops here.' You're the governor. If I went two weeks without a budget, would you be blaming Ald. Carrie Austin, the chair of the budget committee, or me?"
Emanuel also criticized the governor for his threat to veto bills to shore up Chicago's municipal worker and laborer pension funds, noting that they passed the General Assembly with bipartisan support.
Police and crime
The mayor reaffirmed his commitment to seeing through reforms recommended by the U.S. Department of Justice in a sharply critical report on the Chicago Police Department released just days before the end of the Obama administration. Emanuel said he hasn't yet spoken with the Trump administration about a possible consent decree mandating certain police reforms, and President Dondald Trump's pick for attorney general has yet to be confirmed by the U.S. Senate.
Emanuel acknowledged that while the DOJ report commended Chicago for reform efforts that include expanded officer access to Tasers and body cameras, it also said the efforts were too hasty and implemented without adequate training.
"It was better to have Tasers out there, it's better to have universal body cams for police officers, and we've got to have the training around it. And if we didn't get it right, we're committed to getting it right," he said.
Chicago's violence was a talking point for then-candidate Trump during much of 2016, and the city's crisis has been singled out by the new administration on a White House web page about policing.
Trump tweeted Tuesday night that he would "send in the Feds!" if the city can't "fix the horrible 'carnage' going on."
If Chicago doesn't fix the horrible "carnage" going on, 228 shootings in 2017 with 42 killings (up 24% from 2016), I will send in the Feds!

— Donald J. Trump (@realDonaldTrump) January 25, 2017
---
Emanuel said that Trump and the federal government can be helpful to the city on issues like tracking guns, providing resources for officers and creating after-school opportunities for young people.
"Over the years the federal government's stepped back their resources, which we have stepped up," Emanuel said. "The federal government can be a partner, and to be honest they haven't been for decades."
As for Trump's moves in his first few days in office to undo key pieces of former President Barack Obama's legacy, Emanuel, who served as Obama's first chief of staff, criticized the president for rolling back provisions via executive order rather than through legislation in Congress.
"I think both stylistically and substantively, it's off to the wrong start," Emanuel said.
---
Related stories: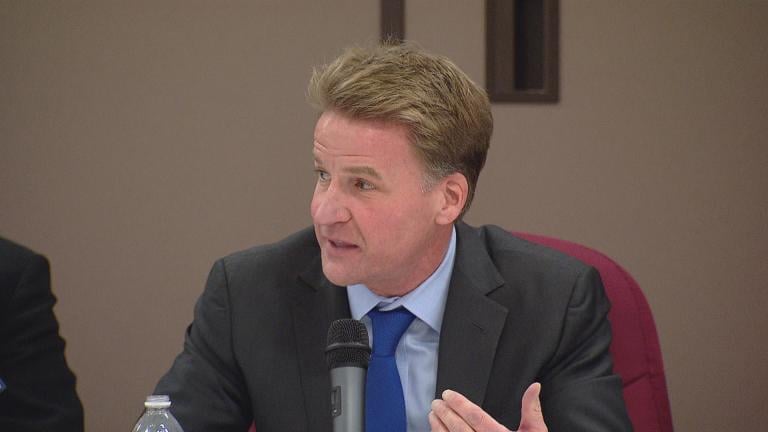 Summit to Decrease Violence Addresses Kids' Sense of Hopelessness
Jan. 19: How can Chicago stem the surge of violence? Police, prosecutors, and judges offered ideas Thursday for dealing with troubled youth, some of whom offered ideas of their own.
---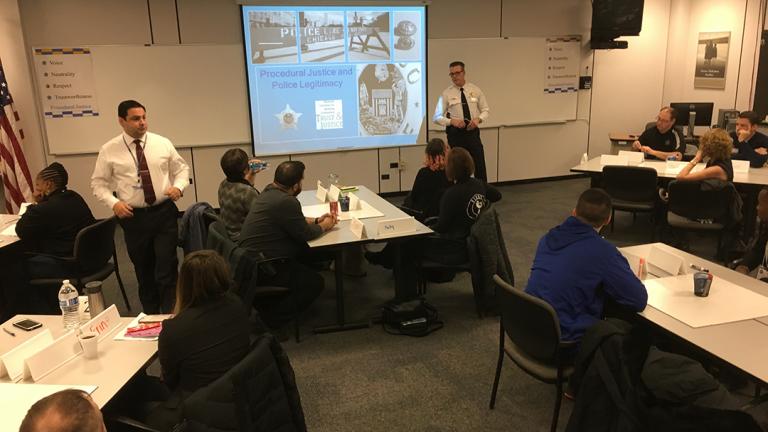 Chicago Police Department Ramps Up Training for 'Police Legitimacy'
Jan. 17: Chicago Tonight sits in on a training class that aims to teach Chicago police officers how to better engage with the community.
---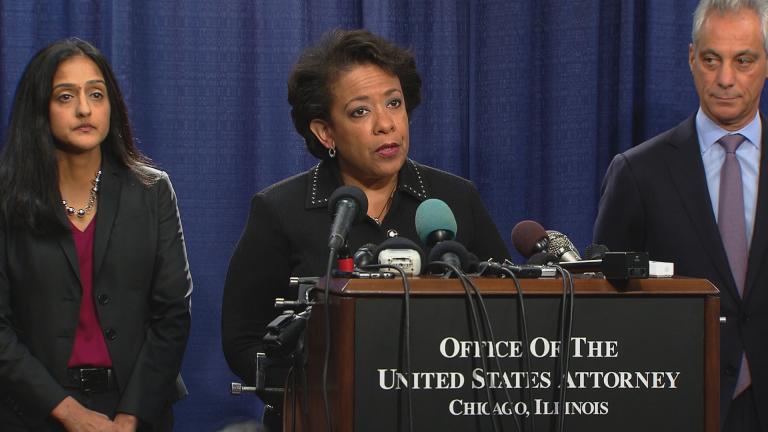 Department of Justice Releases 'Sobering' Report on CPD
Jan. 13: The city of Chicago has signed an "agreement in principle" to negotiate a consent decree with the federal government that would give the embattled Chicago Police Department federal oversight to enact sweeping reforms.
---